Syria and the Hamas Attack: Another Potential Iran-Backed Front?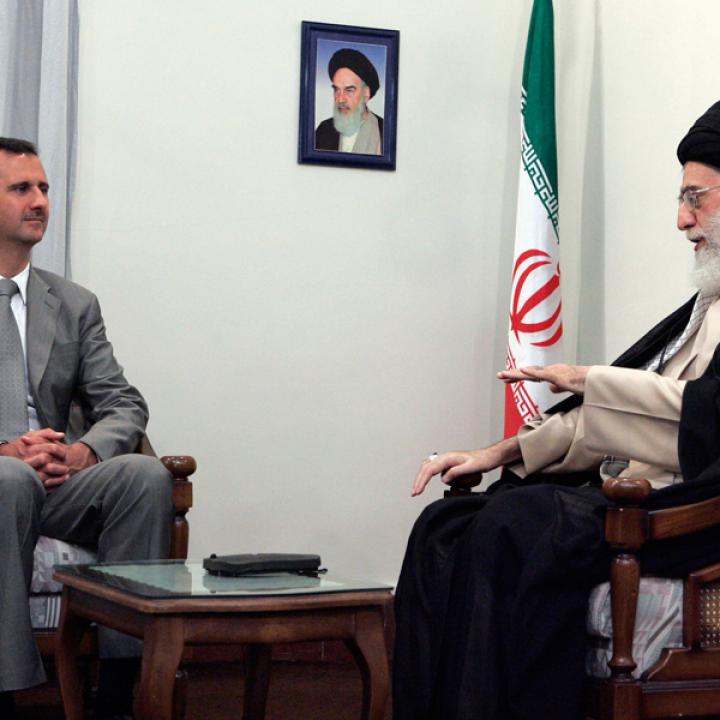 New Golan attacks and deployments by Iran-sponsored militias and Syrian forces are creating a worrisome distraction as Israel deals with the crisis on its southern front.
On October 10, unidentified forces fired mortars from Syria into the Golan Heights, spurring Israel to respond immediately with artillery and mortar fire against the point of origin. The incident along this normally quiet frontier came in the wake of Hamas's brutal attack in southern Israel and added to the simmering tensions along the northern border with Lebanon. As the Israel Defense Forces (IDF) prepare to enter Gaza, there is much speculation that other Iran-backed forces such as Hezbollah could open other fronts in the war—a scenario that led President Biden to issue a general warning to "anyone thinking of taking advantage of this situation," while other U.S. officials reportedly sent warnings to Hezbollah via Lebanese speaker of parliament Nabih Berri. Coupled with new reports that Syrian militias supported by Iran's Islamic Revolutionary Guard Corps (IRGC) are sending fighters to the Quneitra area near the Golan, the October 10 incident should prod Washington to anticipate possible escalation from Syria and take appropriate action to constrain Iran's options there.
Although no Syrian group has claimed responsibility for the mortar attack so far, open source reports indicate that it was launched from an Iranian militia site near al-Bakir in western Deraa province. The Syrian Observatory for Human Rights asserted that a Palestinian faction conducted the attack from Syrian territory. According to the IDF, some of the fire crossed into Israeli territory and presumably fell in open areas. The IDF response reportedly targeted Syrian and Iranian sites in the southern Quneitra countryside and rural Deraa.
In the days leading up to the exchange, local sources reported the movement of Assad regime forces and pro-Iran militias from north and northeast Syria to the Golan. This included the October 8 arrival of leaders and members of Hezbollah at military sites in Deraa and Quneitra, armed with drones, Iranian Fajr rockets, and advanced weapons. Other reports indicate that Hezbollah's elite Radwan unit, which specializes in infiltration operations into Israel, deployed near the border alongside Syrian army units.
On October 9, the IRGC reportedly transported about fifty militia members from Abu Kamal near the Iraqi border to Damascus, each of them trained in using antiaircraft missiles, Katyusha rockets, and other shoulder-fired missiles. Iran also reportedly deployed a contingent of the Assad-affiliated group Liwa al-Quds to the Israeli border, as well as reinforcements equipped with missile systems, jamming/monitoring devices, and drones. In April, Liwa al-Quds reportedly fired rockets into the Golan, leading Israel to respond with a strike on the headquarters of Maher al-Assad, the president's brother and leader of the regime's 4th Armored Division, which operates alongside or in support of Iran-backed groups in Syria.
Tehran also reportedly ordered IRGC commanders in Deir al-Zour to transport their militias to Quneitra province, though some militia members refused to relocate (as corroborated by local sources). Additional reports indicate that Iranian militias are trying to devise different ways of transferring their members from Iraq to Syria or within Syrian territory without being targeted by Israeli airstrikes. On October 9, an Iran-backed convoy was targeted in Abu Kamal by unknown aircraft, most likely Israeli.
These incidents come amid a worsening security situation throughout western Syria, including Druze anti-regime protests in Suwayda to the south and an uptick in military clashes to the north. Last week, a drone carrying explosive ammunition attacked a graduation ceremony at Homs Military Academy, causing at least 89 deaths and over 277 injuries. In response, the Syrian army began indiscriminately shelling opposition-held Idlib province, the presumed source of the attack, resulting in 49 deaths and 279 wounded so far. Opposition outlets also reported Russian airstrikes in Idlib after multiple suicide drones targeted Russian troops outside Hmeimim Air Base in Latakia.
To constrain Iran's options and keep the Hamas-Israel crisis from spreading, Washington should directly warn President Bashar al-Assad not to enter the war and restrain Iran-backed militias along the Golan frontier, echoing previous warnings reportedly conveyed by the United Arab Emirates at Washington's behest. At the same time, U.S. officials should closely watch the new regime escalation in Idlib.
The UAE has long advocated Assad's rehabilitation, so the regime will likely use Abu Dhabi's mediation in the current crisis to demand more up-front cash from the Arab Gulf countries, who paid it forward earlier this year by readmitting Syria to the Arab League and normalizing ties without getting anything in return. Yet no sanctions relief of any kind should take place without clear evidence that Assad is constraining Iran's options against Israel, Jordan, and other U.S. allies in the region.
Andrew Tabler is the Martin J. Gross Senior Fellow at The Washington Institute and former director for Syria on the National Security Council.