Surprise Rotation of Saudi Defense Officials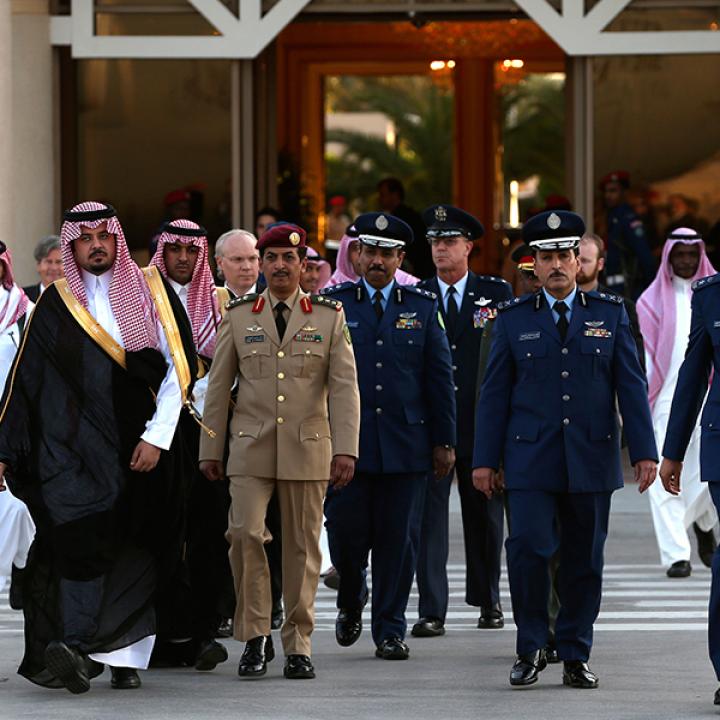 An unexpected and unprecedented series of changes in the kingdom's military leadership raises questions about future Saudi strategy.
A series of royal orders issued today in the name of King Abdullah at the stated request of his heir apparent and defense minister, Crown Prince Salman, has radically changed Saudi Arabia's political and professional military command. Perhaps most newsworthy is the appointment of Prince Khaled bin Bandar as deputy defense minister. Out goes the thirty-seven-year-old Prince Salman bin Sultan, who was just appointed to the role last August after replacing a lesser royal who had assumed the post four months prior.
This and other announcements came as U.S. defense secretary Chuck Hagel was in Jeddah for the first consultative meeting of the Gulf Cooperation Council's "joint defense council," which was attended by top defense officials from Saudi Arabia, Kuwait, Bahrain, Qatar, the United Arab Emirates, and Oman. Hagel's awareness of the imminent changes is unclear. The announcements were made after the concluding luncheon attended by Prince Salman bin Sultan, still identified at the time as deputy defense minister. Two days earlier, the prince had an official meeting with visiting U.S. assistant secretary of state Anne Patterson. Officially, he has now been "relieved of his post at his own request"; whether he was involuntarily sacked is so far unknown, as is the palace's intention to give him another official role.
The new deputy defense minister is a sixty-one-year-old former U.S.- and British-trained commander of the Royal Saudi Land Forces who has been serving as governor of the crucial Riyadh province since February 2013. Other appointments include a new assistant defense minister, a new chief and deputy chief of the general staff, and new commanders for the air force and navy.
At the very least, it is surprising that the kingdom would make such changes on the day of a major regional defense conference, where they likely confused local military allies and the U.S. delegation alike. The changes suggest that Saudi Arabia may be reconsidering its regional strategy. Riyadh has been increasingly apprehensive over what it apparently considers a poor interim nuclear deal with Iran, and it has been determined to deliver a major setback to Tehran by forcing the overthrow of Syrian leader Bashar al-Assad.
The changes could also reflect the kingdom's internal power game. King Abdullah (age 90) has apparently been trying to undermine seventy-seven-year-old Crown Prince Salman's claim to the throne, such as by forcing the appointment of a deputy crown prince, Muqrin (70), in March. None of the crown prince's sons were promoted today, but the king's son, Prince Turki, was named the new governor of Riyadh province.
In addition, today's changes will revive speculation about last month's resignation by intelligence chief Prince Bandar bin Sultan, the former long-serving ambassador to Washington. The departing deputy defense minister is Bandar's half-brother and perceived alter ego, and the two men had been crucial operators in the Saudi campaign to train and arm opposition fighters in Syria.
Whatever the case, the new appointments are sure to have a significant impact on Saudi military capabilities and policies -- though quite what impact is unclear. There is some evidence that the kingdom has reduced its support for jihadist fighters in Syria this year. And yesterday, Foreign Minister Prince Saud al-Faisal offered to host his Iranian counterpart in Riyadh for negotiations to resolve differences between the two countries. Yet it is almost certainly too early to say that the kingdom is softening its tough approach to Iran, especially after its unprecedented April 29 parade display of Chinese-supplied missiles capable of hitting Tehran -- a gesture that followed the largest military exercise in Saudi history, involving 130,000 men.
Simon Henderson is the Baker Fellow and director of the Gulf and Energy Policy Program at The Washington Institute.