Southern Syria: A New Front for Israel?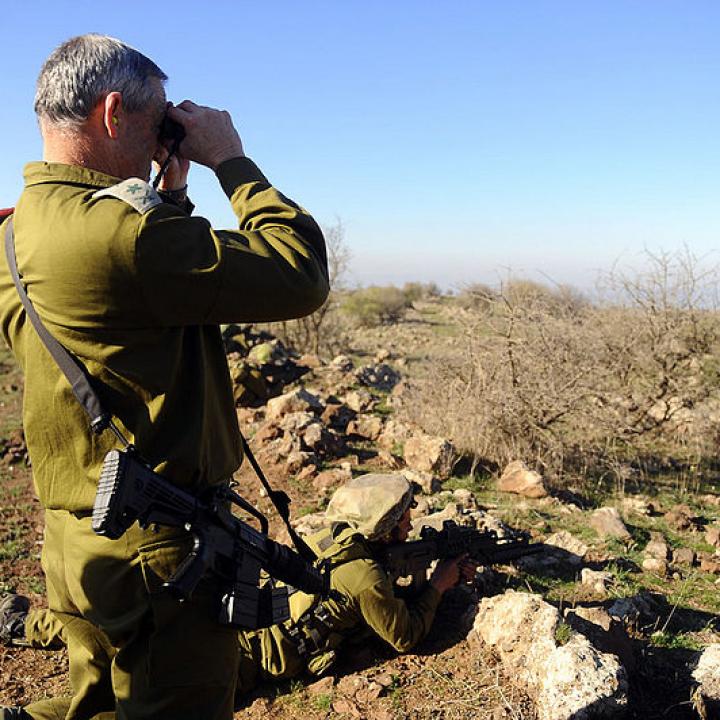 While strikes against ISIS are capturing the headlines, the United States and its international partners risk overlooking the potential strategic significance of developments in Syria's south.
In early February, an alliance of Iran, the Syrian regime, and Hezbollah launched a major military offensive against rebel groups in Syria's south, close to the borders of Israel and Jordan. This campaign bears potential strategic consequences for Israel and the Syrian theater, and calls for close U.S. and international attention.
The War in the South
Some 4,000-5,000 troops have been massed for the offensive, which focuses on the provinces of Deraa, bordering Jordan, and Quneitra, bordering the Israel-controlled Golan Heights. Combatants include units from the Syrian army; the National Defense Forces, a government militia; an estimated 2,000 Hezbollah fighters, constituting a sizable portion of the group's forces in Syria; and, notably, Iranian military elements including advisors and senior officers. A website close to the Syrian regime posted a photo of Gen. Qasem Soleimani, commander of the Islamic Revolutionary Guard Corps-Qods Force, visiting the area, signaling its importance to Iran.
The attacking forces have experienced modest success overall thus far. After capturing several towns and villages and dominating hilltops in northwest Deraa, about twenty kilometers from the Israeli border, they encountered strong rebel opposition and adverse weather conditions. However, with the aid of Syrian airstrikes, they continue to persistently push southward and westward. 
As for this campaign's context, southern Syria has seen constant clashes since the war began in 2011. Unlike in other parts of the country, local rebel groups -- both Islamist and non-Islamist -- have managed to work together to push back the Syrian army. Stretched thin and worn out, Assad's army was forced to gradually give ground. Following a series of offensives in late 2014, this rebel coalition established control in large parts of the Deraa and Quneitra provinces, including the city of Quneitra and the Quneitra crossing bordering Israel-controlled territory. Even as the old UN-administered status quo crumbled, the border with Israel remained relatively quiet. While Jabhat al-Nusra, the Syrian franchise of al-Qaeda, established a notable presence around the city of Deraa and in the southern Golan Heights, it remained focused on fighting regime forces and has shied away from challenging Israel. 
No doubt, the war in Syria provides major incentives for the recent offensive. Rebel successes in southern Syria threaten Damascus -- the city of Deraa is less than a hundred kilometers south of the capital -- and the strategic Beirut-Damascus and Damascus-Deraa roads. Pushing back against rebel gains is meant to deter Jordanian involvement in the war and block the influx of weapons and antiregime fighters from Jordanian territory, undercut the consolidation of rebel forces in the south, help block the flow of jihadists from Syria to Lebanon, and relieve the pressure on Damascus.
Yet this offensive should be regarded not merely as another battle in the Syrian regime's protracted war against the opposition. It represents a strategic decision by the Iran-led "Axis of Resistance" to establish a foothold in the vital area of southern Syria, with its proximity to Israel and Jordan.
Reshaping the Strategic Balance with Israel
The offensive has been labeled "Operation Martyrs of Quneitra," referring to the January 18 strike attributed to Israel that killed an Iranian general and six Hezbollah operatives while on a battlefield-circulation visit to the Syrian Golan Heights. Hezbollah responded days later with cross-border antitank missile fire that killed two Israeli soldiers, signaling that changing the equation of deterrence with Israel is high on Iran and Hezbollah's agenda.
Evidently, Hezbollah has no interest in large-scale escalation with Israel. The scars of the 2006 Lebanon war are still fresh, and the organization is invested heavily -- with thousands of its combatants -- in the war in Syria (and even in Iraq). It is also focused on consolidating its position in Lebanon, challenged by Sunni jihadist groups. Hezbollah has lost considerable popularity in Lebanon due to its fighting alongside the Bashar al-Assad regime, and it realizes that igniting another war with Israel would wreak havoc on Lebanon and further erode the group's legitimacy there.  
Nevertheless, Hezbollah has long felt that Israel is taking advantage of its military involvement in Syria to affect the mutual balance of deterrence. A series of airstrikes in Syria attributed to Israel, targeting caches and convoys of strategic arms destined for Hezbollah, took place at a time when Hezbollah could not afford escalatory retaliation. Recently, Syria and Hezbollah's leaderships accused Israel of a conspiracy to establish a "security zone" in southern Syria in cooperation with rebel groups, including jihadists, through which it could drive a wedge between the Syrian and the Lebanese fronts and thereby outflank Hezbollah in Lebanon.
Beginning in mid-2013, Hezbollah started responding to perceived Israeli strikes with rocket and mortar fire as well as roadside bombs from the Syrian side of the Golan -- or in the Shebaa Farms region between Syria, Lebanon, and Israel, which it could frame as disputed territory. It undertook such attacks first through proxies and without assuming responsibility and later escalated to direct, open action.
Generally, for Hezbollah and its patrons, establishing an active front with Israel in southern Syria affords valuable options in confronting Israel, while providing better chances for containing any escalation within Lebanon. Syria, which had for years used Hezbollah to confront Israel, is now being used by the group for the same purpose. 
According to Israeli intelligence, Iran and Hezbollah have been striving to establish operational infrastructure near the Israel-Syria border for months, to be used against Israel in times of tension and war. Plans include recruiting activists in local villages, deploying rockets and explosive charges, and designing operational attack plans. Apparently, such activities were part of the mission of the convoy hit on January 18. Now Iran and Hezbollah are on track toward gaining a permanent, contiguous foothold on the Israeli border. Following the January exchange of fire, Hezbollah secretary-general Hassan Nasrallah announced that "we no longer accept the separation of the battle fronts," and pro-Hezbollah Lebanese media boast of a single front with Israel stretching from the border point Ras Naqoura-Rosh Hanikra, on the Mediterranean coast, to the Golan. 
Establishing an active front in southern Syria serves both Iran and Hezbollah in additional ways. On this new front, Hezbollah can, in addition to fighting Sunni jihadists alongside Iran, recharge its emptied "batteries" of legitimacy in Lebanon and the Arab world, reclaiming the mantle of resistance against Israel. It could also help attract Palestinian armed factions to the Axis, including Hamas, which is under duress and eager to mend fences with Tehran. And it could help advance Iran's strategic ambitions of encircling Israel on numerous fronts while negotiating a nuclear deal.
Alarm Bells in Israel
Israel views these new developments in southern Syria and the strategic aims driving them with alarm. All along, Israel has carefully avoided being drawn into the war in Syria and intervened only in cases of immediate threats to its security. As the war turned predominantly into a conflict between the Syrian regime and its supporters on the one hand and jihadists on the other, Israelis concluded that it was best to let the two camps -- both extremely hostile to Israel -- fight each other.
But if the encroachment on its northern border gains momentum, Israel is unlikely to sit idly by. While Israel is concerned about the Islamic State of Iraq and al-Sham (ISIS) and the jihadist threat, the Iran-led axis is the more immediate and significant menace to Israeli security. It is, after all, headed by a major regional power with nuclear ambitions and deploys the strongest nonstate actor, Hezbollah, on Israel's northern border, with more than a hundred thousand rockets in Lebanon. Opening a new front on the Golan Heights, a border that has been quiet for forty years, poses a serious challenge to Israel and what remains of the regional status quo, especially in the eventuality of a major military confrontation. Israel is anyway concerned that the U.S. and international community's focus on securing a nuclear deal with Tehran and fighting ISIS, also known as the Islamic State, will give Tehran a pass to pursue destabilizing policies in the region. So far, this scenario seems to be playing out.
Conclusion 
As Iran and its proxies increase their presence along Israel's border with Syria, the prospects of miscalculation and escalation also increase. It is time the United States and the international community take heed of the dangerous potential consequences of this development. The risks are clear for Israel, for Jordan, and for the outcome in Syria, and the United States should weigh them carefully against its inclination to accommodate Iranian interests in Syria. A broader view on Syria demands a proactive strategy to stop and deter the Iran-led axis from approaching the Israeli and Jordanian borders.
Brig. Gen. Michael Herzog, IDF (Ret.), is The Washington Institute's Milton Fine International Fellow. He previously served as head of the IDF's Strategic Planning Division and chief of staff to Israel's minister of defense. This article was made possible in part by support from the Irwin Levy Family Program on the U.S.-Israel Strategic Relationship.