Social Media in Iran's Protests: A New Public Sphere?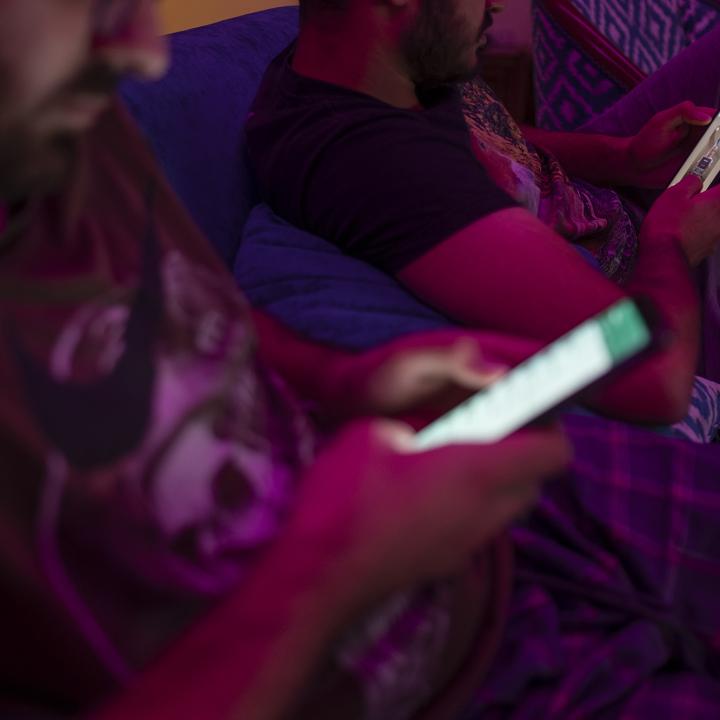 Apps like Clubhouse and Instagram have greatly broadened the people's ability to exchange ideas and even criticize the regime, but authorities have simultaneously subverted, coopted, and silenced these platforms at will.
The Iranian regime has long interrupted citizens' access to social media, especially Facebook, Twitter, and Telegram. Yet two prominent apps have frequently been spared from this suppression: Clubhouse and Instagram. Why have these apps been permitted to continue operation leading up to—and at times even during—the ongoing mass protests? And how are demonstrators and other Iranians making use of them?
Instagram: An Economic, Propaganda, and Intelligence Tool
Instagram has faced much less disruption than other apps in part because it has become an appealing venue for various types of advertising, thereby playing a significant role in boosting small businesses in Iran. According to the BETA Research Center, Iranian Instagram adoption increased from 24 million users in 2017 to 48 million in 2021. Over the past couple years in particular, Iranian celebrities and influencers have rapidly taken to the service, generating large numbers of followers.
Instagram's economic impact has become even more significant amid the financial crunch of the COVID-19 pandemic. During his 2021 election campaign, President Ebrahim Raisi specifically supported freedom of access to Instagram for economic reasons, often mentioning anecdotes about his daughters' use of the app for purchases. The implications for government revenue are significant as well: in 2020, the Majlis enacted a new tax on Instagram accounts with more than half a million followers.  
The regime's tolerance toward Instagram goes beyond economics, however—authorities have also used the app for cyber propaganda purposes, systematically monitoring influencers' accounts and in many cases exploiting them. For instance, security and intelligence agencies have forced some celebrities to post regime messages tailored to influence the younger generations on urgent issues, particularly in cases when state media are deemed inefficient for that purpose. The accounts of popular film actors such as Dariush Arjmand and Parviz Parastouei are among those known for serving this role, whether willingly or unwillingly.
More broadly, leaving Instagram open enables the regime to gather information about ordinary citizens, activists, and popular trends in public opinion. The quantity and quality of data that the intelligence and security services collect from Instagram likely cannot be gained by any alternative method.
Of course, whenever the regime completely blocks internet access in a given area, Instagram becomes inaccessible just like every other app. And compared to past periods of unrest, these outages have been more frequent during the current protests. According to an October 5 Washington Post story, internet blackouts became a daily occurrence after regime violence against protesters spiked on September 21: "[T]raffic patterns show a cyclical nature to the disruptions, beginning every afternoon around 4 p.m. local time—the end of the Iranian workday, when most protests begin—and returning to normal levels after midnight."
Earlier today, the U.S. Treasury Department responded to this suppression by issuing sanctions against seven senior Iranian political and security officials, including Interior Minister Ahmad Vahidi and key commanders within the Islamic Revolutionary Guard Corps and its Sarallah Security Headquarters, a branch tasked with internal security functions in the capital. According to the announcement, "The United States condemns the Iranian government's internet shutdown and continued violent suppression of peaceful protest and will not hesitate to target those who direct and support such actions." The move follows the department's September 23 issuance of "Iran General License D-2," which authorizes "exports of additional tools" to help Iranians access the internet.
Clubhouse: A Double-Edged Sword?
After launching in March 2020, the Clubhouse app become an exceptional medium for Iranians to exchange opinions on public affairs and current political topics. Since its beginnings as an invitation-only service, Clubhouse has come to host "casual, drop-in audio conversations" in "rooms" open to thousands of users. It quickly attracted more attention amid COVID-19 lockdowns across the globe, as users sought new ways of socializing from a distance. In Iran, many users also saw it as an opportunity to exercise limited freedom of speech away from government censorship. With the presence of influential political figures such as former foreign minister Mohammad Javad Zarif, the app became a key forum for free discussion of forbidden topics and heated debate between diametrically opposed schools of thought. These exchanges have even been highlighted on other social media platforms and the pages of major newspapers as more public figures began to participate in the app.
Currently, Clubhouse rooms are not blocked by the government, and Iranians inside and outside the country can freely meet with each other to exchange ideas, data, or entertainment—at least when internet service is up and running. Unlike Instagram, it is less valued economically. Rather, it has become a virtual substitute for the traditional public sphere, which the totalitarian regime has largely monopolized or extinguished over the years by enforcing conformity and restricting communication (e.g., via aggressive press censorship).
In particular, Clubhouse has served as a powerful antidote to religious absolutism for the younger generation, who are often referred to in Iranian political literature as "daheh-ye hashtadi-ha" (2000s generation). Many members of this rebellious generation are distinguished by their atypically non-ideological view of Iranian history, as well as their powerful aspirations for autonomy and broad repudiation of traditional authorities who seek to compel their conformity at home, in school, or on the streets. Such alternative ways of thinking have led them to embrace new, more compatible communication platforms. Rejecting centralized guidance over their social identities and activities, many young Iranians have come to prefer Clubhouse, which is physically easy to access and keep private via their phones while still allowing for a measure of democratic participation in a virtual public sphere. The app's voice features are part of this attraction, as is its lack of limits on how long hosted events can last and how many people can participate.
Clubhouse rose to its current status as Iran's most politicized social platform after major public figures began to use it to communicate with audiences in an unprecedented way. The app now abounds with popular clubs where thousands of members join rooms dedicated to discussion of daily news developments and issues of crucial public concern, with some forums lasting as long as ten hours. Some users share their opinions during these meetings, while many others sign on just to hear what experts and public figures have to say.
Moreover, Clubhouse rooms provide an unparalleled bridge between Iranians inside the Islamic Republic and those in the diaspora. For decades, the latter community has been systematically disjointed and antagonized by the regime, making it difficult for them to interface with their compatriots back home on sociopolitical issues. The regime's fabricated "inside/abroad" dichotomy has long divided the people and weakened the social solidarity needed for concerted progress toward democratization.
Thus, despite showing relative tolerance toward Clubhouse, regime authorities are well aware that the app represents a potential security challenge and have acted accordingly at times. In July, for example, they arrested former deputy interior minister Mostafa Tajzadeh—the reformist camp's most outspoken critic of Supreme Leader Ali Khamenei—on charges of "conspiracy to act against the country's security." The move came after Tajzadeh had been appearing in the country's most popular Clubhouse rooms for months, where he bluntly criticized the regime, called for reform, and argued against advocates of violent overthrow.
Besides cracking down on certain users and monitoring Clubhouse as a unique source of information on what the people and leading public figures are thinking, the regime has also deployed its cyber forces to shape discourse on the app. This includes efforts to steer discussions away from certain topics, intimidate audience members, and represent the government's voice. In addition, the regime has created rooms of its own where obscene language and hooliganism are promoted in a bid to pollute the political atmosphere and divide the populace. Indeed, the contest over discourse on Clubhouse raises serious questions about how social media might be abused for political ends in Iran, as well as the extent to which people are aware of the subtle and potent mechanisms that the regime uses to manipulate and mislead them in times of crisis.
Interestingly, Iran's heavily censored traditional press has been closely following certain political and social rooms on Clubhouse and often reports on significant debates that take place there. Some Persian media outlets inside and outside the country have also launched their own clubs, using the app to strengthen their influence or widen their audience. This proliferation of communities on Clubhouse reflects the polarity and plurality of Iranian society to a degree that is rarely visible in mainstream media. Even the clergy have become active on the app, especially the younger generation of seminarians.
Yet observers must still be careful to avoid a critical misperception about Clubhouse, Instagram, and other social media platforms—namely, that they can ever replace the real public sphere, meaning physical places where citizens can gather together and safely communicate about any issue relevant to their lives and society. Apps do provide an effective way for powerless people to raise their voices and cast off the ideological "flatness" imposed by a totalitarian regime like the Islamic Republic. They are also an efficient tool for networking and organizing civil and political movements. At the end of the day, however, the real public sphere is essential to determining whether a people's impulse toward democratization can survive and develop. In that sense, Iranians may still have a long way to go before they can cast off the monopoly of their totalitarian system.
Mehdi Khalaji is the Libitzky Family Fellow at The Washington Institute. He would like to thank Moeed Baradaran for his contributions to this PolicyWatch.