Show Me the Money: Targeting the Islamic State's Bottom Line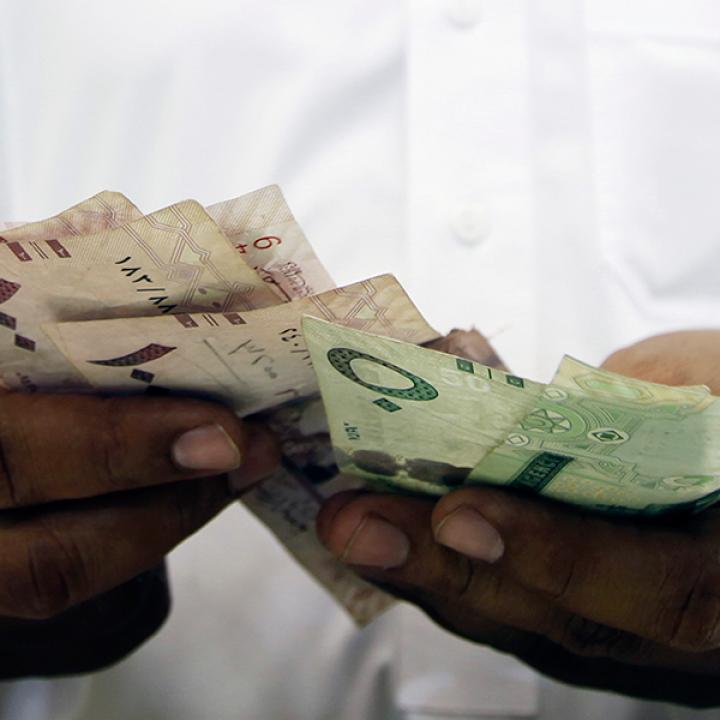 Military force and Treasury designations are great tools for curbing the group's oil smuggling and fundraising efforts, but most of its money comes from local criminal enterprises that are much more difficult to counter.
Speaking before the United Nations last week, President Obama pledged to lead a global coalition of countries committed to degrading and destroying ISIL. Alongside airstrikes, train-and-equip programs for moderate rebels, and efforts to stop the flow of fighters into and out of the region, the President added that "we will work to cut off their financing." That, however, may prove hard work indeed.
The U.S. government has already kicked efforts to target ISIL financing into high gear. Airstrikes targeted a few dozen small oil refineries in Eastern Syria that were processing oil seized by ISIS, and other strikes hit a building U.S. Central Command described as an ISIS "finance center" in the Raqqa area. And there's more to come: "This organization is still, even after the hits they've taken -- and they have been hit -- they still have financing at their fingertips," Pentagon spokesman Rear Adm. John Kirby said after the refinery airstrikes. "This is just the beginning."
That's a good thing, because by virtue of controlling territory ISIL controls resources -- oil, wheat, water, even ancient artifacts -- which it plunders for its own financial gain. It is also able to tax farmers, truck drivers, minorities and others. Airstrikes aimed at pushing back against ISIL's territorial expansion would have counter-terror finance benefits of its own.
Meanwhile, U.S. Treasury continues to designate terrorist financiers and logisticians supporting ISIS (and other groups), including twelve "foreign terrorist fighter facilitators" from Georgia, Indonesia, Qatar, Kuwait, Turkey and Jordan. One person, Tarkhan Batirashvili, "coordinated closely with ISIL's financial section," Treasury reported. Another, Tariq al-Harzi, "worked to help raise funds from Gulf-based donors for ISIL," including a $2 million gift from a Qatari-based ISIL facilitator who stressed the funds were for military operations only. The other ten funders and facilitators, however, worked for Jabhat al-Nusra, not ISIL.
That, in fact, should not surprise -- and is a big part of the reason why targeting ISIL financing may prove difficult. Unlike al Qaeda, which is heavily reliant on major Gulf donors, ISIL has been financially self-sufficient for at least eight years (harking back to when it was called al Qaeda in Iraq) by virtue of engaging in tremendously successful criminal activity enterprises on the ground in Iraq. According to a November 2006 U.S. government assessment cited in the New York Times, AQI and other groups had created a self-sustaining insurgency in Iraq, raising $70 million to $200 million a year from illegal activities alone. Documents from the Department of Defense's Harmony Database indicate that "outside donations amounted to only a tiny fraction -- no more than 5 percent -- of the group's operating budgets from 2005 until 2010, when [Abu Bakr al-]Baghdadi took over after the deaths of two superiors."
The problem is that we have tools -- from military force to Treasury designations and more in between -- to deal with oil smuggling and extremist sugar daddies in the Gulf, but our ability to counter ISIL's local criminal enterprises is severely limited. Coalition forces are no longer on the ground in Iraq today, and there is no interagency Iraq Threat Finance Cell (ITFC) to collect financial intelligence and feed operators timely targeting information to take down ISIL financiers. Nor are Iraqi law enforcement agencies able or willing to effectively combat what amounts to local criminal activity.
UN Security Council Resolution 2170, passed in August to much acclaim, calls on all UN Member States "to suppress the flow of foreign fighters, financing and other support to Islamist extremist groups in Iraq and Syria." That is indeed a step in the right direction. But at least as important will be pressing and empowering the Shia-led government in Iraq to forgo sectarianism and corruption in favor of governance and the rule of law. The most complicated front in the financial fight against ISIL will be fought domestically against the vast criminal networks funding ISIL within Iraq.
Matthew Levitt is the Fromer-Wexler Fellow and director of the Stein Program on Counterterrorism and Intelligence at The Washington Institute.
Homeland Security Policy Institute