Russia Uses an Iranian Air Base: Two Essays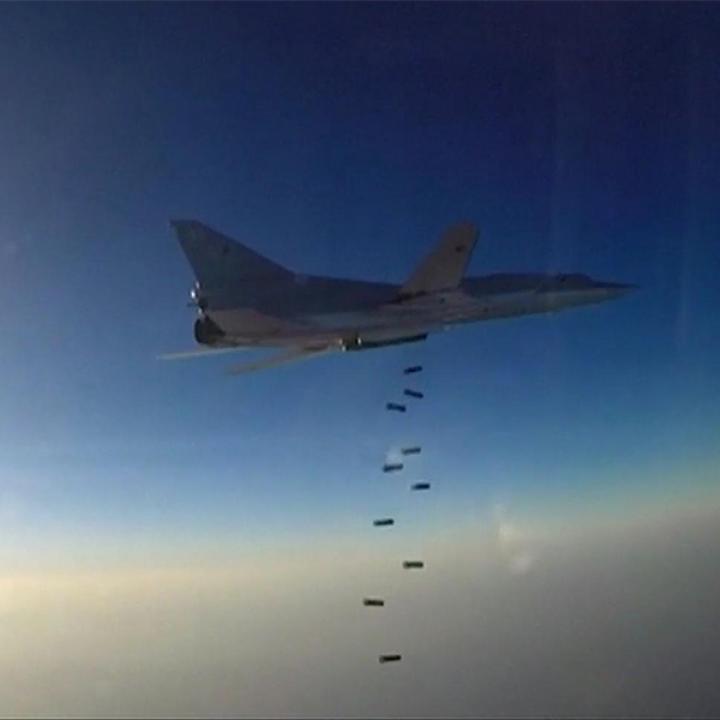 Two Iran experts discuss the political and military implications of Tehran's unprecedented decision to allow Russian airstrikes from its territory.
IRANIAN POLITICAL IMPLICATIONS, by Mehdi Khalaji
In a historic development, Russia is using an Iranian air base to conduct military operations against a foreign land, apparently for the first time since World War II. On August 16-17, Russian jets took off from Nojeh Air Base in the western province of Hamadan to strike targets in Syria.
Article 146 of Iran's constitution forbids "establishing any kind of foreign military base on Iran's territory, even for peaceful purposes," but ostensibly this does not apply to allowing foreign use of an Iranian base. Alaeddin Boroujerdi, head of the parliament's National Security and Foreign Policy Committee, noted that "Hamedan Air Base is not going to be a Russian base, nor will foreign fighter aircraft be deployed to Nojeh Air Base; the only activity taking place is Russian fighter jets are allowed to refuel at the base." Even if there were a legal restriction, however, the constitution would allow Supreme Leader Ali Khamenei to overrule it in the interests of "regime expediency."
Regarding the decision's wider implications, Ali Shamkhani, secretary of the Supreme National Security Council and Khamenei's representative there, stated that "Iranian-Russian cooperation to fight terrorism in Syria is strategic, and we share our capacity and capabilities with each other." He also emphasized that "people resistance doctrine" is the only method to confront "terrorist threats" and "protect autonomy and security in Islamic countries...Constructive and broad cooperation between Iran, Russia, Syria, and the resistance front has made the situation difficult for terrorists, and this process will continue by launching a new massive campaign until their total annihilation." Shamkhani also rejected any offer of resuming political negotiations with the Syrian opposition: "Ceasefire with groups who lack a clear identity, who constantly choose a new name for themselves to avoid being placed on terrorist lists, and who have no commitment to any promise would be absurd."
Similarly, Supreme National Security Council spokesman Keyvan Khosravi stated on August 16 that cooperation with the Assad regime and Russia against "the takfiri terrorist current in Syria" began a while ago and is increasing in scope. "Since the very beginning of this cooperation," he noted, "high-ranking political and security officials as well as military commanders have made multiple trips to each other's countries in order to meet and share their ideas for centralizing their endeavors properly and meticulously based on these three countries' common interests...Each one of these three countries shares its military, intelligence, commandership, training, and territorial capabilities and capacity with the other two. Further decisions will be made according to progress made on the ground and the achievements that result from this cooperation."
On August 12, Foreign Minister Mohammad Javad Zarif visited Turkey, where he met with President Recep Tayyip Erdogan and other officials. While there, he repeated the message he had spelled out in his previous meeting with Russian president Vladimir Putin and Foreign Minister Sergei Lavrov in St. Petersburg -- namely, that "Iran, Turkey, and Russia are the significant players in the region that need to discuss their differences and find a solution for them through dialogue."
As for the actual operations staged from Nojeh, four Russian Tupolev bombers have hit targets in three areas: (1) northern Syria, reportedly including the Ramouseh district in Aleppo, which is occupied not by Islamic State (IS) forces -- Russia and Iran's supposed main target in Syria, at least according to their domestic propaganda -- but by other rebel units fighting the Assad regime; (2) Deir al-Zour, where the regime is fighting IS; and (3) the Idlib area. Both Tehran and Moscow have claimed that these airstrikes targeted IS and Jabhat al-Nusra. This rationale echoes Iran's repeated claims over the past year that it has discovered and neutralized numerous IS terrorist plots on its territory. In the latest announcement, on August 16, Intelligence Minister Mahmoud Alavi declared that his forces recently destroyed an IS "terrorist cell" that had infiltrated western Iran; four members of the cell were killed and six others arrested.
For their part, Iranian political experts have interpreted Tehran and Moscow's strengthened alliance and intensified military operations in Syria in two different ways. Some sources (e.g., the "Diplomacy-e Irani" website run by Sadeq Kharrazi) perceive the remarkable twist as an indication that Iran has transferred more authority on Syrian affairs from the Supreme National Security Council to the Foreign Ministry, similar to what took place with nuclear policy at the beginning of President Hassan Rouhani's term.
Other experts, however, hold that the political cost of increasing military cooperation with Russia would not serve Rouhani's central agenda, which is to open Iran up economically by smoothly implementing the nuclear deal and building confidence with the international community. Specifically, stronger military ties with Moscow will only deepen distrust in the West, especially in the United States; this could in turn raise more bumps on Iran's road toward integrating with the global economy and thicken the walls of the country's isolation. Closer military and regional collaboration with Russia also goes hand in hand with Tehran's aggressive anti-Saudi policies, especially in Yemen, likely worsening Saudi-Iranian relations and darkening the prospect of resolving tensions between these two major regional powers.
RUSSIA'S GROWING MILITARY PRESENCE IN IRAN, by Farzin Nadimi
When Moscow confirmed that Russian planes were using the Nojeh base as a staging area to conduct bombing missions against five rebel targets in Syria, it provided some notable details. The announcement was accompanied by video and photographs showing at least four Tupolev Tu-22M3 Backfire-C long-range bombers and one Sukhoi Su-34 strike aircraft, along with a transport plane carrying ground personnel and equipment.
Soon after Moscow's announcement, Iranian Majlis speaker Ali Larijani denied any reports that his country was handing Russia a permanent military base at Nojeh, citing Article 146 of the constitution. In light of such swift denials, it is unlikely that Russia will be establishing any permanent presence in Nojeh. Yet it could dramatically increase its use of Iranian routes and services for staging and recovery sorties on the way to and from Syria.
In terms of military impact, the decision to stage Russian bombers from western Iran is unprecedented because it allows Moscow to significantly increase the pace and scope of its carpet bombing missions over Syrian flashpoints if it so chooses, in line with its recently escalated bombing campaign over much of the country. To be sure, Russian aircraft continue to carry minimal loads of dumb bombs in an apparent effort to keep the costs of the intervention down, so even if they use Hamedan on an ongoing basis, they may not necessarily carry heavier loads. Yet the symbolic and political weight of the move is important in of itself, regardless of military factors.
According to Flight International's world air forces database, Russia currently operates up to 70 Tu-22Ms, of which 6 are modernized M3 variants, as well as around 60 operational Su-34s. The Tu-22M3 is one of the more versatile long-range bombers in the Russian arsenal, capable of hauling 9 to 12 tons of bombs up to 2,400 km (1,500 mi), or 24 tons at shorter ranges. The use of Nojeh as a forward staging base means bombers flying to Aleppo will travel about 1,000 km less than when going directly from Mozdok Air Base in North Ossetia, where most of the recent raids have originated. This allows for heavier payloads, more flexibility by allowing for some loitering time over targets, and more rapid response to tasking emergencies.
Every Tu-22M3 bomber carries four crewmembers and can take on 118,000 lbs (53,000 kg) of fuel. Nojeh's location becomes even more important when one considers that these bombers had their inflight refueling equipment removed in the early 1980s to conform to the START disarmament agreements, so they cannot use tankers to fill up in mid-air. The smaller but equally capable Sukhoi Su-34 is Russia's new heavy strike fighter, capable of carrying about eight tons of bombs. Yet its combat radius is around 1,000 kilometers, so it needs either aerial refueling or ground refueling at a forward base like Nojeh to conduct effective strike missions over Syria.
Closest to the air corridor between Tehran and Damascus, Nojeh is considered Iran's main combat air base, home to four squadrons of aging F-4 Phantoms. This "strategic air base" was designed and completed by the United States in the 1960s, when Iran and Washington were allies, as part of a grant aid program to counter the perceived threats of Soviet invasion across the Zagros mountain passes and Iraqi aggression from the west. During the Iran-Iraq War, it was the main hub for conducting deep strike missions inside Iraq as far away as the H-3 air base near the Jordanian border.
The base has now come full circle, with Russian bombers using its long three-mile runways and spacious ramps to launch and recover raids in Syria. While the runway length at Russia's main air facility in the Syria campaign, Hmeimim base in Latakia, can support Tu-22M3 takeoffs and landings, its very limited ramp space makes sustained bomber operations unfeasible. Yet it should be pointed out that if Russia tries to improve Nojeh in a manner that makes it better suited to Tu-22M3 operations, this would probably be seen as a violation of UN Security Council Resolution 2231.
Whatever the case, even if Russian bombers only stop by Nojeh for a few hours to refuel as suggested by some Iranian officials, such activity points to the start of a cozier and more confident strategic relationship between the two countries. Iran has once again reiterated its intention to strengthen ties with players such as Russia and China, while Moscow seems to be sending Washington an overt message that it is in the Middle East to stay. 
Mehdi Khalaji is the Libitzky Family Fellow at The Washington Institute. Farzin Nadimi is a Washington-based analyst specializing in the security and defense affairs of Iran and the Persian Gulf region.