Rouhani's Negotiating Strategy: Divide and Isolate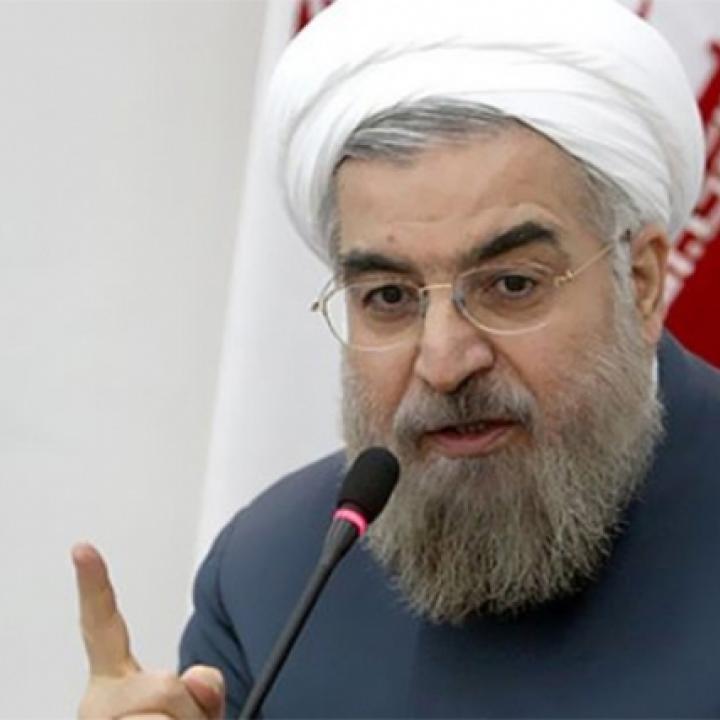 A new document reiterates Iran's likely approach to negotiations with the West: creating fissures between the United States and Europe in order to break international consensus and coordination on nuclear sanctions.
In August, the Iranian government released a document highlighting the focus of its nuclear negotiating strategy: sidelining the United States by isolating it from the other members of the P5+1 (Britain, France, Germany, Russia, and China). The emergence of this strategy -- explicitly articulated by President Hassan Rouhani and Foreign Minister Mohammad Javad Zarif, and in line with the former's extensive writings -- is at odds with Tehran's assurances of a "win-win" endgame in resolving the nuclear issue.
ZARIF: "BREAK THE COORDINATION OF MAJOR POWERS"
On August 7, four days after the new president's inauguration, Zarif released the "Program for the Ministry of Foreign Affairs for a Rouhani Government" to Iranian media outlets. Shortly thereafter, the document appeared on the Foreign Ministry website. 
In it, Zarif enumerated the ministry's "short-medium-term operational strategy" for nuclear negotiations, including a pledge to "change the global security environment" by "breaking the coordination of major powers and neutralizing the Zionist-American efforts to build an international consensus against Iran." He reiterated this point two more times, noting that "global conditions" called for a strategy to "neutralize the leverage of America and the Zionist regime with countries and multilateral institutions vis-a-vis Iran."
To be sure, the document does contain some encouraging language. Along with specifying plans to "normalize and improve relations" with neighboring countries and "rebuild relations with traditional partners in Europe and Asia," Zarif speaks of a "gradual decrease in potential antagonism with America and turning to positive capabilities." He also notes that "instead of letting the United States initiate," Iran should take "the initiative on all aspects of bilateral relations." But normalization of ties with America is not mentioned, and the intentions behind these seemingly positive initiatives are questionable given the troubling language in other parts of the document.
ROUHANI: "CREATE GAPS IN THE WESTERN FRONT"
A survey of Rouhani's books and academic articles published over the past decade similarly reveals a strategy of creating exploitable divisions within the international coalition. In a December 2003 article published two months into negotiations with the EU-3 (i.e., Britain, France, and Germany), he wrote that a "foundational principle" in "Iran's relations with the United States" is to "prevent compatibility and consensus between America and other world powers -- especially Europe, Russia, and China -- over Iran." He explained that although none of these "three powers" can independently "stand up to America," they nonetheless do not accept U.S. "unilateralism." Yet they do accept Iran's "stabilizing" influence in the region, he argued. The article also described how Tehran would carry out its strategy: "To avoid this consensus [against Iran], responsibility falls upon the Foreign Ministry. Through diplomatic skills, and effective ambassadors, we are able to stand against the conspiracy. By creating a distance between America and Zionism, and influential countries, we will be able to easily stand up against the conspiracies of America."
In his 2011 memoir covering his tenure as nuclear negotiator, Rouhani used the phrase "creating gaps in the Western front" to describe this strategy, which was originally conceived to keep Europe from referring Iran's nuclear case to the UN Security Council. He used the same phrase during the 2013 presidential campaign. More broadly, this seems to be how he views negotiation as a whole. "Diplomacy," he wrote in a 2009 book, "is the art of understanding a region, and the world, estimating its strength and position, and finding opportunities critical to exploit."
ROUHANI'S EU OFFENSIVE
Since his inauguration, Rouhani has met with four of the six P5+1 leaders and shown signs of driving a wedge between the EU and Washington's strategic outlooks. On the sidelines of the latest UN General Assembly session, he met with the leaders of five European countries: France, Italy, Spain, Austria, and Germany. This was in addition to meetings with Russia and China at the Shanghai Cooperation Organization summit in Kyrgyzstan two weeks prior.
Press reports from the UN session indicate a growing European amenability to Rouhani's diplomatic charm offensive. For instance, German chancellor Angela Merkel praised Tehran's role in "mediating" a diplomatic solution in Syria. Rouhani's growing clout was especially manifested in his exchange with Italian prime minister Enrico Letta, who publicly lamented that Italy had no role in the P5+1 despite being a "bridge between Iran and the West." At a September 28 press conference, Rouhani consoled Letta by mentioning the possibility of a "P5+2," stating, "All of those countries that have a certain influence over the nuclear program should take part in the negotiations, with Italy at the top of the list...Some people do not want the 5+2 group...It is not a matter of formulas...Italy, a strategic country in the EU, can make its contribution to the nuclear issue, involving Europe in order to have a region free of nuclear weapons and of weapons of mass destruction." Meanwhile, Letta pledged that when Italy assumes the rotating EU presidency in 2014, it will "try its utmost to further strengthen Rome-Tehran ties." And Rouhani noted that Iran is ready to meet Italy's energy needs, adding, "In this regard, bilateral ties can be expanded."
WHY FOCUS ON EUROPE IF IT IS SECONDARY?
Despite his recent attention to the EU, Rouhani considers it a weak political power that lacks true autonomy from the United States -- a position he clearly articulated during his 2003-2005 tenure as nuclear negotiator. At a 2004 press conference, he famously called Europe a "Paykan" (a budget Iranian car model) while comparing the United States to a Mercedes: "Talks with Europe alone might not be sufficient for our purposes...Sometimes you cannot afford to buy a Mercedes, so you buy a Paykan...In this case, you know what to expect from a Paykan and you lower your expectations accordingly. You should not complain and moan about it too much. You shouldn't complain about its speed, its mechanics, its petrol consumption, and the like, because you know it is a Paykan. You bought this car based on your budget in the first place."
Likewise, in a July 2005 interview with an Iranian newspaper concurrent with his resignation as nuclear negotiator, Rouhani stated that Europe was a "second-rate power," and that the "first power" (the United States) was preoccupied in Iraq: "We chose a second-rate power to negotiate with. Everyone knows that Europe is not the first and strongest power in the global arena. Europe is a second-rate power, and we are fully aware of this. We are negotiating with the world's second-largest power, while the first power is assessing and evaluating its interests."
Rouhani's negative perception of Europe's global role raises questions about his recent outreach to the EU. The optimistic view is that he sees better relations with Europe as an eventual bridge to Washington. But a more pessimistic interpretation is that he wants to use relations with Europe as a means of disrupting U.S. policy. That view seems consistent with what he wrote in his 2003 academic article: "Despite the close relationship between Europe and America, on the other side of the curtain there are fundamental differences between them. Europe may require a decade of opportunity to stand on its own, but in the current circumstances is unable to seize the flag against America."
CONCLUSION
Both Zarif's August strategy document and Rouhani's recent and past rhetoric suggest that any new U.S.-Iranian negotiations will be tough, with Tehran focusing on how to gain advantage rather than finding areas of common interest. The Rouhani team seems to believe that the key to reaching an agreement is dividing the P5+1 and isolating the United States.
Washington may be able to preempt this strategy by pursuing robust bilateral dialogue with the Iranian government via the P5+1 framework, and by allaying European concerns in order to maintain a united international front against Iran's nuclear intentions. Doing so would clarify whether Tehran is serious about a deal, paving the way for a permanent and meaningful agreement while preserving Washington's preeminent role over the Iranian nuclear file.
Steven Ditto is an independent Middle East analyst and author of the new Washington Institute study Reading Rouhani: The Promise and Peril of Iran's New President.