Reassessing the Civil War in Yemen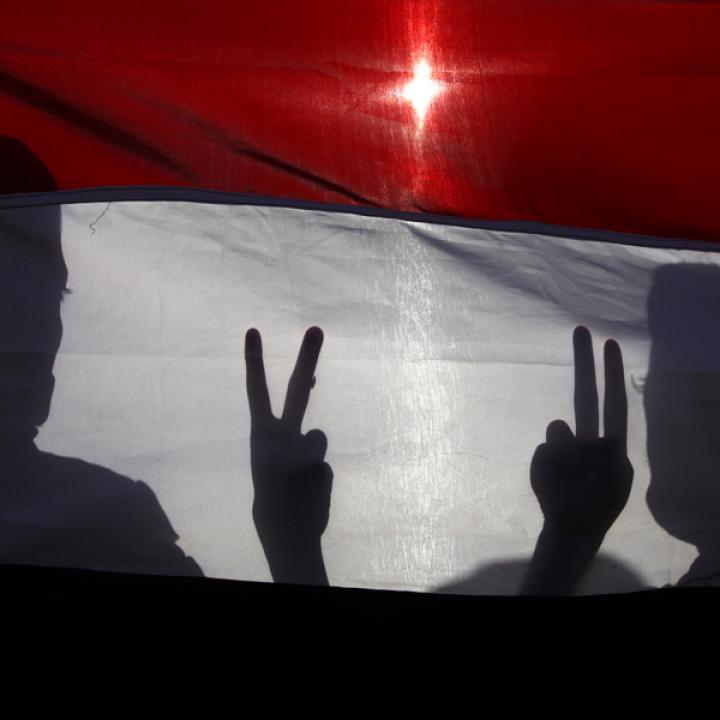 As the Trump administration adopts a seemingly more aggressive position on Yemen's nearly three-year conflict, it should take a closer look at where the fighting is stalemated, where political progress can be made, and where urgent humanitarian action is needed.
When President Trump addressed Congress on February 28, he spoke at length about the previous month's high-profile Navy SEAL raid in Yemen, putting the spotlight back on a complicated war with many fronts. A neglected "Arab Spring" conflict, Yemen's civil war is more than just peripheral to U.S. national security. Recent threats have included incidents in the Bab al-Mandab Strait, an important global energy passageway where Houthi rebel forces have fired missiles at American, Saudi, and Emirati vessels while apparently laying mines around nearby Mokha port. In addition, the UN Security Council reported last year that local terrorist affiliate al-Qaeda in the Arabian Peninsula (AQAP) was likely planning attacks on the West from Yemen.
Although these threats may have been mitigated somewhat by recent coastal military gains against the Houthis and heightened counterterrorism efforts, the country's deep social and geographical polarization presents even more serious long-term threats. An estimated 18.8 million Yemenis need humanitarian assistance, and over 10 million are at risk of famine. Prolonging the war will only exacerbate this suffering, thereby facilitating jihadist recruitment efforts. The Iranian-backed Houthis might also escalate "reforms" that mirror Tehran's 1979 Islamic Revolution, much like their revised local schoolbooks issued late last year to teach jihad against the United States and Israel.
Indeed, the longer the war continues, the less likely a political solution -- i.e., a federalist system granting Houthis and southern Yemenis greater autonomy -- can be achieved. And a besieged northern Houthi statelet would only be pushed further into Iran's orbit, lending more volume to the clarion call of jihadists in the south.
LIMITED MILITARY PROGRESS
Houthi militias and supporters of former president Ali Abdullah Saleh have been waging war against the legitimate government of Yemen since early 2015. On the international level, the conflict is fueled by Iran's regional ambitions, as evidenced by Tehran's provision of weapons, money, training, and personnel to the Houthis. Opposing Iran and supporting the legitimate government of President Abdu Rabu Mansour Hadi is a coalition led by Saudi Arabia and the United Arab Emirates. On the substate level, AQAP and the local Islamic State (IS) affiliate have exploited the chaos, while nominally pro-government actors jockey for influence and southern Yemenis lie in wait for another chance to raise their longstanding issues.
The conflict's main battle lines have been largely static over the past year. The Houthi-Saleh alliance controls nine of Yemen's twenty-one governorates (including the capital) and is contesting at least another six. Although these governorates encompass only around 27 percent of the country's territory, they are home to an estimated 80 percent of its prewar population. In contrast, Hadi's forces control only one governorate (Aden), relying on various local factions and foreign military units to hold other provinces and project power against Houthi-Saleh forces and jihadists.
The rebels advanced as far south as Aden in 2015 but were pushed back to the relatively fixed battle lines of 2016. This January, Operation Golden Spear commenced with the goal of liberating the Red Sea coast, eliminating Iranian access points along the Bab al-Mandab, and cutting supply lines to the Houthis. This operation captured Mokha port in early February and now intends to advance north to Hodeida port, as well as east to break the punishing siege of Taizz. Saudi-backed forces contesting the northern border town of Midi are supposed to join this campaign, but they have been caught in a stalemate for some time. Saudi-backed forces east of the capital have been similarly unable to advance, though they have prevented enemy forces there from being deployed elsewhere.
Despite Golden Spear's notable gains, past experience suggests that further progress will be slow at best. Increasing tensions among nominally pro-government (or, at least, anti-Houthi/Saleh) factions is a matter of concern. The government's inability to integrate discrete forces into one chain of command has resulted in more internal fighting; for instance, anti-Houthi cadres from the Islah Party have repeatedly clashed with Salafists in Taizz, and violence broke out in February at Aden's airport between UAE-backed fighters and Hadi's Presidential Guard forces. These schisms reflect very real differences on the ground, as well as between President Hadi and his coalition backers.
ENCOURAGING COUNTERTERRORISM SIGNS
The wide-ranging competition between al-Qaeda and IS over the mantle of global jihad is taking place on a smaller scale in Yemen. Both groups have sought to earn legitimacy by claiming to defend southern Yemeni communities against Houthi-Saleh forces. But AQAP poses the more serious threat and has grown stronger than ever during the war, mainly due to its superior recruitment, tribal ties, and ability to deliver services to the long-neglected areas it has taken over.
In response, the UAE has taken the counterterrorism lead, organizing, training, and equipping auxiliary forces in order to create a successful "clear, hold, build" template that can downgrade AQAP governorate by governorate. So far this template has proven partially successful in Hadramawt, where the UAE-trained Hadramawt Elite Forces pushed AQAP out of Mukalla city in April 2016, cutting the group off from the millions of dollars it had been earning there via import fees. In theory, the Hadi government should have been able to improve local governance and services since then, but such efforts have been limited to token troop deployments and are stuck in the "hold" phase.
Meanwhile, the UAE-backed Shabwa Elite Forces deployed in December 2016 and are in the early hold phase along the coast, where they are securing the Balhaf liquefied natural gas (LNG) facility. They may move north to clear AQAP from the governorate's interior, which could help pro-Hadi factions in Ataq oust Houthi-Saleh forces from northern Shabwa and secure the region's oil fields.
Lastly, the Security Belt Forces, which formed in Aden and Lahij governorates in March 2016 to protect the temporary capital of Aden, have since expanded to Abyan governorate in order to combat AQAP. Yet some of these fighters temporarily withdrew from parts of Abyan last month to protest a lack of material, financial, and political support -- another sign of the government's inability to streamline security forces, effectively disburse public-sector salaries, or establish true governance in liberated areas. The withdrawal also allowed insurgents to stage a rapid comeback, showing once again that AQAP will try to fill any vacuum in Yemen.
NEXT STEPS
Only a political solution can end Yemen's war. Even if Operation Golden Spear liberates more of the Red Sea coast, advancing on Sana or the Houthi strongholds in the northern highlands would likely prove catastrophic.
Similarly, while continued counterinsurgency efforts could play a helpful role, good governance is required if President Hadi and his allies want to downgrade jihadist groups more permanently. To hold population centers, they must deliver salaries and services in tandem with a sufficiently coherent force and ample political and material backing. In theory, a government that has the support of regional allies and is able to establish control over Yemen's ports, oil fields, LNG facility, and export terminals will be more capable than the Houthis of governing and providing services. Yet bringing this theory to fruition necessitates significant technical and financial support as well as greater political cohesion.
In the meantime, the current humanitarian response needs to be bolstered because famine and food shortages are spreading in Houthi/Saleh-controlled areas and contested zones. More can be done to provide immediate relief in these areas and prevent an even greater humanitarian catastrophe.
Andrew Engel is an associate senior analyst with the Navanti Group, where he specializes in failed states in the Middle East and North Africa. He received his master's degree from Georgetown University's Security Studies Program.