Rayan al-Kildani Pretends to Have a Personal Audience with the Pope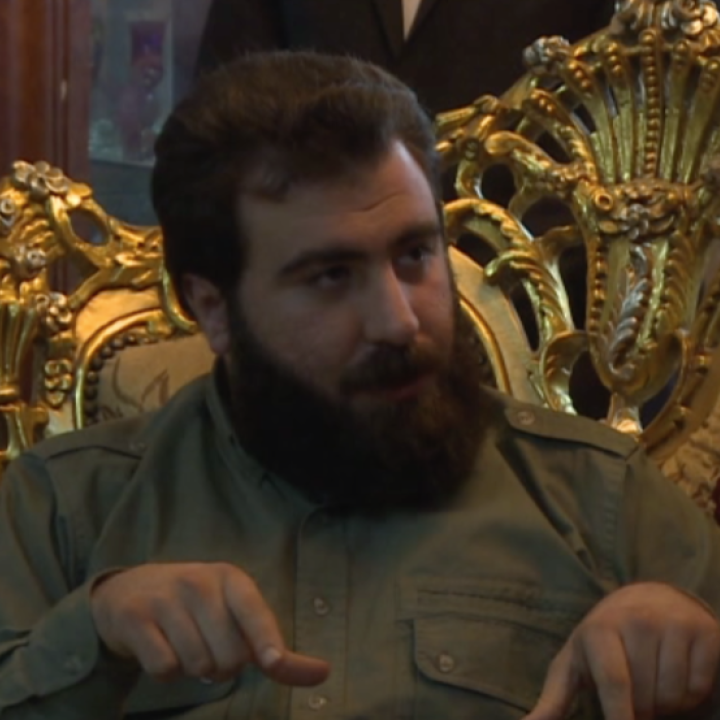 A serious Iraqi human rights abuser sank to new depths to build his credibility after being rejected by the country's Christian leadership.
On September 7, the media office of Rayan al-Kildani, a U.S.-sanctioned human rights abuser who formed the 50th Brigade (aka Kataib Babiliyoun) of Iraq's Popular Mobilization Forces, issued a statement that claimed "Al-Kildani meets the Pope in the Vatican." (Figure 1)
According to the statement: "At the invitation of Italian businessmen and institutions, al-Kildani arrives in Rome, visits the Vatican City State, and meets with His Holiness the Pope...At the end of the prayer, al-Kildani met His Holiness the Pope...and conveyed to him the greetings of the Iraqi government and the Iraqi people, asking him for his prayers for Iraq. In turn, His Holiness the Pope granted Kildani his apostolic blessing and gave him a special gift, which is the Rosary, blessed by His Holiness." 
The framing of the incident is deeply deceptive because it seeks to portray the incident as a substantive personal meeting at the invitation of the Vatican rather than what it was: an unplanned encounter at a weekly event open to the general public. Kildani, long rumored to be a convert to Shia Islam, seeks opportunities like this to bolster his politically useful image as a Christian given his lack of grassroots support from the Iraqi Christian community. As far back as 2017, Chaldean Catholic Patriarch Louis Raphael Sako asserted that Kildani "does not represent Christians in any way. His unfortunate statements aim to create abhorrent sectarian strife."
How Kildani Exaggerated His Papal Meeting
What actually happened was that Kildani and his associate, Minister of Migration and Displacement Evan Faeq Jabro, attended a general audience that Pope Francis holds weekly for any member of the public. Kildani then framed photos and accounts of the incident as an officially planned meeting. For example, the images published on his X (formerly Twitter) account intentionally blur and crop out the presence of crowds to hide that it was not an exclusive or personal meeting (Figure 2). The Vatican released a statement on September 12 that downplayed the interaction as "some brief words". (Figure 3)
When Kildani, Jabro, and other members of their circle previously asked for a personal meeting in April 2023, they were refused. The Pope's decision was reportedly based in part on Kildani's mistreatment of Cardinal Sako. This rejection was purportedly one of the reasons why Kildani led subsequent efforts to remove the Iraqi government's recognition of Sako as head of the Chaldean community.  It also increased Kildani's perceived need to fake a personal meeting with the Pope.
Kildani's Previous Photo-Bombings
This was not the first time Kildani has faked a meeting with a famous person. On March 2, he photo-bombed UN secretary-general Antonio Guterres, concealing the fact that the leading diplomat (like the Pope) had no idea who he was and thus no idea of the crimes he was sanctioned for committing.
Kildani also tried and failed to get a personal meeting when the Pope visited Iraq in 2021. Instead, he was forced to stand in a greeting line as pictures were taken (Figure 4).
Kildani's efforts to claim leadership of Iraq's remaining Christian community—and thus control of properties held by the church after the country's mass Christian exodus—have become more desperate since an uprising against his forces by Christians in the Nineveh Plains in March 2023. That incident humiliated Kildani and his brother Osama, the day-to-day commander of Kataib Babiliyoun.