Promoting Stability and Reform in Tunisia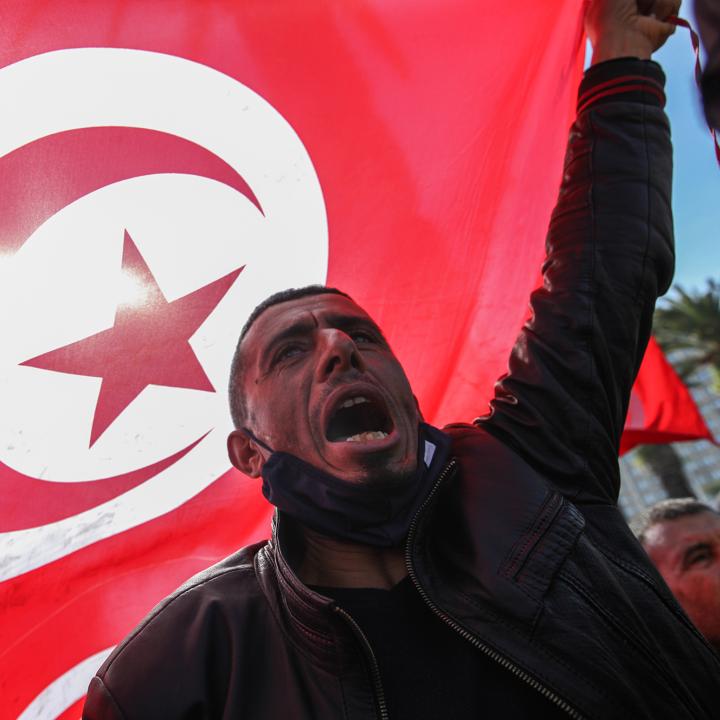 A frozen democratic transition and widening economic uncertainty mark the ongoing national crisis, so Washington will need to make careful use of sticks and carrots in supporting open governance.
On May 1, President Kais Saied announced that his government would be taking steps to transform Tunisia into "a new republic," beginning with deliberations by a preparatory committee to draft a new constitution and culminating in a July 25 public referendum. The announcement is the latest indicator that the country's messy political and economic situation has hardly improved since Saied's initial power grab in July 2021, when he froze parliament, dismissed the prime minister, and began ruling by decree. No signs of reconciliation with opponents are evident, nor has there been any reassurance that an inclusive democratic transition process will be restored. Moreover, elites, civil society, and the general public remain deeply divided in their support for Saied, making it even more difficult for the international community to take a stance on his actions.
The President Tightens His Grip
Saied was elected in 2019 as an outsider—his popularity stemmed in large part from the widespread perception that the political class was corrupt and inept. Indeed, since Tunisia's first representatives came to office through free and fair elections in 2011, they have been regularly mired in bickering and achieved few concrete benefits for the people. Consequently, Saied's sweeping moves last July met with support among significant segments of the population, despite being legally questionable. In the months following, however, he showed no intention of upholding the constitution or its constraints on his power. He repeatedly extended the initial thirty-day state of emergency, and in December he announced a new constitutional roadmap that was criticized by experts for being vague and non-inclusive.
Saied's more recent steps can only be described as undisguised efforts to bring all three branches of government under his control. In February, he dissolved the Supreme Judicial Council (SJC), a body meant to help guarantee judicial independence. He then issued a decree establishing a temporary SJC and granting himself the power to directly appoint or otherwise influence the selection of its members.
At the end of March, in a rare show of unity, a majority of the suspended parliament (120 out of 217 members) held an online session and voted almost unanimously to end Saied's exceptional measures. In response, the president dissolved the body entirely, leading to investigations, summons, and arrests of several parliamentarians, including Speaker Rached Ghannouchi, leader of the moderate Islamist party Ennahda.
Concerns have also been mounting about human rights violations on Saied's watch, including arbitrary arrests and repression against journalists and activists, abductions and house arrests of political opponents, and trials of civilians in military courts. Further, the president has unilaterally changed the framework for the planned legislative election in December so that voters will cast ballots for individuals rather than lists. And on April 22, he decreed a change to the independent electoral commission that allows him to select, either directly or indirectly, six of its seven members and appoint its new head, greatly undermining the body's autonomy.
Regarding the planned constitutional reform process, participation in the first phase—online consultation—was scandalously low, with only about 500,000 of the country's nearly 12 million inhabitants participating. Saied's next declared step is a national dialogue based on the results of this consultation. Yet he has reportedly stated that Ennahda should not participate in that dialogue. Such rhetoric apparently intensified his standoff with political opponents, who have called for forming a new "National Salvation Front" to block what they now call Saied's "coup." In addition, the influential Tunisian General Labor Union (UGTT), which was on the fence about opposing his actions, has called for a dialogue without preconditions.
Underlying Economic Issues
These events are occurring on top of deteriorating economic conditions. Since 2011, successive governments have resisted the structural reforms necessary to combat Tunisia's persistently high levels of debt, inflation, and unemployment. Along with elite intransigence, this economic stagnation drove voters to elect Saied in the first place, based on the hope that he could improve their living conditions. But in recent years—partly though not entirely because of the COVID-19 pandemic—many indicators have worsened, including nominal per capita GDP and the size and purchasing power of the middle class. The IMF has criticized Tunisia's lack of progress on reforms tied to recent loan programs, particularly its failure to reduce spending on public sector salaries, subsidies, and pensions.
To make matters worse, Russia's invasion of Ukraine has caused a spike in commodity prices, particularly wheat, fertilizer, and fuel. On April 13, the government announced a reduction in the fuel subsidies that, along with similar subsidies for staples such as bread, have long been used to maintain social stability.
These concerns create a conundrum for Saeid. Undertaking subsidy cuts and other reforms meant to enhance fiscal discipline will be met with resistance, but if he does not address the mounting economic problems, he may lose whatever popular backing he has cultivated. Accurately gauging his political standing is difficult. For example, one household survey conducted by U.S. researchers in February showed that nearly 80 percent of respondents felt his actions were helpful in holding corrupt politicians to account and supporting ordinary Tunisians, versus less than 15 percent who felt the moves were undermining democracy and threatening individual rights. During the same period, however, turnout at his rallies was undeniably low, and it remains uncertain if he would be able to mobilize the necessary support for reelection. In the short term, at least, he appears unlikely to back down, though a lack of popular support would make it difficult for him to achieve his planned constitutional reforms.
As for the defiance displayed by parliament in March and the unity now being exhibited among political parties, this has not translated into increased support for legislators. Instead, many Tunisians perceived the parliament's final, fatal act as further indication of its lost legitimacy, credibility, and effectiveness. Such widening gaps between the public and elite threaten to ignite violence, especially when coupled with general polarization among the people as well as dramatic increases in food prices.
Policy Options
Given Tunisia's fragility, the United States should be cautious about coming down too strongly in favor of a single actor. Any action that could be perceived as foreign meddling may fuel Saied's populist discourse or generate anger about the hypocrisy of U.S. rhetoric around democracy and human rights promotion. Tunisia's impressive transition from authoritarian rule after 2011 was accomplished without Washington choosing sides; ideally, the country should resolve its current disputes the same way. The State Department's April 27 announcement that it was "deeply concerned" about Saied's restructuring of the electoral commission reflects the Biden administration's measured reaction to events thus far.
That said, Washington cannot ignore Saied's clear departures from Tunisia's democracy-building process. Policymakers should continue using any means at their disposal to quietly encourage Tunisia to get back on track. On April 28, Secretary of State Antony Blinken noted that the United States is willing to provide additional economic support, but only if Saied addresses America's "serious concerns about Tunisia's democratic trajectory." Yet Washington is an important source of bilateral assistance, and withholding too much of it amid dire economic conditions could be detrimental.
Congress's fiscal year 2022 appropriations bill, passed in March, requires the administration to report that the Tunisian government is "taking credible steps to restore constitutional order and democratic governance, including respecting freedoms of expression, association, and the press, and the rights of members of political parties." These conditions will be difficult to achieve under the current circumstances. Unfortunately, even if the administration opts to withhold aid based on these criteria, Saied is unlikely to care—at least not enough to stop plowing ahead with his changes. This would leave the United States with little leverage for encouraging him to rein in his autocratic behavior.
During a recent visit to Tunisia, a European Parliament delegation expressed concern when several local political and social actors said they did not believe Saied wanted to listen to them. Rather than withholding aid, however, observers have called for Tunisia's European partners to launch collaborative programs that integrate the country more tightly into the Euro-Mediterranean economic region. The Biden administration could similarly show its support by targeting socioeconomic issues in its assistance packages while conditioning such aid on an inclusive national dialogue process.
Finally, President Biden should expedite efforts to appoint a new ambassador to Tunisia. In January, current ambassador Donald Blome was nominated to serve in Pakistan instead, so replacing him promptly would send a meaningful signal of U.S. commitment to Tunisia during this tumultuous time.
Sabina Henneberg is a lecturer at American University's School of International Services and author of Managing Transition: The First Post-Uprising Phase in Tunisia and Libya (Cambridge, 2020).