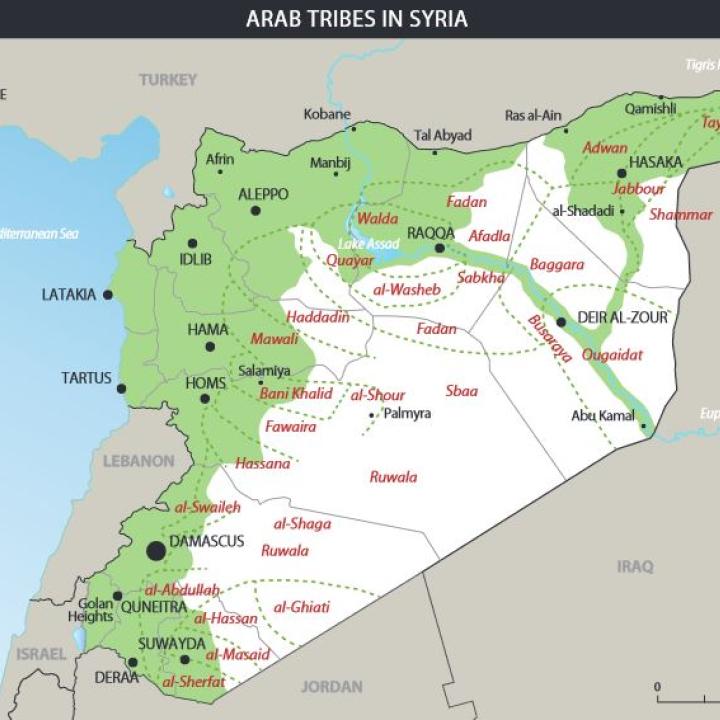 This Syrian militia based in Aleppo and Deir al-Zour has developed a uniquely close relationship with Iran's Islamic Revolutionary Guard Corps and the Assad regime.
Name:  Liwa al-Baqir (named after the fourth Shia Imam, Muhammad al-Baqir)
Type of movement: 
Tier 3

fasail

 (armed group) that 

focuses on executing

kinetic military operations

 characterized by frequent ground assaults, bombings, and rocket attacks, including escalated

attacks against U.S. forces

. Primary mission revolves around providing extensive military support to Syria's Assad regime, but the group concurrently engages in multifaceted aspects of governance, political involvement, tribal reconciliation efforts, youth educational initiatives, and strategic acquisition of shops and other businesses.
History:
Founded in 2012 during the early stages of the Syrian civil war, t

he brigade originated in Aleppo province, where it operated as

a

notorious pro-regime militia. Yet its exact command and control status and relationship with the Syrian Army has been unclear throughout its history.

The predominance of Baggara tribe members within Liwa al-Baqir is noteworthy due to this tribe's historical loyalty to the Assad family.

Despite being mostly Sunni, the brigade has a substantial number of fighters influenced by or converted to Shia Islam. Its close ties to Shia entities such as Lebanese Hezbollah, Iran, and Iraqi Shia militias highlight its role in broader regional dynamics.

The militia collaborates closely with the Syrian Ministry for National Reconciliation Affairs, playing a pivotal role in mediating disputes among rival factions in Aleppo. One noteworthy example was its successful reconciliation of the influential Abu Ras and Berri clans. 

Liwa al-Baqir's 2018 declaration of jihad against U.S. and Turkish forces in Syria marked a bold move that led to confrontations with both countries, demonstrating its willingness to confront enemies beyond the Syrian opposition and the Islamic State.

The brigade has also been involved in training other pro-regime militant groups, contributing to their capacity-building efforts. Additionally, its role in guarding strategic assets such as Aleppo's airports highlights its diverse responsibilities.
Objectives:
Liwa al-Baqir's overarching objective is to serve as a valuable Sunni auxiliary militia to the Assad regime and Iranian interests in Syria. Serving Baggara tribal interests and evicting the U.S. presence and the Syrian Democratic Forces (SDF) from Deir al-Zour are secondary objectives.
Chain of command:
Khalid al-Hassan and Hamza al-Hassan: Liwa al-Baqir's leader is Al-Hajj Khalid Baqir, also known as Khalid al-Hassan and commonly referred to as the "Protector of Aleppo." Born and raised in the Aleppo region, he and his younger brother Al-Hajj Hamza Baqir (aka Hamza al-Hassan) played a pivotal role in the brigade's establishment and growth. The brothers claim to have been motivated by the deaths of their father and elder brother Ali at the hands of Syrian opposition forces during the civil war. Hamza oversees the group's special sniper division and also established its rapid reaction division.

Syrian regime

:

Liwa al-Baqir is distinct from the set of militias officially designated as part of the regime's Local Defense Forces (Quwat al-Difa al-Mahalli, or LDF) in the Aleppo region. Yet it is clearly supported by, and supportive of, the Assad regime.

Islamic Revolutionary Guard Corps (IRGC)

:

A preponderance of evidence suggests that Liwa al-Baqir also receives support directly from Iran's IRGC Qods Force, including weapons and military training since at least 2018. There are documented encounters between Liwa al-Baqir's leadership, notably Khalid al-Hassan, and the late Qods Force commander Qasem Soleimani. Hassan has also worked to promote

velayat-e faqih 

(the doctrine that grants authority to Iran's Supreme Leader) 

and influence the demographic makeup of Deir al-Zour and Aleppo.
Affiliate relationships:
Local Defense Forces:

Within the LDF, Liwa al-Baqir collaborates closely with a cadre of militias, including Katibat al-Nayrab al-Maham al-Khasa, Fawj al-Safira, and Fawj Nubl wa al-Zahara.

Lebanese Hezbollah:

Liwa al-Baqir has received training from Hezbollah in Lebanon, and Khalid al-Hassan has documented meetings with its leadership, including Hassan Nasrallah. N

otably, both he and his brother Hamza claim to have participated in Hezbollah's summer 2006 war against Israel. Other sources suggest the group's relationship with Hezbollah began in 2012.

Harakat Hezbollah al-Nujaba:

According to

Al-Souria

, Liwa al-Baqir was established in 2015 by the LDF with the objective of operating under Nujaba, a U.S.-designated Foreign Terrorist Organization in Iraq. This mission aimed to facilitate the religious conversion of Sunni tribal members to embrace Shia doctrine and endorse Iran's expansionist revolutionary ideology. Reports also indicate that during its initial years, the group received weaponry and support from Nujaba, including a monthly salary of 25,000 Syrian pounds for each member and fighter.

Houthis:

Liwa al-Baqir's affiliations extend to the Iran-backed Houthi rebel movement in Yemen, as indicated by their mutual vocal support for each other.

Baggara tribal groups. In 2017, the militia orchestrated the reconciliation of Baggara tribal leader Nawaf Ragheb al-Bashir, who had previously supported the Syrian opposition but later aligned himself with the Assad regime. Afterward, Bashir moved to Damascus, where he verbally attacked 

the United States and SDF and began discussing plans to raise an "army of tribes" to retake Deir al-Zour with Iran's help.
Subordinate relationships:
Politician Omar Hussein al-Hassan, an independent Syrian politician who ran in the 2016 and 2021 parliamentary elections, has received massive support from Liwa al-Baqir, whose social media page endorsed him.

Liwa al-Baqir is active on Facebook, where it has a

main page

 as well as multiple other pages bearing the same name but with different profile pictures and different Arabic spellings of its name. It also has a 

page

under the name "Mohamad Hendawi," which seems to publish the brigade's propaganda but as a strong affiliate of Lebanese Hezbollah.

In September-October 2023, the brigade was actively engaged in frontline operations in southern Aleppo country villages that are avowedly under the control of the Assad regime and its affiliated militias. The brigade also maintains military checkpoints within Aleppo city itself and has established specialized training facilities in several villages, including Tal Shaghib, Issan, Ain Issa, and Tarkan. In 2020,

al-Quds al-Arabi listed Liwa al-Baqir's subordinate military units as "

the Rapid Intervention Brigades, the Haj Shiro Battalion, the Haj Hamid Battalion, the Ashrafieh Battalion, the Sharq Battalion, the North Battalion, the Handarat Battalion, the Deir al-Zour Battalion, the 313 Battalion, and the Force al-Mahdi, the al-Safira Battalion, and the Turkan Battalion."