Prevent Breakdown, Prepare for Breakthrough:
How President Obama Can Promote Israeli-Palestinian Peace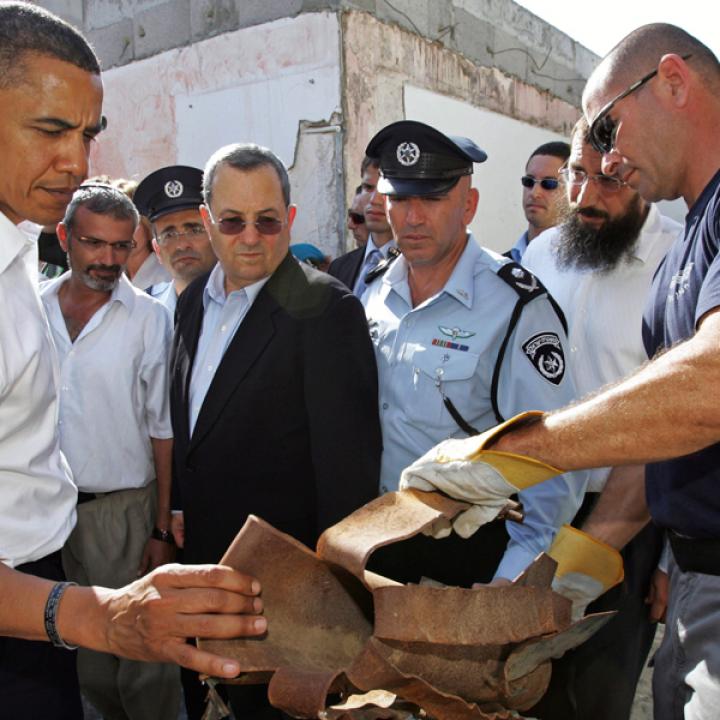 This timely collection of brief essays urges the Obama administration to follow three clear guidelines in Arab-Israeli diplomacy. First, do not overreach for a full agreement right away, but launch an effective U.S. peacemaking role -- active, yet patient and incremental. Second, outflank Hamas. This means maintaining the perfectly valid preconditions for any outreach to the organization, while enhancing the authority and effectiveness of the Palestinian Authority under President Mahmoud Abbas. Third, look for regional keys to unlock the bilateral impasse. This means working to adapt (not simply adopt) the Arab Peace Initiative -- and working with other regional governments (including Syria and Saudi Arabia, as well as Egypt and Jordan) to seek common ground and concrete contributions to peace while ending their incitement and their support for rejectionist groups.
CONTRIBUT0RS
Dennis Ross
Samuel Lewis
Harvey Sicherman
Mohammad Yaghi
Barry Rubin
Hassan Barari
Wendy Chamberlin
Adam Garfinkl
Dore Gold
Giora Eiland
Marwan Muasher
David Pollock
These essays present diverse perspectives -- American, Palestinian, Jordanian, and Israeli -- on the challenges and opportunities for the Obama administration in approaching the Israeli-Palestinian conflict. Concluding with a short list of policy recommendations, this set of analyses, often sharply at odds with current cliches, reflects a unique combination of regional and domestic expertise, plus practical experience in managing all sides of Palestinian-Israeli relations.
THE EDITOR
David Pollock is a senior fellow at The Washington Institute, focusing on the political dynamics of Middle Eastern countries. Previously, he served as senior advisor for the Broader Middle East at the State Department, a post he assumed in 2002. In that capacity, he provided policy advice on issues of democracy and reform in the region, with a focus on women's rights. He also helped launch the department's $15 million Iraqi Women's Democracy Initiative and the U.S.-Afghan Women's Council, working directly with advocates across the Middle East.