Polarized Arab Reactions to the Iran Nuclear Framework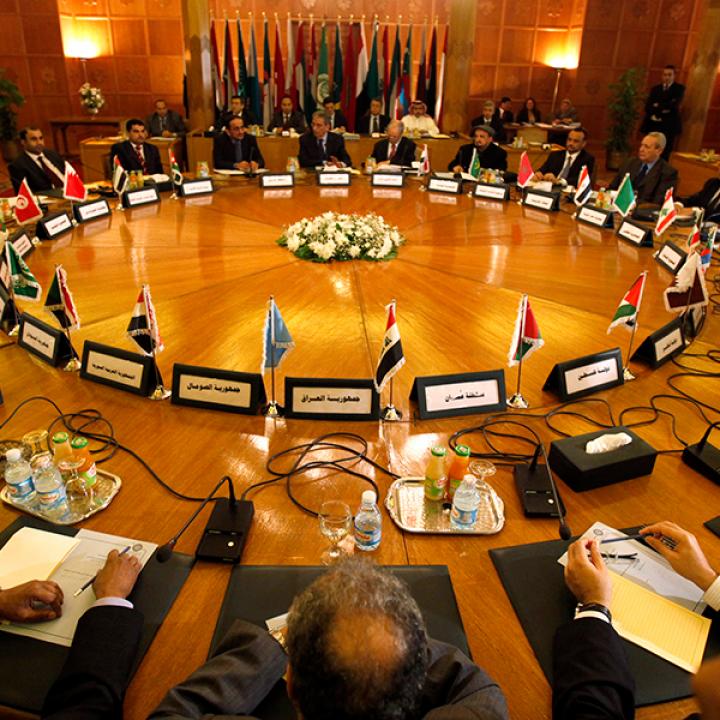 The Assad regime and Hezbollah back Iran's view of the announced parameters, but most other Arab officials and commentators are openly skeptical.
Most analysts have focused on Israeli and American, rather than Arab, reactions to the Iran nuclear framework agreement announced last week. Yet there were significant and highly divergent reactions across the Arab region -- not just in the Gulf but also among Iran's friends and adversaries in Syria, Lebanon, and beyond. On April 9, for instance, leading Gulf-affiliated media headlined Iran's new statements "reneging" on key aspects of the deal, while Assad regime and Hezbollah media spun those statements as Iran's "rightful" response to continued Western pressure.
One common denominator has stood out: Arab commentators and officials have paid remarkably little attention to the framework's technical details (at least before President Obama's latest statement that Iran's breakout time may shrink "almost down to zero" in little over a decade). Instead, Arab reactions evince a single-minded focus on a nuclear deal's potentially broader implications for Iran's conventional intervention in regional conflicts. In addition, survey research demonstrates that most Arab publics share their governments' highly negative views of Iranian policies -- even if some of those publics, as Obama mused publicly this week, are probably concerned about various domestic problems as well.
HEZBOLLAH WELCOMES THE DEAL, OTHER LEBANESE RETICENT
Lebanon's Shiite politicians, beginning with Speaker of the Parliament Nabih Berri, lost little time in congratulating Iran on its "achievement" or "victory" in the nuclear negotiations. The chairman of the pro-Hezbollah daily al-Akhbar immediately published an op-ed titled "The West Has Capitulated!" Hezbollah leader Hassan Nasrallah soon elaborated on this theme in a lengthy April 6 interview broadcast on the Syrian pro-regime television network al-Ikhbaria and transcribed on the website of his party's mouthpiece, al-Manar. He emphasized that the lifting of sanctions would make Iran more powerful and influential in the region, and that this in turn would buttress Tehran's Lebanese and Syrian allies while enabling Iran to support the Palestinian "resistance" more than ever. These points were duly reiterated by a Hezbollah spokesman on al-Mayadeen television April 8.
At the opposite Lebanese political pole, most Sunni politicians and affiliated media reported only tersely on the framework and refrained from endorsing it. Some concentrated their comments on opposition to Iran's conventional military interventions around the region. A few Christian political figures, such as Samir Geagea, publicly questioned the framework's implications, while others remained silent on the issue.
These polarized reactions are in line with the sectarian cleavages in Lebanese popular attitudes toward Iran. A reliable public opinion poll last October showed that an astonishing 96 percent of Lebanon's Shiites had a positive view of Iran, but that figure plummeted to just 12 percent among Sunnis. Lebanon's Christian community, like its political leaders, was more divided on this question, with 35 percent voicing a favorable view of Iran and the remainder either noncommittal or negative.
DAMASCUS HAILS IRAN'S "SUCCESS," THE OPPOSITION LAMENTS IT
Syrian official statements and media treatment were effusive in congratulating Iran on its gains from the nuclear framework -- not only for "the interests of the Iranian people in nuclear energy," but also for the international campaign to isolate Israel. The Assad regime's Foreign Ministry, information minister, and UN ambassador each made detailed proclamations along those lines. The Regional Baath Command went even further, averring that the framework "reinforces confidence in victory over the common Zionist and terrorist enemy."
Conversely, Syrian opposition spokesmen naturally rejected these assertions. One said the deal "will help Assad a lot...and we fully refuse any agreement signed at the expense of Syria." Another conceded that the Iranians "made some concessions, but my fear is that they got a green light" for their encroachments in Syria and other Arab fronts. And during an April 6 segment on the Dubai-based Syrian opposition television channel Orient, the author was asked, "The U.S. is finally helping to stop Iran in Yemen, now what about Syria?"
EGYPT AND JORDAN MUM, BUT TOP MEDIA DOUBT U.S. POLICY
Neither the Egyptian nor the Jordanian government has so far issued a formal response to the framework. News coverage and commentary has been correspondingly sparse, largely eclipsed by other issues.
But the most recent coverage of relevant U.S. official statements suggests considerable skepticism regarding Washington's intentions. On April 7, Jordan's leading newspaper al-Dustour carried a front-page story highlighting Obama's statement that "angry" local youths -- not Iran -- posed the greatest threat to Gulf Arab states. The same day, Egypt's leading paper al-Ahram carried front-page analysis claiming that Obama is preconditioning the planned pan-Arab summit at Camp David by "insisting on the U.S. right to interfere in Arab internal affairs." This followed a lead al-Ahram editorial on April 4 that pointedly asked, "What are the assurances or guarantees that Iran provided to the neighboring Arab Gulf states?" -- as opposed to the nuclear assurances provided to foreign powers outside the region.
Meanwhile, most commentary in Egypt and Jordan has featured the "joint Arab military force" intervention in Yemen against the Iranian-supported Houthi insurgent movement. This anti-Iranian media angle is consistent with public opinion in both countries, where a credible October 2014 commercial survey found a mere 13 percent of respondents expressing even a "somewhat" positive view of Iran.
SMALL GCC STATES SEEM CAUTIOUS; MOST MEDIA NOTE IRAN'S SUBVERSION
Among the Gulf Arab monarchies, Oman was the only one to host secret U.S.-Iran talks leading up to the framework agreement. Oman's Foreign Ministry was also the first to remark on last week's announcement, calling it an "important" step toward better understanding. One Omani professor subsequently told a Western reporter that Sultan Qaboos bin Said "talks of Iran as a neighbor with whom you should have good relations." The ruler's April 6 telephone call with President Obama produced no further public details.
The other four small Gulf Cooperation Council countries -- Bahrain, Kuwait, Qatar, and the United Arab Emirates -- have offered little official comment, perhaps pending a reported effort to coordinate their positions. Qatar's still-popular Aljazeera channel quickly trumpeted Obama's invitation to Camp David, but other media commentary appears surprisingly limited. Print and broadcast media in these countries have paid much more attention to the ongoing Yemen crisis than the Iranian nuclear issue, though sensitivities on both counts have almost certainly increased lately as reports mount of Shiite protests in Bahrain against Arab intervention in Yemen.
At the popular level, Iran enjoys a bit more approval in some of these countries than in Egypt or Jordan. In the October poll, its favorability rating "in view of its recent policies" was 21 percent among nationals in the UAE, which has substantial business ties to Iran, and 24 percent in Kuwait, where around one-third of the citizenry are Shiites. In both cases, Iran slightly outpolled the United States; but Pakistan -- whom the Saudis have invited to join the coalition effort in Yemen -- outpolled Iran, with approval ratings in the low 30 percent range.
SAUDIS FOCUS ON IRAN'S REGIONAL AMBITIONS
Reports regarding President Obama's April 2 call with King Salman and a recent Saudi cabinet statement both cited the "hope" that the Iran nuclear framework would lead to a constructive final agreement. In a televised interview on April 6, Saudi ambassador to the United States Adel al-Jubeir expanded slightly on that position, asserting that his government could not judge the terms until key details were filled in. He added that in the meantime, Saudi Arabia and its friends, including Pakistan, would work together to confront Iranian "terrorism, subversion, and interference" in Arab states, from Yemen to Syria and Iraq.
Such skepticism toward Washington and suspicion of Tehran are echoed in Saudi public opinion. A survey last autumn showed Iran and the United States statistically tied with a mere 12-13 percent of Saudi citizens expressing a favorable view of either. By contrast, Pakistan fared considerably better with an approval rating of 39 percent.
Significantly, local and Saudi-sponsored pan-Arab media are now much more vocal about these complaints than their counterparts in other Arab countries. For example, on April 9, a lead column in al-Hayat by Abd al-Wahhad Badrakhan was headlined, "The nuclear agreement is no source of stability for any country that Iran is subverting." And on April 8, a lead column in al-Sharq al-Awsat by Adb al-Rahman al-Rashed carried the title: "Obama -- Apology to Iran, and Criticism for Arabs!" Similarly, op-eds by other leading pundits -- Turki al-Faisal, Jamal Kashoggi, Ghassan Charbel, Ahmad al-Gaz, and more -- in all major Saudi-owned dailies regularly decry America's "abandonment" of its Arab allies in favor of Iranian hegemony. Unless Washington reverses course, they argue, the only remaining option for Saudi Arabia and its true friends is to band together and take matters into their own hands -- including the acquisition of a full nuclear fuel cycle to match Iran's. While such rhetoric goes far beyond official communiques from Riyadh, these semi-official media likely reflect a strong underlying strand in current Saudi policy.
POLICY IMPLICATIONS
These findings suggest several guidelines for U.S. management of Arab reaction to the Iran nuclear talks going forward. First, Washington should address Arab concerns about Iran's actual nonnuclear threats as much as its potential nuclear ones -- and not just in Yemen, but also in Syria, Iraq, Lebanon, Bahrain, and beyond. Second, it should avoid confusing this issue with talk about Arab internal social, political, economic, or religious challenges. Third, it should pay urgent attention to Saudi Arabia, where the level of dismay with U.S. policy, the active effort to enlist alternative allies, and the prospects of nuclear proliferation are all especially acute.
David Pollock is the Kaufman Fellow at The Washington Institute and director of Fikra Forum.