Palestinian Media on Gaza: Contrasting the PA and Hamas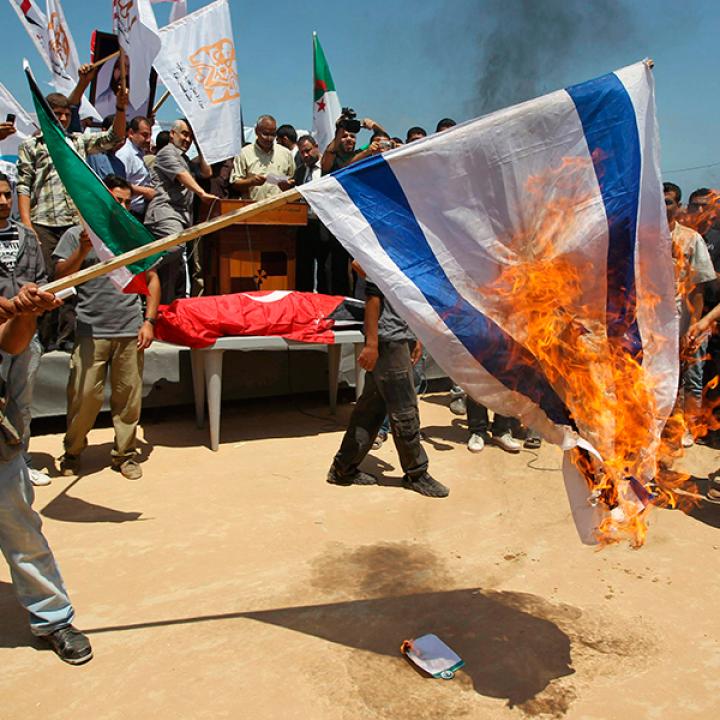 In contrast to the more measured tone of Palestinian media coverage of the Gaza conflict in the West Bank, Hamas-controlled media are relentlessly inciting violence, indulging in venomous hate speech, and gloating about imaginary hits on Israeli civilian targets.
Analysis of Palestinian media over the past week of fighting in Gaza shows a vast difference between Palestinian Authority and Hamas coverage. In the West Bank, print and broadcast media controlled or influenced by the PA are emphasizing Palestinian suffering, but generally avoiding hate speech, calls to arms, or boasting about damage to Israel. In Gaza, by contrast, Hamas media are relentlessly inciting violence, indulging in venomous hate speech, and gloating about imaginary hits on Israeli civilian targets.
The official PA newspaper, al-Hayat al-Jadidah, consistently refers to the late Hamas commander Ahmed Jabari and other Palestinian casualties, both military and civilian, as "martyrs." It does not, however, feature demands for retaliation. On the contrary, it has highlighted diplomacy and other nonviolent reactions, such as President Mahmoud Abbas's intention to request upgraded status at the UN General Assembly on November 29, his call for "peaceful resistance" to occupation, and PA humanitarian aid shipments to Gaza. The paper even carried an online poll about whether there should be "continued negotiations during the current political climate" (59 percent answered "no") rather than questions about rockets or suicide bombings.
Also conspicuous by their near-absence from PA media are boasts or even factual reports about Hamas rockets landing in Israel. This stands in stark contrast to non-PA reports from the streets of Ramallah, where new songs calling for rockets to "hit Tel Aviv" have become popular. In fact, PA media tend to refer only sparingly to Hamas at all. When they do, it is most often in the context of general calls for Palestinian unity in confronting the current crisis. 
Independent West Bank media, including al-Quds newspaper and television and al-Ayyam newspaper, are following a similar line. For example, al-Quds TV carried a live report of a Ramallah demonstration in which Fatah's Jibril Rajoub and a local Hamas official called for Palestinian unity in the face of "Israeli aggression." But during the entire week of combat, only one monitored op-ed in any West Bank newspaper -- by Adli Sadiq, in al-Hayat al-Jadidah -- used full-fledged hate speech about Israelis, calling them "snakes" who are "hungry for blood."
The opposite is true of Hamas media in Gaza. The group's official al-Aqsa television channel and website are replete with violent images and exhortations to martyrdom, including explicit advocacy of terrorizing, killing, and dismembering "Zionists," whether soldiers or civilians. For example, on November 16, the channel carried a video declaring, "Oh occupier, we are coming toward you. Leave our land. All of Palestine is ours. There is nothing here for you but death...You will end as body parts. That is Allah's promise." Two days later, it broadcast statements such as "We have longed for the suicide attacks. Expect us soon at bus stations and cafes," and "The Qassam brigades love death more than you love life."
Al-Aqsa also features constant claims -- some true, some fabricated -- about Hamas hitting Israeli civilian targets. On November 15, for instance, the channel asserted that "the electricity network in the southern part of [Tel Aviv] was hit" by a "locally made" Hamas rocket. On November 18, it claimed that Ben Gurion Airport was closed, with "planes being redirected to a secret base in the north."
A new twist in Hamas media, reminiscent of past Hizballah campaigns, is showing scare messages in Hebrew about "getting you in your sleep" and "waiting graves." The impact, if any, is probably reduced by various linguistic errors that have already provided fodder for Israeli parodies on YouTube.
More substantively, the group's media and spokesmen are mostly avoiding talk of Palestinian unity. Instead, they have emphasized -- as Hamas leader Khaled Mashal put it during a November 19 press conference -- wider claims of support from "the entire Islamic umma," explicitly including Iran. When they mention the PA at all, it is usually to complain about continued harassment of Hamas supporters in the West Bank.
The past week's major differences between PA and Hamas media demonstrate two key yet often overlooked points at stake in this crisis. First, beyond the obvious conflict between Israel and Hamas, the latest developments are also part of a continuing contest between the PA and Hamas. Second, these rival Palestinian governments are vastly different: compare Hamas's viciously incendiary, relentlessly militaristic message with the PA's emphasis on political opposition to Israel, not violent confrontation.
For U.S. policy, one immediate objective should therefore be to help the PA emerge from this crisis with at least some of its eroding authority and image intact, as a counterweight to the endless terrorism and rejectionism of Hamas -- which is as pointless as it is popular in many other fundamentalist quarters. Secretary of State Hillary Clinton's sudden trip to Ramallah is a good place to begin.
David Pollock is the Kaufman fellow at The Washington Institute. He would like to acknowledge the research assistance of Katie Kiraly, Heba Dafashy, and Sonia Hinson.