The Next Afghan Jihad? Taliban Efforts to Contain ISKP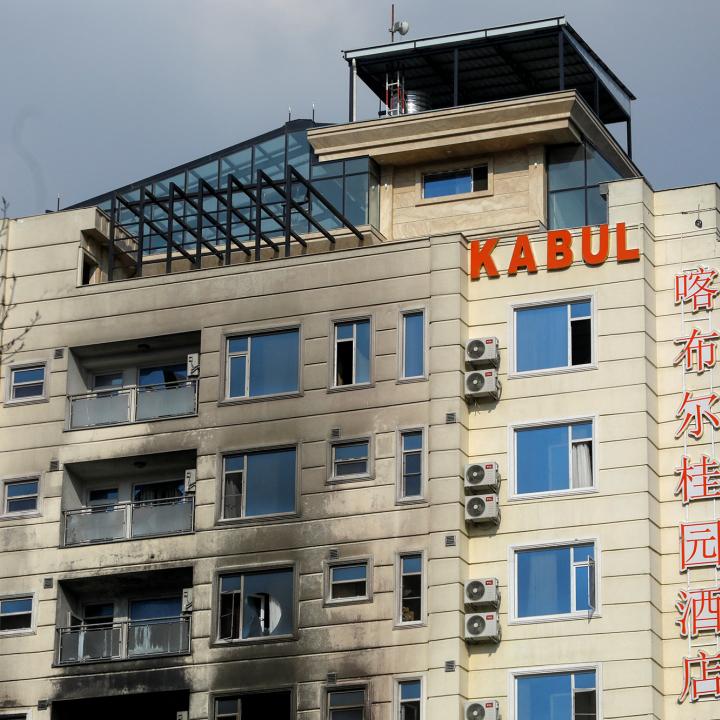 Three experts discuss how the Islamic State branch's capacity to operate globally has evolved in troubling fashion since the coalition withdrawal.
On September 28, The Washington Institute held a virtual Policy Forum with Amira Jadoon, Andrew Mines, and Aaron Zelin. Jadoon is an assistant professor at Clemson University and coauthor (with Mines) of the 2023 book The Islamic State in Afghanistan and Pakistan: Strategic Alliances and Rivalries. Mines is a program specialist in the Asia Center at the U.S. Institute of Peace. Zelin is the Richard Borow Fellow at The Washington Institute and creator of its interactive Islamic State Select Worldwide Activity map. The following is a rapporteur's summary of their remarks.
Amira Jadoon
Since the Taliban takeover of Afghanistan in 2021, the Islamic State's Khorasan Province (ISKP) has shifted its targeting priorities, tactics, geographical focus, media activity, and broader outreach efforts. These changes lend insight into how the Afghan branch of IS has evolved over time and how it is adapting to its new environment. Despite various challenges, the group has been resilient, continuing to inflict violence, target state and civilian actors, threaten international security, and recruit individuals across the region. Its strategic selection of alliances and rivalries with local groups was central to both its initial rise and its ability to overcome losses and resurge after the 2021 U.S. withdrawal from Afghanistan.
ISKP's media operations and narratives have gone through three stages since the group first emerged in 2015, reflecting its shifting priorities and environment. The first phase (2015-19) focused on anti-Taliban sentiment and rosy narratives about life under the so-called "caliphate" in an attempt to recruit followers. The second phase (2020-21) focused on instilling fear and emphasizing the group's resolve to survive amid significant territorial losses. The current phase is ISKP's most aggressive and sophisticated propaganda and outreach campaign yet, unprecedented in its form, quantity, and number of languages used—a worrisome sign of the group's intention to reach recruits and sympathizers well outside its immediate region.
To the south, Pakistan has experienced a surge in terrorism driven by the umbrella group Tehrik-e-Taliban Pakistan (TTP), and it is unclear how ISKP will respond. Historically, ISKP has not targeted TTP in its propaganda, but it has criticized the group for engaging in negotiations with the Pakistani government. If TTP strikes a deal with Islamabad in the future, some of its militants may defect to ISKP. There is also significant potential for TTP-ISKP collaboration on individual initiatives when convenient.
Andrew Mines
ISKP acts as an insurgency and has expanded its violent operations since the Taliban takeover. These include:
Waging economic warfare and seeking to impede state-provided services through actions such as attacking oil transportation and destroying electricity pylons that service urban centers

Increasing attacks against foreign nationals, NGOs, and other elements of the international presence in Afghanistan, Pakistan, Tajikistan, and Uzbekistan

Increasing high-profile assassinations against provincial governors, top ideologues, and individuals with extensive security details

Participating in rural guerrilla warfare to compete for strongholds and heartlands it once considered its own during its peak period of holding territory

Stepping up urban warfare against soft and hard targets in Kabul and other cities, with an expanded targeting profile that doubles down on the group's sectarian agenda
When the U.S.-led coalition was present, it constrained ISKP's initial growth and whittled down the group's organizational capabilities in 2015-17. Since the 2021 withdrawal, however, ISKP has reemerged in its former areas of operation as well as new areas along Afghanistan's northern and eastern borders. It now seeks to cement its position in key border areas in order to leverage alliances in neighboring countries, control local channels of migration, and facilitate recruitment. The majority of American and European foreign fighters who traveled to the region used the northeast corridor between Afghanistan and Pakistan to arrive and coordinate with local operators, then entered Afghanistan from there. In other words, Afghanistan and Pakistan cannot be dissociated when discussing a potential future surge in foreign fighters.
For its part, the Taliban initially underwent an adjustment period toward ISKP after taking power in 2021. In early 2023, it increased operations targeting key ISKP leaders, including senior ideologues and the lower-level leadership of cells involved in urban attacks. Yet the rate of these counter-ISKP operations has since slowed, raising international skepticism about the Taliban's true willingness and ability to degrade the group.
Now that the international community's kinetic options against ISKP are constrained post-withdrawal, countering the group will require bolstering partners and coordinating on a regional level. Authorities should also expose the gap between ISKP's rhetoric and actions, while simultaneously exploiting its leadership turnover through strategic communications. Lastly, humanitarian assistance must be handled very carefully—not as a lever to compel counter-ISKP operations, but as a potential means of prodding local authorities to address ISKP's international activity and compete for key populations missing out under the Taliban's rule.
Aaron Zelin
ISKP follows a long list of jihadist groups that have been involved in terrorist activities, including Algeria's Armed Islamic Group, al-Qaeda, AQAP, al-Shabab, and the Islamic State. Yet unlike groups that relied on stable safe havens to gain time and space for training and planning, ISKP has grown weaker in Afghanistan during the past year—while paradoxically expanding its external operations capacity. Indeed, Afghanistan under the Taliban remains a top vector for jihadist operations abroad.
ISKP has pursued a two-pronged approach globally: (1) continuing its wide-reaching propaganda campaign, and (2) inspiring, planning, directing, and/or carrying out attacks abroad. Its independent media architecture, al-Azaim Media Foundation, has produced content in a number of different languages, including items critical of the Taliban, neighboring countries, Middle Eastern governments, Russia, China, Europe, and the United States. At the same time, it has increased its rate of external attacks under the Taliban, including continued cross-border attacks into Pakistan, rocket strikes against Tajikistan and Uzbekistan, and claims of responsibility for attacks in the Maldives and Iran.
Since 2015, foreign law enforcement has interdicted at least sixteen ISKP plots: three in India, four in Iran, three in Germany, one in the Maldives, one in Pakistan, one in Qatar, and three in Turkey. Twelve of these interdictions occurred after the Taliban took power: five in 2022 and seven thus far in 2023. This data indicates that the Taliban's self-described "counterterrorism" efforts are limited to local security needs and do not extend to helping other countries targeted by ISKP. If foreign authorities had not thwarted so many plots, the international community would likely be putting much more pressure on the Taliban for allowing ISKP to conduct or inspire extensive terrorist operations from its territory.
Notably, Tajik nationals have been involved in many of ISKP's external attacks and other operations in Germany, Iran, and Turkey. This situation is similar to the jihadist movement in Tunisia prior to that country's 2011 revolution—a movement that involved very little local activity but major mobilization to jihadist warzones in the Middle East and logistical cells in Europe. This should serve as a warning to Tajikistan, especially if its political circumstances change in the future.
This summary was prepared by Camille Jablonski. The Policy Forum series is made possible through the generosity of the Florence and Robert Kaufman Family.