Netanyahu's Potential Friction Points with Biden (Part 2): Iran, Saudi Arabia, Ukraine, and Domestic Issues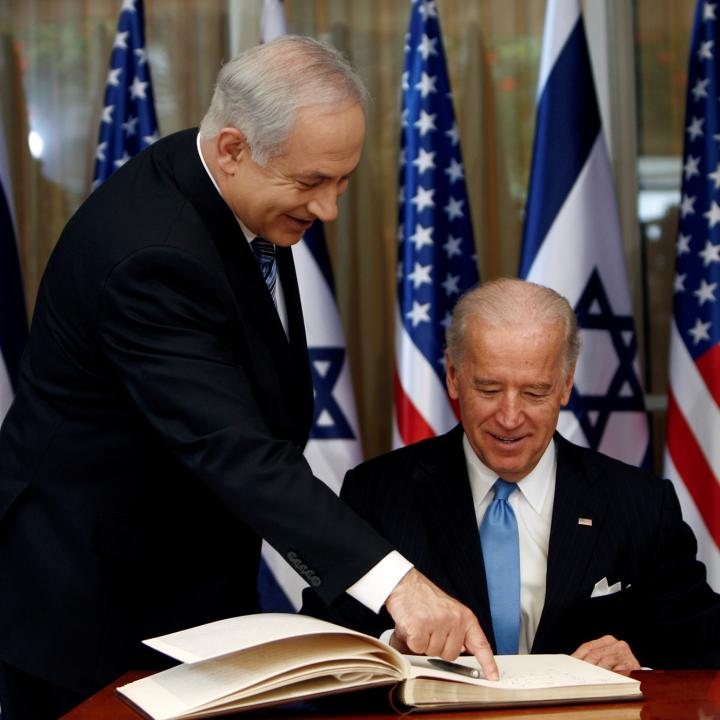 The prime minister will need a great deal of U.S. military and diplomatic assistance to achieve his foreign policy imperatives—a fact he should not forget when mulling potentially divisive moves at home.
In a Knesset speech kicking off his new government on December 29, Israeli prime minister Binyamin Netanyahu listed his four main priorities: "First of all, to block Iran...Second, to restore the security and governance within the State of Israel...Third, to deal with the cost of living and the housing problem...Fourth, to dramatically expand the circle of peace." The last item was taken as a reference to normalizing relations with additional Arab states, particularly Saudi Arabia. Both this goal and the implied reference to countering Iran's hostile regional and nuclear activities will require active assistance from the Biden administration.
In return, U.S. officials have hinted that they want to extract commitments from Israel on other key matters, including the Palestinian issues covered in Part 1 of this PolicyWatch. In their view, some of the demands being made by Netanyahu's far-right coalition partners are inconsistent with his regional strategic objectives.
Countering Iran
The Iran threat—which Netanyahu called "existential" in his Knesset speech—has defined much of his political career since his first premiership in the mid-1990s. In theory, it should be a less divisive issue with the White House today compared to Netanyahu's previous tenure, which ended in June 2021. After months of fruitless nuclear negotiations with Iran, domestic protests against the regime's human rights abuses, and Iranian military support for Russia's war against Ukraine, the U.S. government has indicated that it is temporarily shelving efforts to revive the 2015 Joint Comprehensive Plan of Action (JCPOA), which Netanyahu vociferously opposed.
Yet Israel is all too aware that the nuclear threat itself cannot be shelved—Iran's enriched uranium stockpile has reportedly grown to the point where the regime could produce four to five bombs' worth of weapons-grade material in less than two months. In a December 15 interview with Al-Arabiya, Netanyahu declared: "I'm committed to do whatever I can do to prevent Iran from having a nuclear arsenal. I naturally won't itemize that here, but that's a firm commitment that I've made to myself and to the people of Israel...I want to protect ourselves against Iran's aggression, and against a regime that openly calls for the annihilation of my country." He then noted he would take the necessary measures "with or without an agreement" with Washington.
Israel has several specific concerns about what might happen in the next few months and years. For instance, some of the nuclear deal's most important restrictions will be lifted soon: the ban on developing nuclear-capable ballistic missiles expires in October 2023, and the option to trigger UN "snapback" sanctions expires in October 2025. Israel seems intent on building up its military option before the latter date.
Former prime minister Naftali Bennett has argued that Netanyahu failed to prepare the military for a conventional confrontation with Iran, relying instead on covert sabotage and assassination campaigns. Yet it is unclear if Israel can build a credible strike capability on its own. Officials have mentioned the possibility of using KC-46 refueling tankers from the United States to carry out the multiple waves of strikes needed to break through Iran's hardened nuclear facilities, including the Fordow mountain complex. The first of these tankers are not scheduled to arrive until October 2025, however, and the Pentagon has rejected requests to move Israel up in the queue. Some believe that more strike aircraft are required as well, but further deliveries of U.S. fighter jets may be complicated by a technical issue: Israeli officials say the Pentagon has not approved their request to integrate Israeli weapons technology into the advanced F-35.
Meanwhile, a joint exercise in November featured a U.S. KC-135 tanker refueling an Israeli jet—an apparent message to Iran. More such displays are expected this year.
With the JCPOA off the table for now, there are indications that Washington may be willing to reframe its approach to the nuclear program as a more ambitious "longer and stronger" policy involving lengthier enrichment restrictions. Israel has long advocated this approach, but Tehran has flatly rejected it, and the prospects seem dim for actually pursuing such a deal when the parties failed to even revive the JCPOA. In any case, Biden and Netanyahu will need to work together to develop a common strategy on Iran.
Normalizing with Saudi Arabia
Netanyahu was more explicit about "widening the circle of peace" in his December 15 interview with Al-Arabiya: "I'm referring to what could be a truly remarkable historic peace with Saudi Arabia. Mind you, I'm committed to deepening and strengthening the remarkable Abraham Accords that we've had with our neighbors, but I think the peace with Saudi Arabia will serve two purposes. It will be a quantum leap for an overall peace between Israel and the Arab world. It will change our region in ways that are unimaginable. And I think it will facilitate, ultimately, a Palestinian-Israeli peace. I believe in that. I intend to pursue it. Of course, it's up to the leadership of Saudi Arabia if they want to partake in this effort. I certainly hope they would."
For their part, top Saudi officials have given various visiting American delegations three conditions for more explicit ties with Israel—and all three are dependent on U.S. action:
Upgrading the U.S.-Saudi strategic relationship and securing written commitments for American action if the kingdom is attacked

Ensuring a reliable flow of U.S. weapons, including delivery of existing purchases and resumption of offensive weapons sales, which were halted in February 2021

Establishing civilian nuclear energy cooperation, including the ability to enrich uranium (Washington is loath to offer enrichment capabilities to any partner)
To facilitate normalization with Arab leaders, Netanyahu tends to offer them help on improving their ties with the United States. Yet will he be in a position to curry favor with Washington if the Biden administration believes he is not being forthcoming on the Palestinian issue? U.S. officials hint that they want to see some quid pro quo from him in other arenas, noting the political windfall he could gain from a Saudi breakthrough. Ultimately, however, no degree of intercession from Netanyahu can guarantee that the United States will be forthcoming on Saudi demands, each of which holds complex policy implications.
Russia/Ukraine Complications
President Biden has made clear that he will judge allies by their actions to assist Ukraine against Russian aggression, and Israel has faced significant criticism in this regard from various corners. Thus far, Jerusalem has given Kyiv humanitarian and nonlethal assistance as well as intelligence about Iranian drones, but it is no secret that the Ukrainians want Israeli air defense systems, particularly Iron Dome.
The Pentagon understands Israel's desire to ensure that its proprietary technology is not surveilled or captured in combat and reverse engineered. Eastern European countries are reportedly asking to purchase SPYDER, a system that is similar to Iron Dome but does not raise the same proprietary concerns; in fact, it has already been exported to several countries. Some U.S. officials have also supported Israel's multi-billion-dollar deal to sell Germany the jointly produced Arrow 3 missile defense system (the purchase is awaiting final Pentagon approval). Providing NATO members with new Israeli air defense systems could free up space for them to send their older non-Israeli systems to Ukraine—an approach that is acceptable to Israel because it is less likely to cause problems with Moscow.
Israel has other serious considerations with Russia that may complicate its willingness to help on Ukraine. For one, Israeli officials say that Iran has prepared a list of weapons and strategic requests it will seek from Moscow in return for providing drones. Netanyahu will likely ask President Vladimir Putin—possibly in person—not to give Tehran strategic weapons or assistance. Any public outreach to Putin in wartime is bound to be sensitive in Washington, so U.S. and Israeli officials should privately establish clear ground rules for such high-level dialogue in advance. Some U.S. officials are already on edge about the new government's Ukraine posture—for instance, foreign minister Eli Cohen recently stated that Israel will talk less about the war in public, upsetting key congressional allies such as Sen. Lindsey Graham (R-SC), who interpreted the remark as Israel backing away from Ukraine.
Domestic Policy Shifts
Currently, domestic issues dominate Israeli political discourse, particularly the proposed overhaul of the court system, which many believe will place the country on an illiberal, even undemocratic trajectory. Large swaths of the public are also concerned that Netanyahu's junior coalition partners will attempt to limit LGBT rights, end recognition of non-orthodox Jewish conversions abroad, tighten the Law of Return's criteria for Jews immigrating to Israel, and extend major concessions to ultraorthodox Jews (e.g., continuing their draft exemption; increasing subsidies to yeshiva students and schools).
U.S. officials have made clear that these issues are unlikely to attract presidential attention, but other members of the administration may still emphasize the continued importance of preserving Israel and America's shared values. Concerns about these issues could also appear in future U.S. government human rights reports. Israelis tend to focus on what top-level U.S. officials emphasize (or omit), but they would be mistaken to assume that the United States is indifferent to their societal issues just because the White House may not address them directly. Divisive domestic policies could have corrosive effects on sentiment toward Israel in Congress and other parts of American society, accentuating the need for Israeli leaders to prioritize domestic goals that best fit their foreign policy priorities with Washington.
David Makovsky is the Ziegler Distinguished Fellow at The Washington Institute, director of its Koret Project on Arab-Israel Relations, and creator of the podcast Decision Points.