Mapping Hezbollah's Worldwide Activities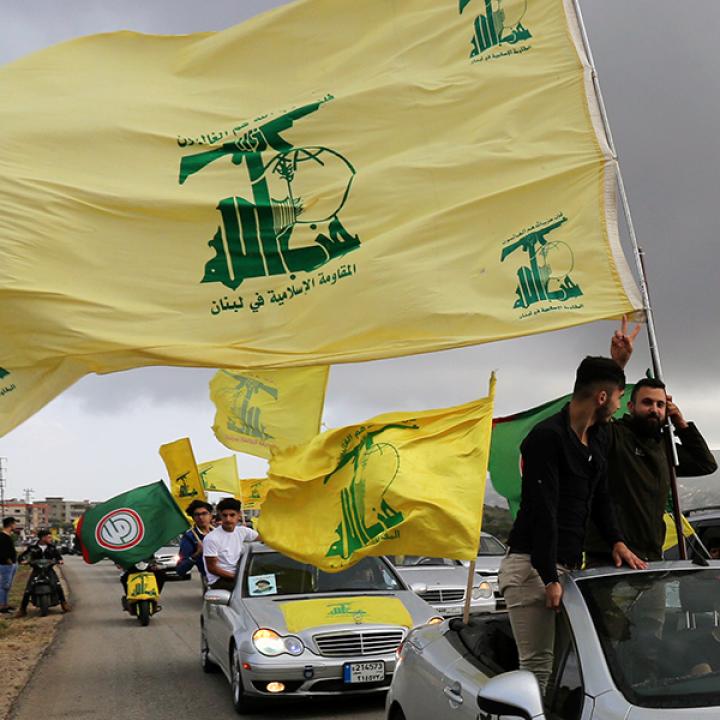 Three current and former U.S. officials discuss a powerful new interactive tool and its implications for mobilizing international pressure on Hezbollah and its enablers.
On August 3, The Washington Institute held a virtual Policy Forum with Matthew Levitt, Kash Patel, and Juan Zarate to debut the Lebanese Hezbollah Select Worldwide Activity Interactive Map and Timeline, the first-ever publicly available interactive multimedia tool charting the group's history of terrorist plots, attacks, logistics, and financial activities, as well as actions taken against it. Levitt, the map's creator, is the Fromer-Wexler Fellow at the Institute and director of its Reinhard Program on Counterterrorism and Intelligence. Patel serves as deputy assistant to the president and senior director for counterterrorism at the National Security Council. Zarate served as deputy assistant to the president and deputy national security advisor for combating terrorism in the George W. Bush administration. The following is a rapporteur's summary of their remarks.
MATTHEW LEVITT
The Hezbollah Worldwide Activity Map is the largest database of open-source information about the group's illicit activities to date, searchable by category, location, timeline, and keywords. It includes around a thousand entries at launch, with more to come, each supplemented by photographs, videos, incident summaries, geographical/thematic linkages, and primary source documents.
During and following publication of my 2013 book Hezbollah: The Global Footprint of Lebanon's Party of God, I travelled throughout Europe trying to persuade legislators to designate the group as a terrorist organization. These conversations revealed two key gaps in the existing literature: the lack of a go-to repository of Hezbollah-related information, and the dearth of unclassified source material. Although the book addressed both problems to some extent, its deluge of information was neither instantly accessible nor frequently updateable. This conundrum was the catalyst for development of the new interactive project.
The map highlights many rare, unreported, and underreported bits of information. For example, it makes public that Hezbollah handler Fadi Kassab's real name is likely Majid Abdullah, and that he probably holds a British or European passport. Similarly, it divulges the little-known fact that in 2010, Hezbollah stored ammonium nitrate intended for making explosives in a house purchased by a French Lebanese professor who is currently under indictment. Indeed, the map's capabilities provide an easy way of examining the connections between related data, such as the travel patterns of Meliad Farah and other operatives involved in the 2012 Burgas bombing. It also sheds light on plots that did not come to fruition, such as the joint Hezbollah/Palestinian Islamic Jihad plan to target Jewish emigres at a Warsaw synagogue and the Budapest airport in the late 1990s.
More recent cases documented by the map illustrate Hezbollah's transnational reach well beyond the Levant. For example, one entry details the August 2015 arrest of Hezbollah operatives in Kuwait who were found to have massive quantities of explosives; another entry covers a March 2017 plot in faraway Bolivia; and several entries document the activities of Hezbollah financier Mohammed Bazzi, whose business activities span Belgium, Iraq, Lebanon, and multiple West African countries. Newer examples like these show that the group has not been dissuaded from continuing its criminal, financial, and terrorist activities all around the world, even in Europe.
The tool also sheds light on key trends in Hezbollah operations, such as its increased reliance on drug trafficking and money laundering. This uptick coincides with a reduced revenue stream from Iran amid growing sanctions, declining oil prices, and the COVID-19 pandemic. Tehran still has funds to support terrorist proxies, but much of it is currently being diverted to backing the Assad regime in Syria. Iranian support to Hezbollah is likely less than the previously reported annual sum of $700-800 million, and this decline has led the group to close offices, reduce salaries, and adapt to a less permissive operating environment. Meanwhile, the Lebanese people are suffering the consequences of massive elite corruption by Hezbollah and other sectarian groups across the political spectrum.
The map's introductory essay and tutorial provide further technical detail on how to access and collate these and other data points. As a "living" project, the digital interface will be updated as more information and documentation become available. Users are encouraged to submit specific or general feedback and documents using the mail widget; all such information will be carefully vetted before inclusion in the database.
KASH PATEL
The new interactive map puts four key points in sharp relief. First, Hezbollah is a terrorist organization—the United States first designated it as such in 1997, and the U.S. government continues to reject any distinction between the group's military and political "wings," instead encouraging the international community to follow suit in designating and sanctioning the group.
Second, Hezbollah is the Iranian regime's most dangerous and competent terrorist proxy. For years, the group has been making plans and stockpiling weapons for attacks around the world, including in Africa, Asia, Europe, and North and South America.
Third, Hezbollah is abusing the global financial system to support its activities. Along with money from Iran, illicit funding schemes and networks help sustain the group.
Fourth, the Trump administration believes that swift action is needed to counter, disrupt, and sanction Hezbollah's global terrorist activities. For example, it worked closely with the German government to ban Hezbollah in its entirety, a decision that was made public in April. The previous year, Britain and Kosovo added the group to their terrorist lists. South American partners Argentina, Columbia, Honduras, and Paraguay have designated it as well.
Although the United States continues to encourage other countries, including those in the Balkans, to designate Hezbollah, such moves and their related financial sanctions are only the first of many means to circumscribe the group's activities. Sanctions are critical to the administration's efforts to cripple terrorist organizations, but they are just one piece of the puzzle.
Going forward, collaboration between the interagency and private sector is necessary for sharing information, raising awareness of Hezbollah, and anticipating the group's next steps. Designating Lebanese politicians is a sensitive issue; the U.S. government must decide whether to target those working in conjunction with Hezbollah or collaborate diplomatically with them in order to take the group down from within. The Trump administration has already designated two such politicians, and several other designations are under consideration.
JUAN ZARATE
The release of this interactive map is a tremendous reflection of Dr. Levitt's scholarship, expertise, and background as a former FBI analyst and Treasury official. In general, maps are a valued way of conveying information in a time when we are inundated with information and short on memory. They can consolidate, curate, and give shape to information, widening the aperture of the imagination and allowing authorities, regulators, scholars, and others to ask hard questions.
When I was working under the second Bush administration, the president bemoaned the fact there was no comprehensive map for the war on terror. The national security staff tried to satisfy this need as best it could. At the time, the map of the Darfur conflict—produced by the Satellite Sentinel Project in conjunction with the Holocaust Museum, using Google Earth technology—was a promising template for exposing wrongdoing and national security risks. I have always hoped that it would serve as a forerunner for future projects like Dr. Levitt's.
The Hezbollah map reflects the international range of the group's activities, its operational capabilities beyond Lebanon, and the oft-forgotten forty-year history of actions by and against it. The project is food for much-needed discussions on Hezbollah's contribution to Lebanon's economic crisis, as well as the group's international endeavors and links to its chief state sponsor, Iran.
Greater economic pressure on Tehran has often incentivized Hezbollah to take advantage of opportunities in the criminal domain. For example, the Lebanese Canadian Bank was designated as "an institution of primary money laundering concern" in 2011, a period when Iran was less able and inclined to fund the group. Today, Hezbollah leaders continue to voice concerns about budgetary pressure incurred by shortfalls in Iranian funding, largely due to sanctions. Sanctions aim to make it harder, costlier, and riskier for America's enemies to raise and move money around the world. Although sanctions cannot cut off all funding to Hezbollah, they will force the group and Iran to conduct cost-benefit analyses and weigh the consequences of their actions.
Hezbollah has tried to demonstrate its legitimacy through political and social means in Lebanon. To the extent that it continues threatening European citizens, however, it reinforces its true nature as a terrorist entity—a strategic mistake that will likely attract the attention and ire of European governments. Furthermore, if the Special Tribunal for Lebanon indicts Hezbollah members for the assassination of former prime minister Rafiq Hariri, it will erode the group's domestic legitimacy and credibility.
This summary was prepared by Samantha Stern.
Click on the map image above to view the full interactive map and timeline.