Making the Most of the Berlin Conference on Libya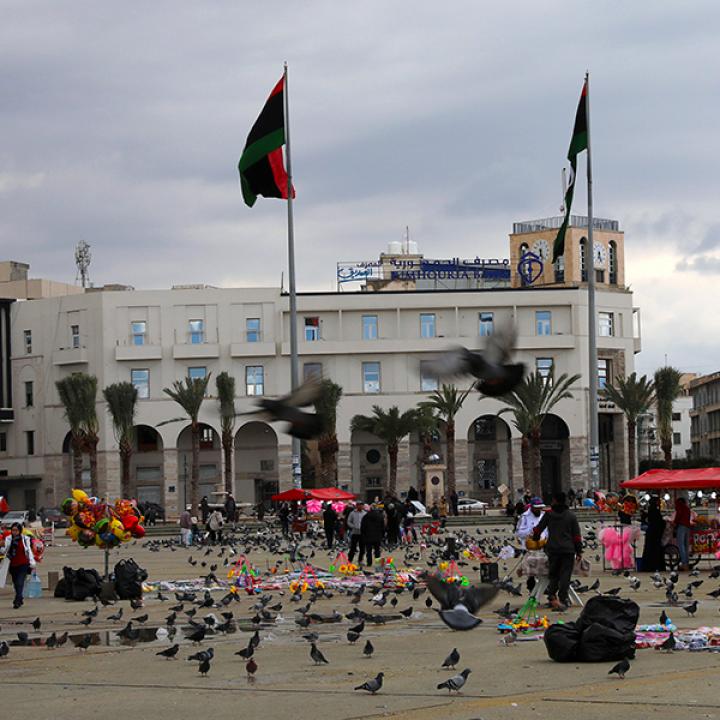 If the latest conference is to succeed, the principal actors stoking the civil war must endorse a genuine ceasefire and a return to Libyan internal dialogue.
On January 19, international leaders will convene in Berlin to discuss a way out of the nine-month civil war between the so-called "Libyan National Army" led by Gen. Khalifa Haftar and the internationally recognized Government of National Accord led by Prime Minister Fayez al-Sarraj. The Germans led several months of preparatory efforts at the request of UN envoy Ghassan Salame, but had been reluctant to choose a specific date until they were assured that the event stood a reasonable chance of producing practical steps to improve the situation on the ground and jumpstart the UN's stalled negotiation efforts between the LNA and GNA. Chancellor Angela Merkel finally took that step after several key developments unfolded earlier this month, including a January 8 ceasefire proposal by Russian president Vladimir Putin and Turkish president Recep Tayyip Erdogan, and Putin's subsequent failed attempt to have each side sign a more permanent ceasefire agreement in Moscow on January 13 (the GNA signed but Haftar balked, though most of the fighting has paused for the moment).
Secretary of State Mike Pompeo has been averse to engage on Libya during his tenure, but he is expected to attend the Berlin conference alongside National Security Advisor Robert O'Brien. Accordingly, the event gives the United States a chance to play a much-needed role on several fronts: namely, pressuring the foreign actors who have perpetuated the war and violated the arms embargo; working with Britain, France, Germany, Italy, and Russia to codify a ceasefire at the UN Security Council; and backing Salame's efforts to reinvigorate the Libyan national dialogue, which Haftar preempted by attacking Tripoli last April despite European support to Salame.
Since 2011, Libya has struggled to establish a legitimate transitional government despite three national elections and the creation of at least four legislative bodies. Challenges to the 2014 election results eventually led to rival governments in the east and west, and the division solidified when Haftar started the first civil war with support from his allies Egypt and the United Arab Emirates. That war halted in 2015, but several years' worth of domestic and international efforts failed to bring Sarraj and Haftar to an enduring resolution.
In February 2019, the two leaders met with Salame in the UAE but once again failed to resolve their differences. Two months later, Haftar launched his offensive against Tripoli, which has continued ever since. Quite simply, the general has felt no need to compromise on his core demands so long as his military position remains stronger than the GNA's, his international backers continue their support, and Sarraj remains relatively weak domestically and internationally.
RENEWED SENSE OF URGENCY
Salame conceived the idea of a Berlin conference because Germany has not played an active role in Libya's recent wars and might therefore be viewed as a more neutral peace broker. Supported by a more united European position, Merkel's diplomatic efforts began prior to Russia and Turkey's recent military moves—Putin deployed Wagner mercenaries on the frontlines to support Haftar in September, and Erdogan deployed troops to Libya earlier this month after signing a defense memorandum with the GNA in November.
The goal of the Berlin conference is to produce a unified international position that can help the UN secretary-general and Salame achieve a political deal and ultimately reunite Libya. According to German authorities, the event will include senior officials from Algeria, Britain, China, Egypt, France, Italy, the Republic of the Congo, Russia, Turkey, the UAE, and the United States. The UN, European Union, African Union, and Arab League will also be represented. Leaders expected to attend include Putin and Erdogan, along with Algerian president Abdelmadjid Tebboune, British prime minister Boris Johnson, Egyptian president Abdul Fattah al-Sisi, French president Emmanuel Macron, and Italian prime minister Giuseppe Conte.
The conference will aim to endorse a pre-negotiated text of more than fifty points addressing a host of issues: the creation of a military council from each Libyan side to negotiate security issues, the formation of a new political body representing all sides, and the creation of an economic team to deal with controversial issues such as distributing oil resources, unifying economic institutions, and reforming subsidies.
Step one, however, will be cementing the fragile ceasefire and, potentially, designing a monitoring mechanism. It is difficult to imagine viable negotiations taking place over Libya's political, security, and economic future when the two parties are still fighting. So far, the tentative ceasefire brokered by Putin and Erdogan has mostly held since it went into effect on January 12. Yet each side suspects the other is just exploiting the pause to reinforce its frontlines—in the LNA's case by bringing more arms and equipment from the east; in the GNA's case by receiving arms and personnel from Ankara, including pro-Turkey fighters formerly engaged in Syria. Firming up the composition and terms of a permanent ceasefire mechanism will be a key issue in Berlin and any follow-up meetings.
EXPANDED U.S. ROLE
Whatever President Trump's intention was when he called Haftar last April, his outreach signaled support for the general's offensive, despite the administration's subsequent calls for de-escalation. Washington has also held important technical-level discussions on security and economic reform, but those efforts have limited value in the context of the current war. Accordingly, Pompeo and O'Brien should focus intently on achieving three main goals in the coming days and weeks:
Press the principal foreign backers of each side to pause their military support, giving negotiators a chance to formalize the ceasefire. That means insisting that the UAE ground its drones and other aircraft supporting Haftar's operations, and that Turkey pause its supply of personnel, weapons, and technology to the GNA. Pompeo needs to be clear with each interlocutor that Washington takes the matter seriously, and that their behavior in Libya will affect their bilateral relations with the United States.
Open a channel with Russia. To prevent Putin from embedding a Russian presence in the South Mediterranean, Washington needs to engage Moscow on Libya. In the past two weeks, Putin has once again demonstrated that he wants to be a power broker in Libya, but he also seems more willing to secure relations with both sides of the conflict instead of just backing Haftar. Pompeo can take advantage of this interest—not to mention Haftar's spurning of Putin's agreement in Moscow—by offering to negotiate a UN Security Council resolution that calls for a ceasefire, and by backing the UN-led political negotiations.
Clearly endorse the UN process and offer monitoring assistance. The administration should communicate explicit U.S. support for UN-led negotiations on all three tracks (political, economic, and security). It should also offer U.S. resources, primarily intelligence, to monitor the ceasefire. This includes threatening to use existing sanctions authorities to punish actors that violate its terms, whether foreign-based or Libyan.
The Berlin conference is a critical opportunity to at least pause Libya's war. If Washington misses it, there may not be another one until hundreds more are killed and thousands more displaced.
Ben Fishman is a senior fellow at The Washington Institute and former director for North Africa at the National Security Council.