The Lebanon Protests: Views from Beirut and Policy Implications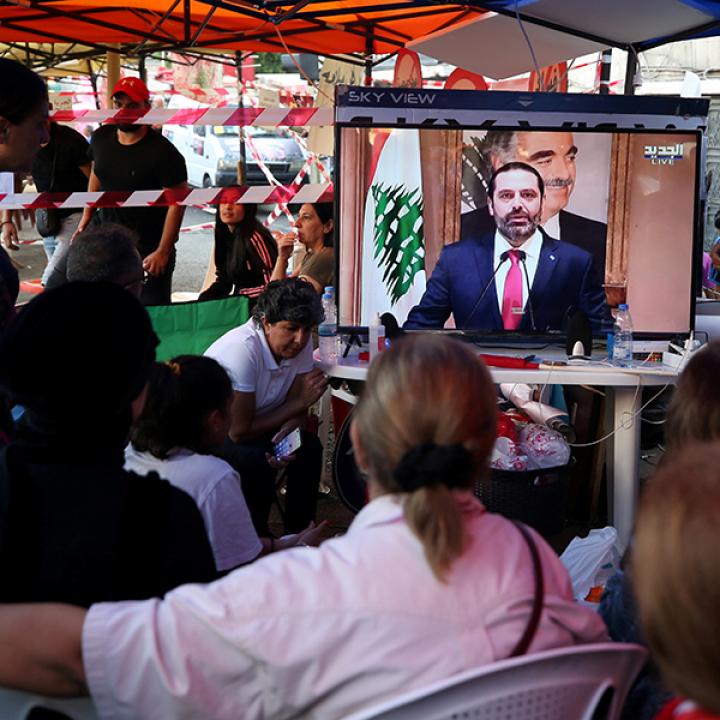 Four Lebanese experts assess the country's fragile political and financial situation, explaining why the demonstrations will not stop with Hariri's resignation.
On November 5, Hanin Ghaddar, Makram Rabah, Lokman Slim, and Jean Tawile addressed a Policy Forum at The Washington Institute. Ghaddar is the Friedmann Visiting Fellow in the Institute's Geduld Program on Arab Politics. Rabah is a lecturer in history at the American University of Beirut. Slim is director of the Lebanese NGOs Hayya Bina and UMAM. Tawile is president of the Kataeb Economic and Social Council and a former advisor to Lebanon's trade minister. The following is a rapporteur's summary of their remarks.
HANIN GHADDAR
Since October 17, the Lebanese people have taken to the streets to reject corruption, sectarianism, and nonstate militias. The movement is unique in that citizens from all sects and all parts of the country have joined the protests. In addition, political leaders have been unable to enforce their agendas by infiltrating the demonstrations, and the involvement of outside actors has so far been limited. The political establishment, especially Hezbollah, finds these developments worrisome, since they may entail deep changes in the system.
The national rhetoric regarding political life is also changing. There is a sense that the long-ago civil war is only now coming to its true end, in part because the new generation of activists and political supporters did not grow up with the rhetoric of that conflict. Traditional sectarian disagreements are being set aside as well, with protestors presenting a unified set of demands for a transitional period. Among these demands are early elections and a nonsectarian electoral law that enables voters to choose a new president and parliament.
As a result of this movement, the pillars that have kept Hezbollah in power are eroding. The protestors have delegitimized two of the group's main allies inside the government: Speaker of Parliament Nabih Berri and Foreign Minister Gebran Bassil. Meanwhile, large swaths of Hezbollah's Shia Muslim base seem to be rejecting the group by joining demonstrations and emphasizing their Lebanese identity rather than their sectarian identity. Likewise, Bassil's fall from grace indicates widespread Christian opposition to the group. Another crucial pillar—support from the international community—was undermined with the recent resignation of Prime Minister Saad Hariri.
MAKRAM RABAH
This protest movement is unprecedented in Lebanon because the people are rejecting a system that no longer works for them. The realization that no economic recovery will occur under the current system is what pushed them to this point, compounded by the perception that Gulf states have abandoned the Lebanese economy. The people are also questioning Hezbollah's role in these failures.
In response, the group and other ruling elites have attacked the protestors domestically, while stoking fears internationally that a wider collapse would create a refugee crisis for other countries. Despite these threats, however, the movement will likely continue until its goals are met.
Regarding U.S. policy, Washington's maximum pressure approach has had the desired effect of weakening Hezbollah. Yet sanctions need to be expanded to include the group's Maronite allies, who are just as culpable for the country's rampant corruption. The international community has continued to support the political establishment amid such abuses for fear that its disintegration would create a dangerous vacuum. The protestors have managed to take matters into their own hands, however, even without substantial international support.
Rather than reaching out to civil society figures who might satisfy the public's demands for new governance, elites have been holding negotiations to form a new government behind closed doors, without including any voices from the protest movement. In that sense, demands for a new electoral law are unlikely to yield the desired results—real change can only be achieved by reconsidering the fundamental political arrangements established by the 1989 Taif Accord and finding a new approach to secularizing the state.
LOKMAN SLIM
Despite the similarities between ongoing protests in Shia-majority areas of Lebanon and Iraq, patience is needed in determining whether they are part of a larger regional uprising against Shia political leaders and Iranian interference. For now, one thing is clear: some of Hezbollah's Shia supporters are defecting, especially leftists. These critics point to the fact that Hezbollah has become part of the ruling establishment over the past fourteen years and is therefore culpable for the country's corruption and mismanagement. Many Shia are also angry about the host of problems that arose from Hezbollah's involvement in the Syria war.
In response, the group has attempted to demonize protestors and accused them of having foreign agendas. Hezbollah leaders know that resorting to large-scale violence in the current atmosphere would worsen their predicament, so they will likely use other methods to normalize the situation, such as fabricating a terrorist threat.
To ensure stability amid these challenges, the international community should expand the mandate of the UN Interim Force in Lebanon (UNIFIL), empowering it to help protect civilians. At the same time, officials should put more pressure on the Lebanese Armed Forces, who have used violence against protestors in some parts of the country. U.S. aid to the LAF should be contingent upon its performance across Lebanon as a whole. The role of military intelligence personnel should be scrutinized as well, since some critics have accused them of favoring Hezbollah and its allies.
JEAN TAWILE
The Lebanese economy is in a state of stagflation, with a real GDP growth rate that is plummeting toward zero percent. Inflation also continues to rise and is expected to reach 10 percent this year. Probable causes for this rise are the government's protectionist measures on imported goods and the lack of foreign currency in circulation, which has led to a secondary market for the Lebanese lira and effectively devalued it. The ever-increasing fiscal deficit is a problem as well—it has grown by 100 percent since 2014 and is likely to exceed 11 percent of GDP.
The bleak economic situation is also evident in the fact that Lebanon's readily available foreign reserves are now valued at less than $10 billion. The government will need these reserves to repay dollar-denominated bonds, cover for the withdrawal of Lebanese funds from banks, and manage basic currency needs. Barring any dramatic improvements, however, current reserves will only last another three to four months, and a recession remains likely.
In light of such challenges, a new government is needed as soon as possible—one that can gain the people's trust quickly. Reforms must then be put in place with the implementation of a financial stability package that can facilitate the recovery of foreign reserves. Diaspora support to the Lebanese economy has been vital in keeping it afloat, but such assistance may prove meaningless under the current leadership's mismanagement.
This summary was prepared by Zied Bouchlaghem.
The Policy Forum series is made possible through the generosity of the Florence and Robert Kaufman Family.