Kuwait's Election Makes Gulf Arab Rulers Nervous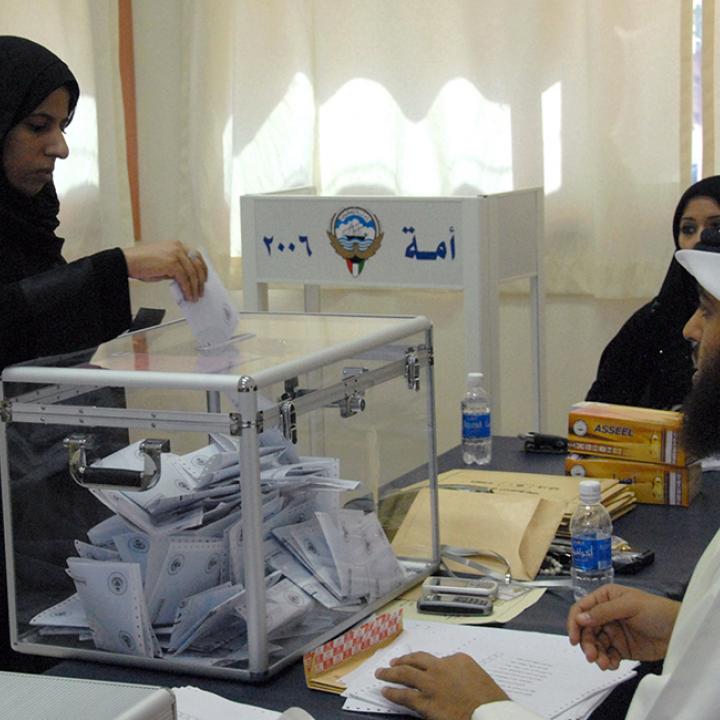 Gulf states seem to view Iran as a more important challenge than domestic unrest, but Kuwait's recent troubles indicate they are no longer immune to the pressures sweeping the Arab world.
On December 1, Kuwaiti voters go to the polls to decide who will represent them in the next national assembly, one of the Arab world's most well-established parliaments. But instead of celebrating a democratic tradition, the election will likely emphasize divisions within Kuwaiti society and perpetuate a months-long political impasse. Other conservative Gulf Arab governments, which tend to emphasize a cautious consensus approach to any evolution of their essentially authoritarian systems, are watching with concern.
Kuwait's parliament, which dates back almost fifty years, became an icon for the country's independence and freedoms in 1991, when U.S.-led forces liberated the emirate following the Iraqi invasion. Since then, Kuwaiti politics have often been fractious. Although the government is dominated by the al-Sabah ruling family, activist members of parliament -- namely, a loose coalition of Islamists, secular nationalists, and some tribal representatives -- make frequent use of their limited powers to question ministers. In frustration, Kuwait's eighty-three-year-old emir, Sheikh Sabah al-Ahmed al-Sabah, has dissolved the parliament five times since 2006.
What's different this time is trouble on the streets of Kuwait City. On November 15, protestors in the capital were beaten by police as they tried to march on the home of the prime minister, the emir's relative Sheikh Nasser Muhammad al-Ahmed al-Sabah. Turned back, the angry crowd then stormed the locked gates of the parliamentary building, entered the chamber, and sang the national anthem. Previous clashes involved police using tear gas and rubber bullets against demonstrators.
Yesterday, the opposition called on Kuwait's 400,000 eligible voters (i.e., men and women over twenty-one) to boycott tomorrow's election. Today, an estimated 15,000 protestors marched in the capital, carrying banners reading "sovereignty resides in the people" and "absolute power corrupts." One of their main grievances is that the emir has altered the already-complicated voting system (i.e., five districts with ten elected representatives each) so that voters have one ballot instead of the previous four. In simple terms, this move will likely favor tribal groups -- a scenario that has temporarily united Islamist and secular groups, who fear the resulting parliament will be more easily controlled by the ruling family.
For Washington, the latest events complicate the delicate balance between supporting democratic freedoms and acknowledging the importance of historical alliances with ruling families in the region, which enable U.S. military forces to protect Gulf oil exports from potential Iranian and other threats. Kuwait and the other Gulf Cooperation Council members (Bahrain, Oman, Qatar, Saudi Arabia, and the United Arab Emirates) appear to view Iran as a more important challenge than popular demands for political power. But Kuwait's troubles indicate they are no longer immune from the pressures sweeping the Arab world, which have already felled dictators in Egypt, Libya, and Tunisia. Recent GCC moves indicate growing anxiety; for example, ailing King Abdullah of Saudi Arabia changed his interior minister this month, and the Qatari government sentenced a citizen to life imprisonment for writing a poem critical of the ruler.
In other Gulf developments, respected Egyptian American jurist Cherif Bassiouni, who advised Bahrain on reforms following violence there in 2011, commented adversely on the island's progress last week -- likely complicating the decision on whether Defense Secretary Leon Panetta can accept an invitation to speak at a strategy conference in Manama next week. Meanwhile, human rights groups have condemned the UAE for recent actions against local Islamists. In addition, all GCC countries have significant Shiite constituencies (in Kuwait's case, some 30 percent of the population), which affects their approach to Shiite-ruled Iran. For now, though, the rulers of these states continue to seek U.S. protection from what they perceive as Tehran's malevolent gaze across the Gulf.
Simon Henderson is the Baker fellow and director of the Gulf and Energy Policy Program at The Washington Institute.