The Kuwaiti Emir Visits Washington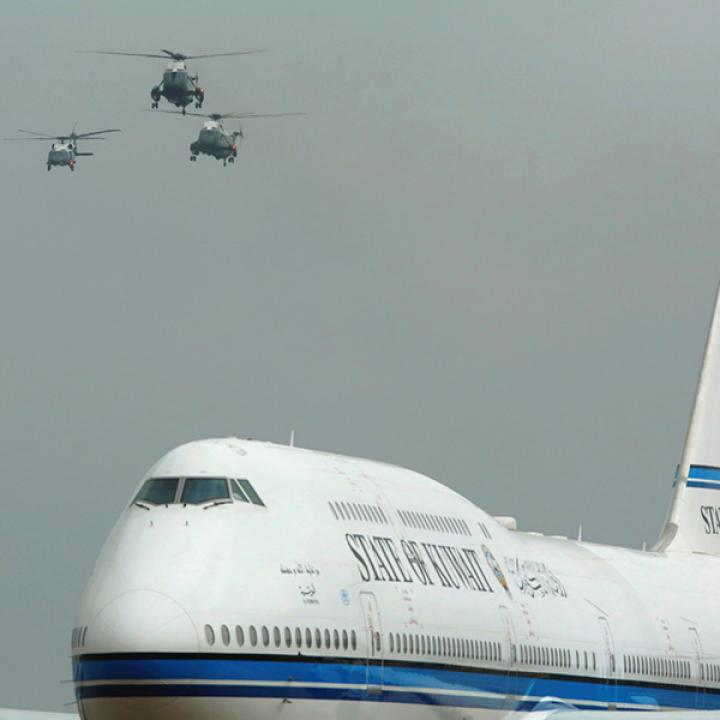 In addition to addressing the Qatar crisis and other regional challenges, this week's bilateral meetings promise to focus on how the United States and Kuwait can expand their economic ties and CT cooperation.
On September 7, President Trump will host the leader of a close U.S. Gulf partner, Kuwaiti emir Sheikh Sabah al-Ahmed al-Sabah, for talks at the White House. The visit comes at a time of deep crisis among members of the Gulf Cooperation Council (GCC) -- to which Kuwait belongs -- over Qatar's policies and its neighbors' actions to counter them. The eighty-eight-year-old emir, who served as Kuwait's foreign minister for forty years, has played a central role in mediating the dispute. Washington has supported this role, with Secretary of State Tillerson using Kuwait as a base for his own shuttle diplomacy to address the crisis.
Yet the Qatar crisis is only one of many items on the agenda for this week's talks, and an announcement about a breakthrough in the GCC dispute would be surprising. Following are key issues to watch during the White House meeting and the continued high-level bilateral discussions the next day:
Deepened bilateral ties, especially economic. The emir and his delegation are expected to focus on expanding U.S.-Kuwait ties. The visit forms part of the U.S.-Kuwait Strategic Dialogue established during the Obama administration in October 2016, which provided a roadmap for bilateral ties over the next twenty-five years. (Trump extended an invitation to the emir to visit Washington soon after his inauguration.) Talks this week will focus on developing relations in specific sectors, including security and military, trade and investment, and education. High-level meetings on these issues will be held between U.S. officials and visiting Kuwaitis Wednesday through Friday. On Wednesday, an inaugural U.S.-Kuwait economic forum organized by the U.S. Chamber of Commerce and Kuwaiti Chamber of Commerce and Industry was held with the goal of boosting trade and encouraging bilateral investment. This Washington forum parallels recent similar efforts with the Saudis. A key challenge for Kuwait and other GCC states has been building a sustainable private sector given lower oil prices, shrinking budgets, and political and societal constraints at home.
Counterterrorism cooperation. Strong counterterrorism policies, including counter-terrorist financing, remain a priority for the White House, so they may emerge as a discussion point during talks there. In a September 5 interview with the Kuwait News Agency, Ambassador Sheikh Salem Abdullah al-Jaber al-Sabah stated that cooperation in the fight against terrorism will be high on the agenda during the emir's talks with the president. Previously, on August 30, U.S. ambassador Lawrence Silverman delivered a private written message to the emir from President Trump, and it would not be surprising to learn that the letter specifically identified counterterrorism cooperation as a means of advancing bilateral and regional relations. Kuwait was victim to the most deadly terrorist attack in its history in June 2015, which was linked to the Islamic State (IS), and the state has disrupted terrorist plots and prosecuted and jailed terrorists. At the same time, U.S. officials have expressed frustration that a number of UN-designated terrorist financiers continue to operate inside Kuwait's borders.
Qatar crisis and other regional challenges. The most serious internal crisis in the GCC's history will be an important item on an agenda that is also expected to include regional challenges such as Yemen, Iraq, Syria, the Arab-Israeli peace process, and Iran's destabilizing activity. Yet no diplomatic breakthrough in the Qatar dispute is expected this week. Tensions have soared between Doha and the Qatar-blockading countries (Saudi Arabia, the United Arab Emirates, Bahrain, and Egypt). Saudi Arabia has supported a previously obscure member of the Qatari ruling family, Sheikh Abdullah bin Ali al-Thani, as an alternative to the current emir, Sheikh Tamim bin Hamad al-Thani. Meanwhile, Doha has expanded ties with Tehran—a significant point of contention with the blockading countries. Saudi-owned media have led reporting on an upcoming Qatar opposition conference in London scheduled for September 14, though the extent of any formal support for this event by the blockading countries remains unclear as of this writing. At the same time, both sides have taken some small positive steps in the dispute: the blockading countries reconsidered their stark initial demands, while Qatar signed a limited memorandum of understanding with the United States.
Following this week's meetings, Washington and Kuwait may issue a statement on the crisis that echoes Trump's message to Saudi Arabia's King Salman during their August 30 phone call. According to the White House readout of the call, Trump urged all parties to find a diplomatic resolution to the crisis that follows through on commitments made together in Riyadh in May to maintain unity while fighting terrorism. The president and emir may also warn of growing risks associated with public hostility and disunity in the GCC.
U.S. POLICY IMPLICATIONS
America's ties with Kuwait are especially close, stemming from the U.S. role in liberating the country from Saddam Hussein's grip in 1991. Today, Kuwait provides one of the region's most permissive environments for access, basing, and overflight in support of the U.S. and anti-IS coalition presence in theater, according to CENTCOM commander Gen. Joseph Votel. The country also hosts the forward headquarters of CENTCOM's army component, and it has played a major role in Syrian humanitarian campaigns and Iraqi counter-IS efforts. Washington has responded in kind; last November, the State Department approved the sale of F/A-18 fighter aircraft to Kuwait. In short, a stable, successful Kuwait is in America's interests, and efforts to meet that goal should include expanded security, financial, and other ties.
In the context of the current GCC dispute, the Kuwaiti leadership stands out as a wise partner that is concerned about the political dangers the crisis poses in an already volatile region. Kuwait is especially worried about Iranian-supported violence inside its own borders and next door in Iraq. Statements emerging from this week's bilateral meetings provide a fresh opportunity to deliver a message to other Gulf partners about the importance of addressing grievances, seeking a diplomatic resolution, and focusing on shared interests (e.g., reversing Iran's destabilizing regional activities and countering IS). The meetings also represent an opportunity to jointly manage expectations for the Qatar crisis given the intransigence on both sides of the dispute. This involves recognizing that there is no returning to the pre-crisis state of affairs because of the profound damage that has been created by the rift.
Lori Plotkin Boghardt is the Barbara Kay Family Fellow at The Washington Institute.