Khamenei Securitizes the Pandemic as the IRGC Mulls Regional Action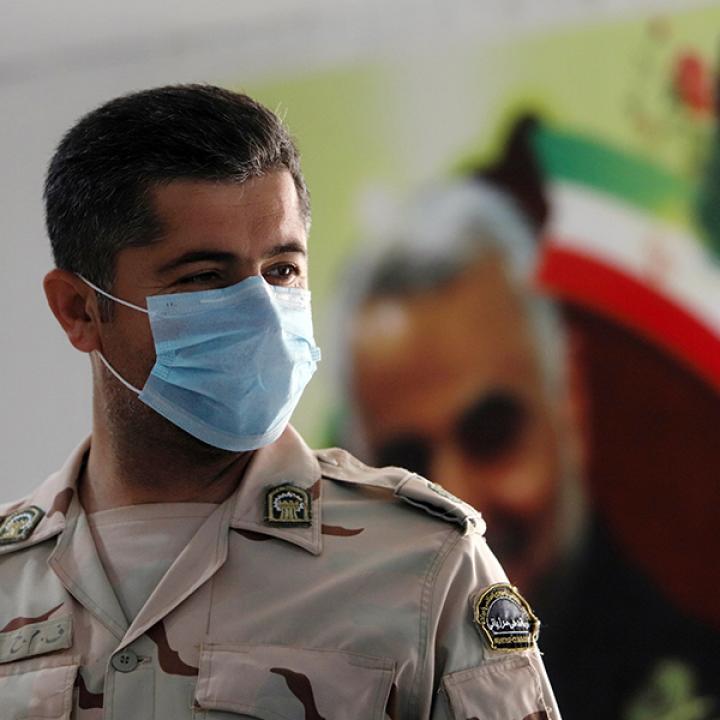 With the regime leadership accusing the United States of using bioweapons and fomenting other hateful disinformation, the potential for violence against U.S. forces and interests will likely escalate.
Taking advantage of his annual Nowruz speech on March 22, Iran's increasingly paranoid Supreme Leader Ali Khamenei aimed sharp criticism at the United States by accusing it of waging a genetically engineered biowarfare campaign against his nation. Besides raising concerns about his mental state, such rhetoric may signal a new chapter of hostilities between the two countries, especially in light of recent moves by the Islamic Revolutionary Guard Corps (IRGC).
HUMAN-JINN CONSPIRACY THEORIES
Citing chapter 6, verse 112 of the Quran, Khamenei categorized Iran's enemies into two groups, demonic (jinn) and human, claiming that they have close "intelligence cooperation" with each other. Even allowing for sarcasm and rhetorical flourishes, such language from the commander-in-chief of a well-armed, demonstrably hostile regime is quite unsettling and dangerous. He also accused Washington of genetically engineering a strain of coronavirus in order to use it on Iranians and "study the effects."
Even more important than his rhetoric were the regime's actions: Khamenei directed the government to reject any American aid, while the IRGC expelled a team of French doctors representing Medecins Sans Frontieres after they were accused of performing non-medical activities. Then, following Khamenei's lead, Iran's Health Ministry announced on March 23 that scarcely available manpower and resources were being diverted to investigate whether the country had been subjected to biowarfare.
Khamenei's speech went into further detail about this supposed conspiracy. According to him, enemies "are said to have used various means to collect data on the Iranian genetic makeup and have used this data to design strains specifically for Iran." He was probably referring to scientific projects such as Iranome, which sought to map the genomes of various Iranian ethnic groups. Headed by the University of Social Welfare and Rehabilitation Sciences in Tehran, the project was completed in 2019 in collaboration with two German institutes: the Cologne Center for Genomics and the Max Planck Institute for Molecular Genetics in Berlin.
Beyond scoring rhetorical points, Khamenei's remarks are dangerous from a wider security standpoint. He characterized the supposed U.S. involvement in spreading coronavirus as a "terrorist" act, raising the potential that Iran may seek to retaliate by military means or "in kind," if it still has such capabilities (e.g., the regime reportedly experimented with biological agents during the 1980s).
IRAN'S CORONA CONTAINMENT EFFORT
Khamenei's controversial remarks came amid continued uncertainty over who is leading the country's efforts to stem the pandemic. The IRGC-affiliated National Passive Defense Organization (NPDO) was traditionally in charge of countering biological threats and established a biological defense network across all provinces years ago, headed by provincial governors with IRGC commanders as their deputies.
According to NPDO chief Gen. Gholam Reza Jalali, however, his organization was completely sidelined when the government formed a national command center to combat coronavirus, with President Hassan Rouhani sitting at the top. And on March 12, after "considering the evidence that points to a biological attack," Khamenei put the Armed Forces General Staff and its commander, Maj. Gen. Mohammad Bagheri, in charge of coordinating the military's biological defense efforts, creating a "welfare and treatment headquarters" in the process.
TEHRAN IS NOT DETERRED
The old problems of the Middle East linger even amid the unprecedented local and global effects of the pandemic. Tehran shows no sign of backing down from its defiant posture despite having to dedicate a great deal of its resources to containing the virus. Its proxy forces in Iraq continue to launch deadly rocket attacks at U.S. bases.
For its part, Washington is determined to continue its "maximum pressure" campaign. It is also quietly strengthening its regional military posture with new deployments and joint exercises. A second aircraft carrier (the USS Eisenhower) has joined the USS Truman in the region, and for the first time in many years, Patriot missile defense systems have been sent to protect at least some U.S. personnel and assets in Iraq. None of these developments are escaping the attention of IRGC strategists, who likely regard such measures as either insufficient (missile defense) or temporary (the second carrier). They will be keen to resume the "old normal" sooner rather than later, reasserting the IRGC's recent momentum even as much of its domestic capacity—and that of the Artesh—is busy dealing with the effects of the virus and seasonal floods across the country.
That is presumably why Khamenei is so keen on focusing the regime's wrath back on the old enemy in the middle of a national crisis. In place of strategic patience, one can expect an even more significant escalation in proxy violence against American military forces and interests in the region. Such attacks might seek to cause American casualties and force a direct military response against Iran—this in turn could initiate a round of actions and reactions in which the IRGC seems confident it can prevail, both militarily and rhetorically.
Notably, all of these developments could cause domestic political problems. Military escalation may widen the Rouhani government's rift with the IRGC, further crippling governance. And Khamenei's stark demon remarks—which exceeded his past mentions of the subject—could backfire by convincing people inside and outside the regime that the eighty-year-old leader is indeed losing his mind.
CONCLUSION
Given the increasing securitization of Iran's anti-virus measures, information pertaining to the spread and containment of the pandemic will likely be classified going forward, even if this approach hampers the wider international effort. Moreover, in light of the Supreme Leader's hateful tone and the IRGC's propensity to follow his lead, the United States needs to consider the possibility of retaliatory attacks by the IRGC and prepare proper deterrent measures. Potential acts of Iranian terrorism could include conventional attacks on biological facilities that result in the release of pathogens, or even direct bioterrorism in the worst-case scenario.
Finally, the pandemic's serious effects inside Iran should not be regarded as evidence that the Iranian military threat has decreased. Washington should continue taking the IRGC threat to its regional military presence seriously, deploying a viable air and missile defense capability in Iraq and perhaps even Afghanistan in order to deter any attacks. And while it cannot maintain a two-carrier force posture in the region indefinitely, it still needs to maintain a demonstrated qualitative and quantitative advantage in Iran's neighborhood—and, perhaps more important, credibility that it will respond at the right time and place.
Farzin Nadimi is an associate fellow with The Washington Institute, specializing in the security and defense affairs of Iran and the Gulf region.