Jordan-Israel Peace at Twenty-Five: Past, Present, and Future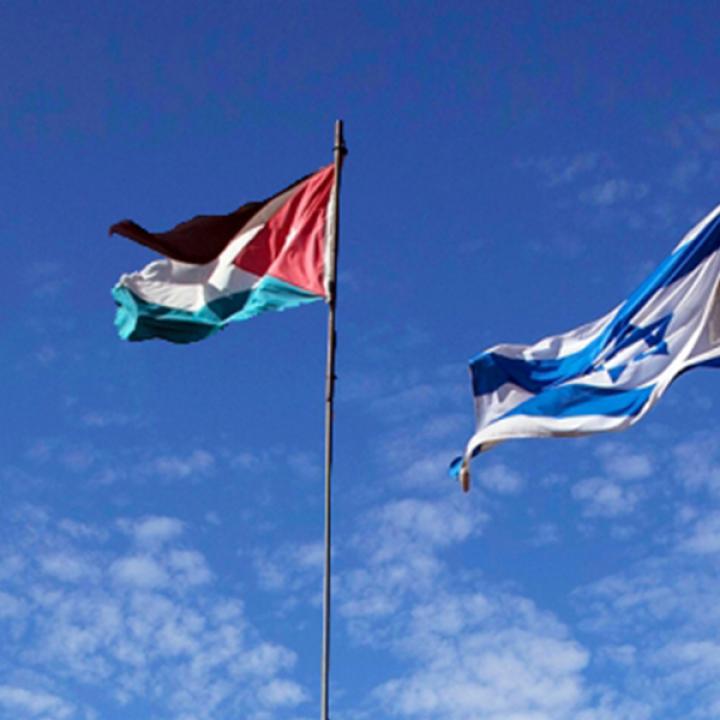 Watch as two pioneers of Israeli-Jordanian peace assess the state of their countries' relations on the 25th anniversary of their historic 1994 peace treaty.
On October 17, Jawad Anani and Shimon Shamir addressed a Policy Forum at The Washington Institute. Anani is Jordan's former deputy prime minister, foreign minister, chief of the Royal Court, and coordinator of the peace process negotiating team. Shamir, the dean of Israeli scholars on the modern Middle East, is professor emeritus of Middle East history at Tel Aviv University and Israel's first ambassador to Jordan. Robert Satloff, the Institute's executive director, moderated the discussion. The following is an edited transcript of their remarks.
ROBERT SATLOFF
I'm delighted to welcome you to this very special event to commemorate the twenty-fifth anniversary of the Jordan-Israel peace treaty. Our goal is to look back at the origins of the peace treaty, to examine where the Jordan-Israel relationship is today, and to offer some humble suggestions on how to ensure the survival of this very important diplomatic achievement in the years ahead.
One has to have some sympathy for those who follow the Middle East these days; if any of you suffer from a case of "Middle East fatigue," it is quite understandable. Events that one might call "black swans" are happening in quick succession. Whether it's the breathtaking attack on the Saudi oil facilities, the violence in Baghdad (which got remarkably little attention in the United States), the still-undecided saga of Israel's political leadership (after more than a year of indecision), and of course the 180-degree volte-face of American policy concerning the deployment of U.S. troops in Syria, change is happening at lightning speed. One cannot begrudge people—left, right, and center—from having the view expressed in the Democratic presidential debate the other night: "I just want out of the Middle East," said one candidate. But of course, we can't leave the Middle East, nor should we leave the Middle East. Today's program underscores one important reason, among many, the United States should recommit to engage the Middle East, not quit it—namely, the vital role we play in helping local partners reach understandings, even reach peace, and sustain that peace over time. It's not a role that any other partner or actor can play. It's not a role that any other would-be superpower volunteers to play.
Of course, Israel and Jordan had a relationship on their own, without the United States, but the American glue is still significant. I am making this advertisement for continued U.S. engagement on a day devoted to an exceptional diplomatic achievement that has stood the test of time. It may not be the sort of achievement that triggers fireworks and balloons every day, and it may be an achievement that has its domestic detractors on each side. But it's an achievement nonetheless that has benefited both parties for two decades. And that is really the most important factor: it is an achievement that benefits both parties.
And with those introductory words, I am delighted today to welcome two of the original architects and implementers of Jordan-Israel peace—leaders who have committed so much over the years to invest in its success and survival, leaders who understand that achievements like this face obstacles both domestic and international. And it's only through the courage, conviction, persistence, and pursuit of national interest by leaders like our guests today that achievements like Jordan-Israel peace can survive over time.
I'm excited to welcome Dr. Jawad Anani and Professor Shimon Shamir. I have had the pleasure and privilege of knowing both speakers for decades. In the peace process era, Dr. Anani was the coordinator of Jordan's peace process–negotiating delegation. He has since served in multiple high positions, including as deputy prime minister, foreign minister, chief of the Royal Court, and minister in successive Jordanian cabinets. Sitting to his left and speaking first is Professor Shamir. Those of you who follow scholarship on the Middle East and not just the politics know that Professor Shamir is the dean of Israel's experts on the modern Middle East, author of a broad array of works on modern Middle East history, and now professor emeritus at Tel Aviv University. Diplomatically, he has the unique status of having served as Israel's ambassador in both Cairo and Amman, including as Israel's first ambassador to Jordan. He has remained intimately involved in building this peace, both quietly and publicly, in the twenty-five years since it was signed.
Dr. Anani, Professor Shamir—on behalf of The Washington Institute, please accept my thanks and gratitude for joining us here to discuss the past, present, and future of Jordan-Israel peace.
JAWAD ANANI
I want to start by focusing on a recent incident that illustrated Jordanian public opinion about the peace treaty. A few months ago, a group of Israeli teens visiting Jordan wanted to swim in a pool, but it was closed. The Jordanian mayor opened the pool, organized a picnic, and gave them the emblems of his city. The next day, an Israeli channel put it on television and emphasized how the mayor went out of his way to change the rules in order to accommodate the teens. This story received mixed reactions from the Jordanian public. One of the reactions was: why would we be so nice to them when they're not so nice to us? We are subjected to a great deal of inspection when we try to cross into Israel, and they do not face the same inspection when they try to cross into Jordan.
These attitudes are the result of a number of incidents. On July 24, 2017, two men were killed in buildings that belong to the Israeli embassy in Jordan. Up to that point, Jordan had handled the situation very professionally. The killer had diplomatic immunity, so Jordanian officials allowed him and the Israeli ambassador to leave Jordan. Prime Minister Binyamin Netanyahu received the killer at his office and gave him a hero's welcome, which was seen as insulting and drove Jordanians to anger. Why would they put a show on to say that this is a hero who shot I don't know how many bullets. Two people were killed, but he shot something like fifty bullets. We still don't know what instigated this. 
Likewise, a judge was killed on the border because he protested against an Israeli soldier, asking him not to push him onto a bus. The soldier was acquitted. What Jordanians understood from that is that their blood is cheap and Israeli authorities—at that time—did not care about them. These are some of the incidents that cause Jordanian public anger.
The Palestinian Issue
Another source of tension relates to developments on the Palestinian issue. Public statements and pronouncements over the past thirteen or fourteen years have not been very conducive to a people-to-people peace. One of the most worrisome developments on that front is the fact that Israel is coordinating with the current U.S. administration on the "deal of the century." The early warning signs of that deal—moving the embassy to Jerusalem, not clearly determining what Palestinian rights in Jerusalem are, and cutting U.S. aid to the UN Relief and Works Agency for Palestine Refugees in the Near East (UNRWA)—do not bode well with the Jordanian public and evoke fears.
These fears are reinforced by the statements of some senior Israeli politicians. I personally went to Jerusalem twice. One time, I represented Jordan at the funeral of Israeli statesman and prime minister Shimon Peres, whom I knew very well. I saw the undercurrent of conflict between former U.S. president Barack Obama and Prime Minister Netanyahu. Both of them were talking different languages about how they viewed and why they respected Shimon Peres. To me, that was shocking to happen over a funeral.
The second time, I went there recently to participate in a BBC-sponsored dialogue and debate on the peace process. I sat with Naftali Bennett, who was minister of education at the time. I learned that he was supposedly a whiz kid, a very effective military man. At the same time, he was a modern technology man. He sold two companies for over $400 million. He was a rich man. He started saying that Jordan is the alternative homeland for the Palestinians. And I said, "Sir, don't you ever dare tell a Jordanian that. You can't take an eraser and wipe a whole country out of existence just because it feels good for you. And second, you are such an enlightened person, you're not supposed to be what you are. You're supposed to be a much better man." I'm not sure what happened, but he lost the election and I wasn't extremely sad. This is how we see it: when Israel says it doesn't have Arab partners, we say we need strong partners on the Israeli side as well.
A recent cause of alarm was Prime Minister Netanyahu's statements about annexing the Jordan Valley. I was a senior negotiator for the first nine rounds of negotiations, and as a minister, I was tasked with the peace process between Jordan and Israel—both multilateral and bilateral. The talks finally culminated in a peace treaty that we can all feel proud of. The night of the signing, we stayed up all night discussing certain points. One of the points was how to finalize technical issues relating to border demarcation. How do you determine the border after certain tectonic movements since 1970? Do you use the thalweg or middle-borders approach? We went through those details. The Israeli side wanted to delineate the borders between Jordan and the West Bank at that time. Jordan insisted that this cannot be done. So when Netanyahu comes out and says that he wants to annex the Jordan Valley and the areas close to the Dead Sea, we see this almost as tantamount to a breach in the treaty, and as something that will cause a great deal of negative reaction among Jordanians.
So the question of what lies ahead in Israel is very important to us. I have to remember every Israeli party, what each stands for, who the people are, what is the next configuration the cabinet will take. Is Netanyahu going to be prime minister or is he going to surrender the post? Will former Israel Defense Forces chief of staff Benny Gantz be the deputy prime minister until he learns how to rule, because he doesn't have administrative experience because he is a military man? (This is what the Israeli papers are saying, not what I am saying). In a way, all these developments inside Israel have an impact on how Jordanians view peace. Jordanians are closely monitoring everything that goes on inside Israel, knowing that it will affect them.
Negative Bilateral Developments
In addition to lack of progress on the Palestinian front, some of the bilateral projects on the economic front have stalled. When it comes to the Jordanian Red Sea–Dead Sea Canal [aka Conveyance Project; a proposed pipeline that would deliver drinkable water to Israeli, Palestinian, and Jordanian populations], we face two problems. There was an agreement signed in the United States by the three parties, including the Palestinian Authority (PA), saying that we will change the nature of the so-called Red-Dead Canal. And at the same time, we will build a three-stage pipeline that will carry water, which means we will not have hydraulic energy created by dropping the water four hundred meters. Some Israeli experts say the project is not feasible. In a way, the Israelis now are no longer talking about the Red-Dead Canal. Some of them are talking about the Red-Dead-Med Canal. The Red-Dead has been discussed many times, and the issue of expense was addressed. To Jordan, the project is feasible because we need water. We are the second poorest country in the world when it comes to water resources. I know that Israel now is extremely efficient, and probably number one in the world in water technology. So there is something to benefit from the relationship between the two.
There are other problematic projects, such as the airport near Aqaba. In the early days of the peace treaty, it was agreed that the two countries would discuss ways and means to expand Jordan's Aqaba airport and allow Israeli planes to land there. The airport at Eilat, in Israel, is on very expensive property. So the Israeli minister of transport and I went to Aqaba together to work out the details of how to move Israeli passengers who land in Aqaba to Eilat and to ensure their safe travels. But then, I think it was El Al that did not see this as a good option and wanted to build another airport. Now the airport is causing Jordan many problems, and we are losing business there as a result. So what happens is that there are very good experiences and bad experiences.
The issue causing a great deal of sensitivity is trade between Jordan and the West Bank. Israel is exporting something close to $5–7 billion to the West Bank, and is collecting tariffs that are supposed to be remitted to the PA. This latter point is currently causing Palestinian-Israeli disputes over what money to deduct and what not to deduct. What concerns me is the Paris Protocol, which was signed by the PA and Israel to govern their economic relations. The Paris Protocol actually has a long negative history and needs to be revised. After so many years, the only side being penalized is Jordan.
Specifically, the list of goods that cannot be imported by Palestinians from other countries needs to be revised. Revisions that would allow for $1 billion worth of exports from Jordan to the West Bank and vice versa would be very helpful. Israel can also benefit since Israeli businesspeople, if not the same ones who are exporting to the West Bank, can send more goods to Jordan.
Some Israelis argue that Jordanian exports to the West Bank will end up in Israeli markets. I find it hard to believe that goods sent to the West Bank can enter Israel unchecked. There is a very secure Israeli border, and Israeli security arrangements are extremely efficient and effective. Not even a butterfly can fly from the West Bank to Israel proper inside the Green Line without permission from Israeli authorities. So how can Jordan really send goods to the West Bank that will not meet Israeli standards but still find their way into Israeli markets? What it really boils down to is that some Israeli businesspeople are benefiting from the arrangement and Jordan is losing. So in a way, while we, since 1967, have left our borders open for West Bank goods to be exported to Arab countries, we did not send anything to the West Bank. We had a huge deficit by 1991. When the peace negotiations started, the total deficit had come to $3 billion in favor of the West Bank. So Jordan was effectively financing Israel to be in the West Bank at that time and we got very little, if anything, in return after the peace process. Of course, there have been some improvements. For example, a bridge, as Shimon Shamir said, has been built to move goods across the border. But still, Jordan suffers from a trade deficit with the West Bank. 
Positive Developments
Not all developments are negative. As far as water is concerned, I have to agree that the two countries have been working very nicely. There is nothing Jordan can complain about. Maybe once in a while, but we come together and find a solution.
I was the one who arranged with the former Israeli ambassador to allow two hundred Jordanian truckers to enter on the condition that they be allowed to go all the way to Haifa. Form Haifa, we would use boats to send goods to Russia and even export vegetables and fruit to Russia. That was another goodwill experience, especially when Saudi Arabia and other Gulf states did not even allow Jordanian goods to go through Saudi borders to third Gulf countries.
I am an economist, so let's get to the economic side. First of all, there was a gas deal signed between the U.S.-based Noble Energy Inc. and Jordan's National Electric Power Company (NEPCO). When the Jordanian parliament was really angry about the "deal of the century," some said that this gas deal should have required parliamentary approval, which caused a great deal of uproar. I was deputy prime minister at the time and participated in negotiating the gas deal itself, and I vouched for it. The matter was referred to the Constitutional Court, which ruled that because the deal was between two companies rather than governmental or sovereign parties, there was no need for parliamentary ratification. As a result, the deal is still happening. I have no doubt that the deal is useful to Jordan. But Jordanians are asking: Why am I putting my energy eggs in Israel's basket? Can we trust them? My response is that if we can trust the Israelis on the water deal, we can trust them on the energy deal.
Another potential area relates to transportation. The Israeli minister of transport keeps saying that we will build a railroad that will go through Jordan and then eventually to Aqaba and then hopefully to Saudi Arabia and then to Iraq once things improve. Jordan actually allocated some land to that. But so far, there has been no coordination whatsoever on this particular issue.
The Way Forward
The most important question is what lies ahead. Politically speaking, is there going to be peace between Israel and the Palestinians? What kind of peace will that be? Will it be based on a treaty? Will it be based on the "deal of the century"? I read the economic side of the "deal of the century." It was cut-and-pasted, and it contained incorrect assessments of certain projects that we have been talking about for forty years and did not work. These projects cannot work if the two sides—Jordan and Israel—did not agree on them.
No matter what, everybody believes the United States is the key player in the peace process and that it can make the difference because it has leverage with all the different parties. The United States has leverage with Saudi Arabia, other Gulf states, Jordan, and so on. There is a big discussion right now over the U.S. pulling out troops in northern Syria. From an Israeli point of view, this is not good because it represents reneging on promises. Russian president Vladimir Putin right now is in a position to ask about coordination with the Israeli government over who and when to strike in Syria. In a way, the situation looks a bit murky. But coming to the peace process itself, it is the only thing left to redeem the spirit of U.S. regional leadership. We don't know what will happen inside Syria and Iraq. The Gulf states, no matter how economically important, cannot play a main role in making peace.
The parties that need to make peace are Israel and the PA, with Jordan on the sideline. Why is Jordan not being given the attention it merits in the role it can play? Jordan can exercise leverage on the PA to carry forward the peace process. We can still manage our relationship with Israel because there are Track II discussions going on. We need to enhance Track II discussions, and the Americans should become aware of this. Hopefully, we can chart a reasonable way toward peace. To make progress, we should move immediately from wishes and dream projects to actual implementation of such projects. To do that, you need the West Bank's and Israel's active involvement, and Jordan's involvement as well.
Regional changes are not in doubt. For example, Egypt handed over two islands to Saudi Arabia, which made the kingdom a marine neighbor to Israel. But this does not diminish Jordan's geopolitical importance in the peace process. I think in ten years we will see Jordan in an extremely important position and more pertinent to Israel than it is now. We have the longest shared borders. The most important dimension of this is that future projects, such as pipelines, which allow Israel to become an active Middle East economic and political player, will be very dependent on what goes through Jordan. Jordan connects Israel to the rest of the Middle East.
Economically, we need to work more on private sector projects. There are more opportunities that have been missed than have been realized. The information technology sector is an example. Jordan produces 75 percent of Arabic content in the media, which is a lot for a small country. We have companies subcontracted by Metro-Goldwyn-Mayer to do animation. We have established a university to give bachelor's [degrees] to entrepreneurs who invent something in IT. We don't allow anyone to graduate until they have come up with a novel idea. Jordanians are technology savvy compared to people in other Arab countries and many developing countries, so there is an opportunity. Any Jordanian government overseeing cooperative relations with Israel will be subjected to political pressure. We need to encourage our politicians to come out and say they support private sector cooperation with Israel, like the government did on gas cooperation. There was opposition, but there was also a very clear government position.
I think water will also become a very important area of cooperation. Jordan has two of the most efficient renewable energy sources in the world, the Maan (solar) plant and the Tafila (wind) farm. Ten years ago, we did not have these resources because we lacked the technology. Once we make energy and water cheaper through cooperation with Israel, imagine the benefits it will have for agriculture. We need to link the Baqura issue with water and renewable-energy-technology transfer.
Conclusion
Today, while we are good on security issues, other aspects of Jordan-Israel relations fall short of their potential. This anecdote may illustrate the point. One time, I went with Prince Hassan [bin Talal] to Tel Aviv to meet with Netanyahu to encourage him to be pro-peace. We met with the prime minister at a party since Netanyahu was not happy that we would not go to Jerusalem to see him at his office there. Prince Hassan started talking to him about the future of the tripartite arrangement and the Benelux idea for Tel Aviv, Amman, and Jerusalem. There will be 30 million people who need water by 2030. So he said, "Your Highness, we should find a way to synchronize our spraying campaigns. When we spray insecticides, insects just move to your side, and when you spray, the insects just come to ours. We should synchronize our spraying campaigns." The prince felt that he was dragged down from the tower of dreams and coordination to the mundane issue of mosquitos and flies. So I said, "Mr. Netanyahu, with respect to you, you are complicating the whole issue. It can be done much easier." He said, "How?" I said, "Now, before we start any spraying, we need to make sure the security people on both sides agree on the material and they will have to test the material we are spraying. After those guys finish, we have to have a technical committee approve and schedule a time for the spraying." He said, "Yeah." "And by that time, the winter season will be over in the Jordan Valley and we will lose the whole season." He said, "Do you have a better idea?" And I said, "Easy one. Why don't you declare the Jordan Valley a 'no fly zone'?" He didn't laugh very much. He just said, "Yeah, that's a very good idea."
We have our comic moments, but we talk seriously with our counterparts. You are supposed to give a greater effort for peace. Peace can be done. You feel that peace is dangling from the tree but we are not jumping high enough to grab it. It is there, and it can be done.
SHIMON SHAMIR
Amman has undergone significant growth and development since I served there as Israel's first envoy to Jordan twenty-five years ago, corresponding with the kingdom's ballooning population. This is just one of the many changes that have taken place in Jordan during that period. Naturally, peace between Jordan and Israel also underwent considerable changes; some of the initial achievements faded away while others remained remarkably stable. Israel-Jordan relations can be evaluated on three fronts: strategic coordination, political management, and economic cooperation.
Strategic Coordination
Strategic coordination is by far the most effective, resilient, and fruitful element of Jordan-Israel relations, reflecting its basis in solid shared interests. Jordan is a country surrounded by powerful Arab neighbors that, from time to time, pose various types of threats to Jordan's security or even existence. This was the case during the Nasserist campaign against the Hashemite Kingdom; during the Black September insurgency and the parallel Syrian invasion; and, more recently, during the attempt by the Islamic State "caliphate" to penetrate Jordan. Furthermore, Iran-backed Shia forces are entrenched in the Fertile Crescent, almost encircling majority Sunni Jordan.
Whenever Jordan is threatened, the Hashemite leadership knows that on its western border it is flanked by a state that is committed to preserving its existence and territorial integrity, and which regards the forces threatening Jordan as its own adversaries. Indeed, when in Amman, I often heard Jordanians saying, "Israel is our best insurance policy."
The Israeli perspective is different. Israel's border with Jordan is its longest, and Israel needs cooperation with the Jordanian security systems to keep it safe and quiet. Above all for Israelis, Jordan is a buffer state separating it from what used to be called the Eastern Front. Israelis need an understanding with Jordan that no threats or hostilities against Israel originate from its territory, and that no hostile forces are stationed within its borders. Finally, both states need joint action for combating terrorism—Islamist or otherwise.
These strategic and security interests are so fundamental that a discrete dialogue on such matters started between the two sides as early as thirty years before the conclusion of peace. This dialogue did not need a peace treaty to take place. In the years between the initial meeting between Jordan's King Hussein and Israeli Foreign Ministry director Yaakov Herzog in London in September 1963 and the 1994 peace, exactly fifty meetings took place between leaders of the two states. Almost every Israeli prime minister met secretly with the Jordanian king, exchanging information and coordinating strategies. Three examples highlight this relationship before the treaty:
In 1970, Israeli action pressured Syrian invading forces to withdraw from Jordan.
In 1990, a secret agreement between King Hussein and Prime Minister Yitzhak Shamir enabled the two countries to keep a safe distance from the war against Iraq's Saddam Hussein.
In 1993, King Hussein came to the Mossad headquarters to inform the Israelis about Syrian military concentrations in the north.
In the twenty-five years since the treaty was concluded, the security agreements set out in its Article 4 were implemented in full and often even beyond the written commitments. The border remained peaceful, terrorism was curbed, and responses to strategic challenges were coordinated.
(In addition to achieving peace with Israel, King Hussein wanted to change the dynamic of relations with the United States, especially after the Gulf War. The king saw peace with Israel as a vehicle for improved relations with the United States and Congress, and indeed Israel began lobbying on behalf of Jordan.)
Political Management
The balance sheet of Jordan-Israel political relations is a mixed bag. Important accords have been established, but many controversies persist. Jordan originally had four principal demands:
That the international border of the British Mandate era be firmly established, and Israel hand back to Jordanian sovereignty areas it seized beyond that border.
That the special role of the Hashemite Kingdom in the Islamic holy sites of Jerusalem be recognized.
Concerning the West Bank, that treatment of Palestinians not provoke disturbances that may affect the situation in the "East Bank," or even drive a new wave of refugees into Jordan. In addition, the Jordanians demanded that any new arrangement established in the West Bank preserve Jordanian interests and links that endured after the 1988 disengagement.
That Israel's recognition of Jordan apply to the present Jordanian identity, renouncing any schemes claiming that "Jordan is Palestine."
Israel responded to these demands either through the treaty or in declarations and actions:
The international border was accepted, but Israeli farmers in the areas returned to Jordan were allowed to continue cultivating the land under Jordanian sovereignty. This "special regime" applied to the Naharayim/Baqura zone and the Araba enclave in Tzofar/Ghamr.
Israel declared that it respects "the present special role of the Hashemite Kingdom of Jordan" and that in the future, when a permanent status is negotiated, "Israel will give high priority to the Jordanian historic role." Otherwise, the practical arrangements established in 1967, by which the holy shrines are administered by the Muslim waqf, would prevail—but within the framework of Israel's united city.
The treaty did not mention the Palestinians or the West Bank. Otherwise, Jordan's links to the West Bank were recognized, but their scope was considerably narrowed. Israel did, however, address in the treaty Jordanian apprehensions about a possible new wave of refugees, denouncing what was called in the treaty "involuntary movements of persons" that may "adversely prejudice the security" of the other.
Regarding the "Jordan is Palestine" question, Israel assured the Jordanians that any such declarations voiced by Israeli politicians do not reflect official policy.
Over the course of twenty-five years, these arrangements remained mostly stable but not problem-free. In particular:
The "special regime" in the Naharayim and Arava zones. This arrangement functioned well for twenty-five years. However, the issue of these zones has been recently reopened with the king's declaration last year that the "special regime" arrangement must be terminated.
Jordan had the legal right to terminate this "special regime": the treaty specified that if, after twenty-five years, it is not renewed by the two sides, it will expire. However, Israelis felt that such an act would not be in the spirit of the treaty. After twenty-five years of peace and cooperation, they argued, it could be expected that this arrangement should be renewed automatically. The farmers in the Naharayim area have been cultivating that land for over seventy years. The termination of the "special regime" meant the complete ruin of the farmers working in those areas. Nevertheless, the regime was eventually abolished.
Jerusalem. Except for the clause in the treaty recognizing the role of the Hashemite Kingdom in the Muslim holy places (which is essentially a verbal pronouncement), no effective rules of conduct in al-Haram al-Sharif/Temple Mount have been established—not with the Jordanians, and certainly not with the Palestinians. The situation in al-Haram became a constant source of violent clashes with the Palestinians, always leading to severe crises in relations with Jordan. Jordanian-Palestinian competition together with historic Jewish-Muslim tensions fuel frequent Temple Mount crises.
Jordanians and Palestinians compete over the dominant positions in the waqf system, which administers the Muslim shrines. In this situation, the Israelis tend to support the Jordanians. Yet Israel, especially since Oslo, also has commitments to the Palestinians—a duality that sometimes generates friction in Jordan-Israel relations.
More visibly, Jewish-Muslim conflicts in al-Haram have created even greater damage to relations with Jordan. The gradual growth in Israeli internal politics of pressure groups determined to assert the Jewish religious and historical association with the Temple Mount results in repeated clashes with Muslims in the mosques, especially during religious holidays. From their side, Palestinian extremists have instigated attacks on Israeli police and civilians in the Temple Mount area.
These violent clashes, sometimes resulting in a number of dead and wounded, ferment further agitation in Jordan. They usually spark anti-peace demonstrations and contribute to the low popularity of peace with Israel. The disturbances in al-Haram have become one of the main sources of setbacks in Jordan-Israel relations.
Lack of any progress toward a settlement of the Palestinian issue. Together with measures taken by Israel to suppress intifadas and terrorism, this failure similarly agitated the Jordanian public and nourished an anti-Israeli mood on both the public and the political levels.
Jordanian concerns about "Jordan is Palestine" trends in Israeli politics. These concerns have intensified. With the growth of extreme right and messianic leanings in the Israeli polity, such visions—though rejected by the majority of Israelis—have gained some currency, thus casting another shadow on Jordan-Israel relations.
Yet the situation also has a bright side. Despite the frequent crises that impair relations, the two sides manage every time to restore normal interactions, employing effective methods of crisis management. Three particular cases illustrate how crisis management has settled disputes and eased tensions:
The deadly shooting by a Jordanian soldier of seven Israeli schoolgirls touring the Naharayim zone (March 1997). After the attack in this area, which Israelis referred to as the Island of Peace, the Israeli public was enraged, and doubts about the desirability of peace with Jordan were voiced for the first time. The king dealt with this crisis with great sensitivity. He visited the mourning families and, bending down, expressed his condolences and deep sorrow. The Israeli public was impressed, and the outrage calmed.
The ill-conceived Mossad attempt to poison Hamas leader Khaled Mashal in Amman (September 1997). This attempt shocked the Jordanian leadership, with the king refusing to talk to emissaries sent by the Israeli government to seek a resolution. Jordanian forces were already on the verge of storming the Israeli embassy. Finally, Israel brought from Brussels Efraim Halevy, who enjoyed the king's trust, and the two worked out a deal by which the wounded Mashal was provided the necessary antidote, and Ahmed Yassin, Hamas's spiritual leader, was released from prison together with scores of Palestinians and Jordanians. The crisis was over.
The deadly shooting of two Jordanians near an Israeli residence by an Israeli security guard (July 2017). The security guard, who evidently had felt threatened, left Jordan, but the Jordanians refused to allow the Israeli ambassador to return to his post. Eventually, Israel apologized for the incident, paid compensation to the families, and an Israeli ambassador was reinstated.
Evidently, the interest of the two sides in upholding their shared peace is firm enough to weather even such acute crises.
Economic Cooperation
At the time of the Jordan-Israel peace agreement, the concept of large-scale economic cooperation between the two countries was not merely an ornate addition to the treaty but an essential part of it.
Israel's peace with Jordan was very different from its earlier peace with Egypt. The Israel-Egypt peace was concluded under the shadow of the looming resumption of war, and thus the "Protocol Concerning Security Arrangements" was the core of the treaty. By contrast, in the Jordan-Israel case, there were no fears of an imminent war and thus there was no need for demilitarized zones or international peacekeeping forces. Instead, the two sides elaborated a vision of economic prosperity achieved through ambitious cooperative schemes.
The Jordanian leadership needed to include an economic component in the agreement to provide its people with what it called the "fruits of peace," enhancing in this way the legitimacy of reconciliation with a former enemy. In turn, Israel hoped that this concept would demonstrate to other Arab countries the benefits of peace. Thus, almost half of the treaty's thirty articles dealt with cooperation schemes. In addition, following the conclusion of the treaty, fifteen implementation agreements were negotiated and signed, specifying in great detail cooperative activities.
The Israelis submitted to the joint committees a catalog describing more than a hundred extensive projects, which, even if only partly implemented, would have changed the map of the region and greatly advanced the two economies. The catalog included projects such as industrial parks along the border; railway networks; the Red-Dead Canal; the "Red Sea Riviera"; a joint airport in Aqaba; and "The Lowest Park on Earth" (by the Dead Sea). Unfortunately, none of these projects was ever realized. This failure nourished bitter disappointments among the Jordanian public, which kept asking, where are the "fruits of peace"? It thus fed anti-Israel feelings in Jordan, adding another impediment to peace relations.
What were the causes of this failure? On the Israeli side, governments in Jerusalem, burdened with acute and pressing issues, did not always prioritize the development of people-to-people cooperation with Jordan. To many Israelis, peacemaking meant the end of the story, instead of the beginning of the necessary peace building.
On the Jordanian side, powerful anti-normalization organizations, especially professional unions, worked vigorously to impede any cooperative Jordan-Israel venture. Israeli entrepreneurs, coming to Jordan with the intention of forming partnerships, often left in despair upon seeing that their Jordanian partners were boycotted or even expelled from their professional associations.
Yet the record is not entirely negative. True, many projects were abandoned—and some were unrealistic from the outset—but others, which turned out to be workable, were implemented or are now being reactivated. Examples of key Israel-Jordan cooperative activities include the following:
Israel provides an annual 40–45 million cubic meters of water to Jordan.
A 2016 agreement was signed to sell Jordan natural gas from the Leviathan sea platform at prices lower than those paid by Israeli customers. The pipeline and gas flows are expected to be activated in early 2020.
Every morning, two thousand Jordanian workers cross from Aqaba to Eilat to work in Israeli facilities.
The Haifa port serves Jordanian trade westward, especially since the Syria-Lebanon route became unsafe.
Amman airport and Jordanian carriers serve great numbers of Israelis traveling to East Asia.
Jordanian and Israeli farmers operate cross-border joint projects, notably in pest control.
Previously canceled projects that are now being reactivated include the Jordan Gateway Free Zone Industrial Park, which a few years ago was all but abandoned. A bridge over the Jordan River has recently been completed connecting the two parts of the joint industrial park. Even the problematic Red-Dead Canal mega-project continues to be discussed by both sides.
Mention should also be made of the U.S.-sponsored Qualified Industrial Zone (QIZ) system, which permitted goods produced in specified areas in Jordan to be exported to the United States without tariffs or quotas, provided they included a set proportion of Israeli contributions. This system increased Jordanian exports to the United States from $15 million to over $1 billion. Eventually, the U.S.-Jordan free trade agreement made the QIZ unnecessary, yet the precedent managed to demonstrate the potentialities of Israel-Jordan economic cooperation.
To conclude, the Israel-Jordan peace has witnessed over the past twenty-five years remarkable achievements and painful failures. Not all the things that could have been done by the two parties to strengthen this relationship were actually done. Even in the present situation, many steps can still be taken to invigorate the peace. Yet to achieve progress, attitudes must change. As Eleanor Roosevelt said on a Voice of America broadcast in November 1951, "It isn't enough to talk about peace, one must believe in it. And it isn't enough to believe in it, one must work at it." Israelis and Jordanians should take these words to heart.
The Policy Forum series is made possible through the generosity of the Florence and Robert Kaufman Family.