The Jihadi-Backed Salvation Government and Covid-19 in Northwest Syria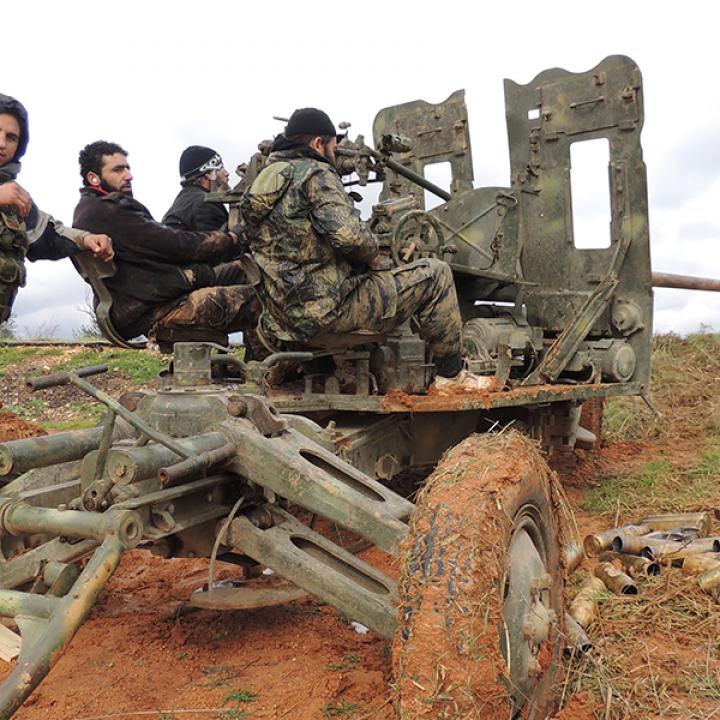 Disease prevention efforts in Idlib illustrate the movement's political evolution and its differences from the Islamic State, but the pandemic may still hit the area hard given inconsistent implementation and years of regime destruction.
While many that research jihadism have focused on how the Islamic State (IS) has responded to the coronavirus pandemic, IS no longer actually controls territory in Iraq or Syria. Therefore, at best all they can do is provide guidance. In contrast, the jihadi group Hayat Tahrir al-Sham (HTS), which backs the local Salvation Government (SG) in parts of northern Idlib and western Aleppo, has to actually deal with the consequences of the pandemic since there are more than 4 million people living under its control, with more than two million of them being IDPs (internally displaced people). It also provides a unique window into the alternative type of governing style HTS has compared to IS's totalitarian vision. Even if the SG has attempted to do something to prevent coronavirus from overtaking the population in its area of control, problems related to a devastated health system and inability to truly implement measures that would limit the spread of the disease make the prospects extremely dire when the coronavirus hits the vulnerable civilian population.
In the lead up to the coronavirus pandemic, the SG was already overstretched on resources as a consequence of the Assad regime, Russian, Iranian, and Shia militias offensive to return Idlib governorate to regime control. In the month prior, much of the SG's focus was building new tents for IDPs to reside in as a consequence of the displacement wrought. Furthermore, according to Civil Defense Director of the White Helmets, Raed Saleh, 70% of the health/medical infrastructure in SG-controlled territory has been destroyed by the continued onslaught over the years. On March 27, 2020, the Syrian Response Coordinators Group noted that there were only 1,689 beds, 243 intensive care units, 107 ventilators, and 32 health isolation units in SG territory. Therefore, whatever the ailments, injuries, and other ill effects of the Syrian war that have already manifested, they could become sidelined by coronavirus in the coming weeks and months, which would indirectly kill even more individuals.
As early as mid-February, there were rumors circulating in Syrian social media circles that the coronavirus arrived in Syria via Iran and its Shia militias proxies, since Iran was the first major vector of the disease in the Middle East. Eight days prior to the Assad regime admitting that there were cases of coronavirus in Syria that emanated from abroad, the SG's Ministry of Health on March 14 provided guidance for those in its territory on preventative measures to deal with the virus based on international medical understandings of it. This was both an online and real world campaign to get the message out. The SG also created an emergency response committee on March 23 to coordinate across all of its ministries, chaired by Abdullah al-Shawi on behalf of the SG president Ali Keda. Since then, the SG has claimed that there have been a number of awareness campaigns conducted and preventative measures taken to prepare those in its territory for the potential outbreak of the virus. These include:
Passing out the guidance notices to local passersby and drivers as well as hanging banners to help individuals better understand the pandemic
Releasing an informational video and a series of essays explaining coronavirus and preventive measures by the Minister of Health Dr. Ayman Jibis
Dos and don'ts for children drawn on walls in cartoon form on how to prevent the virus
Temperature checks at the Bab al-Hawa border crossing with Turkey and establishing a temporary 14-day quarantine center so as not to spread the virus from Turkey
Sterilizing schools, mosques, government buildings, and other infrastructure
Launching awareness campaigns for IDPs
Lessons to clerics and preachers to better understand the reality of coronavirus and how to explain it to their congregants
Local forums led by doctors and deans of medical colleges to explain the realities of the disease and the SG's plans for how it's going to tackle it
Closing down markets and public parks
Setting up quarantine tents for suspected virus carriers until they can get proper testing
Suspending school attendance (one of HTS's Quranic schools 'Dar al-Wahi al-Sharif' has released pre-recorded course videos for children at four different levels of learning in the subjects of Arabic Language, Islamic Education and Morals, Mathematics, Science, and English Language)
Suspending Friday prayers
Creating a weekly YouTube show called 'Corona and Sharia'
The removal of seats/benches in the main square in Idlib city to prevent individuals from gathering
Opening of a quarantine center/isolation unit in Sarmada, Jisr al-Shughour, and Kafr Karmin
Conducting a training course for medical volunteers on the coronavirus
Opening a factory for making masks for the local population
Based on the variety of measures, the SG seems, in an ideal situation, relatively serious about protecting locals from contracting the virus. For example, the General Directorate of Trade and Supply in cooperation with the Ministry of the Interior suspended the operation of four ovens (two in al-Dana, one in Deir Hassan, and one in Qah) in the northern countryside of Idlib, due to the lack of implementation of the necessary measures to prevent coronavirus. Some within the rival Turkish-backed Syrian Interim Government (SIG) have challenged these claims by arguing that in fact the SG has co-opted via local NGOs initiatives the SIG has actually been funding related to the coronavirus and taking credit for their successes.
Even so, questions remain about the effectiveness of the SG's measures and how sincerely they can truly implement them, especially since there are also so many other pressing concerns and problems that ail SG-controlled territory. For example, there are a number of instances when there have been official SG senior level meetings held where leaders and individuals are not six feet apart or wearing masks. Even the president of the SG, Ali Keda, has attended meetings without a mask on. If the leaders of the SG and HTS are not following its own directives, why would others follow suit? Similarly, many of the manual laborers helping with governance projects in Idlib are in close proximity without any protective gear, illustrating the disjointed nature of implementation.
Moreover, HTS continues to distribute zakat (almsgiving) shares face-to-face with locals without any proper protections for themselves or those they claim to be giving money to. It is certainly plausible and likely that there are just not enough supplies to provide masks to everyone in Idlib due to shortages of all goods in general—just look at the United States as an example with far more resources and still many have struggled to obtain masks—yet even ones that can be controlled like distancing and contactless delivery appear not to be implemented in an effective or serious manner.
The case of Huras al-Din, al-Qaeda's official branch in Syria, and like-minded ideologues inside (Abu al-Yaqazan al-Masri) and outside (Abu Muhammad al-Maqdisi) of Syria and their defiance against closing mosques have also interfered with the SG's measures since those that are in Idlib have flaunted such circulars and fatwas and continued to attend and conduct sermons at their mosques. Even HTS's senior leader Abu Malik al-Tali briefly resigned from the organization over this decision on mosques. It's possible this is why HTS's mosques remain full during Ramadan prayers with people standing shoulder to shoulder. As a consequence, the SG released an infographic on April 29 providing guidance on how to prevent coronavirus while performing the ritual tarawih prayer during the month of Ramadan at mosques. Similarly, on May 7, the SG released a notice warning residents that "we must continue to adhere to the precautionary measures regarding the coronavirus epidemic, because not seeing it yet does not mean that we are safe from it."
Nevertheless, these limitations highlight the non-totalitarian nature of SG's rule in comparison to how IS ran its administrative structure. Of course, the SG is not a liberal democracy, so they shouldn't necessarily be applauded because they aren't as bad as IS in a relative sense, especially when it's ineffective. Expectations related to how jihadis operate are misconstrued by years of false narratives about jihadis residing in caves or being solely interested in terrorist activity. Jihadism today is a far more mature endeavor and has a much broader repertoire of action. Non-IS jihadis still of course have authoritarian tendencies. HTS still frequently arrests and kills opposition activists and civilians—the most notable recent cases include the killing of Mohammed Tano and shooting at protestors. Likewise, the SG follows laws in accordance with HTS's jihadi-Salafi interpretations of Islam. Yet, if the Assad regime and its allies had not ravaged much of the health infrastructure within SG-controlled territory, it would have given the residents of north Idlib and west Aleppo a far greater chance of beating back the coronavirus than the situation they are currently in. No one, however, should construe the SG's governing prowess as exceptional just because they are doing something. 
Aaron Zelin is the Richard Borow Fellow at The Washington Institute. This article was originally published on the ISPI website.