Israel's Gulf Breakthrough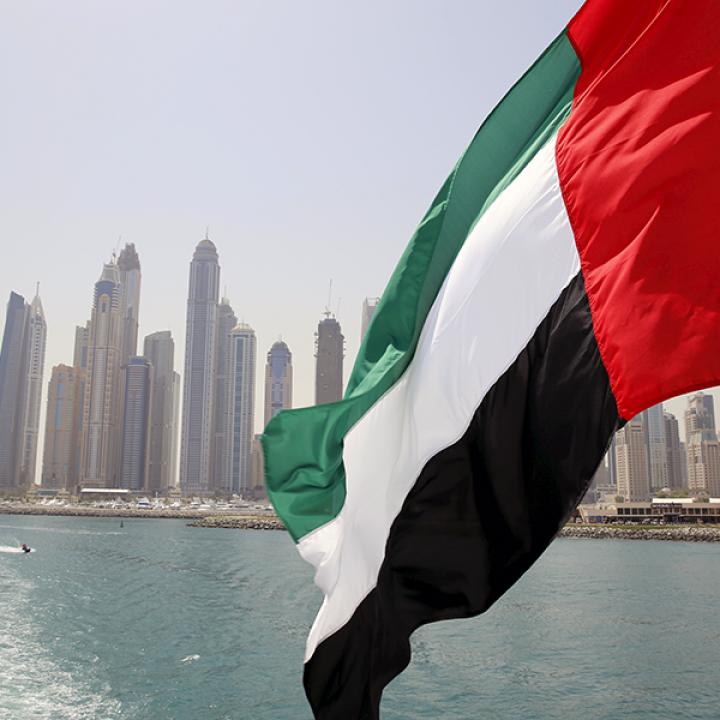 A new Israeli diplomatic office in the UAE is a rare public indication of a broader trend.
Last week, the United Arab Emirates gave Israel formal permission to establish a diplomatic office in Abu Dhabi under the auspices of the International Renewable Energy Agency (IRENA), a multilateral body with 144 member states. Although officials from both governments have been at pains to note that the office is solely intended to facilitate Israel's membership in the agency, which is headquartered in Abu Dhabi, the announcement should be seen in the context of improving Israeli-Gulf relations.
Israeli diplomats have been attending IRENA meetings in Abu Dhabi for several years, but now they will be entitled to have an office and live there permanently as well. Given the continued lack of formal Israeli-UAE diplomatic relations, such access might seem comparable to Iran having a UN mission in New York City despite its lack of diplomatic relations with the United States. But the IRENA arrangement is much more significant, despite the cautious official words, the UAE media's apparent desire to limit the story's prominence, and official censorship that limits what Israel-based media can say about certain subjects, including relations with Arab states. In fact, the new office is Israel's second diplomatic presence in a Persian Gulf country, joining a discreet consulate whose existence (though not location) was revealed in a 2013 Israeli budget document, apparently by accident.
While Israeli trade with Gulf Arab states continues to grow and in some cases is substantial, political ties ebb and flow. In 2010, for example, the UAE was infuriated by the reported Israeli assassination of a Hamas gunrunner in Dubai (see "Israel-GCC Ties Twenty-Five Years After the First Gulf War"). Yet any Emirati concerns about the recent violence in the West Bank seem to have been trumped by shared Israeli-Gulf unease over Iran, especially since the P5+1 nuclear accord was agreed in July. The challenge represented by the Muslim Brotherhood is likely another area of agreement between Jerusalem and the UAE.
Interestingly, attendees at the IRENA council meeting where the Israeli office arrangement was reportedly formalized included Dore Gold, director-general of the Israeli Foreign Ministry and a close confidant of Prime Minister Binyamin Netanyahu. Immediately prior to assuming that post this summer, and just ahead of the Iran nuclear accord, Gold had shared a public platform in Washington with retired Saudi general Anwar Eshki, revealing that they had had held several years of informal discussions about various bilateral issues.
It is not immediately likely that Israeli-Gulf political ties will return to the highs of the 1990s, when Israeli leaders visited Oman and Qatar after the Oslo Accords and established small diplomatic missions labeled as trade or liaison offices (though Muscat and Doha failed to follow through with counterpart offices in Israel). Washington has long encouraged such contacts, and formal exchanges between Israeli and UAE diplomats go back more than a decade. Yet while Washington may welcome this latest advance, it should also be seen as a consequence of the Obama administration's perceived embrace of Iran, which continues to generate concern among America's traditional regional allies.
Simon Henderson is the Baker Fellow and director of the Gulf and Energy Policy Program at The Washington Institute.