Israeli-Russian Coordination in Syria: So Far So Good?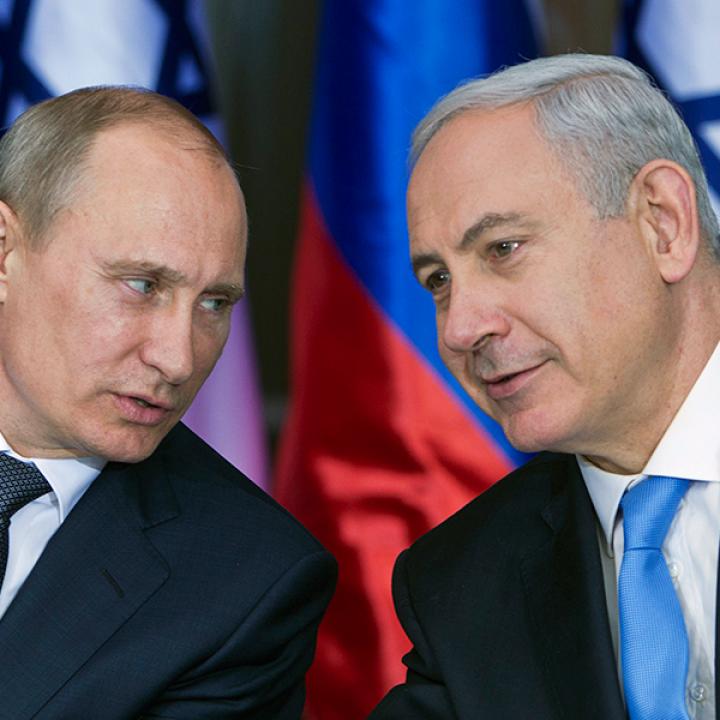 Although their close tactical coordination has prevented any bilateral flare-ups so far, Israel needs to plan for the likelihood that its relative freedom of operation in Syria will diminish the minute its actions interfere with Moscow's interests.
The November 24 shootdown of a Russian Su-24 in Turkish airspace has raised questions about whether such an incident could occur on Israel's northern border. The short answer is no. Israeli policymakers made numerous statements last week reaffirming their coordination with Russia, telling the public and allied governments that any such escalation between the two countries is unlikely. On November 28, Amos Gilad, director of the Israeli Defense Ministry's Political-Security Bureau, revealed that "Russian air force pilots at times cross into Israeli airspace...We know what to do and how to prevent an escalation."
Gilad's comment was the first admission that Russian aircraft have entered Israel's airspace, probably during bombing runs in southern Syria. Russian air force activity in the south is not intense as of yet, so it is safe to say that such violations will not occur often. Even so, this activity is only one of several factors that could create unintended escalation.
NO FALLOUT FROM ISRAEL'S OPERATIONS IN SYRIA
Last month saw numerous reports about Israeli airstrikes in Syria targeting Hezbollah arms transfers to Lebanon. These included an alleged October 30 attack on a ballistic missile facility near al-Qutayfah run by the Syrian army's 155th Brigade (the so-called "Scud brigade"), as well as a November 11 strike against a target close to Damascus International Airport. Similarly, opposition and pro-regime sources reported Israeli strikes on the night of November 23 that killed eight Hezbollah fighters and five Syrian soldiers in the Qalamoun area.
Although Syrian media reports of Israeli strikes should generally be taken with a grain of salt, several factors indicate that they could be accurate in this case. In addition to the exceptionally large number of such reports in recent weeks, other sources have noted a recent increase in arms shipments from Iran to Hezbollah. Moreover, Prime Minister Binyamin Netanyahu has confirmed twice in the past month that Israel is operating across the border. On December 1 he stated, "We operate in Syria from time to time to prevent it turning into another front against us. We act, of course, to prevent the transfer of deadly weaponry from Syria to Lebanon."
The reported Israeli strikes suggest that the Russian presence has not significantly limited Jerusalem's ability to target Iranian arms shipments to Hezbollah, and that Moscow might not care too much about Tehran's interests in bolstering the group's arsenal. This is probably why Israeli defense minister Moshe Yaalon stated on November 29, "It is good that [the Russians] do not interfere with us flying and acting in accordance with our interests." Even President Vladimir Putin expressed satisfaction with the coordination when he met with Netanyahu a day later on the sidelines of the UN Climate Change Conference, saying, "We are satisfied with the way our bilateral relations are developing. I note that the coordination mechanism between our militaries that we established on your initiative in response to the escalating situation in the region is functioning, and functioning well."
OTHER POTENTIAL ESCALATORS
Although the line of communication seems to be working thus far, both countries will need to remain vigilant as new developments threaten to strain the relationship. After the Su-24 shootdown, for example, the Kremlin quickly stated that it would deploy the S-400 antiaircraft system to Syria -- one of its most advanced systems. Positioning this system in Latakia gives Russia impressive range that encompasses a significant part of Israel's airspace. To be sure, Moscow is not threatening to use it against Israeli planes, and the hotline between the two countries will hopefully prevent any operational mistakes. Yet both militaries still need to stay on their toes -- the Turkey incident may have loosened Russian trigger fingers, so the Israeli air force may need to be even more transparent about any future operations in Syria.
Another potential point of friction is Russia's growing presence in central Syria, namely its planned expansion to al-Shayrat Air Base. Located twenty-five kilometers southeast of Homs, the base will be able to accommodate tens of Russian fixed-wing assets. This means that Russia's air activity in the area will intensify, limiting Israel's operations there.
Hezbollah and the Assad regime will also reportedly increase their presence around al-Shayrat as part of their push toward Palmyra (which is controlled by the Islamic State). This may include transferring some of their logistical bases closer to Russian forces. Al-Shayrat is only about an hour's drive from the Lebanon border, meaning Hezbollah could shift its smuggling routes further away from Israel's reach. Logistical preparation for such a maneuver is not simple, since Hezbollah would need to transfer heavy weapons and other installations undetected, but it is possible. In addition to complicating Israeli operations, such a scenario could lead to friction with Moscow -- Israel would be very hesitant to target Hezbollah in central Syria out of concern that it might hit Russian forces by mistake.
Increased tensions with Hezbollah in the north could also strain Russia-Israel coordination. Whenever the group suffers casualties at Israel's hands, as it reportedly did last month, the probability of retaliation increases. Netanyahu's latest statement about operating against Hezbollah arms convoys, deviating from Israel's usual policy of ambiguity, increases this probability even further. In the past, Hezbollah forces have retaliated by using improvised explosive devices or firing antitank missiles against Israeli border patrols. The group does not want to spark any wider hostilities because it is heavily invested in Syria, but even minor retaliation can lead to unplanned escalation.
In the longer term, two main trends will challenge Israeli-Russian coordination. The first is Iran and Hezbollah's objective to expand their presence in the Golan Heights. In mid-October, Hezbollah and Syrian forces pushed back rebels in Quneitra and regained control over a number of important military posts. Since then, the Assad regime and its partners have intensified their operations in the south, taking more ground with the help of Russian airstrikes. Although the scope of these airstrikes is still small compared to operations in northern and central Syria, any expansion of Hezbollah and Iranian proxies in Quneitra or western Deraa province would be considered a threat to Israel. And if Russia facilitates such advancement with its airpower, Jerusalem's ability to react will be more limited (see Policy Watch 2514, "Russia in Southern Syria: Israeli and Jordanian Concerns").
Another trend often belittled by Israeli policymakers is Russia's deepening relations with Hezbollah and Iran. The intervention's unremarkable results thus far have shown Moscow that the air campaign has its limits without a capable ground force. In that regard, Hezbollah and Iranian forces have proven to be instrumental on some fronts, with both reportedly helping to recover one of the downed pilots after the Su-24 shootdown. Such operations will bring the Russian coalition members closer together, and as the fighting continues, Moscow might discover that its relations with Hezbollah and Iran outweigh its silent agreement to allow Israeli airstrikes against them. In that scenario, Israeli pilots would quite suddenly find themselves under threat from sophisticated Russian air defenses.
POLICY RECOMMENDATIONS
Israel's first step should be to strengthen the coordination mechanism with Russia. On December 1, Israeli deputy chief of staff Gen. Yair Golan met with his Russian counterpart to do exactly that. The entrance of the S-400 system into Syria might make Israel reconsider some of its operations, but close coordination can help mitigate the risks.
Israeli intelligence also needs to remain vigilant against any movement of Hezbollah logistical hubs closer to Russian operations in Homs, since that would limit the ability to target the group's weapons convoys. Israel may need to take action against such plans before they are set in motion; at the same time, it could focus intelligence efforts on detecting any new Hezbollah smuggling routes into Lebanon. Regarding possible retaliation by the group or its proxies, Israel is probably already taking the necessary security measures to avoid any loss of lives on the borders with Lebanon and Syria.
Planning for the long term, Israel should maintain close contact with its American partner on these issues. If Moscow eventually decides to stop looking the other way when Israel operates in Syria, Jerusalem may face some tough choices. Accordingly, it is crucial to keep updating Washington in case of any change in relations with Russia, since Israel would need the United States to convey to Moscow the same redlines that Israel has laid out -- namely, preventing Iran and Hezbollah from opening a new front in the Golan, and preventing the transfer of advanced weapons to Hezbollah. U.S. support on these issues might convince the Russians to keep tolerating Israeli strikes on Hezbollah.
Finally, it is worth noting that Israel's communication with the Kremlin since the intervention began is only a tactical coordination, not a strategic realignment. Although Russia seems to be respecting Israel's redlines in Syria, this is not because Moscow sees Jerusalem as an indispensable ally, but rather because Israel's actions in Syria have not interfered with Moscow's plans as of yet. Many Israeli officials no doubt hope that the situation will remain as it is, but they also realize that Russia and Israel are not equal partners. The minute that Israel's actions interfere with Russian interests, its relative freedom of operation will diminish significantly.
Nadav Pollak is the Diane and Guilford Glazer Foundation Fellow at The Washington Institute.