Israeli Coalition Leaders Navigate Protests and Political Constraints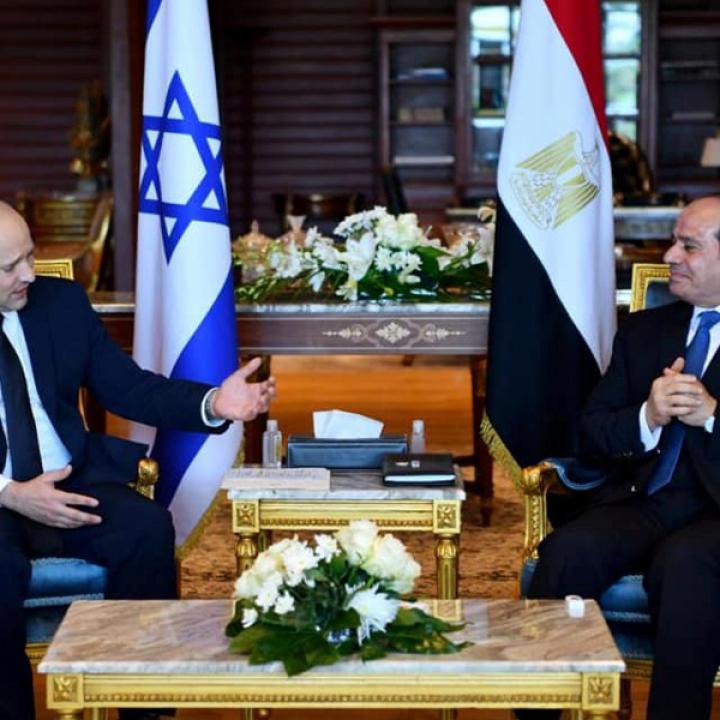 With their constituents upping the pressure on hot-button factional issues, Prime Minister Bennett and Mansour Abbas are starting to feel the vulnerabilities inherent in their still-fragile coalition.
As Israel's hybrid government reaches its seven-month mark, public protests and parliamentary boycotts are threatening to ignite a crisis in the young coalition. In the Negev region, hundreds of protestors have held near-daily demonstrations over Bedouin land rights amid the government's latest forestation initiative. Although officials announced a temporary halt in the plan to reassess the situation, the underlying tension is unlikely to go away. And in Jerusalem, a few thousand settlers protested outside Prime Minister Naftali Bennett's office on January 13, urging him not to evacuate illegal structures at a West Bank outpost where a settler was killed in a December 16 terrorist attack.
These incidents are a microcosm of the broader tension built into the coalition government's structure. Bennett's success will hinge on his ability to balance factional demands and maintain cohesion among the eight-party alliance that holds a razor-thin majority in the Knesset.
Bennett's Dilemma
The overarching rationale for this government was to end the political stalemate that put Israel through four inconclusive elections in 2019-2021. This imperative became more urgent as fears grew that former prime minister Binyamin Netanyahu was intent upon gradually eroding democratic norms and judicial independence in his desire to avoid conviction in an ongoing corruption case. Accordingly, parties across the political spectrum joined hands in unprecedented fashion.
The good news for Bennett is that the public seems largely appreciative of his unifying public tone, his ability to advance vaccine development and keep the economy open during COVID-19 waves, and his success in nurturing relationships with key foreign leaders. The latter was not a given—Netanyahu campaigned on the notion that only he was capable of working closely with leaders like Vladimir Putin of Russia and Abdul Fattah al-Sisi of Egypt. Yet Bennett has not only maintained existing ties, but also improved deeply frayed relations with Jordan's King Abdullah and conducted a successful visit with Crown Prince Muhammad bin Zayed in the United Arab Emirates last month. Critically, he has pursued an even-keel relationship with the Biden administration despite their differences over nuclear negotiations with Iran and, to some extent, the Palestinian issue.
The success of Bennett's government stems largely from its commitment to avoid or tread lightly on controversial political issues. Yet therein lies the dilemma for a government with such a narrow majority. Two of its key parties—Bennett's pro-settler group Yamina and the Islamist United Arab List (UAL) led by Mansour Abbas—openly espouse narrow factional interests, leading some members to define success more in terms of what territorial concessions they can gain for their constituencies than how they can steer broader national governance. In addition, the parties are internally divided about whether participating in the current coalition will help them achieve their respective aims.
To be sure, Bennett and Abbas themselves have a wider definition of success. They seem genuinely proud of the partnership between a religious Jewish prime minister and an Arab party, seeing it as a necessary message of reconciliation within Israeli society. They are often seen backslapping and joking in the Knesset in front of the cameras. They are also buoyed by the fact that their constituencies currently seek concessions in different territories—Yamina supporters are focused on the West Bank, while many UAL supporters are focused on the Bedouin situation in the Negev at the moment.
Yet Abbas and Bennett's colleagues do not always share their views—in fact, some argue that they are increasingly under attack for not delivering enough to their constituencies. And because the government's majority is so thin, its survival may ultimately be determined by these discontented parliamentarians rather than their party leaders.
The Settler Challenge
A leaked account of a Yamina meeting earlier this week brought the point home. Party members complained that they have been attacked mercilessly by the Likud and other right-wing opposition elements for "abandoning" the West Bank settlement movement—a sentiment made more acute by the latest flashpoint in Homesh, an outpost that was evacuated in 2005 but has since been subject to multiple rebuilding efforts, legal battles, and violent incidents.
During the meeting, Interior Minister Ayelet Shaked reportedly said that Bennett is working quietly to secure two settler goals: establishing a yeshiva in the West Bank area of Evyatar, which was evacuated by court order, and linking up electricity for West Bank outposts, which is currently illegal. She and her colleagues expressed exasperation that they could not publicly take credit for these efforts, apparently because of Bennett's desire to maintain close ties with the Biden administration. Therefore, an unnamed Yamina member chose to leak the matter to the media. Bennett's successes on wider policy matters may be enough to keep a lid on such controversies, but for how long?
The Bedouin Challenge
The factional politics for Abbas are similarly fraught. Nearly a quarter of UAL's votes last year came from Bedouins in the Negev, many of whom share the Islamist party's social conservatism. Hence, the party cannot be seen to ignore their issues.
In the past couple decades, Bedouin residents have left accredited villages and spread out in the Negev triangle between Beersheba, Arad, and Dimona. This area is now home to an estimated 200,000-230,000 people, many of whom live in unrecognized villages and shanty areas. Seven older villages were recognized in the past, and five new ones were apparently recognized as part of the coalition agreement that Bennett reached with Yair Lapid, the foreign minister who will succeed him in their rotating premiership. Successive governments have pledged to settle this issue once and for all, partly to facilitate urban planning, and also because security officials have worried that any lawlessness in the Negev could provide fertile soil for radicalization.
The issue has come to the forefront again this month for two reasons. First, the government's decision to plant new forests in areas that are home to unregistered Bedouin villages prompted substantial public protests and boycott threats in parliament.
Second, this is the first government in which Bedouin representatives are part of the ruling coalition. And in their view, the forestation initiative is just the state's way of displacing some of their constituents from communities that still need to be formally recognized. Previously, Netanyahu's government backed down from similar initiatives amid Bedouin threats, and their leverage is arguably stronger today.
Another wrinkle lies in the fact that a key UAL figure who championed the cause died recently, resulting in pressure to designate a new party champion and keep the issue alive. At the start of the current crisis, Abbas sought to downplay the situation, but his UAL colleague Mazen Ghanaim posted that he would "oppose this government until it stops all tree-planting activities." UAL parliamentarian Iman Khatib Yassin soon joined him.
The government compromised by halting Negev forestation efforts momentarily amid hope that the parties can work out a reasonable solution. This has led to speculation that the outcome will involve recognizing more villages while proceeding with some forestation in parallel. After the agreement was reached, Abbas sounded a conciliatory note. "There are no winners and losers, we're all together as citizens," he tweeted. "The arrangement in the Negev is in all our interests, Jews and Arabs alike, and we will move forward with a dialogue that will bring about an agreement that is acceptable to all." Predictably, and without a trace of irony, Netanyahu blamed Bennett's government for "capitulation" to Bedouin threats.
Potential Defections and the Netanyahu Factor
Despite the compromise, problems persist, and it remains unclear how UAL members will line up for parliamentary votes until a more permanent compromise is reached. Moreover, Yamina member Nir Orbach—who, like Shaked, is considered a wobbly supporter of Bennett—has refused to join coalition votes until UAL ends its boycott. Dissenting politicians in both parties are likely just engaging in bravado rather than preparing to bolt, but the tension is palpable.
Working in Bennett's favor is the fact that he could maintain a viable minority government if a couple parliamentarians defect. Such a development would be a symbolic defeat, but not a death blow. A rival Arab party, the Joint List, refused to join the coalition last year, but it remains committed to preventing Netanyahu's return and would likely do what is necessary to keep Bennett in power. A no-confidence motion to bring down the government requires parliament to simultaneously vote for an alternative government, and the six Joint List members who hold seats will not approve any scenario that puts Netanyahu back in power. Yet one cannot exclude the possibility that a handful of parliamentarians could force new elections.
Another important wrinkle is Netanyahu's reported bid to work out a plea deal before Attorney-General Avichai Mandelblit retires from office on January 31, apparently out of a belief that his successor will be less accommodating. Mandelblit's condition for such a bargain is that Netanyahu admit he committed a crime of moral turpitude and absent himself from politics for seven years. Paradoxically, that outcome would likely destabilize Bennett's coalition—if Netanyahu agrees to leave Likud, right-wing politicians in the current government would be tempted to step down and join the party in order to take part in its long-awaited succession struggle. Opposition to Netanyahu is still the main glue holding the disparate coalition together, so if he exits the stage, the government could easily collapse.
Policy Implications
Much has been written about Bennett's personal evolution from hard-right politician to pragmatic right-of-center leader. Likewise, Mansour Abbas has taken welcome steps toward moderation, including a historic interview in which he declared that Israel "was born as a Jewish state and so it will remain." Yet both party leaders face internal constraints and criticism that may affect the wider coalition's willingness to meet U.S. policy expectations on certain issues.
For instance, these constraints may help explain why Bennett does not meet with Palestinian Authority president Mahmoud Abbas (no relation to Mansour), instead asking Defense Minister Benny Gantz to deal with the PA over economic issues. Moreover, Gantz has taken care to avoid negotiations over politically fraught core issues and the West Bank's controversial "Area C." So long as Bennett is worried about Yamina defections, he will feel obligated to look for ways to placate discontented settlers. In practice, this means acting quietly on their behalf while avoiding steps that publicly defy the Biden administration. In turn, Washington will seek to do what is possible on the Palestinian issue while recognizing the political constraints.
Mansour Abbas will likewise try to keep the coalition together, but he cannot be seen as abandoning his constituencies either. And since both the UAL and Yamina view favorable land arrangements as crucial to their supporters, issues like Bedouin forestation and West Bank outposts are bound to keep them at loggerheads indefinitely. At the moment, the coalition is more likely to remain intact than break up—most of its members would emphatically oppose any move that brings elections too early (i.e., before they have had time to deliver enough results to their supporters). Ironically, though, new elections may be the only way for Bennett and Abbas to reshuffle their parties and ensure that their parliamentary lists are in sync with their evolving support for Arab-Jewish reconciliation.
David Makovsky is the Ziegler Distinguished Fellow in The Washington Institute's Koret Project on Arab-Israel Relations and creator of the podcast Decision Points.