Israel Juggles Diplomacy with Turkey, Cyprus, and Greece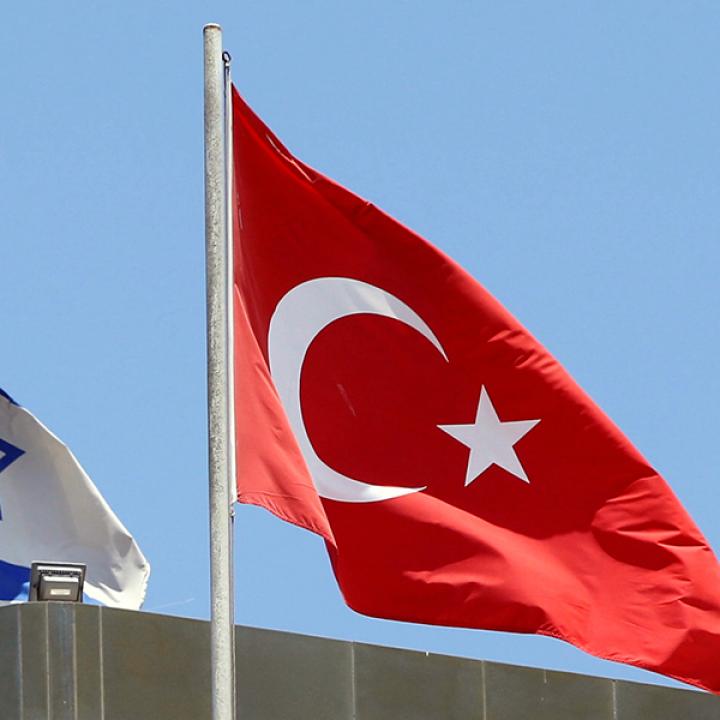 A high-level visit to Athens was notionally about climate issues, but it also took advantage of a potential shift in regional politics, including with Turkey.
While Russian tanks drove into Ukraine on February 24, Israeli president Isaac Herzog went ahead with his scheduled one-day visit to Greece. His next stop is Cyprus, scheduled for March 2. Both East Mediterranean meetings were announced after Israel went public with the news that Herzog would be visiting Turkey sometime in April.
Indeed, the diplomatic reopening with Ankara is a major opportunity that Jerusalem cannot ignore. Formal relations between the two governments have been frosty for the past decade, but they never broke, and Turkey remained an important trading partner despite the tensions. For example, a significant portion of Israel's oil imports now arrive by tanker from the Turkish port of Ceyhan after being pumped there from Iraqi Kurdistan.
For Ankara's part, President Recep Tayyip Erdogan appears keen on digging himself out of diplomatic isolation abroad and economic stagnation at home. Last month, he visited the United Arab Emirates, with which he had been at loggerheads over differences on regional conflicts, political Islam, and other issues. Abu Dhabi promised financial support, and that alone could do much to grease the wheels of their rapprochement.
Erdogan's invitation to Herzog was likely linked to reopening the prospect of sending Israeli natural gas to Turkey via pipeline, but there is ambiguity: Herzog is the head of state but not of government, a position that requires him to steer clear of contentious issues. Compared with previous presidents, he does appear to be adopting a more activist profile, closely complementing the concerns of Prime Minister Naftali Bennett's coalition government.
Cloaking the visits in climate terms is thus a convenient way forward politically. Before setting off for Athens, Herzog addressed a climate conference in Jerusalem, where he noted the potential for collaboration with "the next two hosts of global climate summits, Egypt and the UAE, as well as with Jordan, Bahrain, Morocco, Saudi Arabia, and more and more, and of course also our Palestinian neighbors." Naming Greece, Cyprus, and Turkey, he stated, "I intend to get them all on board for a regional partnership confronting the climate crisis...I believe it is time for a 'renewable Middle East.'"
Energy-wise, however, none of his trips will likely achieve breakthroughs. Greece and Cyprus were disappointed by Washington's recent withdrawal of support for an undersea pipeline project that would have linked them to Israeli gas fields. The proposal was deemed too expensive and technologically challenging. Israel will continue cooperating with Cyprus on the exploitation of offshore gas resources—at least one field straddles their respective maritime zones—but no major new announcements are expected to emerge from Herzog's meetings, similar to the friendly but bland outcome in Greece.
The notion of Ankara importing Israeli gas also seems too ambitious. On paper, Turkey is a natural market for these supplies, since it has significant domestic demand and is located relatively close to Israel. Yet disputed maritime boundaries, inconvenient seabed geology, and a decade of political hostility would likely prove fatal to any such negotiations—particularly since the requisite pipeline may need to pass through a divided Cyprus, where Turkey controls the northern part of the island and has forcefully challenged Greek and Cypriot rights in surrounding waters.
The diplomatic outcomes could prove much more valuable, however. Besides potentially ending a decade of political strife with a major regional power in Ankara next month, Herzog's trips reflect Jerusalem's desire to advance its good relations with Greece and Cyprus, two important voting members of the European Union. The three countries have also held joint military exercises. Of course, balancing these relationships will still require substantial finesse given Turkey's deep bilateral disputes with Cyprus and Greece.
Simon Henderson is the Baker Fellow and director of the Bernstein Program on Gulf and Energy Policy at The Washington Institute.