Israel and Bahrain's Normalization Setback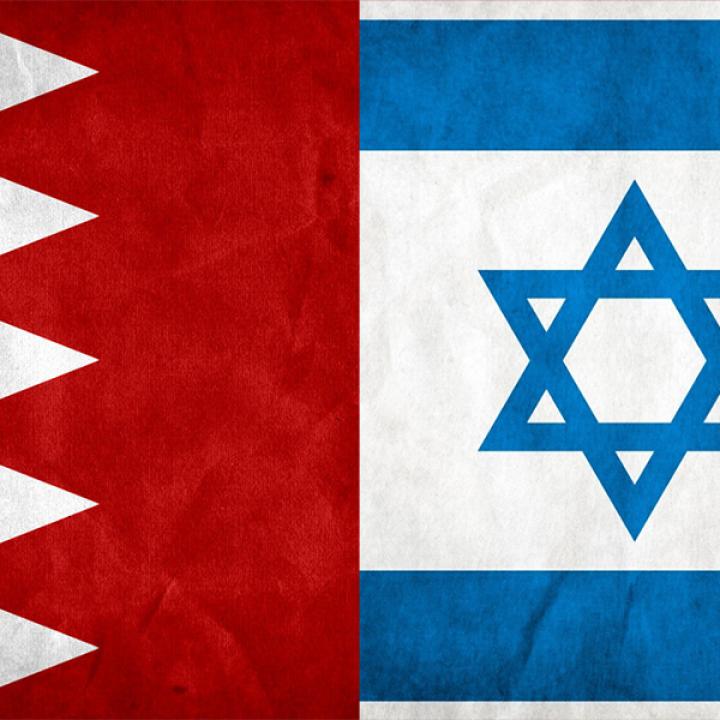 The scuttling of a high-profile opportunity for commercial engagement is a reminder that expanding Gulf-Israel ties to the public realm will be a slow, thorny process.
On April 14, an Israeli delegation canceled its trip to a business conference in Bahrain after weeks of Arab outcry against its scheduled attendance. That outcome should not be a surprise given longstanding popular resistance to such engagement and the lack of official diplomatic relations between Israel and regional states. Yet the recent strengthening of Gulf-Israel ties likely led some people to believe that normalization had been fast-tracked. After years of expanding security links and other cooperation with Gulf governments, Israeli prime minister Binyamin Netanyahu visited Oman last October. A few days later, an Israeli minister attended a judo competition in the United Arab Emirates, where Israel's flag was displayed and its national anthem played when the team won a gold medal.
In that context, sending a delegation of around thirty Israeli business executives and government officials to the Global Entrepreneurship Congress in Manama would seem fairly routine—their planned attendance had been widely known for several weeks, and they would not have been the first Israeli group to visit Bahrain. Yet previous delegations had a lower profile, and the outcry against the latest visit grew into a cacophony in recent weeks. In late March, for example, a Kuwaiti minister declared he would skip the event because of Israel's participation.
Bahrain's unique domestic context only adds to the complicated picture. On one hand, the country has the only indigenous Jewish community in the southern Gulf, and an old synagogue survives deep in the old part of the capital. Although the small community now conducts services in their homes rather than the synagogue, their status is protected by King Hamad, who is proud of the island's reputation for religious freedom.
On the other hand, Bahrain is rife with tensions between its Shia Muslim majority population and the ruling Sunni minority, echoing the wider regional confrontation between Shia Iran and the Gulf's Sunni rulers. The Bahraini Shia community's al-Wefaq political society is no longer allowed to stand in elections, and Interior Minister Rashid bin Abdullah al-Khalifa condemned it as "the Bahrain franchise of Hezbollah" while visiting Washington last week. Meanwhile, Manama has just announced that it sentenced 139 people to prison on charges of terrorism support and contacts with Iran's Islamic Revolutionary Guard Corps. The U.S. embassy website characterizes the general local situation in stark terms: "Unrest can occur without warning in any part of the country...Some protests may become violent."
This week's business conference is being held close to the town of Sanabis, a hotbed of Shia protests in the past. The conference hotels are in the downtown area, making them more vulnerable than prominent hotels like the Ritz-Carlton and Four Seasons, which are effectively on islands. Al-Wefaq called on the government to cancel the entire conference, but the more significant outcry arguably came from Sunni members of the National Assembly, who recently staged a protest inside the chamber holding "No to normalization" signs and wearing Palestinian scarves.
Officially, the Israeli delegation withdrew from the conference because of "security concerns," and this formulation may save some face for Bahraini authorities, who have always claimed that the group was invited by conference organizers rather than the government. Yet the outcome also suggests that the king may have given in too easily to domestic pressures, which augurs badly for the future of a country still recovering from the major uprising and crackdown of 2011.
The situation is reminiscent of December 2017, when a small, cross-sectarian Bahraini group visited Israel. The trip was instantly controversial, in part because it happened to coincide with President Trump's recognition of Jerusalem as Israel's capital. The king wound up having to reassure the group's members that they could return home safely.
In any controversy with Bahrain, Washington's immediate concern is the headquarters and base facilities for the U.S. Fifth Fleet and accompanying 10,000 onshore personnel. Fortunately, this large presence is not politically contentious to most Bahrainis, enabling U.S. personnel to concentrate on their role of safeguarding the region's global energy exports.
Washington has also backed Israel's steady engagement with Bahrain and other Gulf states, but this effort remains a work in progress. Kuwait publicly opposes normalization; Saudi Arabia may be on the cusp of changing its stance on the issue; the UAE recently sent its air force to participate in exercises with Israel and other nations in Greece; Qatar channels aid to Gaza via Israel and welcomes Israelis to conferences and other events in Doha.
U.S. efforts to promote normalization may or may not be helped by the eventual release of President Trump's "deal of the century" for Israeli-Palestinian peace. For now, the best way forward appears unchanged: keep cultural and trade contacts between Israelis and Gulf states low profile, but continue expanding diplomatic, security, and military cooperation.
Simon Henderson is the Baker Fellow and director of the Bernstein Program on Gulf and Energy Policy at The Washington Institute.