The Islamic State in 2023: Threat Levels and Repatriation Questions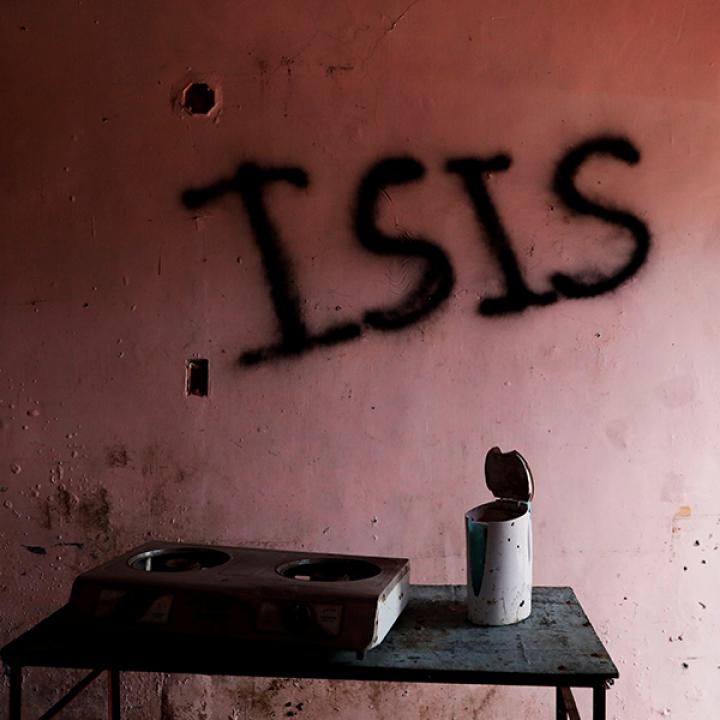 The latest UN report on the terrorist organization highlights the need for more progress on addressing repatriation challenges, new financing methods, weapons proliferation, and threats to African stability, among other issues.
Earlier this month, the UN secretary-general released the sixteenth report covering the Islamic State (IS) threat to international security and the range of UN efforts to help member states counter it. Preparation of the biannual report is supported by several UN bodies, including the Counter-Terrorism Committee Executive Directorate, the Office of Counter-Terrorism, the Global Counter-Terrorism Coordination Compact, and the Analytical Support and Sanctions Monitoring Team, which operates under Security Council Resolutions 1526 (2004) and 2253 (2015). Although IS (aka ISIL or Daesh) was territorially defeated in March 2019 with the fall of its last outpost in Baghuz, Syria, events over the past four years show that the threat posed by the organization and its affiliates persists, particularly in Africa. At the same time, it is vital to acknowledge that the international community is now much more secure and well-prepared to combat IS: attacks in Iraq and Syria are down, the group's finances are not what they once were, and repatriation efforts are nearing a point of consensus.
The IS Threat Today
In discussing current IS threats, the report highlights four main issues. The first is internal stability; although the past year saw the death of IS leader Abu al-Hassan al-Hashemi al-Quraishi, he was soon replaced by the current leader, Abu al-Hussein al-Husseini al-Quraishi. IS affiliates have pledged bayat (allegiance) to the new "caliph," and the organization has remained stable despite its leadership attrition.
Second, although coalition efforts have hampered the group's ability to use its traditional methods of financing, the overall IS war chest remains substantial, with an estimated total of $25-50 million. The majority of these funds are used to pay fighters and support the families of those who have died or been imprisoned. Furthermore, the group has turned to cryptocurrencies to increase its financial flexibility. And while IS finances today are paltry compared to their peak in 2014-2017, the costs needed to sustain the group are also much lower given its loss of territory and pause in state-building activities.
Third, the UN report emphasizes the "proliferation of conventional and improvised weapons among [IS] affiliates in Africa." This continued access to weapons—particularly unmanned aerial systems—represents a significant threat to coalition forces and other actors seeking to fight the group.
Fourth, the report notes how detention facilities that hold IS foreign fighters and their families in Iraq and Syria remain vulnerable to IS attacks, volatile internal dynamics, and humanitarian challenges. This situation heightens the urgency of repatriating such individuals to their countries of origin whenever possible. Yet despite international pressure toward this end, only around 2,500 Iraqis and 500 individuals from twelve other countries were repatriated in 2022—a relatively small number when considering that an estimated 56,000 women and minors are still being held in Syria's al-Hawl detention camp, and around 10,000 men and boys are still in prison.
The report also focuses on the nature of the threat to Africa, addressing the individual challenges by sub-region (i.e., Central and Southern Africa, West Africa, and North Africa). In each of these areas, IS, its affiliates, and other terrorist groups "continued to exploit local conflict dynamics and fragilities in order to advance their agendas." This dynamic of terrorist actors operating in undergoverned spaces has become a pattern in UN reporting, with IS taking particular advantage of such situations in the Sahel.
IS elements are still actively employing insurgency tactics in Syria and Iraq as well. Last year, the group claimed 279 attacks in Syria and 483 in Iraq. The annual number of such attacks is steadily decreasing—in 2020, the group claimed 608 attacks in Syria and 1,459 in Iraq; in 2021, these figures dropped to 359 in Syria and 1,113 in Iraq. Yet despite being on the defensive in these countries, the Islamic State is not defeated.
The IS homegrown threat outside of conflict zones also remains a concern, as the group continues to use online spaces to spread its ideology through propaganda. This threat is compounded by the fact that foreign terrorist fighters who traveled to Iraq and Syria to join the group were able to gain battlefield experience and have since been relocating to their home or third countries. As the UN report notes, these individuals have "proven to be particularly sophisticated and lethal." This threat comes not only from male fighters, but also from female returnees who have sought to indoctrinate others.
Responses to the IS Threat
The UN report highlights seven efforts that are shaping the current international response to IS:
Supporting victims of the group

Improving border management and law enforcement

Countering the financing of terrorism

Addressing IS efforts to exploit information and communications platforms and new technologies (e.g., drones, cryptocurrency, social media)

Countering terrorist narratives and engaging with communities to prevent and counter violent extremism conducive to terrorism

Fostering international and regional cooperation

Addressing the challenge of suspected IS members and their families in conflict zones
The report devotes its most significant energy to the last point, underlining the current repatriation situation and discussing efforts to investigate, prosecute, rehabilitate, and reintegrate such individuals.
Policy Implications
The indefinite detention of IS-affiliated individuals—some of whom have been held for over four years—raises a number of humanitarian and security concerns. With support from the UN and international partners, the United States has emphasized the need to prioritize repatriation in order to holistically address the IS threat. Countering the group's financial and military capabilities without addressing these detainees would be a mistake.
Not all individuals who traveled to join IS are still supporters of the group and its ideology. As noted above, however, the international community cannot ignore the threats posed by returning male foreign fighters with battlefield experience and radicalized female supporters seeking to indoctrinate others. Some countries have taken a gendered approach to repatriation, bringing back women and minors affiliated with the group but not adult men or teenage boys. In these cases, certain countries have taken a prosecutorial approach to repatriated adult women, while others have focused solely on reintegration. Yet such policies (such as not repatriating teenage boys or solely focusing on reintegration efforts toward adult women) represent a misunderstanding of what IS seeks to achieve, and reflect age- and gender-based biases. Countries should be encouraged to not only repatriate these individuals, but also apply proper prosecution, rehabilitation, and reintegration efforts that combine a gendered approach with evaluation mechanisms. Doing so could help prevent IS from returning to its state-building project and discourage new supporters from joining the group. Countries need to be convinced that it is better to address this issue head-on—meaning now, and with the proper resources and energy—than to be caught off guard in the future.
Relatedly, the international community should assess how these issues might be affected by the February 6 earthquake in Turkey and Syria. Although the foremost concern amid this horrific humanitarian situation is providing aid to those in need, it is also important to acknowledge the disaster's secondary ramifications, many of which highlight vulnerabilities in the fight against IS. For example, in the days following the earthquake, at least twenty individuals may have escaped from a prison in northwest Syria holding IS-affiliated individuals. And in Turkey, various Austrian, German, and Israeli aid missions have curbed their efforts due to security threats, with some reports of threats from IS specifically. Although these may be isolated incidents, countries should prepare for the fact that the group may take advantage of the precarious post-disaster environment.
On a positive note, several steps are being taken in the right direction. Although overall repatriation remains slow, Australia, France, and other countries long resistant to it have begun to make progress, while Iraq has restarted its repatriation program after pausing it. Moreover, significant Dutch, German, and U.S. cases brought against IS-affiliated women—long thought to be the most difficult to prosecute—have highlighted tools that can be used to hold them accountable, including legal mechanisms related to war crimes. Finally, research, risk assessments, and evaluation mechanisms on reintegration efforts have helped countries determine the next steps needed to focus on minors, as well as adults once they have left prison.
Devorah Margolin is the Blumenstein-Rosenbloom Fellow at The Washington Institute.