Iran's Support to Houthi Air Defenses in Yemen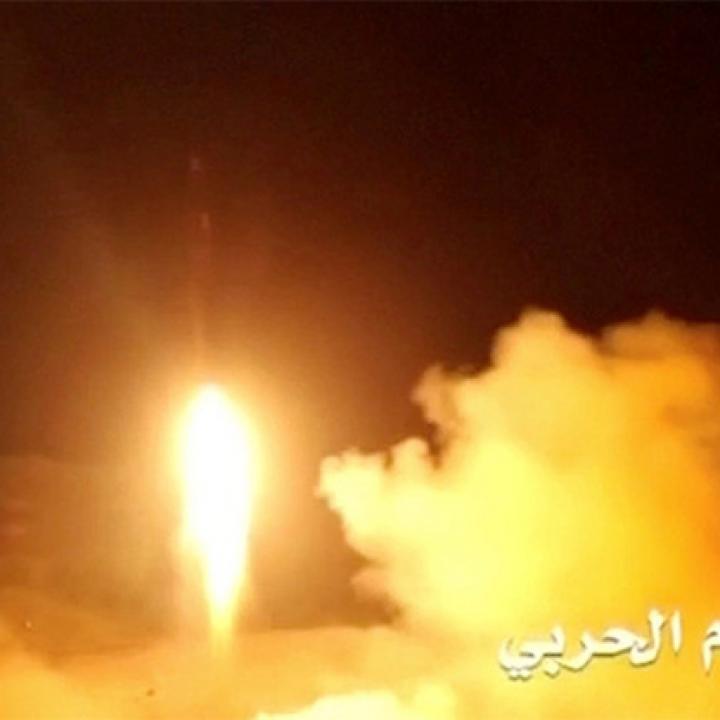 In addition to preventing the entry of smuggled Iranian air-defense systems, Washington should work with the Saudi-led coalition to blunt the impact of evolving Houthi SAM tactics.
According to the Gulf coalition and the internationally recognized Yemeni government, Iran has been violating the UN arms embargo by trying to provide Houthi rebels with advanced surface-to-air missile systems. The smuggling of Iranian-built Sayyad-2C SAMs and passive flight-tracking equipment could worsen the air-defense threat to U.S. allies such as Saudi Arabia and the United Arab Emirates, jeopardizing efforts to hammer out a peace settlement in the process.
THE EVOLUTION OF HOUTHI AIR DEFENSES
When the rebels took Sana in September 2014 and other parts of the country in March 2015, they seized most of the government's inventory of ex-Soviet SAMs and associated radars, including SA-2s, SA-3s, SA-6s, SA-9s, and man-portable air-defense systems. But these weapons never posed a serious threat to coalition aircraft. First, many of them were obsolete and in need of repair. Second, the coalition destroyed many fixed air-defense sites, radars, and rebel-operated interceptor aircraft by mid-April 2015. Third, the rebels converted many of the surviving SA-2 missiles into short-range, surface-to-surface ballistic missiles called the Qaher-1 and 2 (aka "Conqueror").
As a result, the air-defense environment in Yemen has been largely benign. Reported losses in 2015 were minimal: one Moroccan F-16, one Bahraini F-16, two Saudi AH-64 Apache helicopters, and up to a dozen reconnaissance drones. The 2016 tally was even smaller: with the exception of one helicopter and one drone hit by an unspecified "special weapon," there were no confirmed combat aircraft shot down by hostile fire that year, despite Houthi claims that they had destroyed an F-16, four helicopters, and sixteen drones.
This apparent lack of success spurred the rebel camp to come up with innovative measures such as converting Russian-made heat-seeking air-to-air missiles (the AA-10 Alamo-B, the AA-11, and probably the AA-8 and AA-7) into truck-launched antiaircraft weapons. These improvised systems are used for "SAMbushes"—close-range sneak attacks against coalition aircraft. Such attacks are more difficult to counter because they do not rely on detectable radar homing; instead, they use heat-seeking infrared sensors to target jets overflying mountaintops.
These innovations have led to several troubling incidents over the past two years:
On February 23, 2017, a coalition drone photographed a truck-mounted, converted AA-10 "SAM" for the first time in the coastal region of al-Salif.
The next day, two F-16s (one of them Jordanian) crashed in Saudi Arabia's Najran province. The Houthis claimed that both were shot down, though the coalition concluded that the Jordanian jet had crashed due to a technical malfunction.
On May 15, the Houthi-controlled Yemen Press news agency quoted a rebel spokesman who warned that a new air-defense system would enter service "very soon" and "surprise" the coalition, changing the calculus of the air war. Four days later, the Houthis claimed to shoot down an F-15 with a "new, highly accurate air-defense system."
On January 7, 2018, a Saudi F-15 was lightly damaged by a Houthi-converted AA-10.
On March 21, rebels stationed at Saada Airport fired another converted AA-10 at a Saudi F-15, causing minimal damage.
On March 26, two Emirati F-16s were unsuccessfully targeted in an apparent heat-seeking missile attack from the ground.
SAYYAD MISSILES FROM IRAN?
The coalition also claims that Iran has sent new missile systems into Yemen, displaying captured shipments as evidence. On March 26, coalition spokesman Col. Turki al-Maliki showed a missile body and electronic warfare equipment allegedly smuggled into the country earlier that month for use by the Houthis. The missile body did not include a forward guidance nose section and was missing some fins and control surfaces that were not intercepted in the same shipment. Yet it bore the clear markings and stenciling (in Farsi) of an Iranian Sayyad-2C SAM.
The Sayyad (Hunter) series includes three medium-range (75-120 km), high-altitude (27 km) missiles: the Sayyad-1, a domestic copy of the Chinese HQ-2, itself a copy of the SA-2; the Sayyad-2, based on the 1970s U.S. RIM-66 SM-1; and the Sayyad-3, a longer-range version of the Sayyad-2. Compared to the AA-10's relatively small 35 kg warhead, the Sayyad-2 has a more destructive 195 kg warhead.
Some Sayyad variants may have additional capabilities. According to Iran, the Sayyad-3C is capable of employing infrared as well as active and semi-active radar homing guidance, and the Sayyad-1(A) is similarly equipped. The Sayyad-2C—the variant that the coalition claims to have captured—has not been seen publicly in Iran, so it might be another experimental version intended for testing in Yemen. This would come as no surprise given that Iran reportedly sent the Houthis extended-range versions of its Qiam-1 ballistic missile, each modified specifically to reach Riyadh. The absence of a warhead and fins on the captured Sayyad-2C has prevented the coalition from deciding conclusively whether it is intended as a SAM or surface-to-surface missile, or what kind of launcher it can be fired from.
IRANIAN-MADE VIRTUAL RADARS
In addition to the Sayyad-2C, the coalition claims to have seized electronic tracking systems manufactured by the Iranian company Behine Pardazan Rizmojsanat (BP-RMS)—specifically, a transponder interrogator (aka virtual radar receiver, or VRR) that passively gathers air traffic control signals given off by military and commercial craft. Drawing from satellite-based automatic dependent surveillance-broadcast systems and other passive tracking options, Iranian-supplied VRRs could help the Houthis monitor, decode, and display accurate geolocation, altitude, roll/track angle, heading, speed, nationality, and call sign of all coalition aircraft within a radius of over 250 km. This information could then be used to derive targeting solutions for air-defense batteries, allowing Houthi SAMs to operate without the telltale emissions produced by surveillance radars.
With this capability, the Houthis may be able to launch dangerous "pop-up" attacks in which operators use passive systems to track a target and then launch a missile in the right direction; the missile's infrared or radar guidance system does not activate until it nears the target. In addition to improving the Houthi tactic of converting heat-seeking air-to-air missiles into SAMs, Iranian-provided VRR could help the rebels conduct SAMbushes with semi-active radar-guided SA-6 missiles.
IMPLICATIONS FOR U.S. POLICY
Coalition support to the Yemeni government is highly dependent on maintaining a permissive air-defense environment. Moreover, the Houthis will not return to the negotiating table in good faith if they believe that their missile systems can force the coalition to reduce its pressure on Hodeida, Sana, and other key battlefronts.
Accordingly, the United States should expand its defensive support to coalition forces, providing intelligence that can help them detect new SAM systems and air-defense command-and-control nodes in a timely manner. U.S. advisors should also prioritize emission control so that coalition aircraft can reduce the electronic signatures that make them vulnerable to VRRs. American forces have extensive tactical experience with pop-up attacks from past air campaigns—most notably the northern Iraq no-fly zone, where mountaintop SA-6 SAMbushes were often encountered.
Preventing Iranian shipments of advanced air defenses is another urgent concern. After examining Iranian ballistic missiles fired into Saudi Arabia from Yemen, the UN Panel of Experts concluded in January that Tehran "is in non-compliance with paragraph 14 of resolution 2216 (2015)," referring to the arms embargo imposed on the Houthis under Chapter VII of the UN Charter. Last month's Sayyad-2C seizure would only add to that rap sheet if confirmed. The United States should therefore work with the Yemeni government and the coalition to expose any further Iranian smuggling of SAM or electronic warfare systems, which could threaten civilian aviation as easily as military aircraft. For its part, the coalition should promptly share all weapons discoveries with the UN and nongovernmental arms-control organizations, who can help confirm its findings. Such efforts would not supplant the equally urgent quest for a sustainable end to the bloody conflict—in fact, they may be prerequisites to a settlement.
Farzin Nadimi is an associate fellow with The Washington Institute, specializing in the security and defense affairs of Iran and the Persian Gulf region. Michael Knights, a Lafer Fellow with the Institute, recently returned from a visit to Yemen's battlefronts, where he received briefings from coalition aviators regarding the air-defense environment. The authors wish to thank Tom Cooper for his comprehensive list of aircraft losses (actual and claimed) over Yemen.