Iran's National Security Council Shuffle Signals Business as Usual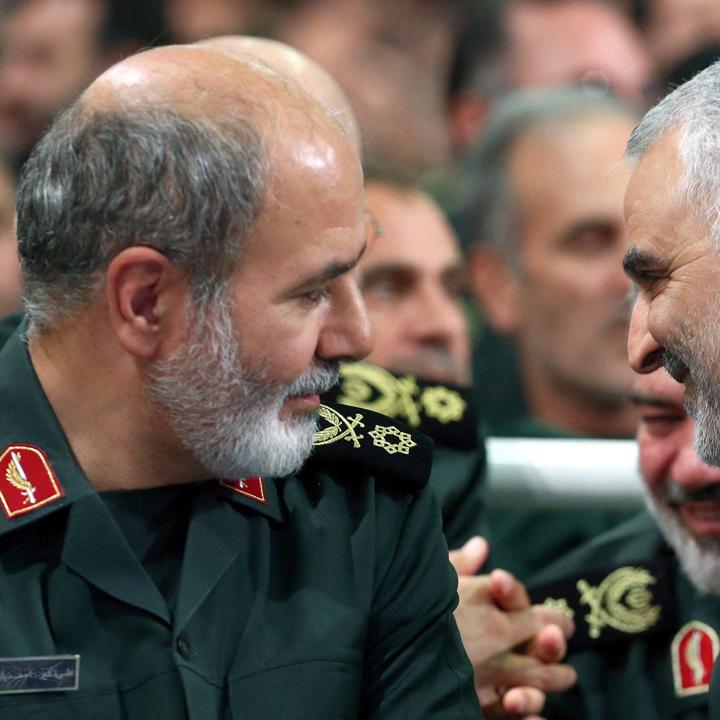 The latest change followed the normal timeline for such appointments, and the new council secretary is a demonstrated loyalist who will presumably toe the Supreme Leader's uncompromising line.
On May 22, Iran announced the appointment of Ali Akbar Ahmadian as secretary of the powerful Supreme National Security Council (SNSC). A former commander of the Islamic Revolutionary Guard Corps Navy (IRGCN), Ahmadian would later serve as head of the IRGC's Strategic Planning Division, dean of Imam Hossein University, and, since September 2022, as a member of the Expediency Council. He now replaces Ali Shamkhani, whose tenure as SNSC secretary lasted just three months short of the normal ten-year timeframe for such appointments.
As established practice, Ahmadian's appointment to the council was formally made by President Ebrahim Raisi, the nominal head of the SNSC. More important, Khamenei immediately designated Ahmadian as one of his representatives on the council, giving him voting rights and an official direct line of communication with the Supreme Leader. Khamenei's other council representative is another loyal hardliner, Saeed Jalili, who served as SNSC secretary from 2007 to 2013 and steered Iran's nuclear negotiations during that time.
In a separate decree, Khamenei thanked Shamkhani for his service and appointed him as his political advisor and a member of the Expediency Council. This move dispelled rumors that Shamkhani had fallen out of favor, at least for now—some observers regard Expediency Council and advisory appointments as "parking orbits" for used-up assets who will be kept under watch as they continue to have protective details. In recent months, hardliners and anti-regime figures alike had increasingly attacked Shamkhani and his family for their vast accumulation of wealth from murky construction, petrochemical, and shipping businesses. At a time when quality of life is plummeting for most Iranians due to low incomes and high inflation, the Shamkhanis are accused of benefiting from preferential government rents under the guise of sanctions busting. For example, in the purportedly leaked proceedings of a January meeting between Khamenei and top security officials, Shamkhani was directly criticized for his sons' extravagant lifestyle.
Who Is Ahmadian?
Born in 1961 and raised in Kerman, Ahmadian was training to become a veterinarian before he joined the 1979 revolution and fought in the Iran-Iraq War. A 2018 PolicyWatch portrayed him as a key architect of the IRGC's asymmetric naval warfare doctrine when he chaired the IRGCN's joint staff. He was also reportedly involved in tailoring that force's expanding naval capabilities against the U.S. regional presence and planning large-scale naval exercises when he commanded the IRGCN between 1997 and 2000. Yet insider information that has emerged since then offers a clearer and less charitable profile, casting him as more of an opportunistic, meticulous bureaucrat and political staff officer than a seasoned operational field commander. His few academic articles available online mainly echo the Supreme Leader's views on threat perception and "jihadi management." He also tried to combine asymmetric and Shia-devoted warfare concepts to create a robust warfighting concept in a 2009 speech.
Ahmadian's unwavering loyalty allowed him to quickly establish links with the Supreme Leader's office, bypass the chain of command, and report directly to Khamenei, further solidifying his place in the IRGC. Unsurprisingly, Khamenei later picked him as chair of the IRGC Joint Staff in 2000, replacing his ex-boss Hossein Alaei, who was falling out of the Supreme Leader's favor thanks in part to Ahmadian's reports. In that role, Ahmadian is said to have further purged the IRGC of reformist commanders, working in tandem with his close ally Majid Mirahmadi, who is currently the interior minister's deputy for security and policing affairs as well as secretary of the SNSC's security sub-council.
In 2007, the U.S. Treasury Department's Office of Foreign Assets Control sanctioned Ahmadian as an IRGC commander pursuant to UN Security Council Resolution 1737. The European Union, Australia, and Japan quickly followed suit. That resolution was superseded in 2015 by Resolution 2231, which listed Ahmadian as one of various individuals involved in Iranian proliferation efforts and directed UN member states to freeze his assets until October 18, 2023. Therefore, he should still technically face some travel restrictions until at least that date.
What Next for the SNSC?
Per Article 176 of Iran's constitution, the SNSC is tasked with securing national interests, safeguarding the Islamic Revolution, and preserving the republic's territorial integrity and national sovereignty by outlining defense and security policies within the guidelines set forth by the Supreme Leader. This entails coordinating all activities that affect Iran's defense (and offense) and using all resources to counter domestic and foreign threats. The council is chaired by the president and attended by the heads of the other branches of government, the chair of the joint armed forces staff, the head of budgetary affairs, the ministers of foreign affairs, interior, and intelligence, two Khamenei representatives, and, when needed, the commanders of the Artesh and IRGC.
As noted previously, the president is the SNSC's official head, but the secretary is considered its highest-ranking fixed member. As the Supreme Leader's top representative on the council, the secretary presides over its decisions and how they are implemented; he also has several deputies.
Iranian opposition and human rights groups have harshly criticized the SNSC in recent years. In 2020, they accused it of failing to order a no-fly zone over western and central Iran at a time of heightened military tensions with the United States, reportedly resulting in an air defense unit mistaking a Ukrainian civilian jetliner near Tehran for an American reprisal strike and downing the plane. And during the mass protests that swept Iran in 2019 and 2022-23, the council was accused of ordering security personnel to fire on young demonstrators, resulting in thousands of deaths and injuries.
Regarding Iran's nuclear intentions, the SNSC was taken off that file when Shamkhani became secretary in 2013, with the Foreign Ministry spearheading nuclear negotiations thereafter. Yet Shamkhani still commented on the state of nuclear talks at various points. For example, on May 22, 2018—shortly after the Trump administration withdrew from the 2015 nuclear deal—he declared that under no circumstances would Iran negotiate a new nuclear agreement with the West. Therefore, it is unclear whether Khamenei will direct Ahmadian to pave the way for resuming the currently stalled negotiations. In recent remarks, the Supreme Leader hardened his view on the "heroic flexibility" that he exhibited by allowing new talks in the first place—that is, he redefined the negotiating process as just a temporary means of bypassing obstacles on the way to Tehran's unspecified ultimate objectives. (For more on how the idea of "heroic flexibility" affects Iran's deterrence strategy, see PolicyWatch 2512.)
Elsewhere, the SNSC has been formally in charge of security negotiations with neighboring countries, including the recent Chinese-mediated talks with Saudi Arabia. Yet doubts persist about Iran's long-term intentions for rapprochement with Riyadh. During Khamenei's aforementioned January meeting with top security officials, he allegedly mentioned an SNSC "decision" to implement a temporary behavioral shift in the region in order to ease pressure on the regime at home, "until the time comes to finish off the existing crisis [referring to the mass protests that began last September] using even harsher yet more discreet measures and achieve stability." The purported leak did not elaborate on what such a shift might entail, and the SNSC's deliberations on these and other matters are never announced publicly.
Conclusion
The timing of Ahmadian's elevation seems unremarkable—this is a regular time of year for Khamenei to make political appointments, and Shamkhani had completed the normal decade in office for this post. Moreover, Ahmadian is extremely loyal to Khamenei and his son Mojtaba, giving the Supreme Leader additional peace of mind that the secretary of the SNSC will follow his instructions to the minute. What matters more is the continual flow of evidence about Khamenei's apparent intentions—namely, that his recent show of flexibility in the region is a calculated attempt to defuse the regime's crises at home, while his hardline statements and appointments show no sign of compromise in the nuclear file or long-term regional de-escalation.
Farzin Nadimi is a senior fellow with The Washington Institute.