Iran Is at a Strategic Crossroads Again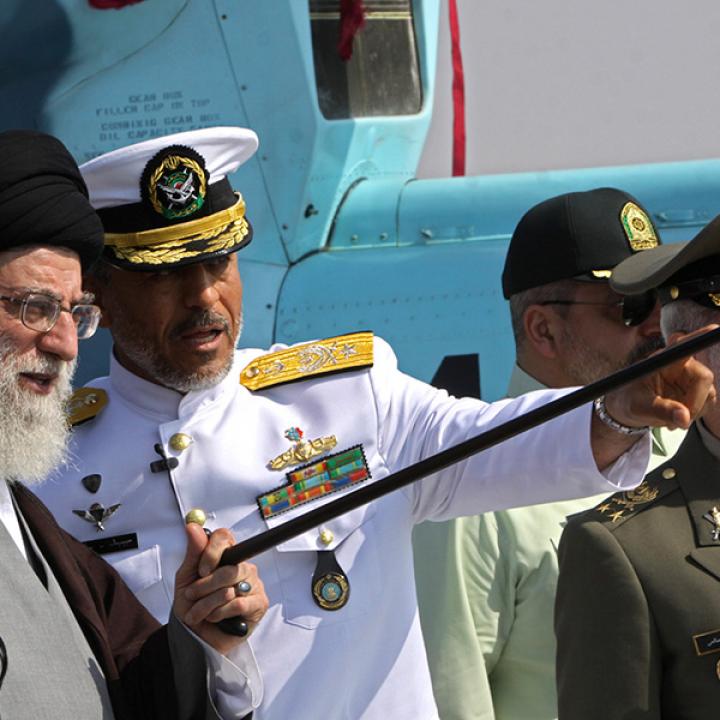 As the regime's strategy for countering the Trump administration continues to falter, will its traditional two-step of provocation and restraint give way to wider escalation?
On May 23, in his Ramadan "Tom and Jerry" speech, Supreme Leader Ali Khamenei made a list of demands on Europe to keep Iran in the nuclear deal. Two months later, none of these demands—including the foremost conditions of resisting U.S. pressure and compensating Iran—has been met.
With less than a month left before the United States reimposes a host of sanctions, Tehran finds itself at a familiar strategic crossroads. Even as President Hassan Rouhani exchanges fire and fury with President Trump on Twitter, the regime's responses to mounting U.S. pressure are proving ineffective.
FAILED COUNTER-TRUMP STRATEGIES
Although Khamenei makes all final decisions regarding Iran's foreign policy, a complex and surprisingly pluralistic legislative and executive process informs many of those decisions before they are made. When Trump took office last year and reiterated his intent to withdraw from the nuclear deal and increase pressure on Iran, one can assume that a host of committees and councils were fully occupied with advising the Supreme Leader on the regime's best strategic response. By examining Iran's behavior since then, one can discern the main pillars of that strategy—and the extent of its failure.
Driving a wedge between Washington and Europe. In 2017, Ali Akbar Salehi, director of the Atomic Energy Organization of Iran, inaccurately predicted that "if the Americans cast the deal aside, it is highly likely that Europe won't follow suit, [and] America will remain alone." Learning from its past negotiations with the West, Tehran has continued its talks with Europe, hoping that the prospect of retaining the nuclear deal would incentivize them to resist U.S. sanctions fiercely.
Thus far, however, Europe has not delivered, seemingly lacking the capability and, perhaps, the will to effectively resist Washington's plans for reimplementing sanctions. A few years ago, Rouhani famously stated that "interacting with Europe and not with the United States is like a poor man who can't afford to buy a Mercedes, so he instead chooses a Paykan," a popular and cheap Iranian car. Thus, he should hardly be surprised if Iranians regard Europe's recent hints of sending partial compensation for sanctions-related losses as "too little, too late." 
Coordinating with Russia and China. Shortly after leading Iran's negotiations with Europe in 2003-2005, Rouhani expressed regret for not investing enough resources in securing diplomatic support from Russia and China, admitting that Tehran "would have had an easier time" with their assistance. In recent months, Iranian officials sought to learn from that perceived mistake by expanding relations with Beijing and Moscow in order to "neutralize and reduce the impact of U.S. pressure," in the words of Alaeddin Boroujerdi, the head of the Majlis foreign policy committee at the time. Yet their support has not been as beneficial as hoped, in part because both supposed patrons have much wider political and economic interests to worry about.
Even if Russia and China do prove more forthcoming down the road, Iran's growing dependency on them could open a Pandora's box of ideological and political harm for the regime. Reflecting on this potential decay of the Islamic Republic's legitimacy and independence, Kayhan newspaper, a Khamenei mouthpiece, recently claimed that the famous revolutionary slogan "Na Sharqi, na Gharbi" (Neither West nor East) has become obsolete because the concept of the East has significantly changed. As the paper attempted to explain this contradiction, Russia is Iran's ally against the United States, so reaching out to it is therefore okay.
Deterring U.S. pressure. Although Tehran has tried to overplay the status of its nuclear program by inaugurating new advancements in that field, its announcements have not created the terrifying impact they were probably intended to. Its frequent threats of expanding its uranium enrichment capabilities tenfold do not get much attention from the international community anymore; they have essentially become routine. And Rouhani's latest attempt to deter Washington—by threatening to initiate the "mother of all wars" and close the Strait of Hormuz—has only pushed President Trump to respond with more threats of his own.
Stabilizing the regime by closing ranks, among other measures. Due to very public clashes with the Islamic Revolutionary Guard Corps, Rouhani's first year as president fueled divisions within Iran's leadership. Yet this trend has changed in recent weeks, ever since the president adopted an aggressive stance toward Washington, defended Iran's actions in Iraq, Syria, and Lebanon, and even reportedly agreed to replace some of his cabinet members at Khamenei's request. Although some might claim this tactic will help unite the Iranian public and prevent Washington from adopting a "divide and conquer" strategy, it has a major disadvantage: it taints Rouhani's moderate reputation, which won him some favor in Europe. For instance, his threats to hinder the flow of oil from the region—which he made while touring European capitals earlier this month—were no doubt disconcerting to some of his hosts.
Increasing economic resilience. During his recent speeches, the Supreme Leader has repeatedly reiterated his calls for pursuing a "resistance economy" and increasing the country's self-sufficiency. His Ramadan speech noted the need for Iran to set up "headquarters in its economic centers" in order to counter the enemy's "war room in the Treasury Department." Yet Tehran's grand plans for fighting sanctions through economic countermeasures—such as anti-corruption efforts and better management of liquidity and foreign exchange reserves—are waning. And with the rial dropping to a record low and more companies announcing their intention to stop engaging with Iran, the regime's "rally round the flag" approach might not be enough to prevent ongoing public protests from turning into mass unrest.
LOOKING FORWARD: NEW STRATEGY OR NEW TRICKS?
Rouhani and Trump's exchange of threats and the imminent prospect of heavy sanctions will likely compel Iranian decisionmakers to reconsider their basic dilemma: should they escalate the situation and retaliate harshly to deter U.S. pressure, or restrain themselves to prevent the emergence of a united Western coalition against Iran—an approach that could bring them limited economic compensation from Europe? History shows that the Islamic Republic is erratic in this regard. While often risk-averse, it sometimes takes astonishing measures such as planning bombings in Washington and Paris or firing rockets toward Israel's northern frontier.
In cases where Tehran chose an aggressive path, it soon backed down, preferring not to jeopardize the regime's stability. Today, Iran's leaders seem well aware that any military escalation could provoke the Trump administration to respond in kind, so they are unlikely to take precipitous, direct action in response to U.S. pressure. Yet they might consider using their Shia proxies against U.S. forces—just the kind of "gray zone" actions on which they have traditionally thrived.
Looking forward, what could push Iran to shed its past patterns, adopt a more consistently assertive approach, and embrace direct escalation? The dominant factor in such a decision would likely be Tehran's perception of its economic situation—particularly the effect that economic problems might have on regime stability. If the ayatollahs perceive the threat of domestic unrest as critical, they may try to deflect the people's attention to the "external enemy." This approach would aim to serve two ends: first, rallying the public around the flag while demonstrating that the regime can endure the costs of escalation, and second, driving a wedge between Washington and the international community, which may fear the economic impact of crisis in the Persian Gulf.
Omer Carmi is director of intelligence at the Israeli cybersecurity firm Sixgill. Previously, he was a visiting fellow at The Washington Institute and led IDF analytical and research efforts pertaining to the Middle East.