Iran Is Still Using Pseudo-Civilian Airlines to Resupply Assad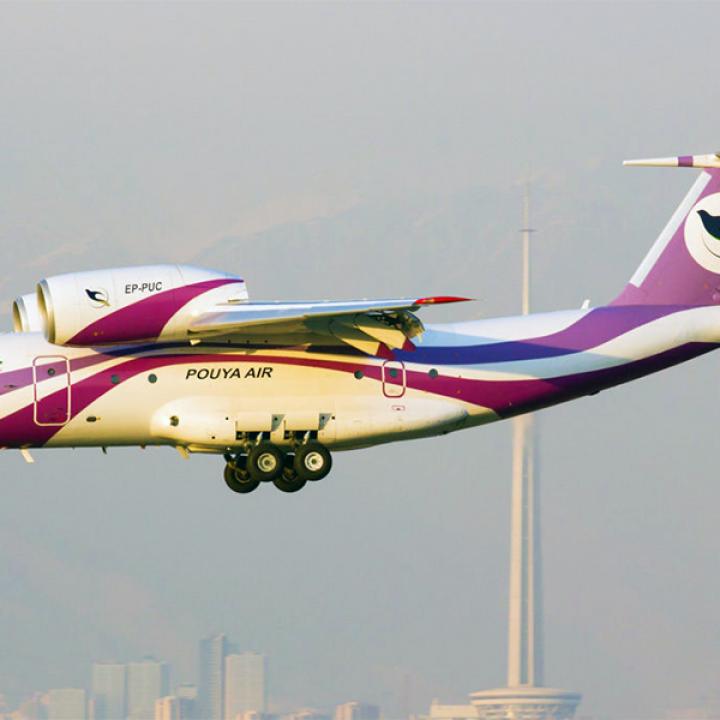 While some international sanctions against Iranian civil aviation have been lifted, Tehran's insistence on using Mahan Air and other companies to send personnel and weapons to Syria may jeopardize the industry's future.
As the aviation community and international media fixate on recent Boeing and Airbus orders by Iranian airlines, Tehran continues to quietly purchase secondhand aircraft and parts through smaller companies, actively circumventing terrorism-related sanctions against certain airlines and individuals. By combining military and civil aviation components, Iran seeks to bolster its regional airlift capability, but any companies associated with such activity -- even indirectly -- are putting themselves in the crosshairs of U.S. sanctions policy.
THE 'SYRIAN EXPRESS' AIR BRIDGE
The Islamic Revolutionary Guard Corps-Qods Force has long used pseudo-civilian resources to help Iran's allies in Syria. In addition to close support from Mahan Air (see next section), the IRGC has set up its own cover airlines and service companies to provide logistical assistance and boost revenue.
The main airline operated by the IRGC and its Pars Aviation Company is Pouya Air. Its predecessors, Pars Air and Yas Air, were designated as terrorist entities in 2012 by the United States, which accused them of transporting weapons to the Syrian regime. Today, Pouya Air operates six Russian-made transport planes on loan from the IRGC Aerospace Force. The IRGC also recently purchased two Brazilian-made Embraer ERJ-145ER regional jets (registration numbers EP-RAA and EP-RAD), which have a range of about 3,000 kilometers and can carry up to fifty passengers. The first of these jets was registered to South Africa by Hossein Hafez Amini, an Istanbul-based Iranian businessman, and delivered to Pouya Air on March 31. Both jets were subsequently seen at Tehran's Mehrabad Airport still wearing South African registration and "Rey Airlines" livery. The IRGC has close links to the latter airline, apparently a murky front company with a fake website created no more than two years ago. Available records show that Rey was incorporated in South Africa, but its website shows an Istanbul address.
In addition to the revenue generated by passenger flights, the IRGC can also save money by using its aircraft to transport personnel and their families. More important, having its own cargo and passenger fleet allows it to transport operatives or clandestine cargo with minimum observation by civil aviation authorities.
Another IRGC-controlled company recently coming to light is Qeshm Fars Air, which took delivery of two Boeing 747-200F vintage cargo planes from Afghanistan's Kam Air using an Armenian intermediary. It is not clear if Afghan officials knew where the planes would end up. The first of these planes, EP-FAA, was immediately pressed into daily flights between Tehran and Damascus (route numbers QFZ9950 and QFZ9951). The second plane is undergoing maintenance at the Farsco maintenance repair and overhaul center in Tehran. For now, the newly acquired Boeings are said to be operated by Mahan Air.
The air bridge between Iran and Syria has been particularly busy of late, with planes from several civilian and military operators making the trip: Mahan Air (Airbus A300 and A310), Iran Air (Airbus A300 and A320), Iran's national Air Force/Saha Air (Boeing 747F and C-130), the IRGC/Qeshm Fars Air/Pouya Air (Boeing 747 and Il-76), Syrian Air (Il-76), and Cham Wings (A320). The latter company -- a private Syrian airline with scheduled flights between Tehran and Damascus -- was targeted by U.S. sanctions in 2016. Most of the "Syrian Express" flights conducted by these operators are scheduled for nighttime in order to hinder satellite monitoring. Besides the busy Tehran-Damascus route, three airlines (Mahan, Iran Air, and Syrian Air) also visit Abadan Airport intermittently. There, Iraqi Shiite militia forces are bused in from Najaf and Basra to be flown to Damascus.
In all, Iranian and Syrian airlines have hauled about 21,000 passengers between Tehran/Abadan and Damascus in the past two months alone, along with over 5,000 tons of supplies. Very few pilgrims travel to Syria these days, so most of these passengers were military or paramilitary personnel. Almost all of the flights in question are fully chartered by the IRGC and usually unavailable to the general public.
MAHAN'S HIGH-RISK ROLE
Mahan Air, Iran's second-largest airline, was founded in 1992 by the Mol-Al-Movaheddin Holding Co. of Kerman as a small firm flying a few Russian-made aircraft. Following a period of instability, the airline tabbed Hamid Arabnejad, an ex-IRGC officer, to manage operations in 1998. During the Iran-Iraq War, Arabnejad had served as deputy commander of one of the IRGC's most active combat units, the 41st Tharallah Operational Division, led by current Qods Force commander Qasem Soleimani. Arabnejad later headed Iran's reconstruction office in Bosnia-Herzegovina, a position likely associated with Qods Force operations in the Balkans.
To be sure, hiring an ex-IRGC officer is not necessarily alarming, since several other Iranian airline managers have been IRGC veterans. But Arabnejad's close association with Soleimani and the Qods Force are troubling. Mahan's illicit activities on behalf of the IRGC have put the airline at the top of international sanctions lists since 2011, and any firm that does business with it therefore assumes significant risk.
Despite the painful effects that sanctions have had on the air worthiness of Mahan's planes, the company has found innovative ways to import a fleet of Western-made aircraft in recent years, including eight Airbus A340 long-haul jets. The planes it has acquired through Armenian front companies make it the only Iranian airline capable of flying long-distance routes.
In addition, Mahan recently took delivery of the first of three secondhand Airbus A340s (UP-A4001 through UP-A4003) from Sri Lanka and Greece, this time using Kazakhstan's Bek Air as an intermediary. At least one of these planes has been delivered to Syrian Air and just made its inaugural flight to Dubai. Operated by Mahan, it will reportedly fly routes to South America and East Asia as well. Mahan also operates an Airbus A300 for Syrian Air. Yet the economic feasibility of such routes is questionable because Syrian Air has been subject to EU and U.S. sanctions since 2012 and 2013, respectively.
More broadly, the Treasury Department has identified several companies based in Armenia, Kyrgyzstan, Ukraine, Thailand, and Turkey as Mahan Air fronts. These companies have served as intermediaries for the acquisition of aircraft and related materiel by sanctioned Iranian entities.
Taken together, Mahan's current fleet includes more than thirty-seven wide-body aircraft with an average age of twenty-four years. They fly both domestic and international routes, including to Asia and Europe. In fact, 15 percent of Iran's international flights are carried out by Mahan, nearly twice the share of Iran Air (8.5 percent). This is unsurprising given that most of Iran Air's long-haul planes were grounded or phased out prior to the lifting of nuclear sanctions. And while the United States designated Mahan Air in October 2011 for providing financial, material, and technological support to the Qods Force, the company has found various ways to keep a viable fleet in service.
CONCLUSION
In 1981, an article in Armed Forces Journal defined Aeroflot as the logistical arm of the Soviet Union's covert Cold War activities, describing how the Kremlin used the national airline as a principal tool for implementing its "political and military objectives worldwide." Although Aeroflot's capabilities were vastly superior to whatever the IRGC and its affiliates can muster, the Revolutionary Guards are clearly following a similar power-projection model.
Over the next few years, a stream of new Airbus and Boeing jetliners will be arriving in Iran along with associated training and services. Yet if Iranian airlines hope to take advantage of these resources, they will need to avoid business dealings with Mahan Air and other designated entities, since Mahan seems intent on remaining the IRGC's de facto "Qods Air." For example, if Iran Air and Aseman Airlines decide to use their brand-new planes for lend-lease or code-sharing arrangements with Mahan or similar pseudo-civilian companies, they could face serious disruptions in technical support from foreign manufacturers, in addition to losing any international status they regain following the nuclear deal. By directly supporting the IRGC's proxy warfare in the region, Mahan Air could eventually be forced to shut down under sanctions pressure -- and perhaps take other Iranian airlines down with it. 
Farzin Nadimi is a Washington-based analyst specializing in the security and defense affairs of Iran and the Persian Gulf region.