Insecurity Prompts Iran's Deceptive Show of Force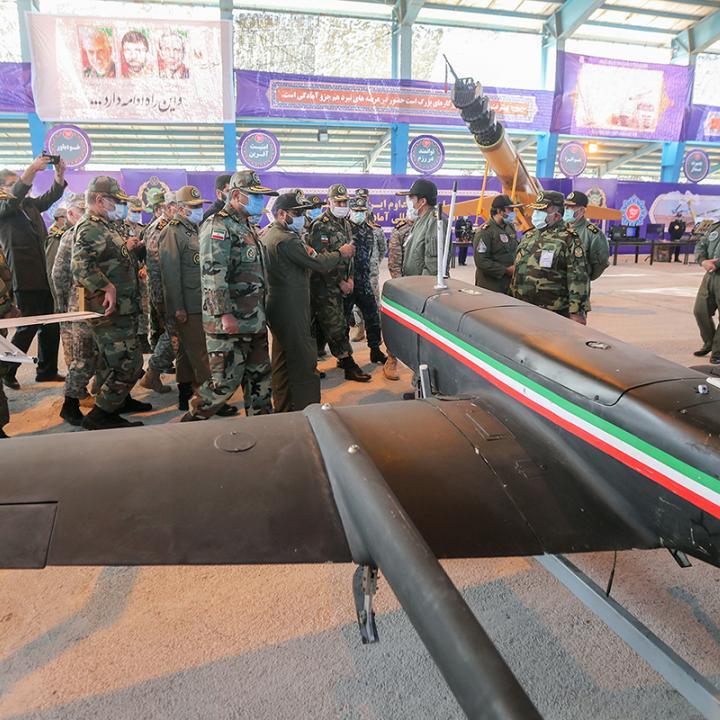 Tehran is using drone technology to restore a deterrent posture tarnished by recent targeted killings, attacks on military and nuclear sites, and popular domestic uprisings.
Iran claims to have the most powerful and diverse fleet of unmanned aerial vehicles in the Middle East, and it has indeed made significant advances in recent decades. Iranian drones have been widely used by its proxies in the region since at least 2004, posing a 360-degree threat that is both hard to detect and counter. That threat has become a concern for the United States and its allies, as Gen. Kenneth F. McKenzie Jr., head of U.S. Central Command, bluntly admitted in his testimony before the House Armed Services Committee in April 2021, citing a loss of complete U.S. air superiority for the first time in decades. Accordingly, Tehran has been quick to show off the offensive and defensive capabilities alike of its drone fleet, including elaborate and deceptive measures to reinforce what it hopes will become a deterrent.
Showing Off the Fleet
On May 29, Iranian state television aired a report about a new "top-secret underground drone base" operated by the conventional army, called the Artesh, somewhere in western Iran. In the footage, a young reporter boards a Bell 214 helicopter that reportedly takes off from Kermanshah's 1st Army Aviation Base for a forty-minute blindfolded ride to the secret location. There, he is joined by a military camera crew for a tour before interviewing Artesh commander Maj. Gen Abdolrahim Mousavi and the chairman of the Armed Forces General Staff, IRGC Maj. Gen. Mohammad Bagheri, both of whom are also visiting the facility. When inside the large underground tunnel network—which looks very similar to an Islamic Revolutionary Guard Corps (IRGC) missile base—the reporter is shown rows of drones, including almost every significant model in the Artesh service.
Some on display were still prototypes, such as Fotros, Iran's largest drone, with a wingspan of more than 16 meters. First unveiled in 2015 by Iran Aircraft Manufacturing Industries (IAMI) in Shahin Shahr, Isfahan, Fotros has never seen service. Yet in the report, an armed Fotros—the same prototype shown seven years ago—was displayed in a tunnel hallway, its wingspan too large to allow it to turn, let alone taxi, without having its wings clipped. Iran also unveiled two small, jet-powered and electro-optically guided cruise missiles called Heidar and Heidar-2, which are designed for use on a variety of light platforms, including Fotros and the Kaman-22 armed UAV. The Kaman-22 was shown in the video with two Heidar missiles under its wings.
The slightly larger Heidar-2, with a reported range exceeding 200 kilometers, bears some resemblance to the Quds/Quds-2 cruise missiles used by Houthis against Saudi Arabia and the United Arab Emirates. Called a "strategic cruise drone," Heidar-2 is powered by either a small Czech-made TJ-100 turbojet engine or more likely an Iranian copy called the T10S Toloe-10, which also powers the Quds. Neither the Kaman-22 nor the Heidar cruise missiles are known to have entered service.
Also shown in the video were several Kian-2 "suicide drones," first unveiled in 2019 with a range of about 1,000 kilometers, and the multipurpose Karrar, unveiled in 2010 with a range of about 700 kilometers. The Karrar is the first jet drone developed by IAMI and is in service mainly as an aerial target and bomber, carrying one 250-kilogram bomb for the latter role. Other drones displayed in the report included Mohajer-6 and Ababil-5 reconnaissance and attack UAVs, and a small suicide drone bearing some aerodynamic resemblance to the Israeli Harop loitering munition. 
A Deceptive Show of Force
Since the report aired, great speculation has surrounded the location of "Drone Base 313." Some observers point to Dalahu, a mountainous region about 100 kilometers west of Kermanshah, based on a name stenciled on firefighting equipment seen in the video. Others point to the Shahid Asiaei 2nd Army Aviation Base in Masjed Soleyman, more than 300 kilometers southeast of Kermanshah. Both are unlikely.
Open-source satellite imagery does not reveal any relevant military infrastructure in the Dalahu area. The Shahid Asiaei base does include at least two concrete-reinforced entrances to what looks like an underground tunnel network, with adjacent overground concrete ramps that could be used to launch rocket-assisted drones. However, no drone runway is visible and the 320-kilometer distance between the Masjed Soleyman and Kermanshah bases takes significantly longer than forty minutes to fly. A typical Bell 214 helicopter of the type shown in the video would cruise at 200–250 kilometers per hour, traveling no more than 130–150 kilometers in that time.
The distance traveled does, however, bring the IRGC's large Imam Ali ballistic missile base near Khorramabad well within range. It is therefore possible that Iran brought Artesh drones used regularly in military parades and public appearances across the country to the IRGC missile base to impress as it showed off its fleet. In March, the IRGC did something similar, displaying large numbers of Shahed-131 and 136 loitering munitions inside an underground missile base likely at Qeshm Island, in the south near the Strait of Hormuz.
The choice of the Artesh to stage the display, meanwhile, may have marked an attempt to dispel the recent bad publicity suffered by the national armed forces, and especially their air force, when crashes of manned aircraft led to young pilots' deaths. The move might also have been intended to show coherence, and indeed the absence of daylight, between the IRGC and Artesh regarding the U.S. designation of the Revolutionary Guards. So while the Iranian army might still be operating an underground drone storage and staging base at Masjed Soleyman, it more likely just borrowed an IRGC missile base to flash strength—displaying drones from all branches of the Artesh and prototype test weapons such as Heidar cruise missiles, which like many other Artesh-developed weapons might never enter series production due to management and budgetary issues.      
Conclusion
To operate and maintain the diverse collection of drones displayed in the Iranian television report would be a headache for any Iranian operator or technician, requiring a range of different—and incompatible—control stations, equipment, and vehicles. It clearly points to a hastily set-up demonstration.
Iran's deceptive show of force, meanwhile, may be an attempt to counter persistent reports of unknown small explosive drones crashing into sensitive Iranian military and nuclear sites, as well as the targeted killing of Iranian military officials, all of which have frayed Iran's sense of security and deterrence. In the latest such instance, on May 25, a series of explosions apparently damaged research hangars at the Parchin military-industrial complex, while killing one young engineer and injuring another. International media and Iranian officials usually attribute such incidents to covert Israeli activity using explosive-laden quadcopters, and available satellite imagery—including for a purported February 14 drone strike against a joint Iranian drone airfield 20 kilometers west of Kermanshah—suggests external damage to building roofs and more significant damage internally, consistent with small drone attacks. Given the limited explosive power of such devices, however, very precise intelligence is required on where to hit a certain building; their limited range also suggests takeoff from just outside the perimeters of targeted facilities.
All such details fuel Iranian officials' suspicion and insecurity, leading them to stage shows of force for maximum alleviating effect at minimum cost. Such attempts are likely to continue in various forms and sizes in the coming weeks and months as the nuclear negotiations evidently falter and Iran continues to challenge the status quo in the region.
Even if the Iranian drive to showcase and exaggerate its drone capabilities is an attempt to play upon and aggravate U.S. concerns, these capabilities, especially suicide drones, must be taken seriously. Iran has been investing significant sums of money in drone infrastructure, and Iran's adversaries will almost certainly see further displays of force, perhaps in the form of drone strikes, in the near future.
Farzin Nadimi is an associate fellow with The Washington Institute, specializing in security and defense in Iran and the Gulf region.