Interviews and Presentations
Imad Mughniyeh and Hezbollah's Shadow War: A Washington Institute Backgrounder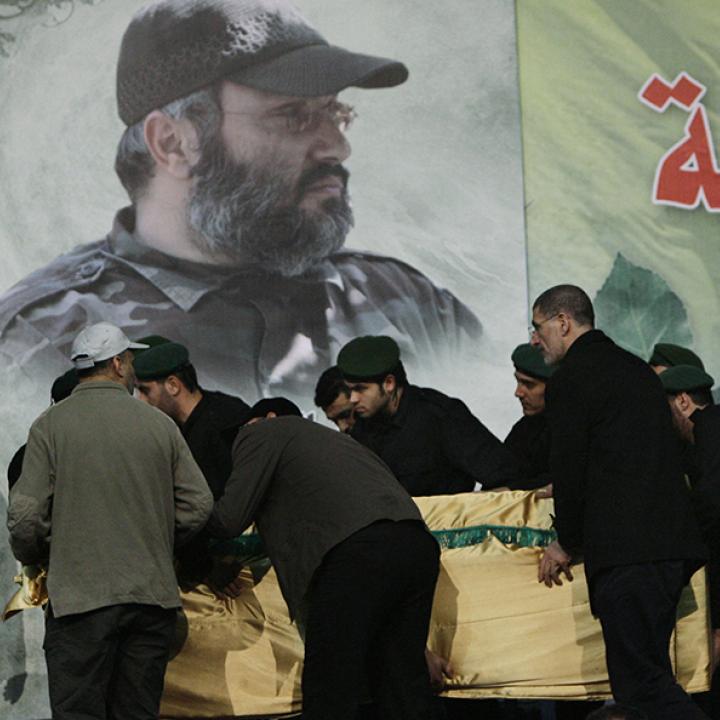 In January 2015, an airstrike in Syria – reported to have been carried out by Israel – killed several Hezbollah operatives, including Jihad Mughniyeh, son of the Lebanese terror group's late operational mastermind, Imad Mughniyeh. The elder Mughniyeh played a crucial role in Hezbollah's terrorist strategy, tactics, and tradecraft, as well as its outreach to Iran and to Palestinian terror organizations, from Hezbollah's founding until his own death in a Damascus bombing in 2008. At the time, Hezbollah leaders promised to avenge Mughniyeh's death, but the failure of initial attempts to carry out vengeance attacks helped draw Hezbollah even closer to Iran's Qods Force - a relationship that helped set the stage for the Lebanese group's deepening involvement in the Syrian conflict. As Hezbollah leaders again promise retribution for the death of a Mughniyeh, here is a collection of key background documents tracing Imad Mughniyeh's influence on Hezbollah in both life and death.
In the definitive study of Hezbollah's history and operations, Matthew Levitt details Imad Mughniyeh's pivotal role in establishing and refining the group's terrorist strategy, tactics, and tradecraft, from bombings and kidnappings in 1980s Beirut to operations around the world in the 2000s. Read more.
When Hezbollah operatives killed 241 American servicemen with a truck bomb in Beirut in 1983, Imad Mughniyeh coordinated the attack and was watching through binoculars from a nearby building. Read more.
Born in 1962, Imad Mughniyeh became a sniper in Yasser Arafat's forces in 1976 and has been implicated in some of the most spectacular terrorist attacks of the 1980s and 1990s, earning him a place on the FBI and EU's most wanted lists. He served as special operations chief for Hizballah's international operations and as the group's primary liaison to Iran's security and intelligence services. Read more.
Today, Hezbollah blames Israel for the Damascus bombing that killed Imad Mughniyeh. But at the time, even as Hezbollah publicly charged that Israel was to blame for the attack -- both Hezbollah and Iran privately suspected that the Syrian regime of Bashar al-Assad may have played a role in Mughniyeh's death. Read more.
In the ongoing intelligence war between Israel and Hezbollah, financial information gained in U.S. undercover operations may be playing a key role. Read more.
Hezbollah's early efforts to avenge Imad Mughniyeh's death with retalliatory terror attacks floundered, leading the group's leadership and their Iranian partners to reassess how they would prosecute, both separately and together, a three-tiered shadow war targeting Israeli, Jewish, American, smetimes even British interests worldwide. Read more.
As recently as 2013, Hezbollah terror operations in Europe and the Middle East were tied to the group's campaign to avenge Imad Mughniyeh's death. Read more.
When senior Iranian leaders decided in 1993 to attack a Jewish center in Argentina, Tehran's intelligence chief Ali Fallahian turned to Hezbollah's Imad Mughniyeh to execute the attack. The bombing, which took place in July 1994, killed 85 and wounded more than 300 in Buenos Aires. Read more.
A shared desire for revenge – for the death of Imad Mughniyeh and for attacks on Iranian nuclear scientists – has strenghthened Hezbollah and Tehran's longstanding and intimate relationship, making their combined operational capabilities that much more dangerous. Read more.
When violence broke out in the West Bank in 2000, Iran turned to Hezbollah to bolster the operational capabilities of Palestinian militant groups such as Hamas and Palestinian Islamic Jihad. Imad Mughniyeh's "Unit 1800" was the linghpin of that effort. Read more.