How Turkey Views Russian Naval Access to the Black Sea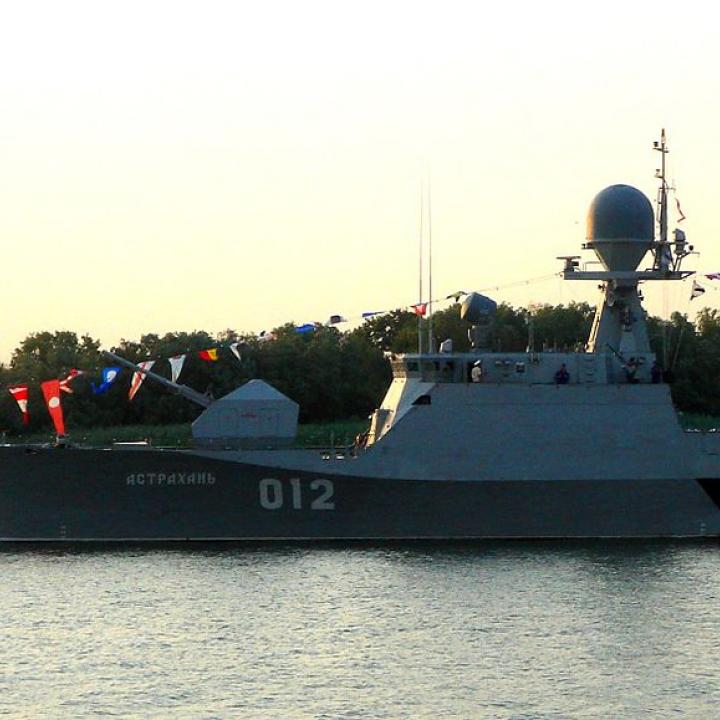 Despite supporting Ukraine militarily, President Erdogan has crucial political and economic reasons for preserving good ties with Moscow, so he is unlikely to take any actions in the Black Sea that are not strictly laid out in the Montreux Convention.
During the last week of August, Russia reportedly shipped S-300 missile defense systems from Syria back to its territory through the Turkish Straits (the Bosporus and Dardanelles), raising questions about the nature of Turkey's control over these waterways. The 1936 Montreux Convention gives Ankara broad rights to monitor and limit the types of vessels sailing into the Black Sea. How do Turkish officials interpret these rights now that war has broken out between two littoral states? The answer seemingly casts doubt on Washington's ability to steer Ankara toward further measures that weaken Moscow's military offensive against Ukraine, such as monitoring Russian cargo crossing the Black Sea.
Activating a Favorable Treaty
On March 1, soon after Moscow launched the war, Turkey closed the straits to Russian and Ukrainian naval vessels. The decision was based on the Montreux Convention, according to which Turkey is the gatekeeper for the Black Sea's only outlet to the open ocean.                                                                    
Prior to Montreux, the 1923 Treaty of Lausanne, which established modern Turkey, also placed certain limitations on control of the straits. Although the treaty recognized Turkish sovereignty over the Bosporus and Dardanelles, it stipulated that they remain open to unrestricted civilian and military traffic under the auspices of the International Straits Commission.
This arrangement changed in the mid-1930s, however. Amid the rise of Nazi Germany, Britain and France sought to court Turkey to their side by abolishing the Straits Commission. This and other developments culminated in the Montreux Convention, which restored unlimited Turkish sovereignty over the Bosporus and the Dardanelles. Accordingly, Ankara had free rein to militarize the straits and assert certain prerogatives to regulate maritime access through them. In 1938, Paris made further concessions to Turkey by agreeing to grant independence to the Sanjak of Alexandretta, an autonomous part of French Mandate Syria that would shortly become a Turkish province just weeks before the start of World War II.
Turkey's Rights in Peace and War
In simple terms, Montreux stipulates that commercial ships of all nations can sail freely through the straits in peacetime. Yet it forbids non-littoral states from maintaining a permanent or large naval presence in the Black Sea—only Turkey, Russia, Ukraine, Romania, Georgia, and Bulgaria can do so. The navies of other states must comply with the convention's strict tonnage and duration limitations, which are as low as 15,000 tons in some cases and essentially prevent foreign powers from sending more than two or three surface combatant vessels through the straits.
On paper, all six littoral states share the Black Sea militarily. Yet four of them (Bulgaria, Georgia, Romania, and Ukraine) have relatively small navies, making the sea a de facto maritime condominium between Turkey and Russia. Ankara therefore considers Montreux to be a very favorable document and guards it jealously.
This is all the more true in cases of war, when the convention empowers Turkey to close the straits to any country's naval vessels, including Russia's—albeit with some caveats. On March 1, Turkey announced that Russian and Ukrainian naval vessels would not be permitted to pass from the Mediterranean to the Black Sea as long as hostilities continued. To justify this move, Ankara cited Article 19 of the convention, which empowers it to close the straits to countries at war unless they are returning to their port of registry.
Supporting Ukraine Militarily, Benefitting from Russia Economically
At a first glance, the March 1 closure appeared to be a neutral measure aimed at limiting both combatants from moving in and out of the Black Sea. In reality, however, the decision was clearly aimed at Russia—at the time, Ukraine had just one naval vessel and a few patrol boats, all of which were already on the Black Sea, while nearly half of Russia's combined Mediterranean-Black Sea fleet (over four dozen vessels) was deployed outside the straits.
This approach is in line with Turkey's broader Black Sea policy, which can be described as "pro-Ukraine neutrality." Although Ankara and Moscow are the main military powers in the neighborhood, Russia is both the larger power and a historic nemesis to Turkey. Consequently, Ankara views all the other littoral states as an indispensable counterbalance against Moscow and will do a great deal to prevent Kyiv from falling under Vladimir Putin's thumb. This includes selling drones to Ukraine and enforcing Montreux in a "neutral" fashion that has the practical effect of undermining Russia's local naval presence.
Yet even as it supports Ukraine militarily, Turkey has been careful not to endanger its economic ties with Russia. President Recep Tayyip Erdogan has national elections on the horizon in June 2023, so he feels an urgent need to boost trade and tourism with Moscow in order to open up his country's economy well before then. For example, around seven million Russian tourists were visiting Turkey annually before the COVID-19 pandemic in 2019.
Erdogan is also cultivating more direct Russian investments. Following his August 5 meeting with Putin, Moscow sent nearly $5 billion to facilitate a Russian company's construction of the Akkuyu nuclear power plant in south Turkey. These and other transfers tend to have a trickle-down effect on the Turkish economy, creating a sense of relief from hyperinflation and other problems. In short, amid growing opposition at home, Erdogan has tried to balance between being pro-Ukraine and avoiding an overtly anti-Russia stance, simultaneously guarding Turkey's Black Sea security interests and his own political interests.
Implications for U.S. Policy
Despite Erdogan's cautious approach, the war could still spur a situation in which Russia demands Black Sea access for some of its naval vessels locked out in the Mediterranean. Yet barring such a demand or a wider crisis between Moscow and NATO, Turkey is unlikely to take any steps not called for in the Montreux Convention. This includes potential U.S. or international requests to establish cargo controls, regulate Russian merchant navy crossings through the straits, or otherwise attempt to control these waterways in any fashion stricter than that prescribed by the convention. In Erdogan's view, supporting Ukraine militarily, containing the war's fallout, and maintaining beneficial economic and diplomatic ties with Putin are essential to his strategy for staying in power next year.
Soner Cagaptay is the Beyer Family Fellow and director of the Turkish Research Program at The Washington Institute, and author of A Sultan in Autumn: Erdogan Faces Turkey's Uncontainable Forces.