How Tehran Might React to the Ahvaz Attack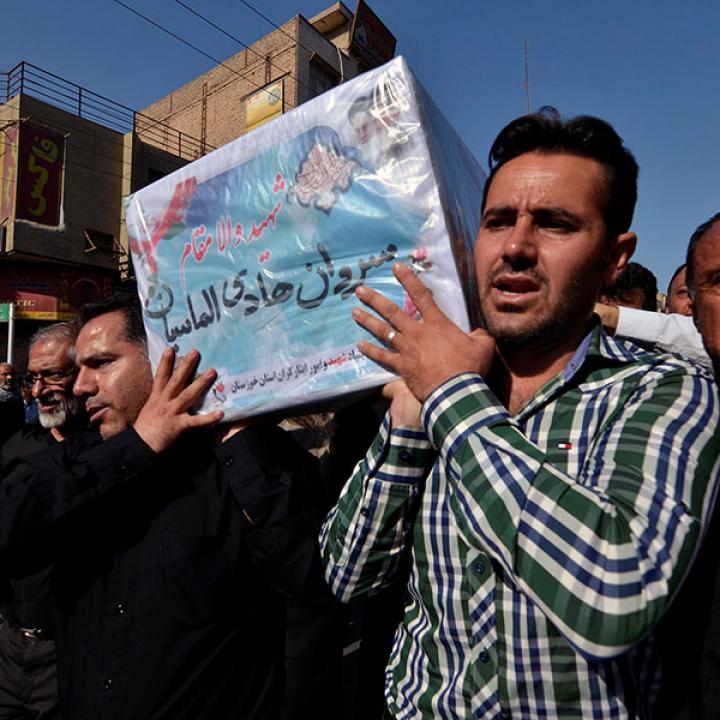 The identity of the assailants remains unresolved, but precedent suggests Iran could respond by targeting minorities at home, assassinating oppositionists abroad, or attempting missile strikes on jihadist areas in Syria or Iraq.
On Saturday, September 22, during the annual commemorations of the Iran-Iraq War known as "Sacred Defense Week," assailants fired on a military parade in Ahvaz, capital of the southwestern Iranian province of Khuzestan, killing about thirty and wounding dozens more. Khuzestan is home to large numbers of the country's Sunni and Arab minorities, not to mention many of its oil fields, and most casualties were members of Iran's armed forces. 
Identifying the Operatives
Following the strike, Iranian officials responded in typical fashion by blaming the United States and its Gulf allies for serving as sponsors. Some officials even floated a broader "Hebrew-Arab-Western" conspiracy, reflecting an inherited paranoia regarding foreign intervention and destabilizing actions in their country. Yet as the dust settled, two main sets of suspects emerged:
Local Arab groups. Soon after the incident, groups identified as the al-Ahwaz Arab People's Democratic Front, al-Ahvaziyeh, and the Arab Resistance Movement for the Freedom of Ahwaz claimed responsibility for the attack. Names of the assailants were even published by these local groups—but the regime has not confirmed them as the perpetrators. Instead, extrapolating from the details, Iranian officials linked the assault to training and support by Saudi Arabia, Israel, and the United States. Over the years, similar local militant groups have reportedly been responsible for minor attacks on the Iranian oil infrastructure, and ethnically charged socioeconomic tensions often rise in the province.
The Islamic State. The jihadist group joined the ranks of those taking credit for the attack. Its claim, issued hours after the event, included the suggestion that Iranian president Hassan Rouhani had himself been present. IS soon retracted this important detail, reducing its credibility as a prospective assailant. In seeking to reestablish its relevance, the group published a video depicting its fighters allegedly on their way to the Ahvaz parade. This video has drawn much skepticism, but if IS does prove to have been the actor, this will be its second major strike on Iranian soil—after its successful operation in June 2017 in Tehran.
While reliably assigning blame to the United States and its allies in a broad sense, voices in the regime have been split on whether local Ahvazi groups or IS carried out the operation. Iran's Supreme Leader, Ayatollah Ali Khamenei, reflected this ambiguity in his initial remarks, referring to "plots [hatched] by the U.S.-led governments in the region that aim to create insecurity." But the Supreme Leader has been unambiguous in ordering Iranian intelligence to respond swiftly, and President Rouhani further called on the country's security apparatus to immediately identify the terrorists and decisively deal with "all those who committed the crime."
What Iran Might Do Next
In the June 2017 Islamic State hit on Tehran sites, militants stormed Ayatollah Khomeini's grave and the Majlis building, killing and wounding dozens. As after the Ahvaz incident, the regime accused Washington and Riyadh of ultimate responsibility. But in light of IS's plausible acknowledgment, Iran focused its response on the Sunni jihadist group, setting aside Saudi Arabia and the United States for the moment. In particular, eleven days later, Iran rained missiles on IS targets in Deir al-Zour, Syria, later boasting about the force of this bombardment—even though most missiles actually missed their intended targets. Through this statement, the regime sought to convey a deterrent message to other parties in the region.
Earlier this month, Tehran took the same approach when it bombed Kurdish groups in northern Iraq in response to what it perceived as "hostile moves from inside the Iraqi Kurdistan Region against Iran's border areas...[including] acts of sabotage...in Iran's western provinces of West Azerbaijan, Kurdistan, and Kermanshah." After the attack, the secretary of Iran's Supreme National Security Council, Ali Shamkhani, asserted that Iran would follow a similar course if faced with future provocations.
According to its pattern, then, Tehran accuses foreign powers of responsibility for such events, but proceeds to retaliate against domestic opponents and regional groups. By allowing for vagueness in the identity of the specific attackers, Iran can justify conducting a wide range of potential responses. In the Ahvaz instance, Iran will, first, most likely go hard after local Sunni and Arab groups, hoping to identify and dismantle insurgent networks, and to deter an "emulation trend" in other parts of the country. Second, Tehran may seek to initiate another campaign of assassinations against exile oppositionists in Europe, with one of its latest attacks reportedly targeting a prominent Ahvazi political figure in Netherlands. Third, Iran could take an "eye for an eye" approach and use its affiliated Shia militant groups in Saudi Arabia's Eastern Province and in other Gulf states (e.g., Bahrain) to spark instability and target local security forces, as it did last year in the Saudi kingdom.
Last but not least, Tehran could again fire missiles against Islamic State sites in Syria, or Sunni and Arab militant groups in Iraq, in hopes of achieving two ends: avenging the Ahvaz outrage and restoring Iranian dignity, while sending a deterrent message to Washington, Riyadh, and Jerusalem in advance of periods of rising tension to come.
Omer Carmi is director of intelligence at the Israeli cybersecurity firm Sixgill. Previously, he was a visiting fellow at The Washington Institute and led IDF analytical and research efforts pertaining to the Middle East.