How Egypt Can Help Hamas and Fatah Implement Their New Deal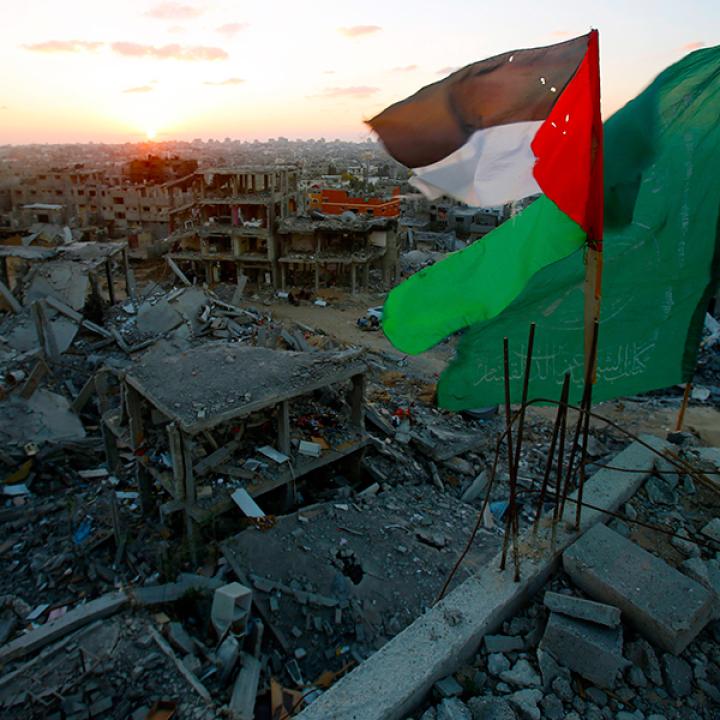 The Cairo-brokered understandings can help Gaza, but their success should be judged by how Hamas and Fatah practically approach key issues, not by what they say.
On October 12, the Fatah movement and Hamas reached a new set of understandings in Cairo, with Palestinian Authority president Mahmoud Abbas describing them as a "final agreement to end disunity." While the deal may help stabilize and bring some humanitarian relief to Gaza, its terms are anything but final. At best, the two sides have once again agreed to begin negotiating the implementation of a previous deal they reached in 2011, in the exact same headquarters of the Egyptian General Intelligence Directorate no less. Although much has changed since then, the same thorny issues that have prevented full reconciliation remain. 
CAIRO ASSERTS ITSELF
The primary driver behind the talks is Egypt, which has seized the opportunity created by shifts within Hamas and tensions within Fatah. Cairo is motivated by a desire to keep elements in Gaza from supporting Sinai terrorists, stabilizing the Strip in the process and reasserting Egypt's leading role in the Palestinian file ahead of two looming developments: the potential resumption of U.S.-led Palestinian-Israeli talks, and the transition to Abbas's still-unknown successor. Cairo also shares at least one goal with the United Arab Emirates -- to diminish Qatar and Turkey's role in Gaza.
For Hamas, recent internal leadership changes have shifted the center of gravity to officials who are less attuned to Doha and Ankara's interests and more sensitive to Gaza issues. After Hamas's 2014 war with Israel, Qatari and Turkish mediation failed to produce a favorable ceasefire for the group, so its Gaza-based leaders concluded that the key to improving the territory's situation lies in Cairo (though Hamas and Egypt remain fundamentally at odds on a number of issues). This conviction was reinforced earlier this year when Abbas imposed a series of punitive measures on the Strip, prompting Hamas to reach Egyptian-brokered understandings with its past foe -- and Abbas's current rival -- Mohammad Dahlan.
Mistrustful of both Hamas and Egypt, Abbas seemed content to continue ratcheting up the pressure on Hamas and Gaza indefinitely. Yet Egypt's vehemence on stabilizing the territory and its demonstrated willingness to go through Dahlan if needed left the president with no choice but to engage or face marginalization.
WHAT'S IN THE DEAL?
The new understandings resemble more of an aspirational timeline than an actual agreement. The PA is to take responsibility for Gaza by December 1; discussions on holding elections and reforming the Palestine Liberation Organization are to begin November 14; and the conundrum of Hamas civil servants is to be decided by February 1. Most security issues do not even have a target date for discussion.
The one potentially significant exception to this vagueness is the Rafah crossing, which the two sides have reportedly agreed to reopen and put under the control of the PA's Presidential Guard in November, with potentially important consequences for Gaza's humanitarian situation. Against Hamas's objections, Egypt first introduced this idea in the ceasefire understandings that followed the 2014 war. At the time, Abbas rejected the proposal, demanding that Hamas first relinquish all power over Gaza. This time, Egypt sought to forestall such objections by taking matters into its own hands. As early as June, when the Hamas-Dahlan arrangements began, Cairo indicated that it would soon open the crossing and began upgrading it, thereby increasing the pressure on Abbas. 
WHAT TO KEEP AN EYE OUT FOR
The public excitement surrounding the Egyptian reconciliation initiative created momentum that essentially forced Abbas and Hamas to announce a deal. Yet past attempts at unity have shown that once the external and internal focus shifts elsewhere, thorny details tend to derail the process, and the sides revert to trading blame. To discern the seriousness of the latest effort, one should look not at the text of the agreement, but at the manner in which the following factors play out on the ground: 
PA control over Gaza. Hamas may allow PA ministers to resume their duties in Gaza, and perhaps even permit the formation of a new "consensus" government. The real challenge, however, is effecting change at the sub-ministerial levels. Since its 2007 takeover, Hamas has placed loyalists in all leadership positions within Gaza's ministries. As a result, the role of Ramallah-based ministers has been ceremonial at best, even during the 2014 "national accord" government of Prime Minister Rami Hamdallah. Without changes at the undersecretary and director-general levels, true local power will continue to reside with Hamas.
Hamas has also appointed around 40,000 employees to replace those whom Ramallah ordered to stay home following the 2007 coup. The group insists that all of these appointees be integrated into the PA payroll. The Swiss government has developed a detailed proposal for addressing this issue that requires compromise by both sides. The extent of Switzerland's involvement in future negotiations will indicate how seriously the matter is being handled.
The role of Dahlan. The desire to keep Dahlan out of the process was one of Abbas's main motivations for participating in the latest reconciliation effort. Yet Dahlan already carved a role for himself by brokering a deal to supply Gaza with Egyptian fuel when Abbas cut off electricity there. Dahlan also promised to bring UAE-funded development projects to the Strip and is currently leading "social reconciliation" efforts -- namely, the payment of compensation to the families of those killed in the 2007 Hamas-PA clashes. Some Fatah leaders are still trying to limit his role by insisting that all Gaza-bound aid goes through the PA, but Egypt -- a close UAE ally -- is unlikely to yield to that demand. Abbas's willingness to accept a role for Dahlan will be instrumental in the success or failure of reconciliation. 
Continued Egyptian engagement. Egypt's robust, proactive effort in forging the new deal was made clear by President Abdul Fattah al-Sisi's statements of support and the personal involvement of intelligence director Khaled Fawzi. Cairo has since dispatched a mission to Gaza to monitor and facilitate implementation. Yet Egypt faces many security challenges of its own that may turn its attention away from Palestinian reconciliation. The degree to which it can sustain deep engagement will determine the fate of the process. 
Dual security forces. Upon taking control of Gaza, Hamas created its own official security force tasked with policing functions and "internal security." This force is composed primarily of Hamas supporters, and its officer corps is drawn exclusively from the group's membership. Hamas now wants this entity to be incorporated into the PA security forces (PASF), but that would require one of several unrealistic scenarios to unfold: Hamas would need to allow its forces to report to a Fatah interior minister and Fatah-oriented security chiefs as mandated by Palestinian law; or Ramallah would have to allow Hamas members to hold these sensitive positions; or the PA would have to allow Hamas forces to operate outside its control. None of these scenarios seems acceptable to the parties. Furthermore, any inclusion of Hamas members in the PASF is a redline for the international community, which would likely end crucial international aid to the PASF and Interior Ministry. 
The Qassam Brigades. At the core of the split between the two sides is Hamas's independent, battle-hardened, and well-armed Izz al-Din al-Qassam Brigades, a militia that currently numbers around 25,000 fighters. The fate of this force will determine who truly controls Gaza. Abbas has already stated that he wants it disbanded and that he will not accept the "Hezbollah model" in Gaza. Yet Hamas seems to mean exactly that when it repeatedly insists that "the weapons of the resistance are nonnegotiable." This matter cannot be meaningfully resolved at this point; if it is addressed at all, the parties would likely stick to meaningless formulations (e.g., "partnership in decisions of war and peace") or the formation of a toothless "joint command." 
CONCLUSION
This round of Palestinian reconciliation has already gone further than previous ones due to temporarily coinciding Egyptian-Hamas interests and Abbas's lack of other options. The process has just started, though, and it faces many obstacles. Under the right conditions, and with sustained Egyptian pressure, some of these hurdles may be surmountable, such as determining an acceptable role for Dahlan and exerting a measure of PA control over the Gaza bureaucracy. These would be no small achievements, since they could help alleviate humanitarian suffering in Gaza, reduce the chance of renewed conflict with Israel, and pave the way for greater international assistance to the Strip -- a stated goal of the Trump administration. An extremely optimistic scenario could even see Egypt and Fatah gaining a foothold in Gaza and, with abundant will and skill, eventually loosening Hamas's grip there. But none of these scenarios should be mistaken for unity. For that to happen, Hamas would need to relinquish its armed capabilities, which is not currently in the cards. 
Ghaith al-Omari, a senior fellow at The Washington Institute, previously served in various advisory positions with the Palestinian Authority.