Hezbollah's Redeployment in Syria: Potential Confrontations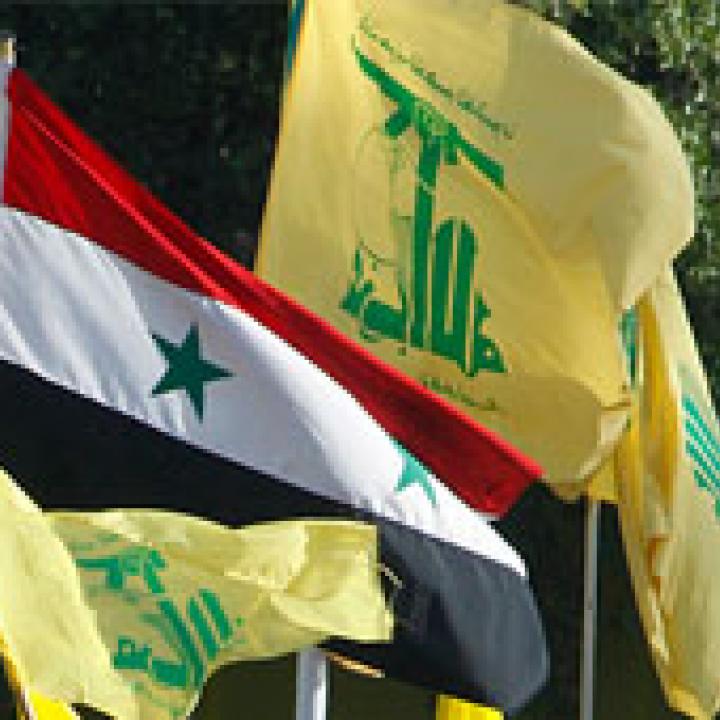 If Washington fails to press Russia diplomatically and raise the military costs on Hezbollah, a wider confrontation may erupt between U.S. and Iranian proxies in Syria.
Since the fall of Aleppo, Hezbollah has strategically moved most of its forces in Syria to other parts of the country, in large part to legitimize its local presence, bolster its power there, and better secure the southern borders. In tandem with the movements of Shia militias from Iran, Afghanistan, and Iraq, the Lebanese group's most recent operations have focused on three main areas: al-Tanf, Palmyra, and Deraa. Although these locations are geographically distant from each other, they are strategically essential to the Assad regime's apparent vision for Syria's future. Hezbollah's redeployment also represents a tactical shift to the Badia region and southern Syria in general -- almost certainly an attempt to disrupt U.S. de-escalation plans in the area and force Washington to accept an Iranian presence along the Syria-Iraq border.
THE SIGNIFICANCE OF AL-TANF AND ZAKAF
In recent weeks, Syria's al-Tanf border crossing has been the scene of escalating confrontation between U.S. and pro-Assad forces. Now that Iranian-backed Shia militias in Syria have reportedly reached the border with Iraq, the parties are awaiting Washington's reaction. Because these militias have essentially encircled U.S.-backed forces in Zakaf and al-Tanf, the local rebels -- mainly affiliated with Jaish Maghaweer al-Thawra (Rebel Commando Army) -- have been unable to engage the Islamic State and capture Deir al-Zour and Abu Kamal, two of the jihadist group's key strategic hubs along the Euphrates River. Consequently, Hezbollah and the other Shia militias in Syria have the initiative.
Meanwhile, Shia militias in Iraq -- led by Qasem Soleimani, commander of Iran's Islamic Revolutionary Guard Corps-Qods Force -- are approaching the frontier in an attempt to meet up with pro-Assad forces. They have repeatedly declared that they intend to cross the border in order to "support the fight against the Islamic State."
Hezbollah has also deployed thousands of fighters to the Palmyra countryside east of Homs, reportedly capturing strategic areas near the towns of Sukhna and Arak along the highway to Deir al-Zour, which contains numerous gas and oil fields. In addition to constricting the Islamic State's access to hydrocarbon resources and returning them to the regime, capturing Sukhna would allow Iran's Shia militias to advance on Deir al-Zour from both the Palmyra area and al-Tanf.
In broader strategic terms, these developments could allow Iran to link up its proxies in Syria and Iraq and complete its so-called "land bridge" to the Mediterranean. They could also enable pro-Assad ground forces to progress unimpeded to the Euphrates. For U.S.-backed rebels, the only remaining path to Deir al-Zour is from the north, via the Kurdish-led Syrian Democratic Forces (SDF). Although these forces would have U.S. air support if they drive south, they are now more likely to come into direct confrontation with Assad regime troops on their way to fight the Islamic State.
SPLITTING DERAA
While all eyes are on al-Tanf and the Syria-Iraq frontier, the border with Jordan is also witnessing some serious developments due to Hezbollah's redeployment. Amman recently expressed concerns about reports that Hezbollah fighters are reinforcing Syrian troops as they try to retake Deraa province, a key supply route for Jordanian weapons deliveries to "moderate" rebel groups. But most of Hezbollah's operations are seemingly aimed at splitting the province in two rather than taking control of it entirely. In doing so, the group presumably hopes to meet three goals: accessing more of the Golan Heights in order to better threaten Israel, cutting lines of communication to rebels in Deraa, and better securing Damascus against potential offensives by these rebels.
Most of Hezbollah's military operations are currently focused on al-Manshiya along the Jordanian border. For the time being, southern rebel forces backed by Washington and Amman appear to have stymied this advance, inflicting heavy casualties. In one day last week, for example, the Shia militia lost fifteen fighters during an assault on al-Manshiya.
Hezbollah is well aware of the de-escalation deadlines dictated by the May peace negotiations in Astana, Kazakhstan, which mandated that hostilities cease in Deraa and certain other areas for at least six months. But this timeline has not dissuaded the group from its current offensive. Hezbollah is likewise aware of the redline drawn by last month's U.S. airstrikes in al-Tanf, yet it continues to move toward the border and test U.S. limits. As with its costly campaigns in Aleppo and Qusayr, the group clearly considers the border to be of strategic import, and its efforts there are supported by regime barrel bombs and Russian air cover. Barring more significant U.S. intervention, it will only be a matter of time before Hezbollah achieves its objectives in Deraa.
Apart from disrupting Jordan's supply lines to southern rebels, the border situation raises a domestic threat to the kingdom as well. This weekend, Jordanian border guards killed five suspected infiltrators approaching the border from al-Tanf. And according to the army, nine vehicles have approached Jordan from Syria in the past three days, spurring guards to open fire in order to hold them back. Jordanian sources told the news site Al Modon that this could be part of an Iranian effort to jeopardize the de-escalation zone in southern Syria, which U.S. and Russian officials reportedly discussed in Amman last week.
Whatever the case, failure to establish such a zone would open the door for additional confrontation. Jordan, Israel, and the United States are interested in keeping southern Syria calm while the fight against the Islamic State intensifies elsewhere. Hezbollah does not seem interested in fighting all of these parties at the moment, but its objective of weakening rebel forces in Deraa could be sufficient tinder to spark a conflagration along the border.
CONFRONTATION SCENARIOS
As Iran's Shia militias move through the Badia toward Deir al-Zour and Abu Kamal, seizing former Islamic State territory seems to be their main goal, not necessarily fighting the group. U.S.-backed rebels are moving toward the same areas, albeit from the north. Deir al-Zour could therefore become the site of significant confrontation between these factions, with Russia supporting Iran's forces and the United States backing its own surrogates.
Before arriving there, however, Iran's Shia militias are working to solidify their grip on areas between Palmyra and eastern Suwayda in order to herd the southern rebels into isolated pockets and halt any U.S. attempt to expand its zone of control beyond al-Tanf. Russia has provided continuous air cover to these operations, and as long as the U.S. bases in al-Tanf and Zakaf are not directly targeted, it seems as if the Shia militias will not be pressured to stop elsewhere.
Last week, a Hezbollah commander in Beirut told the Christian Science Monitor, "Our people are gathering in the Tanf area right now, so a clash is definitely coming." He may have been referring to a potential ground confrontation between Iranian- and U.S.-backed forces. Yet while the context of his remark was the Iraq-Syria border, the parties seem to be gearing up for more substantial and thorny battles around Deir al-Zour and Abu Kamal.
Whatever the case, the border area captured last week by Shia militias is still exposed and vulnerable, so they will likely have great difficulty maintaining control there. Rebel forces may be able to recapture it with relative ease if they have sustained U.S. airpower on their side. But the broader goal of preventing Iranian proxies from moving on Deir al-Zour requires pressuring Russia to end its air cover for pro-regime campaigns around Islamic State territory. Although Hezbollah seems determined to lead the way toward Iran's territorial objectives, concerted U.S. diplomatic efforts with Russia -- coupled with military efforts that raise the cost of the ongoing proxy campaigns in the south -- could change the group's calculations and forestall a larger confrontation. Failing this, the current trajectory suggests that a confrontation between U.S. and Iranian surrogates is coming.
Hanin Ghaddar, a veteran Lebanese journalist and researcher, is the Friedmann Visiting Fellow at The Washington Institute.