Hezbollah Will Be the Big Winner in Lebanon's Elections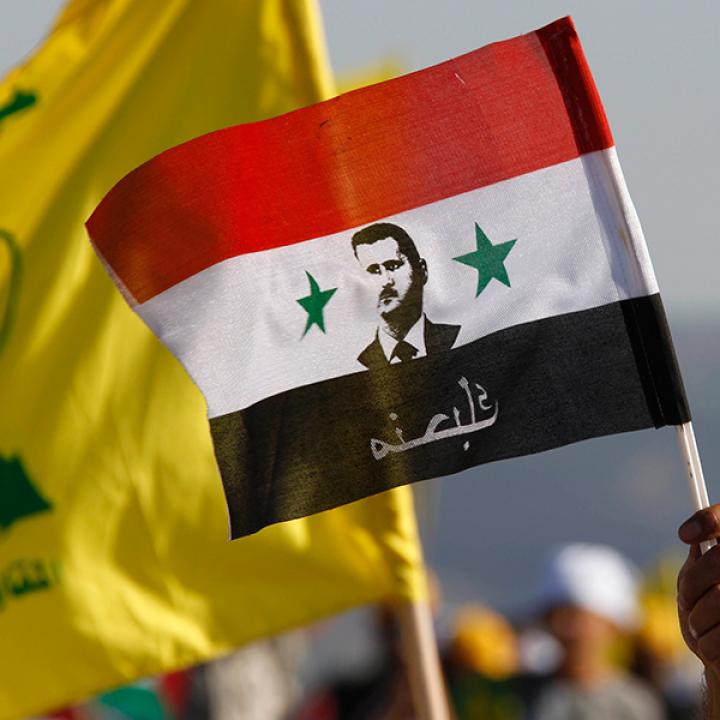 The group has essentially guaranteed itself a victory by coopting opponents and shuffling electoral districts, but the West can still contain the damage by pressing Beirut on economic reforms.
Since the 2005 Cedar Revolution and the withdrawal of Syrian troops from Lebanon, Hezbollah has lost every parliamentary election it has entered. Yet changes to the electoral law and a shift in political alliances have put the organization and its allies in position to secure an unprecedented parliamentary majority in next month's vote, without any significant opposition. Hezbollah's longstanding dominance over the country's security and military decisionmaking will therefore grow even more preponderant.
WEARING DOWN THE OPPOSITION
In 2005 and 2009, the pro-West March 14 coalition managed to secure parliamentary majorities despite security challenges posed by Hezbollah. The group resorted to threats and violence after both of those elections in order to blunt victories by a coalition that had recently helped to end the Syrian occupation.
In 2008, following an eighteen-month sit-in that shut down parliament and other parts of downtown Beirut, Hezbollah forces stormed the capital and the nearby Chouf district to forestall what it saw as problematic government edicts. During subsequent ceasefire talks in Qatar, a "national unity government" was established that effectively stripped March 14 of the prerogatives it had won at the ballot box. Two years later, several ministers from Hezbollah's bloc resigned, collapsing the March 14 government led by Prime Minister Saad Hariri and resulting in another unity government.
In this year's elections, scheduled for May 6, Hezbollah has little need to worry about threatening or toppling governments. The organization is now on excellent terms with its erstwhile political opponents, and its Iranian patrons are eager to maintain stability in Lebanon as they work to establish hegemony in other parts of the region. Indeed, the environment has shifted dramatically in the group's favor since 2009. Although the Syria deployment has been cause for concern among some Lebanese citizens, it has burnished Hezbollah's credentials among other voters.
Most important, the group's competition is anemic. March 14 continues to disintegrate, and Hariri has been accommodating Hezbollah more often than confronting it. He has seemingly deferred to the group even more since returning from his involuntary sojourn in Saudi Arabia last November and recanting his forced resignation. This unfortunate bout of political pragmatism (or appeasement) likely stems from his rift with Riyadh, which has made his political and economic future much more dependent on domestic actors. Although Hariri is not directly partnering with Hezbollah in the elections, his party is aligned with the group's Christian ally, the Free Patriotic Movement, in many districts. Accordingly, Hezbollah is expected to win through a combination of wooing the right allies and coopting its fractured foes.
IMPACT OF THE NEW ELECTORAL LAW
Last year, Lebanon passed an electoral law that boosted Hezbollah's prospects of victory. Based on proportional representation, the law decreased the country's electoral districts from twenty-six to fifteen. Voters now select a full party list and choose one candidate as their "preferential vote."
Advocates of political reform in Lebanon have long called for a proportional system, theorizing that it would create a more representative parliament in which minorities and nontraditional parties have a better chance to win seats. Instead of opening the political system, however, the new law will actually benefit Lebanon's political establishment. The "preferential vote" mechanism will incentivize citizens to vote according to their sectarian identity. Likewise, the redrawn electoral districts are more homogenous than before, reducing the number of mixed-sect districts and decreasing opportunities for cross-sectarian alliances or cooperation.
In short, the new law is designed to cement the status quo, keeping many of the same key political figures in place while bringing more Hezbollah loyalists into parliament. For example, Christian leader Sleiman Frangieh—who heads the Marada Movement and frequently expresses support for Syria's Assad regime—is expected to win a much bigger bloc, while Hariri and Druze leader Walid Jumblatt will likely lose seats.
CONSEQUENCES OF A HEZBOLLAH WIN
What might Hezbollah do with its anticipated victory next month? First, the group is unlikely to gloat, since doing so would alarm the international community and perhaps spur Western sanctions or other punitive economic measures against Lebanon. Instead, it will probably act as if nothing has changed, reinstalling Hariri as prime minister to give the next government an air of legitimacy. This does not mean the group and its parliamentary partners will agree on everything, but when it comes to major issues such as security appointments, regional wars, and other foreign policy matters, Hezbollah will make the decisions.
Second, the organization will likely try to use its parliamentary majority to legalize its weapons. Hezbollah leader Hassan Nasrallah recently argued that public sentiment on this issue has changed, stating, "The majority of the Lebanese people support the resistance in deterring Israel and preventing terrorism." Given Hariri's new "zero problems" policy—which essentially boils down to not confronting the group anymore—the prospect of a permanently armed political party may no longer be a hugely controversial issue, at least domestically.
Third, Hezbollah could seek constitutional changes to guarantee its long-term control. When the Taif Accord ended the civil war in 1989, it reapportioned the parliament to give Christians and Muslims equal representation, with each electing 64 of the legislature's 128 deputies. Recently, however, the Hezbollah-allied Amal Party has proposed changing this to a tripartite system between Christians, Sunnis, and Shia. In addition to giving Hezbollah and other Shia factions more power, such a system would also appeal to Sunnis, though it is unclear whether Hezbollah's Christian allies would stand for it.
CONTAINING THE DAMAGE
Despite all of the above advantages, Hezbollah still faces some obstacles to its complete takeover of Lebanese state institutions. Western governments would be wise to consider ways of buttressing these barriers, especially in the economic sector.
As one of the most heavily indebted countries in the world, Lebanon won aid pledges exceeding $11 billion at the April 6 Paris donor conference. Yet these pledges were linked to major economic and structural reforms that have proven difficult for the country in the past. Beirut failed to implement such reforms after previous Paris conferences, and it seems unlikely to do so now. Without serious reforms, however, the country risks falling into a deep economic crisis.
Following the latest Paris conference, President Trump lauded Beirut's commitment to necessary reforms such as combating corruption, increasing transparency, and improving accountability and fiscal management. "The United States stands in support of Lebanon's efforts to strengthen its legitimate state institutions and develop an open, free economy that serves all Lebanese," he noted.
Hezbollah is focused on these issues as well, at least rhetorically. In March, Nasrallah discussed the need to fight corruption following the elections. He also vowed that members of the group's parliamentary bloc, "Loyalty to the Resistance," would tackle urgent economic problems. These issues are a priority for Hezbollah's electorate, and therefore a potential source of exposure for the group.
Although it is too late to prevent Hezbollah's inevitable electoral victory, the international community can still take several steps to contain the group afterward. First, the Paris donors should withhold their pledges until Beirut implements the required economic reforms, since many of these measures would empower legitimate state institutions and help weaken nonstate actors. Second, foreign officials should urge Hariri not to let Hezbollah take advantage of his "zero problems" policy, even if they continue to support the general principles of stability and nonviolence that underlie that policy. Aid programs could give the West an avenue for monitoring this policy and protecting state institutions whenever possible.
To further undermine Hezbollah, Western officials should expose the group's internal corruption—something the Lebanese Shia community is already complaining about. Hezbollah should not be allowed to depict itself as fighting corruption while at the same time engaging in corruption. Releasing intelligence on the group's graft and criminality would likely erode its credibility. Many Western states already target Hezbollah's finances because it is a terrorist organization, and they should not ease up on such pressure just because the group wins a parliamentary majority.
Hanin Ghaddar, a veteran Lebanese journalist and researcher, is the Friedmann Visiting Fellow at The Washington Institute.