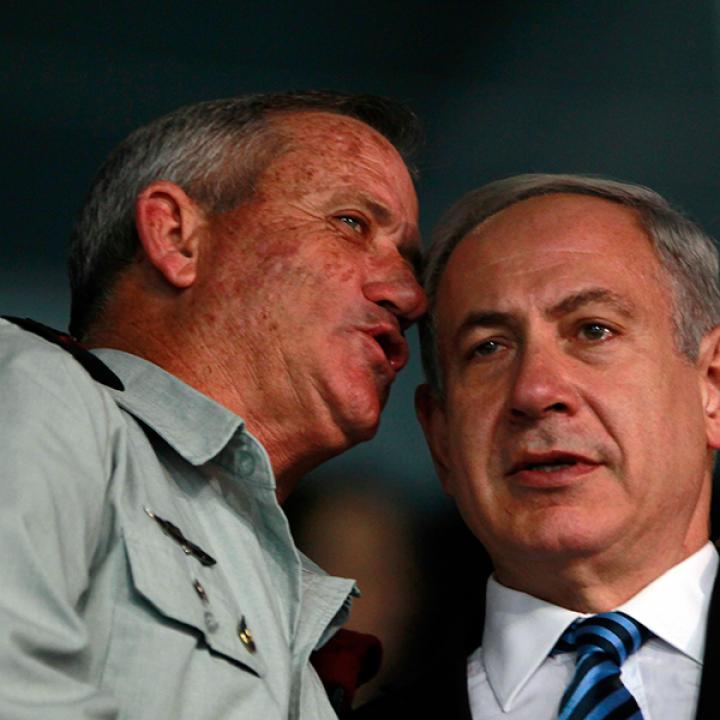 In the name of Israeli unity, the former Blue-White leader has opted to detonate his bloc and allow Netanyahu to remain in power until next year, with uncertain consequences for domestic politics, West Bank annexations, and other issues.
On March 26, Israeli opposition leader Benny Gantz concluded weeks of political maneuvering by taking steps to form a unity government. Under the deal, Prime Minister Binyamin Netanyahu will continue in his post until September 2021, when Gantz will take his place for an equal period of eighteen months—the first time Israel has used a rotating premiership since the 1984 election.
Gantz's move comes at great political cost. His Blue and White Party has now split over whether Netanyahu can be trusted to honor such a deal. His personal faction—which will now go by its original name, the Israel Resilience Party—holds only 14 of Blue-White's 33 seats in parliament (with the potential addition of two or more depending on upcoming developments). In contrast, Netanyahu's homogenous right-wing bloc of 58 seats remains intact. The new national unity government is therefore assured a majority of at least 72 seats in the 120-member Knesset.
In principle, Netanyahu has promised a government based on parity despite the sharp disparity in seat tallies. Yet his clinching of the first rotation, his past track record in office, and the widespread distrust of his motives have all raised questions about whether he will simply marginalize Gantz and his allies over the next eighteen months.
Netanyahu was willing to cede two prestigious portfolios to the Resilience Party: foreign affairs, likely going to Gantz, and defense, likely going to another former army chief, Gabi Ashkenazi. Yet these posts are less crucial now that the coronavirus has dwarfed Israel's perennial focus on external security and foreign policy. Moreover, on regional issues like Iran and Hezbollah, there are no significant policy differences between Netanyahu and Gantz's faction.
It is telling that the portfolios Netanyahu prioritized for his own bloc are finance minister and speaker of parliament. The speaker, for instance, can effectively block legislation in the Knesset, including Blue-White's recent proposal to prevent officials under indictment from serving as prime minister. This is a crucial power when one considers that Netanyahu is still slated to go to court on three corruption indictments—at least, once the court closure that his government ostensibly ordered due to the coronavirus is lifted.
GANTZ'S BAD OPTIONS
In his remarks announcing the deal, Gantz stated: "These are not normal times, and they require unconventional decisions. Therefore, as I said, it is my intention to examine the option of forming a national emergency government...Division among the people is the greatest existential threat to the state of Israel. We will defeat the Iranians, we will defeat the Syrians, we will overcome terrorism, but we have been unable to vanquish the internal division and people's hatred for their brethren. It's a shiny, thick red line for all elected officials, new and old."
Indeed, three main factors seemed to drive his decision. First, he saw that the pandemic was limiting his room for maneuver as the public lost patience with politics at a time of crisis. This impression was reinforced when President Reuven Rivlin made a rare and dramatic public appeal for unity earlier this week. A professional soldier who spent close to four decades in the military, Gantz could not be immune to such an appeal. Moreover, his team reportedly had poll results showing that Blue-White voters wanted a unity deal if Gantz did not have a viable alternative government on hand.
Second, the idea of a center-left minority government faded in the past two weeks amid opposition from at least three politicians who objected to the tacit reliance on Israeli Arab parties. As a result, instead of being able to count on 62 seats voting with (or, at least, not obstructing) his parliamentary agenda, Gantz would have been left with 59, short of the 61 required for a majority. Since Arab parties would have provided a safety net for that hypothetical coalition, one can expect Gantz to reach out to them in the coming weeks and months.
Third, since Gantz did not gain seats in the third round of voting earlier this month, he became vulnerable to being replaced if a fourth election were actually held. Any such vote threatened to fall as late as the end of year, meaning Netanyahu and his right-wing government would continue in its caretaker capacity for many months to come.
Many have questioned why Gantz did not push harder on the proposed legislation to bar indicted officials from the top office, if only as a lever to press Netanyahu into giving him the first rotation. The answer can be found in Blue-White's deep internal divisions. Among the top four bloc officials known as "the cockpit," Gantz and Ashkenazi favored a unity government while Yair Lapid and Moshe Yaalon were unalterably opposed to sitting with Netanyahu. Thus, while Gantz saw the legislation as a mere pressure tactic, Lapid and Yaalon wanted to go all the way and enact it. Given this sharp divergence, Gantz apparently came to fear that he would not be able to withhold the legislation at exactly the right moment to form the necessary unity government under more favorable terms. In an ironic twist, his party's decision to involve the Supreme Court in the recent dispute over the Knesset speakership forced Gantz and Lapid to take contrasting, definitive stances against partnering with Netanyahu.
IMPLICATIONS FOR U.S. POLICY
The emergence of an Israeli government that is broader in composition than its predecessor could (gradually) help mend the fraying fabric of American bipartisanship on Israel, especially now that the most contentious phase of the U.S. primary election process is in the rearview mirror. This prospect will face its sternest test on the issues of annexation and settlement activity.
For example, if Netanyahu wants to avoid annexing the Jordan Valley due to the complications it would cause with Amman and other actors, the presence of Gantz in his coalition now gives him the rationale to tell his right-wing supporters that he cannot follow through on that campaign promise. Yet it is unclear if he actually wants to avoid annexation—Netanyahu tends to view the current U.S. administration as a once-in-a-lifetime moment to achieve some of his bloc's biggest goals, putting the onus on Gantz to avert such moves. Notably, President Trump avoided calling Netanyahu after the three inconclusive elections but reached out to congratulate him earlier today for forming the next government.
On one hand, Gantz has made clear he does not want to annex the valley unless there is international or regional agreement on such a move (which there certainly is not). He did sound more supportive of annexing key settlements while on the campaign trail, but that was largely a bid to woo voters on the right and probably does not reflect his true position.
Whatever the case, these issues could be a tough test for the Netanyahu-Gantz partnership, especially if they arise soon. To avoid putting too much stress on the relationship early on—and to avert any clashes with his right-wing supporters—Netanyahu may therefore postpone these issues during the current medical crisis.
As for the related issue of settlement expansion, it can be dealt with more quietly than a dramatic public decision on annexation. One can expect Ashkenazi in his new role as defense minister (or even Gantz himself) to push for reducing the pace of settlement construction in the most problematic areas of the West Bank, thereby curtailing—albeit not freezing—the approach favored since 2015. Netanyahu may quietly go along with that approach or succumb to right-wing pressure and reject it. On that and other policy questions, U.S. political shifts before or after the November presidential election could be a key variable in Netanyahu's calculus.
David Makovsky is the Ziegler Distinguished Fellow at The Washington Institute and coauthor with Dennis Ross of the book Be Strong and of Good Courage: How Israel's Most Important Leaders Shaped Its Destiny.