French-Turkish Relations: Foes to Friends?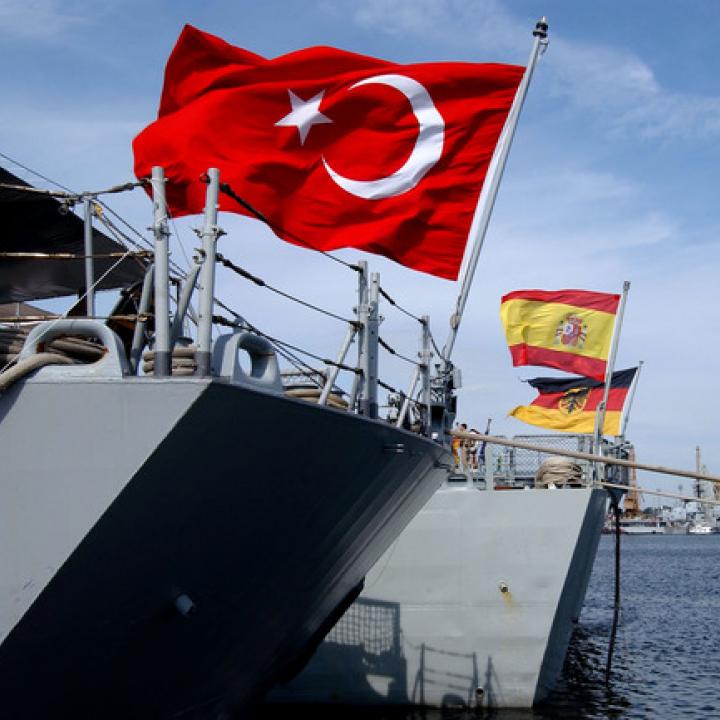 The Ukraine war has greatly boosted their diplomatic and military cooperation, but lingering friction over Syria, Libya, and Mediterranean issues will need to be handled carefully if this rapprochement is to endure.
Last month, President Emmanuel Macron surprised everyone when he announced a joint French, Greek, and Turkish plan for ensuring humanitarian support to the besieged Ukrainian city of Mariupol. Although Russian obstruction ultimately prevented the operation from materializing, the initiative signaled a change in tone for French-Turkish relations following years of tensions. By installing a sense of "Russia realism" across the NATO alliance, the Ukraine war has revived Ankara's cooperation with Paris. Yet sustaining this rapprochement will be a challenge given their lingering mistrust and bilateral disputes.
A Difficult Relationship
Over the past decade, French and Turkish interests have been at odds in various regional crises. When France joined the international campaign to combat the Islamic State in north Syria beginning in 2014, Turkey objected to the coalition's military cooperation with the Kurdish People's Defense Units (YPG). Ankara's anger stemmed from the fact that this Syrian group was an offshoot of the Kurdistan Workers Party (PKK)—Turkey's insurgent nemesis back home and a designated terrorist entity in the eyes of the United States and European Union. Turkish forces and proxies have attacked the YPG on multiple occasions since, spurring objections from Paris.
France likewise took issue with two of Ankara's military moves elsewhere in the region: sending its soldiers and Syrian mercenaries into Libya, and deploying naval vessels in the East Mediterranean to challenge stated Greek and Cypriot sovereign rights. Yet Turkish officials defended both efforts. In Libya, they claimed they were merely supporting the internationally recognized government; in the East Mediterranean, they invoked their right to dispute activities perceived as infringing on Turkey's claimed maritime borders and sovereignty.
The rift culminated in October 2020 after French schoolteacher Samuel Paty was assassinated by a jihadist extremist—a tragedy that revived debate about the secularist "laicite" model that informs much of France's domestic policymaking. Ankara portrayed this model as the primary reason behind Paty's murder and the country's broader Muslim discontent, even calling for a boycott of French products. The last straw came when President Recep Tayyip Erdogan questioned Macron's "mental health," spurring France to recall its ambassador.
Besides their bilateral impact, these disputes have deeply damaged NATO's cohesion. For instance, after Turkish forces entered north Syria as part of their October 2019 "Operation Peace Spring" against the YPG, Macron lamented the "brain death" of NATO, citing Ankara's failure to coordinate such a significant strategic decision with the alliance. And in July 2020, a hostile maritime incident between a French frigate and Turkish naval vessels off the coast of Libya led Paris to suspend its contribution to NATO's Operation Sea Guardian in the Mediterranean.
Meanwhile, tensions came to a head between Turkey and other alliance members as well. In Washington, Ankara's acquisition of the Russian S-400 missile system resulted in congressional sanctions and Turkey's expulsion from the F-35 fighter jet program. Within NATO, Ankara threatened to reject defense plans for the Baltic states and Poland unless the alliance recognized Kurdish forces in Syria as terrorist entities (ultimately, it lifted this veto).
Revived Cooperation Due to Ukraine
Although initial signs of French-Turkish rapprochement emerged at the August 2021 Baghdad Conference for Cooperation and Partnership, the Ukraine invasion sealed the deal. Both governments quickly took strong measures to confront Russia and promote NATO unity. Paris drastically increased its military contribution to the alliance's deterrence and defense posture; it also spearheaded Europe's swift response as chair of the Council of the EU. Likewise, officials in Ankara stood by Ukraine despite having close ties to Moscow—Turkey condemned the invasion, accelerated military assistance to Kyiv (most notably by delivering Bayraktar TB2 drones), and took the historic step of partially closing its straits to transit by Russian warships.
These steps have been accompanied by diplomatic and military coordination throughout the war. Macron and Erdogan met on the margins of the NATO summit in March, and their defense and foreign ministers have been in close contact. Also in March, French defense officials visited Ankara to discuss ways of advancing the defense relationship, while French and Turkish vessels carried out a joint exercise in the East Mediterranean to "strengthen the cooperation between two allied navies."
Paris and Ankara's willingness to put aside past grievances and emphasize NATO unity is a product of the tectonic shift between Russia and the alliance. France in particular sees Turkey as critical to stability in the Black Sea and has applauded Ankara's decision to enforce the Montreux Convention. Paris also supports Turkish mediation efforts between Russia and Ukraine. For its part, Ankara values the robust French commitment to NATO's military posture (including in the Black Sea) and its mobilization of humanitarian support to Ukraine.
Erdogan has strong domestic reasons for embracing rapprochement as well. Since 2018, economic problems at home have eroded his political base and, by extension, informed many of his policy decisions. Notwithstanding his years-long efforts to nudge Turkey's identity from secular and European to Islamic and Middle Eastern, the fact is that the country's economy remains integrated with Europe's thanks to the EU-Turkish Customs Union, in place since 1996. Accordingly, Erdogan wants France and other key EU players to implement measures that deepen the Customs Union—or, at least, give their approval for future measures—before Turkey's 2023 election cycle. In his view, boosting trade and investment is crucial to rebuilding his base and improving his fragile electoral prospects.
A Sustainable Rapprochement?
If this convergence lasts, it could help France and Turkey tackle shared challenges while strengthening NATO's posture in the Middle East and Mediterranean region. In Syria, for example, Paris and Ankara may now be in a position to deepen their dialogue on humanitarian aid and the political fate of the Kurds beyond the YPG. In Libya, they seem to share the objectives of promoting elections and preventing the emergence of another power vacuum; if their relations improve further, they could even explore more combustible issues such as dismantling militias. In the Mediterranean, resolving French-Turkish tensions might improve information sharing between EU and NATO maritime operations, starting with Irini and Sea Guardian. This could in turn give the alliance a more robust and coherent posture on its southeastern flank in the face of Russia's increased military presence.
Beyond regional initiatives, Ankara and Paris may also be better-positioned for broader bilateral cooperation. Missile defense is an obvious track to explore—reviving the SAMP/T (surface-to-air missile platform/terrain) procurement program could give Turkey alternatives to its controversial S-400 system, among other benefits. Ankara signed a contract in 2018 for joint production of the system with the French-Italian consortium Eurosam, but the process was later halted due to political differences with Paris following Turkey's Operation Peace Spring.
Other factors could stall the rapprochement, however. On April 24, French voters return to the polls for round two of the heated presidential election, and the results could spur shifts in foreign policy, especially if Macron loses. In Syria, Paris still views the Kurds as key partners in preventing an Islamic State resurgence. In Libya, French officials have accused Turkey of continuing to contravene its non-intervention commitments. Yet Ankara considers its military presence in Libya lawful and suspects France of being biased against the internationally recognized government in Tripoli. According to this view—disputed by Paris—the French still favor factions based in Tobruk, which have been aligned with the Russian-backed forces of Gen. Khalifa Haftar. Ankara has also criticized France's growing security partnership with Greece.
Conclusion
At the moment, the highest authorities in France and Turkey support rapprochement in light of the Ukraine war and other developments, so Washington should encourage this trend despite the substantial obstacles. Discrete U.S. backing for nascent reconciliation between two key NATO allies would be the smart choice in an era of great power competition, promoting a united front within the transatlantic community.
Louis Dugit-Gros is a visiting fellow with The Washington Institute and a diplomat with the French Ministry for Europe and Foreign Affairs. Pierre Morcos is a visiting fellow with the Europe, Russia, and Eurasia Program at the Center for Strategic and International Studies and former deputy head of the Strategic Affairs and Cybersecurity Division in the French foreign service. Soner Cagaptay is The Washington Institute's Beyer Family fellow and director of its Turkish Research Program. The views expressed in this article are strictly personal.