Forming a New Palestinian Government: Challenges and Opportunities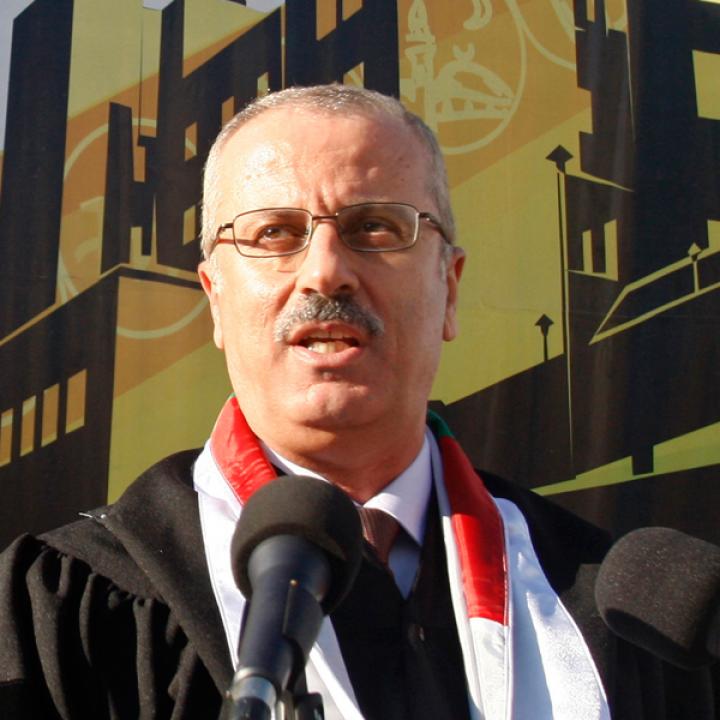 If handled right, the seemingly imminent transition could help address concerns about over-centralization of power and stalled reconstruction, but early signs point to continued internal bickering.
Recently, reports have emerged that Palestinian Authority prime minister Rami Hamdallah's government will soon resign, and that a new PA government will be formed in its place. Hamdallah has been in office since June 2013, during which time he has headed three cabinets. The most recent began serving in June 2014, after Fatah and Hamas approved the appointment of a "national consensus government" composed of technocratic, unaffiliated ministers.
To be sure, a new government will have little if any direct impact on Palestinian-Israeli relations, since major policy decisions on negotiations, internationalization, and bilateral security cooperation fall under the authority of the Palestine Liberation Organization and its chairman, President Mahmoud Abbas. Yet the unfolding transition will hold significant implications for intra-Palestinian politics that will inevitably affect the prospects for reforming the PA's institutions and rebuilding Gaza.
WHY NOW?
The current government was formed in response to longstanding public demands for national unity, which many Palestinians have called for since the violent Hamas takeover of Gaza in 2007. Yet the cabinet has consistently faced obstacles that prevented it from performing its main tasks: namely, preparing for elections, reintegrating institutions and civil servants in Gaza and the West Bank, and reconstructing Gaza following the 2014 war.
The first task was always a tall order given the lack of interest that Hamas and Fatah leaders have shown toward elections, so no progress was made on that front. Institutional reintegration and Gaza reconstruction have stalled due to internal tensions. Hamas claims that Abbas directed the government to obstruct these processes in order to gain further concessions from the group, while Abbas and Fatah claim that Hamas wants a hollow government -- one that will facilitate reconstruction and salary payment to Hamas-appointed employees without the group having to cede real control over Gaza.
UNCERTAIN TRANSITION
The latest developments have been chaotic even by Palestinian standards. Abbas has repeatedly indicated that a new government is being considered, but the current government has yet to resign. Instead, the PLO Executive Committee has been tasked with "forming a committee from among its members to contact all factions for consultations, in order to reach a national unity government within a week." It is not clear if this deadline refers to forming the government, forming the committee, or concluding consultations.
According to the Palestinian Basic Law, which functions as the PA's constitution, the president must task a prime minister-designate with forming a government, and this individual then has three weeks to complete the task, with the possibility of a two-week extension (Hamdallah has used the full five weeks in the past). In the meantime, the old government continues functioning as a caretaker.
The specifics of the current cabinet formation process are still unknown. Irrespective of these details, however, Abbas and his prime minister-designate will need to address two major questions: what role will Hamas play, and what powers will the new cabinet wield?
HAMAS OR NO HAMAS?
It remains uncertain whether the new government will fall under the "national unity" rubric or, instead, exclude Hamas and focus on the West Bank. While Abbas has called for a unity government in order to "turn the page on the dark division," he probably does not mean a cabinet that includes Hamas ministers. Such a government would run afoul of U.S. law, the "Quartet Principles," and various European laws; moreover, Abbas reportedly excluded this option in recent talks with French foreign minister Laurent Fabius.
Instead, Abbas will likely seek the formation of a technocratic "national consensus" government akin to the current one -- at least at first. Despite some potential unease in Washington, such a government would be internationally acceptable. Absent a dramatic change, however, it would also face the exact same obstacles that have spurred Hamdallah to step down: namely, paralysis resulting from the unresolved Hamas-Fatah power struggle.
In forming such a government, Abbas may simply aim to pressure Hamas into making concessions or -- failing that -- shift public blame to the group if a unity government proves unachievable. He recently hinted that the new government might explicitly accept the Quartet Principles, namely recognizing Israel and renouncing violence. He also referred the government formation issue to the PLO Executive Committee, indicating that the resultant cabinet would have the backing of all Palestinian factions even if Hamas and Palestinian Islamic Jihad do not accept it. In doing so, he is signaling to Hamas that it may soon find itself internationally and domestically isolated.
If Abbas opts for a government without Hamas participation or approval, it could be either technocratic or composed of political ministers chosen from the PLO factions. From his perspective, such an approach might have advantages. A government without Hamas might be easier to form, and it would be viewed more favorably in Western capitals. But this would be a mixed blessing. Given Fatah's contentious politics, the cabinet formation process might still be very lengthy and complicated. A government without Hamas might also complicate the PA's efforts in international forums by raising questions about its control over all of Palestinian territory. Additionally, excluding Hamas would carry a domestic cost, exposing Abbas to further accusations that he has abandoned Gaza and the cause of national unity.
Indeed, there is a growing sense in Israel, Egypt, and the wider international community that Abbas lacked the will to reintroduce the PA to Gaza by leading the reconstruction effort. As a result, recent media reports indicate an ongoing, mediated conversation between Hamas and Israel regarding a long-term truce in exchange for Hamas-led reconstruction. Similarly, recent Egyptian moves (e.g., opening the Rafah crossing; allowing Gaza to import cement) may indicate the beginnings of a thaw with the group. Cairo and Israel would both prefer to see the PA in charge of Gaza's border crossings and the overall reconstruction process, but without credibly demonstrating his willingness to implement that process, Abbas may inadvertently be strengthening Hamas. If a new Palestinian government is seen to have abandoned even a formal role in Gaza, then Israel and Egypt may decide to strike their own separate deals with Hamas to allow for Gaza's reconstruction.
AN EMPOWERED PRIME MINISTER?
The 2003 "Quartet Roadmap" called for a Palestinian cabinet with an "empowered prime minister," and the Basic Law was amended that year to clearly delineate the government's powers vis-a-vis the president. These provisions -- including the prime minister's right to choose cabinet ministers and the government's right to control a large segment of the security sector -- were put in place to limit the authority of then-president Yasser Arafat, paving the way for Abbas to become prime minister in 2003. Later, Prime Minister Salam Fayyad would use these powers to launch his institution-building and security-reform programs.
Since Hamdallah took office, however, there has been significant erosion of these powers. Abbas has insisted on appointing specific ministers and assuming de facto control over many of the government's responsibilities, particularly in the security sector. There is a sense that the reform and institutional efforts have stalled, impairing the government's effectiveness and its credibility at home and abroad.
Failure to address this continued centralization of power would only worsen the PA's domestic legitimacy crisis, and make it increasingly difficult to convince a fatigued international community -- particularly in Europe -- to continue funding the PA. Having presided over this erosion of government authority, Abbas is unlikely to reverse the process himself without clear, concerted international pressure.
CONCLUSION
The history of PA cabinet formation is cluttered with false starts and unmemorable governments. But given the political challenges facing Palestinians today -- including national disunity, Gaza reconstruction, the role of Hamas, and the PA's legitimacy gap -- the upcoming government formation process could have wide-ranging implications. For the international community, the situation should be viewed as an opportunity to not only prevent Hamas from emerging stronger, but also revive a conversation with the Palestinians about refocusing on reform and institution-building.
Ghaith al-Omari is a senior fellow at The Washington Institute.