Five Years After Mubarak's Fall, Lessons for Washington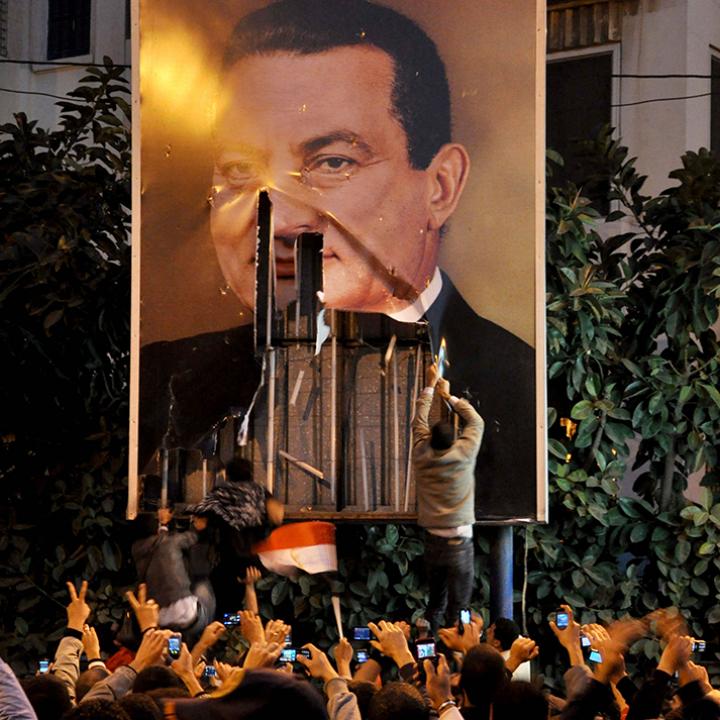 By allowing events 6,000 miles away to outpace its decisionmaking, the Obama administration put itself in a lose-lose situation, which is why Egyptian and regional players regard U.S. policy during the uprising as a failure.
Five years ago today, Egypt's military responded to 18 days of mass protests by ousting longtime President Hosni Mubarak, and Washington has argued with itself over what the U.S. did, or should have done, ever since. Did President Obama put America on the "right side of history" -- in other words, properly stand with the youthful protesters against an octogenarian dictator -- when he called for a political "transition" to "begin now" on the uprising's eighth day? Or should Obama have listened to then-Secretary of State Hillary Clinton, who cautioned that the uprising "may work out fine in 25 years, but I think the period between now and then will be quite rocky for the Egyptian people, for the region, and for us"?
Of course, this dilemma cuts to the heart of the proverbial interests-versus-values tradeoff that frames Middle East policy debates. And these questions have become politically significant now that Clinton is running for President.
Yet this rehashing of the administration's internal "Arab Spring" debate vastly overstates U.S. influence over Egypt's fast-moving uprising. In fact, by the time Obama called for a political "transition" to "begin now," the window for a transition -- in other words, an extended political process -- had already passed.
The uprising began on Jan. 25, 2011, when mostly non-Islamist activists organized protests against police brutality in downtown Cairo's Tahrir Square. The crowds were much larger than anticipated, and inspired the activists to organize a massive "Friday of Rage" protest on Jan. 28. The Muslim Brotherhood, which avoided the initial protests because it feared repression, participated, and mobilized its many thousands of followers to march from their mosques after Friday prayers towards Tahrir Square. The protesters thoroughly overwhelmed the police, who blanketed the city with teargas before retreating in defeat, forcing the Egyptian military to take control of the streets.
From that point on, the military was the pivotal actor -- and, from what I saw in Tahrir Square, it was ambivalent. On one hand, soldiers ingratiated themselves with the opposition, letting activists climb on tanks and posing for photographs with protesters' babies. But the air force also tried to scare away the protesters by breaking the sound barrier repeatedly over Tahrir Square.
Still, the military wasn't willing to disperse the protests forcefully. The brass feared that soldiers would refuse orders to shoot on their countrymen. And given that the protesters refused to leave Tahrir Square until Mubarak left, there were two possibilities: Either Mubarak would leave immediately, or someone other than the military would quash the protests. Obama's Feb. 1 call for a "transition" was dead on arrival.
This became clear the following day, when members of Mubarak's depleted ruling party charged into Tahrir Square with horses and camels, and attempted to clear it violently while the military stood to the side. It would be Mubarak's last stand: Using mostly improvised weapons, the revolutionaries beat back the offensive, secured the Square, and organized more "million-man marches" until Mubarak resigned on Feb. 11.
At best, the Obama administration's internal deliberation regarding Mubarak's future had consequences for its messaging. Washington could either project itself as a supporter of democracy, or signal its commitment to stability. Yet by the time that Obama spoke on Feb. 1, there was no good answer to this dilemma. While the administration is often criticized for damaging its relationship with regional allies by rhetorically embracing Egypt's uprising, it would have similarly hurt its reputation by supporting an Egyptian president who was already destined to fall.
To be sure, there are other instances in which the administration affected, or could have affected, Egypt's domestic political trajectory. But the ultimate lesson of the Arab Spring is that Washington can best exert its influence when it acts decisively and aligns its policy with the reality on the ground.
By allowing events 6,000 miles away to outpace its decision-making, the Obama administration placed itself in a lose-lose situation, which is why everyone -- the military, revolutionaries, Muslim Brotherhood, Mubarakists, and regional allies -- now regards U.S. policy during this period as a failure.
Eric Trager is the Esther K. Wagner Fellow at The Washington Institute.