From Fighting to Ceasefire in Gaza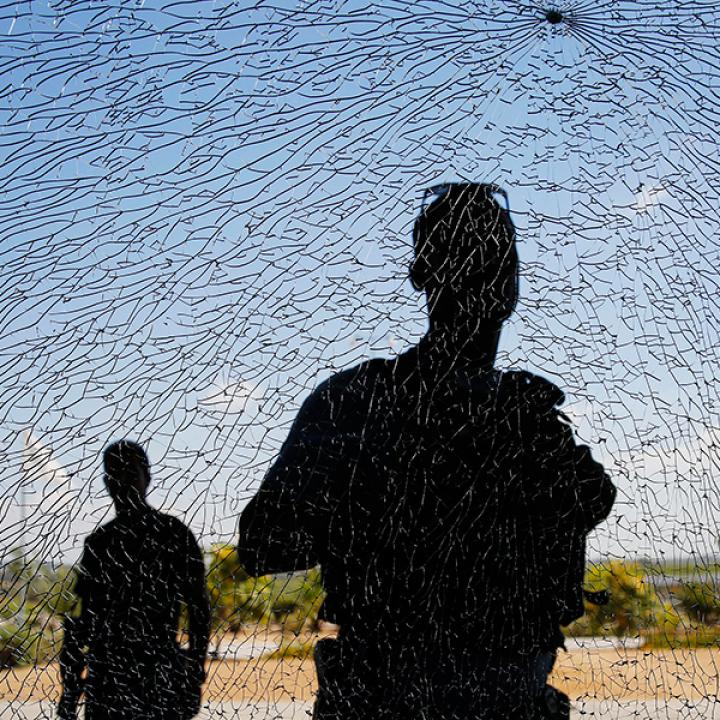 The former chief of staff to Israel's defense minister joins veteran peace envoy Dennis Ross to discuss the potential for a prolonged ceasefire and reconstruction.
On August 7, 2014, Michael Herzog and Dennis Ross addressed a Policy Forum at The Washington Institute. Herzog is the Institute's Milton Fine International Fellow and a retired brigadier general in the Israel Defense Forces (IDF). Ross is the Institute's William Davidson Distinguished Fellow and counselor. The following is a rapporteur's summary of their remarks.
MICHAEL HERZOG
The most recent round of violence between Israel and Hamas marks the third -- and bloodiest -- military confrontation between them since the 2005 Israeli withdrawal from Gaza and the 2007 Hamas takeover. For now, the focus has shifted from the battlefield to the negotiating table, but Hamas has threatened to resume fighting if its conditions are not incorporated into a ceasefire agreement.
Hamas initiated this battle in response to its untenable financial and political situation, and some evidence suggests the group preplanned it. Egypt, perhaps Hamas's biggest supporter prior to the Muslim Brotherhood's July 2013 ouster, has turned its back on Hamas, destroyed one of its main sources of income -- smuggling tunnels -- and stymied Qatari efforts to fund the group. Iran, formerly a major Hamas backer, curtailed its financial support after the group refused to stand by Syria's Assad regime. Hamas fell into even deeper crisis when the national reconciliation agreement signed with Fatah in April could not guarantee the payment of some 40,000 Hamas civilian employees.
In contrast, from a military perspective, Hamas has significantly improved its capabilities since Israel's Operation Cast Lead in 2008-2009. The group established a rocket production line, doubled its arsenal, extended its firing range, and built a vast maze of offensive and defensive underground tunnels beneath Gaza and into Israel. During the latest fighting, it inflicted more casualties on the IDF than in the previous two wars and managed to bring about the closure of Ben Gurion Airport for a few days, frightening foreign governments.
Nevertheless, according to Israeli intelligence sources, Hamas has lost close to 70 percent of its rocket arsenal and about 50-60 percent of its rocket production capabilities since the outset of Operation Protective Edge. Moreover, ground forces have demolished thirty-two attack tunnels, which posed a new and major threat to Israel. These statistics -- coupled with Hamas's financial and political crisis and Egypt's willingness to prevent Hamas rearmament -- suggest that Israel stands a chance to achieve its stated goal of long-term deterrence, even though many Israelis remain skeptical about whether a decisive victory has been achieved.
The operation has also reinforced the challenges of asymmetrical warfare against nonstate actors who immerse themselves in densely populated areas and target civilians from there. This type of fighting is not only about military excellence. It is also a war of perceptions, and Hamas gains substantially from images of dead civilians caught in the crossfire. Although Israeli forces made telephone calls, sent text messages, and distributed leaflets telling thousands of Gazan families to evacuate their homes and distance themselves from warzones, Hamas pressured them to remain in their homes, creating major challenges for Israeli forces. It is difficult to know the exact figures of civilian casualties in Gaza until after the dust settles. Unlike premature widespread international figures, the IDF estimates that civilians account for 50-60 percent of the total casualties.
On the political front, the war has highlighted the reemergence of Egypt as a major regional player in brokering a ceasefire. As for the United States, the Obama administration has provided key military support to Israel during the conflict, including increased funding for Iron Dome. Yet it has also become less relevant diplomatically, especially when it appeared to promote a channel with Hamas's backers -- Qatar and Turkey -- rather than invest all diplomatic efforts in the Egyptian channel, which represents converging interests between Egypt, Israel, the PA, Jordan, and important Gulf states. Meanwhile, the ongoing armed conflict has presented Abbas with significant domestic challenges, pushing him at one point to publicly reiterate Hamas's demands and to lead an anti-Israel initiative in the international arena. Yet a ceasefire agreement could give the PA a new opportunity to gain a foothold in Gaza at the expense of Hamas, namely at border crossings and in channeling humanitarian assistance into Gaza.
Finally, Israel and the international community should offer multifaceted short- and long-term plans to stabilize and rehabilitate Gaza. In the short term, the plan should focus on achieving a full ceasefire, preventing the rearmament of Hamas and other armed groups in Gaza, opening the crossings, and facilitating the entry of humanitarian aid under strict security arrangements. The long-term plan should aim at rehabilitating Gaza through extensive international assistance, but contingent on demilitarization. Although Hamas is unlikely to agree to demilitarization, the international community should adopt it as a long-term vision and as a challenge to Hamas.
DENNIS ROSS
When the Palestinian unity agreement was signed this spring, Hamas wanted the PA to assume the burden of governance while its own cadres maintained control over Gaza's weapons. Once Abbas refused to transfer funds to the group, however, this scenario did not materialize, spurring Hamas to start a war.
The group also hoped that war would inspire mass protests across the Middle East supporting its efforts and condemning Israel, but that dog did not bark. For example, Persian Gulf states did not experience sustained, major demonstrations because of their preoccupation with Iran and, perhaps more notably, their rejection of the Muslim Brotherhood. While political leaders in these states still criticized Israel, they also sharply criticized Hamas. Interestingly, Europe has seen substantially more protests than Middle Eastern capitals (see PolicyWatch 2293, "Gaza Demonstrations Around the World").
The war also revealed that Hamas has misappropriated large amounts of cement and other materials intended for building homes and schools in Gaza, using them to create an expansive tunnel system that provided refuge to militants and weapons caches, not to civilians. This discovery has undoubtedly reinforced Israeli concerns about easing restrictions on goods flowing into Gaza.
Moving forward, the United States should take five steps to ensure a lasting ceasefire and engage effectively with Israel and the Palestinians:
Washington should recognize the new strategic alignment between Egypt, Jordan, Saudi Arabia, and the United Arab Emirates, all of whom have clear and real interests in supporting the PA and undermining Hamas. This alignment has the potential to create a new reality not only in Gaza, but also in the broader Palestinian arena.
Hamas is incapable of changing, so the United States should work to discredit it over time. In the near term, Washington should prevent the group from politically or militarily exploiting humanitarian and reconstruction efforts. This means opening border crossings only after sufficient safeguards are in place, including the presence of authorities from the PA, Arab states, and the international community to oversee the end use of material assistance. In the longer term, Washington should establish a Marshall Plan for Gaza, to be implemented only after Hamas is disarmed. If the group chooses to block this massive investment, its true priorities will be exposed.
The United States should increase efforts to build up the West Bank per Secretary of State John Kerry's pledge to invest $4 billion there, but with a sense of urgency to launch infrastructure projects now rather than later. At the same time, Israel will need to facilitate investment and movement of goods and materials into the West Bank; Prime Minister Binyamin Netanyahu should designate someone in his office to overcome restrictions on the flow of people and goods.
The United States should focus on conflict management rather than conflict resolution, supporting important measures that change the dynamic between Israelis and Palestinians and make what is impossible today -- a permanent-status agreement -- possible in time. In particular, it should support Israeli efforts to open up Area C (the portions of the West Bank under full Israeli civil and security control) for Palestinian housing construction, industrial parks, and ownership of rock quarries, all in return for a PA commitment to avoid pursuing action in the international sphere (e.g., via the International Criminal Court).
Washington should persuade Netanyahu to make sure Israel's settlement policy reflects its commitment to a two-state solution. As delegitimization becomes a larger problem for Israel in Europe and other parts of the world, the government should form a clear policy that shows European leaders and the new alignment in the Middle East that it still believes in two states.
In short, the United States should formulate attainable policy objectives that recognize the new and emerging factors driving recent developments in the region.
This summary was prepared by Adam Rasgon.