A Field Trip to the Front Lines of the Qatar-Saudi Cold War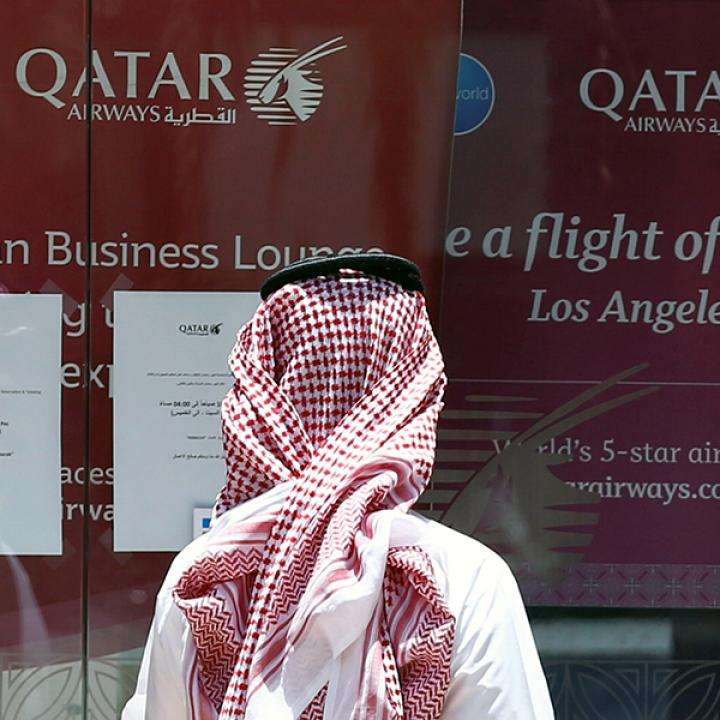 The ongoing Gulf crisis is seen as an almost childish indulgence in Washington and Europe, but diplomacy and PR campaigns have made little progress in bringing it to an end.
The diplomatic row between Qatar and its erstwhile Arab allies -- Saudi Arabia, the United Arab Emirates, Bahrain, and Egypt (the self-described Anti-Terror Quartet) -- does not seem to be on the road to resolution. At least that is my sense gained during a lightning trip over the past week to London, Bahrain, Abu Dhabi, and Dubai. Instead, positions are hardening with a blithe disregard for the advantage this gives Iran, the common enemy of all the parties, including Qatar, and the possible impact that will have in Washington, where U.S. policy on the Persian Gulf is predicated on the notion that our Gulf allies, despite historic differences, will preserve at least the veneer of unity.
Confusing the diplomatic efforts to resolve the crisis have been mixed messages coming out of Washington. U.S. Secretary of State Rex Tillerson has worked hard on mediation efforts, supported by Defense Secretary James Mattis. President Donald Trump, at least until recently, was happy to be seen as backing the position of Saudi Arabia and the UAE but may have been irritated when his bid to organize a peacemaking telephone call between Saudi Crown Prince Mohammad bin Salman and Qatari Emir Tamim bin Hamad al-Thani only resulted in further bad blood. Each party blamed the other for the breakdown.
The crisis is ostensibly about a multitude of Qatari sins -- the Anti-Terror Quartet produced a list of 13 demands in early June, focused on alleged interference in their domestic affairs. But this being the Middle East, rival egos also play a big part. The cast of characters is dominated on one side by the ambitious Mohammad bin Salman of Saudi Arabia, and his ally and diplomatic mentor, Mohamed bin Zayed, the crown prince of Abu Dhabi and the effective leader of the UAE. On the other side is Qatar's Emir Tamim bin Hamad Al Thani, who may or may not be the pawn of his father, Sheikh Hamad bin Khalifa Al Thani, who broke Arab tradition by abdicating in favor of his son four years ago but remains a dominant personality in Doha.
Despite the trade embargoes and the shutting of air space and shipping routes, the main action for the moment is on the battlefield of public relations. Both sides are spending millions of dollars to make their cases: In Washington, anti-Doha ads are in regular rotation on CNN; in New York, illuminated propaganda was projected onto the side of skyscrapers during last week's UN General Assembly. Hence my trip to London where, on Sept. 14, the Qatar Global Security and Stability Conference was held at the O2 Intercontinental Hotel, located on a remote promontory of the unfashionable south bank of the River Thames. This was a Qatar opposition meeting presumably backed by Saudi Arabia and the UAE but with no obvious fingerprints. Somebody had provided ample funding, though. Security was tight but not obviously necessary -- there were no pro-Qatar demonstrators. The program was as glossy as the inch-thick briefing document given to all attendees.
The self-declared leader of the opposition is the 29-year-old exiled Qatari businessman Khalid al-Hail, who has a big smile, a firm handshake, and a ready quote condemning the Muslim Brotherhood, members of which are given sanctuary by Doha. He has the weight but maybe not the gravitas for the role, despite the air of importance given to him by two gorilla-like bodyguards. (The Economist has reported that Amnesty International has accused a construction company in which Hail is the Qatari partner of failing to pay its workers, a charge he denies.) Also there, with a nametag identifying him simply as "Guest," was Ali al-Duneem, who introduced himself as the deputy leader of the opposition. He said he was a former Qatari intelligence officer but, true to his profession, was otherwise unforthcoming.
Speakers included several British political veterans whose interest in Qatar was previously unknown to me. A few Americans and even an Israeli were flown in for the occasion, some being invited just three days before the event. The lineup included former Pentagon official (and Foreign Policy contributor) Dov Zakheim, former U.S. Ambassador to the United Nations Bill Richardson, and retired U.S. Air Force Gen. Chuck Wald. Former State Department spokesman James Rubin moderated a session. Veteran BBC correspondent John Simpson interviewed former Al Jazeera journalist Mohamed Fahmy, who was incarcerated in an Egyptian jail but blames Qatar for it. As expected, it was all pretty one-sided. For example, Fahmy was scathing about Qatar's nefarious political interference at Al Jazeera, though Simpson somehow avoided asking him how it compared with other Arab television stations. The driving force of the occasion seemed to be to shape the debate rather than force political action. I asked one of the conference organizers why Sheikh Abdullah bin Ali al-Thani, the member of the ruling family who is apparently being groomed by Saudi Arabia as a replacement emir, was not there. He looked at me incredulously: "That would have been too much."
Two days later, the Qatar crisis was the talk of the corridors at an economic conference in Manama, the capital of Bahrain -- the Gulf island from which (when there isn't a sea mist caused by the immense heat and humidity) it is possible to see the peninsula of Qatar. It is now illegal to publish pro-Qatari information; that day's Gulf Daily News, which describes itself as "the voice of Bahrain," had anti-Qatar stories on each of its first three pages. At a lunch, a well-placed member of Bahrain's Khalifa ruling family expressed confidence that the pressure on Qatar would result in Doha backing down. It was a statement of faith rather than a reasoned argument.
The gap between rhetoric and reality was made clear when I flew via Gulf Air, Bahrain's flag carrier, from Manama to Abu Dhabi. The moving map on the back of the seat in front of me showed the flight cutting across the north of Qatar. Bahrain bans Qatar Airways from its airspace but carved out its own air traffic exception immediately after the blockade was announced, so as to limit any self-damaging impact. Similarly, despite the freeze in relations, the lights and air conditioning stay on in Dubai because Qatar continues to export natural gas by pipeline to the UAE to supply electric power plants.
I asked some of the region's most experienced Gulf-watchers to explain the timing and the intensity of the crisis that erupted in late May, a few days after Trump celebrated Gulf unity at the Riyadh summit. Their unanimous view was that it could have happened at any time. Both sides had been preparing for the showdown. The UAE had learned weeks before -- according to the Washington Post, quoting unnamed U.S. officials -- how to hack the Qatar News Agency to broadcast pro-Iranian fake news. The Hotmail account of UAE's U.S. Ambassador Yousef Al Otaiba had similarly been penetrated by hackers working for Qatar. (Full disclosure: a recent dump of Otaiba's emails includes a zip file relating to me. My proverbial 15 minutes of fame is spoiled by the file being labeled "Simon Hinderson" but, spelling error aside, the content seems harmless to both of us. His PR advisor complains about what I write, a judgment I am prepared to live with.)
One key to how long the crisis will last is the degree of self-inflicted economic damage. Qatar is said by analysts to be vulnerable: Doha still has lots of work to be done to be ready for the 2022 soccer World Cup. Imports of construction material have been interrupted, but food and other essentials are still coming in via Iran, as well as Kuwait and Oman. Bahrain's economy runs with a troubling budget deficit, but Saudi Arabia will cushion the impact of any losses. Dubai, the second city of the UAE, is hosting the Expo 2020, and its ruler, Sheikh Mohammed bin Rashid, is thought to be concerned that the Qatar crisis will harm "Brand Dubai" -- the carefully nurtured impression of an emirate built on welcoming foreigners from all corners of the world to a place of fun, peace, and safety. Saudi Arabia, previously the access route to Qatar for land transportation, has closed its border. If Saudi businesses are feeling the pain, they are keeping quiet about it.
Arguably, it all comes down to which of the key players -- Mohammad bin Salman, Mohamed bin Zayed, or Emir Tamim -- blinks first. Mohammad bin Salman, just 32 years old, is regarded as supremely self-confident about all his policy choices. But ultimately, he may not want to imperil what he clearly sees as his birthright, the Saudi throne. At 56, Mohamed bin Zayed is older and can be single-minded, but he may be prone to pressure from Dubai's Mohammed bin Rashid. (Of the two men, despite Saudi Arabia's greater size and wealth, Mohamed bin Zayed of Abu Dhabi is regarded as the more crucial player.) Emir Tamim in Doha is also young, at 37 years old, but he may want to escape the dominant shadow of his father. Encouraging the father-Emir to spend more time on his private Greek island or on his yacht could give Tamim more freedom to maneuver, without the appearance of conceding ground. (An important factor, according to one Gulf analyst, though it does not augur well for a quick resolution, could be the respective mothers of the three key players, who are perceived as being hard-line in wanting their sons to preserve the national honor -- and their husbands' legacies.)
But with U.S. support for Riyadh heaping blame upon the Trump administration for the emerging famine and widespread cholera outbreak in Yemen, the Gulf crisis is seen as taking eyes off the far greater threat represented by Iran. (Despite the Saudi-Emirati claims, Qatar is far from being an ally of Iran.) Indeed, in Washington and European capitals, the Qatar mess is seen as an almost childish indulgence. And yet diplomacy is stalemated. Not even the prospect of the forthcoming Gulf Cooperation Council summit -- where the leaders of Saudi Arabia, the UAE, Bahrain, Oman, Kuwait, and Qatar will come together -- seems to be forcing action. The only winners so far are the lobby groups making good money by providing advice, devising strategies, and setting up opposition websites and conferences. Seldom has the term "beltway bandits" seemed more appropriate. Mohammad bin Salman and Mohammad bin Zayed think they can play a long game and force Tamim to make concessions, even painful ones. Meanwhile, their advisors are salivating at the prospect of good end-of-year bonuses, and perhaps for 2018 also.
Simon Henderson is the Baker Fellow and director of the Gulf and Energy Policy Program at The Washington Institute.