Fatah's General Conference: Clarifying Succession and Managing Dissent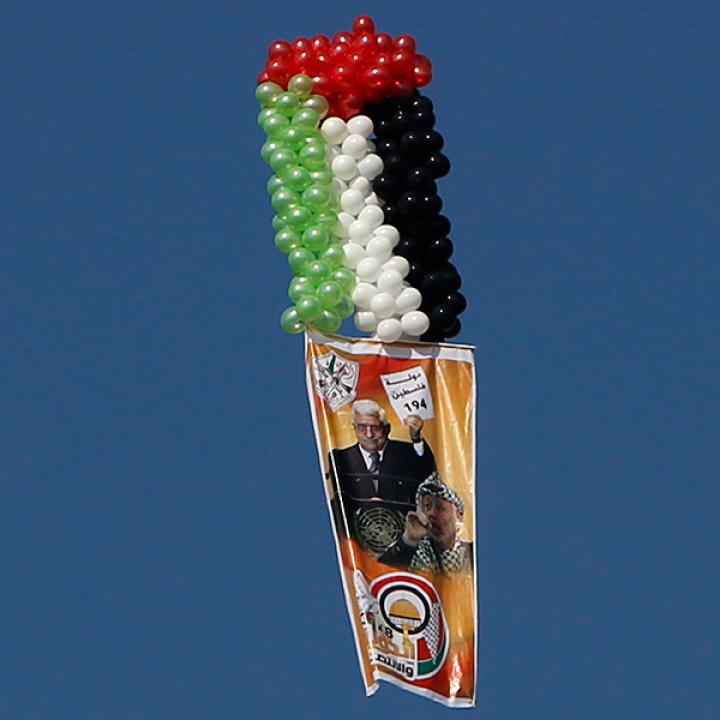 After numerous postponements, the upcoming conference could inject energy into the aging movement and stabilize its ranks, but not if the internal elections exclude large constituencies or come across as rigged.
Earlier this month, the Fatah Central Committee announced that the movement's seventh General Conference would be held in Ramallah on November 29. In addition to fulfilling a longstanding demand among Fatah activists, convening the event is an essential prerequisite for other badly needed steps by the Palestine Liberation Organization (PLO) and the Palestinian Authority. Indeed, given the circumstances surrounding the announcement, the conference will have implications not only for Fatah, but also for the future of the PA.
HISTORY
According to Fatah's statutes, the General Conference should be convened every five years, mainly to approve "political and military programs" and elect members of the Central Committee and Revolutionary Council, the movement's two highest decisionmaking bodies. In reality, the conference has been only held six times over the past five decades: in 1964 just before the formal launching of Fatah; in 1968 after the Six Day War and just before Fatah's takeover of the PLO; in 1971 amid the Black September confrontations in Jordan; in 1980 during the PLO's turbulent last years in Lebanon; in 1988, one year after the first intifada and just before the PLO accepted UN Security Council Resolution 242; and most recently in 2009, to cement President Mahmoud Abbas's leadership of the movement, which he inherited from founder Yasser Arafat.
A CHALLENGING CONTEXT
The seventh conference will take place in a similarly fraught moment marked by multiple challenges. First, faith in the Oslo process on which Fatah staked its lot has reached a new low point among the group's members and the general Palestinian populace. Attempts to create an alternative diplomatic strategy via recognition of Palestinian statehood and membership in the UN have not resonated widely. Instead, the West Bank has been undergoing an extended period of violence characterized by attacks on Israelis, in many cases by Fatah members.
Second, deep fissures within the movement's leadership have created internal instability. This is most acutely demonstrated by the public rivalry between Abbas and his former ally Mohammad Dahlan, which resulted in the expulsion of the latter and a large number of his supporters. More broadly, Fatah's growing internal authoritarianism and almost complete lack of renewal since the late 1980s have left it largely out of touch with its base. Many factions feel marginalized, including younger members who do not see any path for advancement, Gazan members who feel abandoned to the mercy of Hamas, supporters of Marwan Barghouti, the popular Fatah leader serving five life terms in Israeli prison, and members in refugee camps who feel antipathy from Abbas. The latter group's resentment recently spilled over into violent confrontation with Palestinian security forces in some West Bank camps.
Third, and perhaps most pressing, the question of who will succeed the aging Abbas in leading Fatah, the PA, and the PLO has dominated Palestinian political discourse. The lack of a workable succession mechanism and clear candidates has created uncertainty, instability, and a degree of paralysis in Fatah and wider Palestinian politics.
WHY NOW?
Because of these longstanding, potentially explosive challenges, the seventh conference was repeatedly postponed from its original target date in 2014. But recent regional developments created a new sense of urgency, and this week's summit seems prompted by external Arab pressure to promote Fatah reconciliation and stabilize the volatile Palestinian scene.
On August 24, after a meeting between King Abdullah of Jordan and President Abdul Fattah al-Sisi of Egypt, both leaders called on Abbas to "achieve Palestinian-Palestinian reconciliation" and offered specific recommendations for doing so. This initiative reportedly had the backing of Saudi Arabia and the United Arab Emirates, the other two members of the so-called "Arab Quartet." Yet Abbas was incensed by their call for readmitting Dahlan and his supporters, and he lashed out against unspecified Arab countries on September 4, stating that "no one dictates our decisions." Then, in late October, he visited Turkey and Qatar, which Egypt and, to a lesser extent, Jordan and the UAE view as unfriendly regional actors. The visits signaled that Abbas was threatening to replace or balance the PA's traditional alignment with the Arab Quartet, and the General Conference announcement shortly thereafter seemed like a further means of deflecting Quartet pressure.
WHAT IS AT STAKE FOR THE PARTICIPANTS?
While most of conference's presumed participants can loosely be described as being in Abbas's camp, they are not a united group. Some have firmly and consistently supported the president, while others have had more checkered relations with him. And the various interpersonal, generational, regional, and programmatic tensions within this camp have become more acute as actors position themselves for succession.
Indeed, many Fatah leaders have presented themselves as potential successors in recent months, or at least potential kingmakers. The conference will test these claims and clarify the relative strength of these contenders. Most of the focus will be on who gets reelected to the Central Committee, who the new members are, and whether certain powerful security chiefs make the cut, since these changes can give an indication of how succession will play out. The results will show who has support among the conference delegates and, perhaps more important, signal who is in or out of favor with Abbas himself, since he will probably play a key part in grooming his successor.
Clarifying the top players should bring a measure of stability to Fatah. But it is also worth keeping an eye on whether Fatah figures who have had tense relations with Abbas but remained within his camp are elected to the leadership organs. Such individuals or factions could emerge as an internal opposition that seeks to balance Abbas's power within the movement, particularly when it comes to choosing his successor.
THE SPOILERS
With the exception of some Dahlan affiliates, no significant Fatah camps have publicly questioned the conference's legitimacy. Yet some are positioning themselves to do exactly that after it ends. For example, Marwan Barghouti's wife Fadwa recently published an open letter spelling out what she, and presumably her husband and his supporters, would consider as criteria for a successful conference. At the same time, she warned about factors that would "deepen the crisis."
Just like members of Abbas's camp, his opponents have made unsubstantiated claims about their strength. For those who are excluded from the conference or unhappy with its results, their ability to challenge the legitimacy of the new leadership will be a test of their real power. Thus, the movement's success in minimizing dissent and convincing disgruntled actors to buy in will depend on a number of factors.
First is inclusivity. While Dahlan affiliates will clearly be excluded from the conference, it is not yet certain how other disaffected groups will be handled. Naturally, the more of these factions that emerge with a stake in the conference's success, the more isolated its detractors will be.
A second key factor is transparency. A certain amount of score-settling and vote manipulation at the conference is inevitable, but if such misconduct is seen as widespread and one-sided, it could cause some targeted factions to challenge the results. Barghouti's camp in particular bears watching. Although Barghouti himself will undoubtedly be elected to the Central Committee in absentia, his supporters will be on the lookout for a repeat of the 2009 conference, which they felt was rigged against them. Moreover, many of the losers will publicly question the results even if they eschew a formal challenge. The extent to which their complaints gain traction will depend on the extent to which the Fatah base views the elections as fair and transparent.
Third, the impact of those who question the conference's legitimacy will also depend on their ability to unify their agendas, actions, and leadership. Although such groups may be united by their dissatisfaction with the results, they may have little else in common. Opposition factions will likely represent an array of differing interests and constituencies, and not all of them may be willing to take the same steps to achieve their objectives, particularly when it comes to formally splitting from Fatah. Tense interpersonal relations between the leaders of these factions could also affect their ability to shape the movement's future. In the end, if a large number of dissatisfied Fatah members can convincingly claim foul play and coordinate their actions post-conference, then the instability that has long characterized Palestinian politics will likely continue.
RESISTANCE AND DIPLOMACY
Although Fatah has always maintained that "armed struggle" is a "legitimate right," the 2009 conference adopted a resolution that added significant nuance to this view. Abbas, a longstanding proponent of diplomacy and a critic of armed action, was at the peak of his political power at the time and prevailed on the conference to adopt "peace as a strategic option."
Circumstances have changed today, however. Abbas's standing has diminished, diplomacy is largely discredited, and violence continues to simmer in the West Bank. Fatah members and spokesmen have overwhelmingly praised Palestinian attacks over the past year, and some senior leaders have indicated support for resuming wider armed resistance.
Accordingly, participants at this week's conference may try to reverse the 2009 "peace" resolution and reintroduce armed struggle as an option. Such a measure could be motivated by changing convictions among Fatah members, but it could also be introduced to embarrass Abbas and indirectly challenge his leadership. Even if the motion were ultimately defeated, the surrounding debates could damage Abbas's standing with hardliners.
A related issue is security cooperation with Israel. In 2015, Fatah called on the PA to sever such cooperation, and many leaders have since repeated this call. The movement has no legal authority to mandate such a move, and the PA is unlikely to comply, but a conference resolution against security cooperation could be politically costly for Abbas. Additionally, many security personnel are affiliated with Fatah and would inevitably be influenced by such a resolution.
CONCLUSION
After numerous postponements, the upcoming Fatah General Conference has the potential to inject energy into the aging movement and stabilize its ranks by clarifying the relative power of various leaders. In that scenario, Fatah could approach the thorny issue of succession in a more orderly fashion. But if the conference excludes large constituencies or is widely viewed as being rigged, it could have the opposite effect -- namely, strengthening Abbas's opponents, deepening Palestinian disillusionment, exacerbating Fatah's fragility, and rendering the movement even less capable of navigating disruptive events such as succession.
As for the United States, there is little it can do to influence the process directly. Any public statements on the conference might be seen as interference, but a private reminder of America's position on security cooperation and the need to maintain the primacy of diplomacy in the Fatah platform would be useful. Monitoring the process is important too, as is engaging concerned allies in the Arab Quartet (particularly Jordan) to maintain stability in the Palestinian arena.
Ghaith al-Omari, a senior fellow at The Washington Institute, previously served in various advisory positions with the Palestinian Authority.