Egypt's Ripple Effect in the Gulf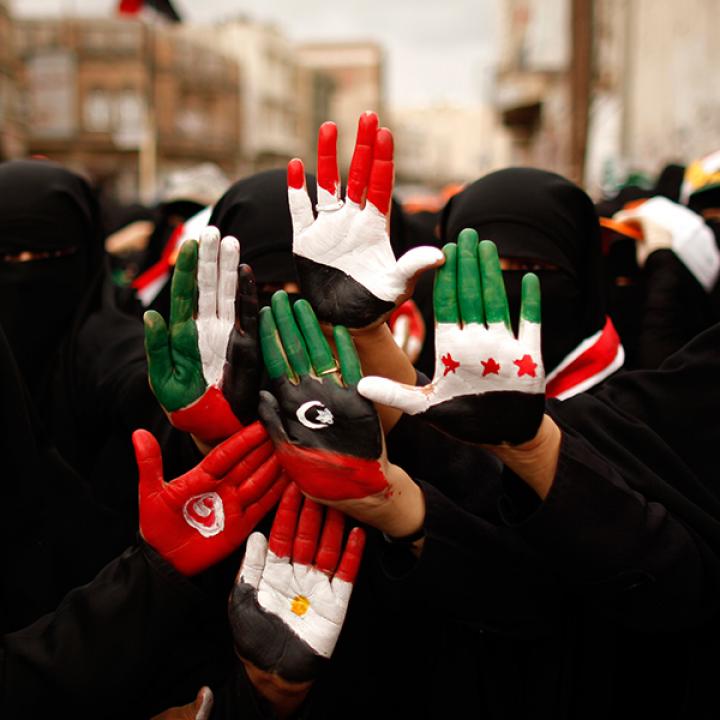 The dramatic developments in Egypt are likely to energize domestic dissent in some Gulf oil states, so Washington should encourage its allies there to respond in creative and forward-looking ways.
The ouster of Egypt's Muslim Brotherhood-led government has strengthened the regional standing of several important U.S. allies in the Persian Gulf, including Saudi Arabia, the United Arab Emirates, and Kuwait. All three hereditary monarchies have been anxious about the Brotherhood's reformist political agenda in the region and their own countries. Yet the remarkable mobilization of popular opposition to Muhammad Morsi's leadership and the subsequent military takeover may hold altogether different implications for the domestic security environments of Gulf oil states. Early indicators point to invigorated opposition and more polarized societies that may require new efforts to contain the discord. Washington should encourage Gulf rulers to enrich their traditional domestic policy responses with more forward-looking approaches to security.
ESCALATING THE BAHRAIN CONFLICT
Since the beginning of the region-wide Arab uprisings in early 2011, primarily Shiite Bahrainis have been protesting against their Sunni government for greater political rights. Yet the country's leadership has effectively trapped the main Shiite opposition group (al-Wefaq) in stalled national-dialogue talks while preventing nightly street battles from spilling outside of Shiite neighborhoods.
Earlier this month, however, the Tamarod (rebellion) movement that drove millions of Egyptians to the streets inspired some Bahrainis to establish a similar campaign. On July 3, the day of Morsi's ouster, Bahrain Tamarod issued its first communique, calling for peaceful demonstrations on August 14 -- the date when British colonial forces pulled out of the country in 1971 -- to demand that authorities devolve power to the people. There are also rumors of a planned sit-in near the U.S. embassy that day. On July 13, Bahrain's Interior Ministry responded by warning citizens not to participate in the protests.
Growing support for the Tamarod campaign among various Bahraini opposition groups -- including al-Wefaq, the February 14 Youth Coalition, and the more extreme Shiite groups that make up the Coalition of the Republic -- has been compounded by an uptick in violence in recent days, increasing pressure on the government. On July 21, the home of Abbas Isa al-Madi -- a Shiite parliamentarian who works in cooperation with the Sunni government -- was firebombed for the second time in a week. This followed a July 17 car bombing outside the Sunni Sheikh Isa bin Salman Mosque in a neighborhood that is home to royal family members, as well as a July 6 attack in which homemade bombs killed a policeman and wounded several others. As the August 14 protest date draws near, one can expect an increased security presence on the streets as well as preemptive house raids and arrests, raising the stakes on both sides of the conflict.
GALVANIZING ISLAMISTS
Muslim Brothers and some other Islamists in the Gulf have felt a strong sense of being wronged over the ousting of Egypt's popularly elected Islamist-led government. This sentiment has been compounded by the Egyptian military's pursuit of rapid political transition without the Brotherhood as part of the process. The fact that the rulers of Saudi Arabia, the UAE, and Kuwait have enthusiastically embraced the military takeover -- sending congratulatory letters and $12 billion in aid -- has only rubbed salt in the wound.
Various Gulf Islamists have quickly responded to the affront. Kuwait's Brotherhood-linked political group, the Islamic Constitutional Movement, condemned the government's pledge of $4 billion in aid as hurried and unlawful. On July 15, some Kuwaitis rallied to denounce the aid, and two days later, a local lawyer filed suit against the cabinet for squandering public funds, maintaining that the money should go to Syria's rebels. In Saudi Arabia, some Islamists have denounced Morsi's overthrow and argued that Riyadh and the UAE were behind it. Last week, Saudi authorities detained two well-known local religious figures for their condemnation of Morsi's ouster. More broadly, many Gulf Islamists are inspired by the ongoing pro-Morsi demonstrations in Egypt and seem poised to express their indignation over the related course of events in their own countries.
At the same time, some Brotherhood supporters in the Gulf will likely increase their covert activity as rulers become emboldened to take stronger action against them. A move to more inconspicuous activity is particularly likely in the UAE, where authorities have demonized, tried, and convicted numerous Brotherhood associates over the past two years, most recently on July 2 for apparently peaceful political reform work. In Qatar, the local Brotherhood group officially dissolved itself in 1999, and its former leader now openly runs an organization to mentor young Islamist activists. Yet the young new emir, Sheikh Tamim bin Hamad al-Thani, could dilute Qatar's support to international Brotherhood figures by funneling resources elsewhere given the turn of events in Cairo and his expressed desire not to support one Arab trend over another. Such an approach, coupled with a delay in turning attention to the country's domestic affairs, could rouse local Brotherhood supporters to clandestine political activity.
In addition, Brotherhood figures and other Islamists in Saudi Arabia, Kuwait, Bahrain, Qatar, and the UAE have been linked to the provision of money, weapons, and fighters to antiregime forces in Syria. Confronted with an increasingly challenging domestic environment, local Brothers may turn more of their attention to supporting such causes abroad. Gulf governments have generally turned a blind eye to this activity and will likely continue doing so, since it channels jihadist activity outside the country and facilitates certain foreign policy goals. Yet allowing the export of fighters is dangerous -- as the Afghanistan and Iraq experiences showed, Gulf jihadists returning home from foreign wars can have a poisonous effect on their countries' domestic security environments.
POLARIZING SOCIETIES
Even as many Gulf Islamists feverishly bemoan Morsi's ouster, many liberals and secularists in the region have celebrated it. This has accentuated the already-deep fissure between these groups in most Gulf societies.
In addition, the jury is still out regarding whether the Egypt example will spur a rebalancing of power among Gulf Islamist groups. Will they fuse together in closer cooperation, or will the more puritanical Salafi Islamists gain strength over the political-reform-oriented Brotherhood? They appear split at the moment, with some Islamists siding with Brotherhood elements over events in Egypt and others distancing themselves from such ties. The trend will vary significantly by country -- for example, the Brotherhood and Salafists often work in tandem with the government in Bahrain, and in self-restricted opposition to the government in Saudi Arabia.
U.S. POLICY IMPLICATIONS
Egypt's ripple effect in the Gulf will likely continue over the next several months. New friction between governments and dissenters on the one hand, and among various opposition forces on the other, will produce varying degrees of domestic turbulence across the Arabian Peninsula. Some forces may be inspired to expand their causes, including Saudi Shiites in the kingdom's Eastern Province, Omani activists, and stateless Gulf Arabs.
Those Gulf leaderships that face significant security challenges in this new environment will likely draw from their traditional policy toolkit to quiet opposition, dispensing largesse to important constituencies and responding to unrest with a combination of harsh crackdowns and limited concessions. In fact, Gulf rulers may even capitalize on the growing fissures in their countries, such as by demonizing Brotherhood adherents in order to weaken them (in the UAE and Saudi Arabia), diluting the strength of Islamists through the formation of new and different kinds of alliances (in Qatar), and building on existing "divide and conquer" strategies (in Kuwait and Bahrain). All of these approaches could strengthen ruling families for the time being.
Yet Gulf and U.S. interests would both be better served if Washington encouraged its allies to respond to popular pressures in more constructive, forward-looking ways. In particular, U.S. officials should urge them to institute some degree of transparency in the face of massive corruption and waste, loosen archaic restrictions on public expression, and genuinely prioritize the development of private-sector businesses.
Lori Plotkin Boghardt is a fellow in Gulf politics at The Washington Institute.