Egypt Endorses Gulf Reconciliation But Remains Skeptical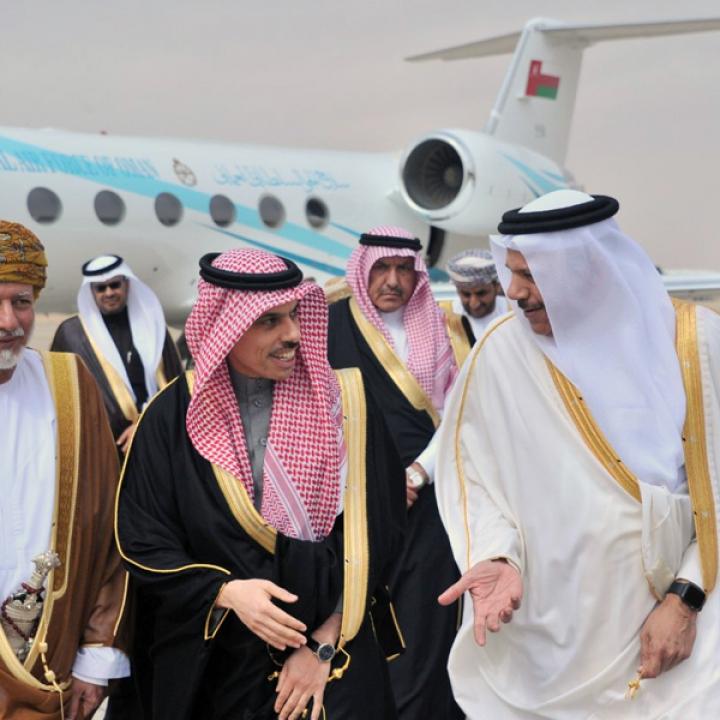 Although officials are playing along in order to maintain good ties with Saudi Arabia, they seem convinced that Qatar will exploit the new agreement in ways that harm Cairo's political and security interests at home.
On January 5, Egypt's Foreign Ministry released a statement supporting the new Gulf Cooperation Council deal to restore relations with Qatar, formally ending a years-long rift with the "Arab Quartet" of Bahrain, Egypt, Saudi Arabia, and the United Arab Emirates. According to the statement, Cairo assented to the deal as a way of reaffirming solidarity with the Quartet states and discouraging interference in their domestic affairs. Yet the mention of "interference" is one of several signs that Egyptian leaders remain skeptical toward Qatar.
Cairo joined the boycott in June 2017 based on several accusations against Doha—most notably, that it was fomenting political upheaval in Egypt by funding and sheltering members of the Muslim Brotherhood and allowing them to launch daily television tirades against President Abdul Fattah al-Sisi's government. These and other concerns about Qatari policy had their genesis well before the embargo.  
Unsurprisingly, then, Egyptian media coverage of the reconciliation deal was minimal and far from celebratory—a few pro-government intellectuals even expressed pessimism that Qatar would alter its behavior. Veteran journalist Emad Adeeb, who has close ties to the government, commented that Cairo will judge the agreement by its outcomes, not by a piece of paper. Other television commentators remained silent, just days after loudly opposing the idea of rapprochement in the lead-up to the summit. Their criticisms were echoed by parliamentarian Mostafa Bakry—the day before the agreement was announced, he implored the Quartet states via Twitter not to complement American reconciliation efforts.
The relative media silence since then, coupled with the unexpected decision to send Foreign Minister Sameh Shoukry to the summit, indicates that Gulf leaders pressured Cairo to publicly swallow its objections and permit the pact to go forward. But several Egyptian grievances may persist indefinitely:  
Al Jazeera criticism of Sisi. Ever since Sisi helped topple the Muslim Brotherhood-led government of President Mohamed Morsi in 2013, Cairo has been extremely concerned about how heavily the Qatar-based Al Jazeera television network favors the group in its coverage of Egyptian internal affairs. Many Brotherhood members use the network to criticize Sisi, defame his reputation across the Arab world, and incite Egyptian audiences against their government. In Cairo's view, these media campaigns aim to foment a future uprising in Egypt.
Al Jazeera continued its negative coverage even after Egypt affirmed the reconciliation agreement. For example, it recently aired a report on how 2020 was a very bad year for ordinary Egyptians because of government policies that cut salaries, increased metro ticket prices, and lightened the weight of bread. Meanwhile, Egyptian political dissidents based in Doha and Turkey used their television and social media platforms to celebrate the lifting of the blockade as a Qatari victory.  
Qatari and Turkish support for Islamists. Officials in Doha and Ankara have been sympathetic to not only the Brotherhood, but also Islamist elements in Libya—a policy diametrically opposed to the Egyptian government's staunch rejection of political Islam. More alarmingly, Cairo has accused both states of funding and supporting terrorist groups in mainland Egypt and the Sinai Peninsula. Cairo is also wary of the Turkish troop presence in Libya, whose long eastern border is rife with weapons smuggling. 
Doha's relationship with Hamas. Qatar hosts several members of the Palestinian terrorist group Hamas and works with them to provide funds for the Gaza Strip in coordination with Israel. Since the 2013 coup, the Egyptian government has adopted a tough line toward Gaza, destroying cross-border smuggling tunnels and accusing Hamas of supporting terrorist groups in Sinai. At the same time, however, Cairo has kept its political channels with Hamas open in order to encourage intra-Palestinian reconciliation and preserve Egypt's role as a mediator with Israel. 
The latter objective is crucial for Cairo because officials fear that Doha intends to meddle in the Israeli-Palestinian conflict and displace them as mediators—a scenario that could harm Egypt's international and regional standing. For decades, Cairo has prided itself on being the main interlocutor between Palestinians and Israelis, but Qatar has expanded its influence of late by sending large sums of money to Gaza and showing Washington that it can facilitate dialogue between Hamas and Israel. 
Notwithstanding these diplomatic fears, Qatar's deep financial pockets might also provide a means of easing tensions with Egypt via increased investment. A few hours after the Gulf agreement was inked, Qatari finance minister Ali Sherif al-Emadi joined his Egyptian counterpart Mohammed Maait and U.S. Treasury secretary Steven Mnuchin at the opening ceremony of the luxurious St. Regis Hotel in Cairo. Owned by a Qatari real estate investment firm, the property was acquired back in 2008, but construction was delayed several times due to the 2011 uprising and 2017 boycott. Emadi hinted at more deals to come, stating, "This project represents a new addition to the Qatari investments in Egypt, exceeding $5 billion in various fields." 
Policy Implications 
Egyptian officials are highly skeptical of Qatar's commitment to the reconciliation pact and seem convinced that Saudi Arabia will not punish Doha if it violates the agreement. Indeed, a nightmare scenario for Cairo would be Doha stopping its media attacks against the Saudis while continuing its campaign against Sisi. The fact that Qatar was able to end the blockade without implementing any of the Quartet's original thirteen demands is highly embarrassing to Sisi, leading supporters and detractors alike to ask uncomfortable questions—namely, why did Cairo assent to the deal without achieving its demands, and why does it seem to be taking a backseat to other Arab countries despite Sisi's longstanding insistence on keeping Egyptian foreign policy independent of foreign pressure? Given these concerns, Cairo's antagonism toward Qatar will likely persist when it comes to the Muslim Brotherhood and other regional issues, and could escalate into another crisis down the road if a Gulf state backs Cairo's claims.  
Haisam Hassanein is a Middle East analyst and a former Glazer Fellow with The Washington Institute.